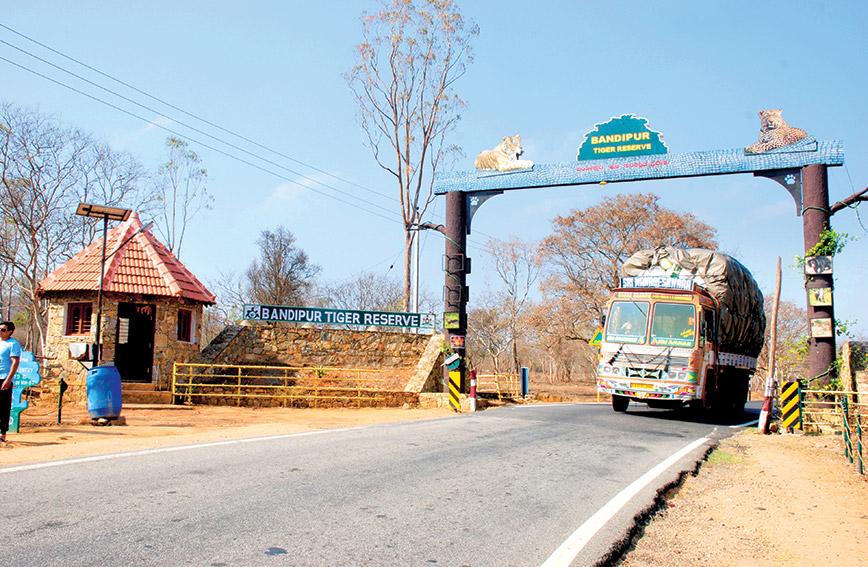 Entrance to the Bandipur Tiger Reserve
Why Bandipur is special: jungles and rustic living
Susheela Nair, Bandipur
Published: Jun. 27, 2017
Updated: Mar. 15, 2019
April is the cruellest month at the Bandipur National Park but a slight mist in the early hours enhanced the mystery of the jungle. Shadows loomed large and dark. As the sun began to filter in, the jungle came alive with the twittering of birds. Spotted deer loped all over, rushing across our path and then grazing in small clearings with their fawns.
After a decade, I was on a wildlife jaunt to Bandipur, an enchanting forest that never ceases to delight me, no matter the season. Once the hunting preserve of the erstwhile Maharaja of Mysore, Bandipur is now the favourite haunt of wildlife enthusiasts and photographers. Set against the picturesque backdrop of the enchanting Nilgiri range with its mist-covered peaks, it sprawls over 874 sq km of diverse and dense vegetation.
The National Park, which was brought under Project Tiger, forms a contiguous stretch of forest with the neighbouring Rajiv Gandhi National Park, and the Mudumalai and Wayanad Wildlife Sanctuaries. Together they form the vast Nilgiri Biosphere Reserve, India's most significant bio-geographic zone, sharing the wilderness of the Western Ghats, the Nilgiris and the Deccan plateau.
Comprising a mix of dry, deciduous and evergreen forests with scrubland vegetation, Bandipur is fed by the Moyar river which drains the Nilgiri hills along with the Nugu and Kabini that originate from the Western Ghats. The spectacular Moyar gorge forms a natural boundary between Bandipur and Mudumalai.
What makes Bandipur a special experience is the sheer profusion of animals, enabling viewing at close quarters, the abundant beauty of the reserve and, above all, its easy accessibility.
Manoeuvring our way through the jungle, we reached a pond. A sambhar sauntered through the undergrowth and made his way to the pool of water to quench his thirst. Peacocks we saw in plenty, ...