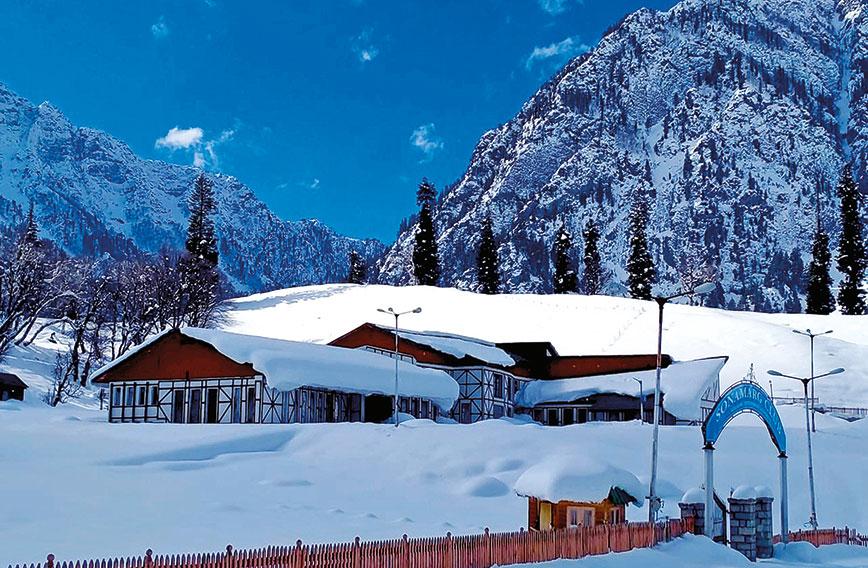 Sonamarg is emerging as the new skiing destination
Sonamarg's snowy slopes are where the new action is
Jehangir Rashid, Kashmir
Published: Oct. 28, 2022
Updated: Feb. 17, 2023
FOR winter sports lovers in India and abroad, there is good news from snowy Kashmir. Sonamarg in Central Kashmir's Ganderbal district is being primed to rival Gulmarg, Kashmir's premier destination for skiing. It is getting a boost with more hotels and facilities of global standards.
The picturesque health resort of Sonamarg, located along the banks of the Indus river, used to be out of bounds for locals and tourists in winter due to heavy snowfall at Gagangeer. A few skiers would turn up but, by and large, it didn't attract many ski lovers. The construction of the six-km Z-Morh tunnel is going to completely change that.
"Work on the construction of the Z-Morh tunnel is in the final stages and it is likely to be thrown open by or before November 15. Once the tunnel is opened, Sonamarg will be much more accessible to tourists. This means that this famous health resort can be added to the itinerary of tourists visiting Kashmir in winter," says Rauf Tramboo, president of the Adventure Tour Operators Association of Kashmir (ATOAK).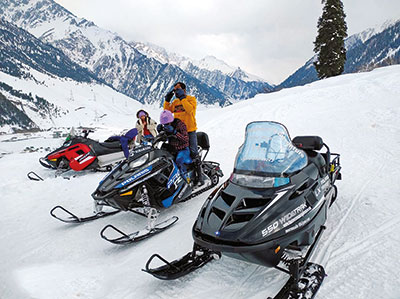 Ski drag lifts have been set up and different types of skiing activities are being organized
Tramboo says two ski drag lifts have already been set up at Sonamarg. Just like in Gulmarg, many events connected to skiing will be held here which will greatly bolster the sport in Kashmir, he said.
"In the past snowfall used to cut Sonamarg off from the rest of the world. The Z-Morh tunnel will bypass areas where there is heavy snowfall. So there will be no connectivity issues. The mighty slopes are perfect for hosting skiing and hopefully people will arrive in large numbers to enjoy this sport," said Tramboo.
He also said that different disciplines of skiing like alpine skiing, Nordic skiing, ski mountaineering, back country skiing and snow shoe skiing can be easily organized at Sonamarg in due course. Tourists will have multiple options.
Fazlul Haseeb, director of Tourism Kashmir, said that his department was trying its best to place Sonamarg on the adventure tourism map of Kashmir. "I believe that we are on the right track. Hoteliers in Sonamarg have already announced packages for tourists. Ski drag lifts have been set up and we are all set to host ski tourists. In the near future we can introduce different skiing courses at Sonamarg as we are doing at Gulmarg," said Haseeb.
He said they were also looking at international tourists and trying to ensure Sonamarg's hotels and facilities met global standards. "We are trying to add more tourist spots on the winter tourism map of Kashmir. We are on the job to improve facilities at Pahalgam, Doodhpathri and Yusmarg. Once facilities are developed, a new dimension to tourism will be added," said Haseeb.
Mohammad Abbas Wani, president of the Winter Games Association of Jammu & Kashmir (WGAJK), says that last year skiing was introduced in Pahalgam.
"Drag lifts for skiing have already been set up at Pahalgam and the process for setting them up at Sonamarg is on. Basically, visitors who come to Gulmarg for their honeymoon or for a vacation do a little bit of skiing. I think Sonamarg and Pahalgam will be abuzz with skiing this year," said Wani.
He said that some schools in Mumbai are interested in their students learning skiing. So they have been sending students to Gulmarg in the winter over the past few years.
Tramboo says that ice hockey has also picked up at Gulmarg. "The government wants to utilize the mighty slopes of Aru at Pahalgam as ski slopes. Once this is done, Pahalgam and Gulmarg will both be winter sports destinations in Kashmir," said Tramboo.