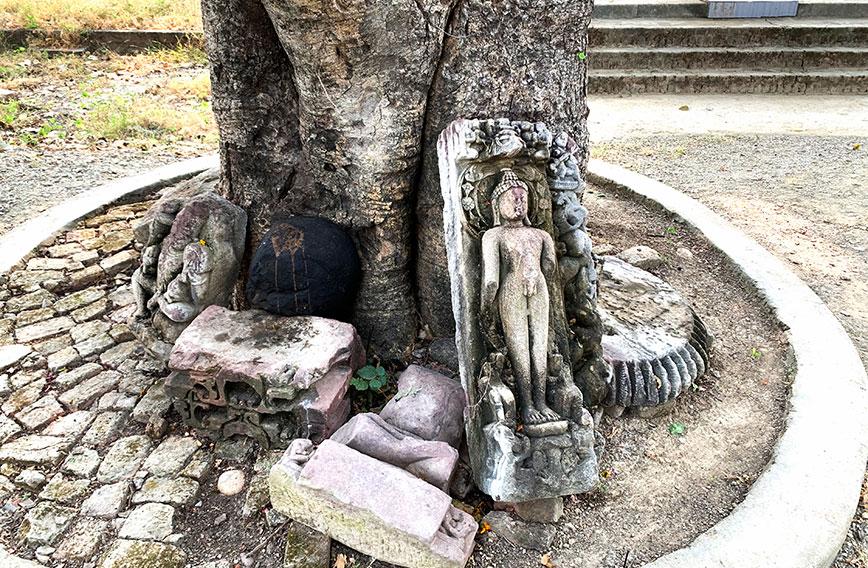 COVID-loafing in historic Bundelkhand
Murad Ali Baig, Jaso (MP)
Published: Dec. 18, 2020
Updated: Mar. 01, 2021
Winter is the perfect season for motoring and exploring many wonderful destinations not too far from home. To break out of all the restrictions and confinement imposed by the coronavirus pandemic, I decided to go to Madhya Pradesh (MP), a state that offers some of India's best driving destinations.
These range from ancient historic sights to great wildlife sanctuaries, beautiful forts, palaces, rivers and many more places. MP is, however, a very large state and there are different things to see in its many regions.
The richly forested region of Bundelkhand, famous for its magnificent temples of Khajuraho, is east of Jhansi and south of the Ganga.
That's why I happily accepted my good friend Bhuvan's invitation to join her family at their ancestral home at Jaso between Panna and Satna in Bundelkhand. I began this `COVID loafing' by motoring with my driver Chander from Delhi via Agra, Gwalior, Jhansi, Chhatarpur, Panna and Nagod between November 9 and 16.
We drove in such good time on the excellent highways from Delhi to Jhansi that we did not stop at Orchha as we had originally planned but pressed on to Jaso. We covered a long journey of 780 kms in 14 hours. Good work is being done not only on the highways but also on most of the lesser roads.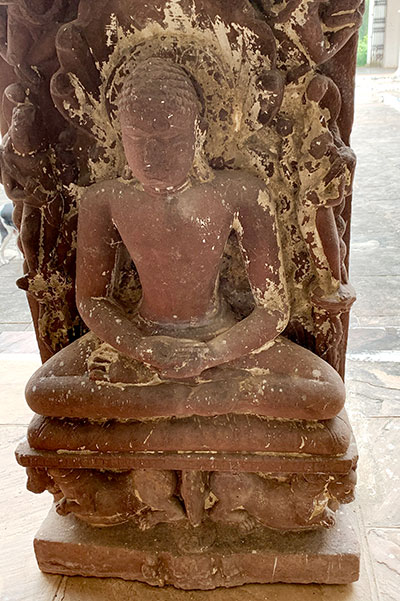 The sprawling family haveli at Jaso, next to a small but old family fort, is still a veritable museum of ancient Jain, Buddhist and early Hindu sculptures even though their best samples were taken to the Allahabad Museum.
The little fort has now been abandoned but many villagers come to the stone gatepost that miraculously sweats whenever it is about to rain. It helps local villagers decide on the timing of their farm operations.
The early Jain and Buddhist statues date to the time of Emperor Ashoka. Most of the Hindu statues are from the late Gupta period of about the 6th century. The entire area is strewn with bits of broken statuary and a number of small temples are scattered around one of which includes the most beautiful statue of Shiva that I have ever seen.
On the way to Satna we stopped to see the remains of the Bharhut Buddhist Stupa that used to be one of Ashoka's most important monuments comparable to the Sanchi Stupa near Bhopal. There is little to see there now except an unimpressive shallow mound.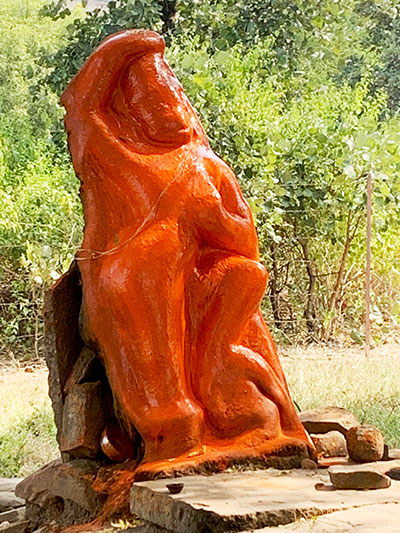 The carved stone railings, Toranas (gateways) and carvings of Yakshas and Yakshis (nature spirits) dating from 3rd century BC were among the earliest stone sculptures in India. The patterns clearly show that the artisans had carved them in the same style as their earlier wooden carvings. Only one statue of a Yaksha now remains because it looked a bit like Hanuman and people began to worship it and covered it with ochre paint.
In this early period the Buddha was not depicted in human form but symbolically in the form of an empty throne, an umbrella or a wheel. Beautiful statues of Buddha only began to appear at the same time as the early Hindu carvings of deities in the Gupta period (2nd to 5th century BC)
Almost all the stone structures have been removed and now sit forlornly in the National Museum, Calcutta Museum and other museums. Since many Buddhist pilgrims, including some from Japan, Sri Lanka, Thailand and elsewhere visit this historic site, the Archeological Survey of India (ASI) that protects these sites, should follow the example of Egypt and Turkey and employ modern crafts persons to carve and install replicas of such historic stonework on site for the benefit of visiting pilgrims and tourists.
Sadly, the ASI is not a rich government department and can't pay for such projects at historic places that need to be better known. This low priority also results in very few talented young people joining the ASI. One outcome is very unimaginative displays and badly lettered descriptions in the museums. In Turkey, their Department of Antiquities is part of a very rich Ministry of Tourism and they can therefore afford to invest in many wonderful museums and historic sites.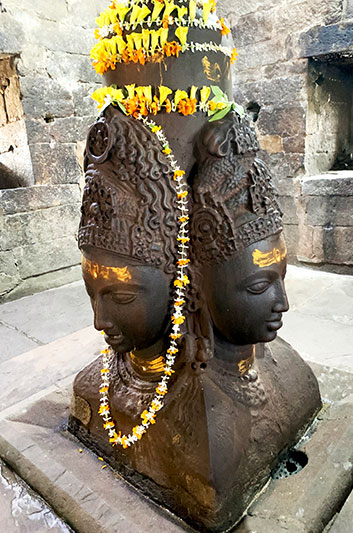 Not far from Bharhut is another small temple with a large, amazingly beautiful black stone Chaumukhnath Shiva idol with four torsos of Shiva. One shows him looking coy as he prepares for his wedding. The second is of him reacting to poison. The third is of Shiva in meditation and the fourth is in the half man, half woman form of ardhanarishvara. It is hard to imagine how ancient craftsmen could so delicately carve such a beautiful statue out of such hard black rock with primitive iron chisels.
One of my objectives of this trip was to see a more modern 300-year-old temple of Pran Nath at Panna for a book I am writing about the Bundela hero Chhatrasal who was guided by Pran Nath and was an ally of Shivaji against Aurangzeb. There are over 500,000 Parnamis with 36 temples in India. Though it is now regarded to be a Krishna cult, the Parnamis seek synthesis of all religions and their idol is not an idol because devotees do not pray to an object of stone or wood but to what they believe is the living spirit of Krishna that occupies a space between Krishna's golden crown and his golden flute lying on a collection of their sacred books.
From Panna we spent our last night at a most attractive hotel called the Ken River Lodge overlooking the beautiful Ken river that is also a river sanctuary for gharials, crocodiles, mahseer and other aquatic creatures.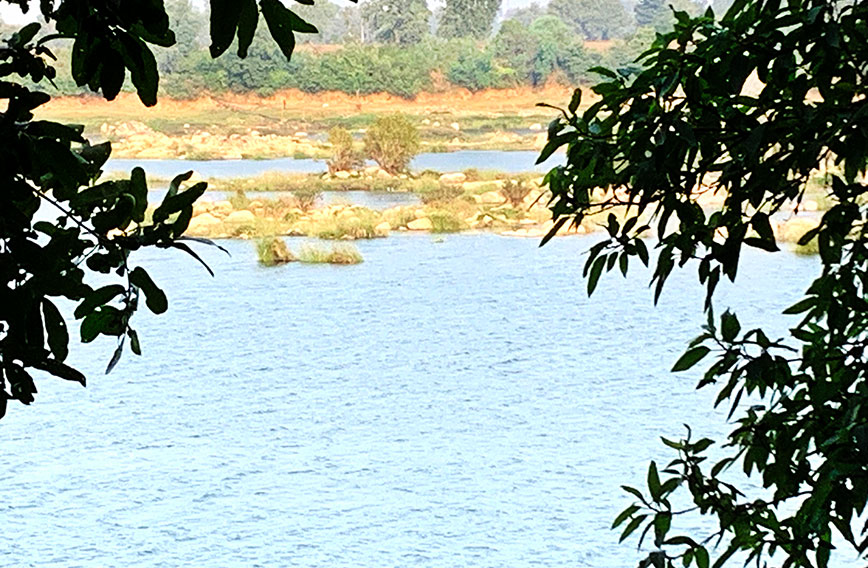 Lower down the clean and clear waters of the Ken river pour through a very dramatic marble gorge called the Raney Falls.
In the afternoon our hosts drove us through the very scenic Panna tiger reserve and we were lucky to see one of some 54 tigers believed to be living there. We also saw three bears and many other animals. Altogether it was a most rewarding nine-day holiday.
Now is a good time for motoring and what can be better than driving through an antique land.