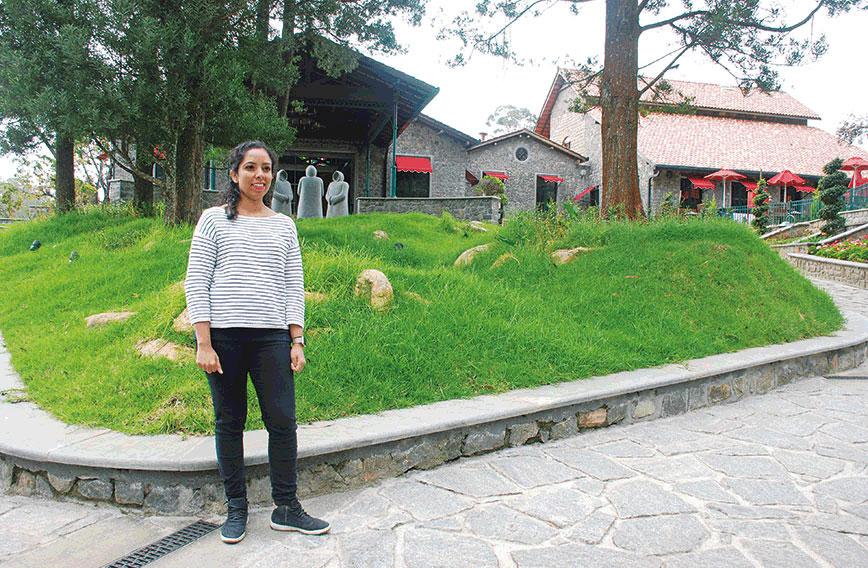 Shruti Shibulal: 'We have been sensitive to the environment' | Photos : Susheela Nair
Tamara colonial charm in 1860 bungalow, greenery
Susheela Nair, Bengaluru
Published: Nov. 23, 2018
Updated: May. 26, 2021
The imposing The Tamara Kodai is just a stone's throw from the din and bustle of Upper Lake View amidst the charming hills of Kodaikanal. Its grey stone walls with muted warm lighting, terracotta roof, ceiling-to-floor windows, and a fireplace surrounded by sofas, exude colonial charm. As we walked into the foyer, we sensed a silence, stillness and tranquility reminiscent of a monastery.
Situated 6,500 feet above sea level, the lovely old building has an absorbing history harking back to the days when it was originally called Baynes' Bungalow and owned by British District Judge Baynes. One of the first few houses to be built in the region, Baynes' Bungalow was sold to Father Louis Cyr in 1860. It was then renovated, reopened and rechristened La Providence. This stunning building was used as a monastic retreat for the priests of Nagapattinam in 1860.
"This is our second luxury property. We have been working on this project for a decade and tried to retain the original glory of the place. In keeping with the Tamara philosophy of 'Sustainable Good Life', we have rebuilt this retreat by being sensitive to the environment. We have used an efficient and sustainable design, respecting the importance of the building and its history. Our construction is focused on tree-friendly practices with minimal concrete cover, local flora and rainwater harvesting. Sewage and effluent treatment facilities guide waste-water back to bathrooms and landscaping," says Shruti Shibulal, CEO, The Tamara Leisure Experiences
Pvt Ltd.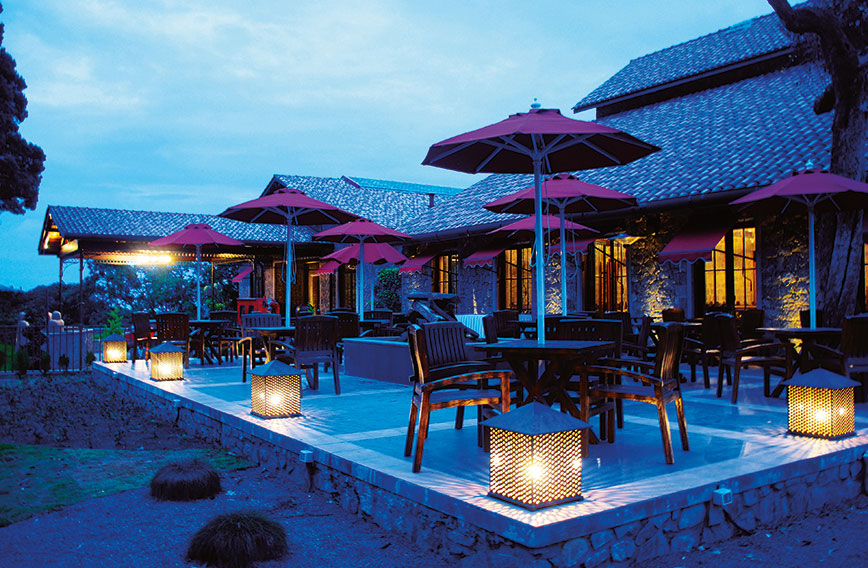 Enjoy an evening with the stars
"We have also retained many old parts like arches of doors and windows, the pillars, windows, grills and frames. The wood used for furniture is plantation teakwood imported from Indonesia. We are also aware of our responsibilities to the local community. We promote local artisans by displaying their products in our shop, The Verandah, inside the resort. The colonial interiors, such as the fireplace, have been retained to give our guests an authentic colonial feel," explained Shruti.
The 53 suites have wooden flooring and colonial interiors featuring a bedroom, living room, and, of course, a large balcony. I woke up to the sound of birdsong and the smell of fresh pine in this luxurious colonial bungalow. I enjoyed the morning mist while sipping a cup of coffee. And when you work up an appetite, you can pick from La Providence, an all-day dining restaurant. The area above the restaurant used to be a chapel. It has now been converted into a library-cum-recreational space. There is also Bistro 1845, a French-style vintage themed bistro and bar serving excellent European, Asian and Indian cuisine. Subsequently, the building was renovated and expanded with modern comforts such as indoor heating, two restaurants, a ballroom with a 200-person capacity, boardroom and conference facilities, and a Wellness Centre and Spa.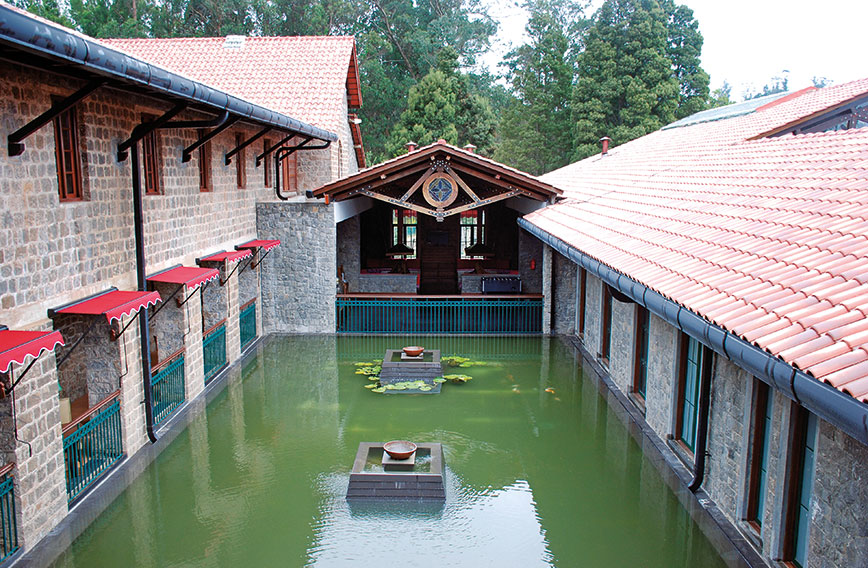 A lovely waterbody
The resort also hosts Levinge Lounge, Kodaikanal's only temperature-controlled pool and a bar located at the highest vantage point on the property. It overlooks a heart-stopping view of the valley below, ideal for post-swim rest and relaxation. There are plans to introduce instruments so that guests can indulge in stargazing as it is the highest point in the area.
Relax and be busy
My stay at this world-class heritage accommodation wasn't just about indulging in luxury experiences in the heart of the hills of Kodaikanal. I was also keen to explore its rivetting past and soak in the serenity of nature at its best. There are various activities for guests like treks, a historic cemetery walk, visits to old churches, forest road cycling to 'unexplored Kodai', a pool table, darts, and board games. If you would like to venture out, you can explore the area with an easy trek, cycle through the forests nearby and walk to the Kodai lake in the heart of the town.
On our first day, we set off on a two-hour trek into the Pambar forest near the resort. It led us to the breathtaking Rhino Nose Viewpoint, where the village of Vellagavi is located, and culminated at Pambar Waterfalls, better known as Liril Falls. On the forest trail, we soaked in the serenity of nature and came across bunches of Neelakurinji flowers.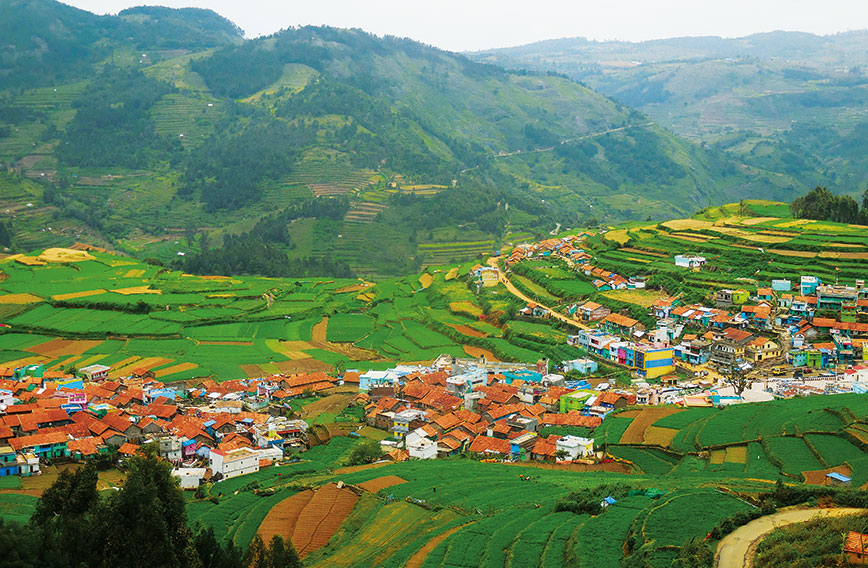 View of Poombarai village below
Syed, the resort's Unique Experiences Manager, a walking encyclopedia on the flora and fauna of the region, guided us along the forest trail. He regaled trekkers with nuggets on Kodai's history and the flora and fauna found in this part of the Western Ghats. He shared interesting snippets of information on a myriad herbs and medicinal plants from eucalyptus, wild tobacco, which is said to cure lung ailments, orange creeper, the leaves and roots of which are used as anti-fungal and anti-bacterial medicine in traditional Ayurveda, to fruit-bearing trees such as juicy wild passion fruit, Jerusalem cherry (commonly known as sundaikai in Tamil), and many others. We also went on an excursion to the lesser known village of Poombarai. The 20-km ride to Berijam Lake, cruising past the Madigatta shola forest and a few viewpoints, was equally interesting. The trip culminated with a visit to Manavannoor, a stunning hamlet offering verdant meadows and lush rolling hills. The place also houses a sheep and rabbit farm.
We returned to the resort for some rest and relaxation, which was augmented by a reinvigorating session at The Elevation Spa. The spa area, which was the erstwhile resting quarters of the priests, has been converted into fully equipped massage rooms, and a room for a manicure and pedicure. Indulging in a 60-minute Swedish massage which focuses on relaxing the muscles with long swipes, was the ultimate way to wind off my pleasurable stay at The Tamara Kodai.
FACT FILE
The Tamara Kodai
Address: No.22, St Mary's Road, Kodaikanal-624101
Email: info@thetamara.com
Phone: 0807-077701