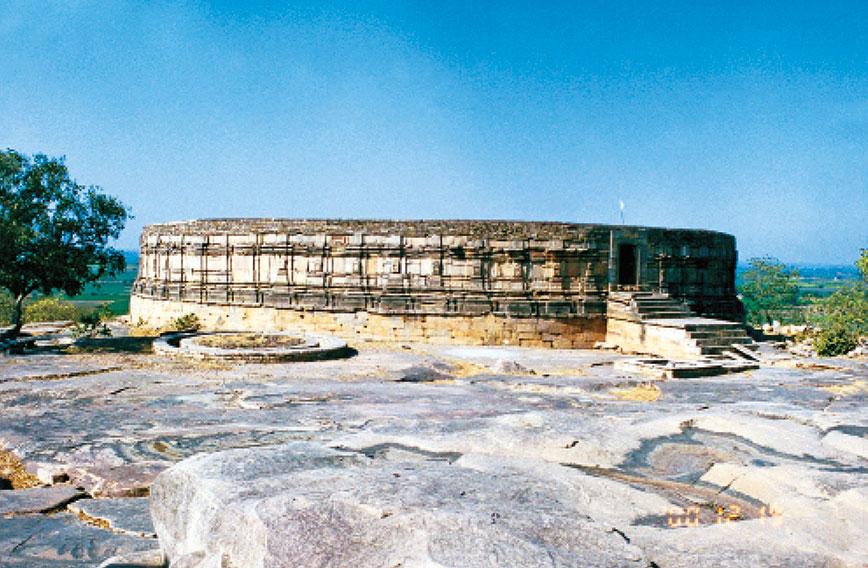 The temple at Mitaoli from outside
Take off for Gwalior on a temple adventure
Murad Ali Baig, Gawalior
Published: Mar. 09, 2021
Updated: Apr. 03, 2021
ANYONE with a sense of adventure and a taste for art and history will find some amazing old Hindu temples near Gwalior well worth a small diversion on a trip to the Agra region. It needs just an extra day to visit this cluster of temples near Morena that is now an hour and a half from Agra on a good highway. These ancient temples have been recently excavated and connected by reasonably good black-top roads and are absolutely fascinating. Actually, a motoring trip to the region has now become very easy because the 200-km highway between Delhi and Agra is now so good that it takes barely three hours.
After getting through the traffic at Agra, the drive towards Gwalior on National Highway 3 is very interesting. One soon enters the wild area of the Chambal ravines before descending, past old fortifications, to the beautiful Chambal river soon after Dhaulpur. The Chambal is a wide, deep and refreshingly blue river flowing between steep banks and a pleasing contrast to the muddy rivers of the Gangetic plains. It was not very far from here that Aurangzeb forded the river upstream and defeated his liberal minded but proud brother, Dara Shikoh, in the well-known battle of Samugarh.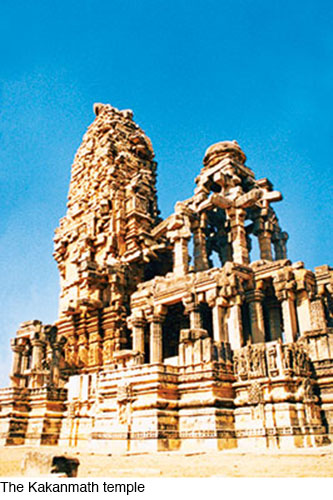 At Morena, 84 km from Agra, a left turn takes you towards Ambah and another right turn after 14 km towards Sihonia which is then another 15 km away. Then two km to the left one can see the amazing structure of the 11th century Kakanmath temple soaring starkly into the sky with its battered shikara towering almost 100 feet. In its heydays it would have been a rival to the famous temples of Khajuraho built some two centuries later. The severe damage suffered at the hands of unknown Turkish or Mughal marauders makes the huge, forlorn edifice especially emotive.
The structure of the temple stands surprisingly erect though stripped of many of its beautiful panels. Some of these are now in the Gujari Mahal Museum in the Gwalior fort but there are still many beautiful panels to admire. The structure shows that Hindu temples were not the solid rock masses one imagined but carefully prefabricated buildings with a frame of pillars and beams onto which carefully sculpted panels of gods, men, animals and mythical creatures were locked into place without any masonry or cementing medium. They were precisely interlocking stone members tied to each other with iron pins. Though the skeleton looks fragile and shaky, it is a tribute to the builder's skills that they still stand after so many centuries.
It is believed that the Shiva temple had been built by a queen, Kakanvati, who might have been a consort of King Kirtiraja who had been the Kacchwaha ruler of Gwalior around AD 1000. They were to later become the rulers of Jaipur. The temple is constructed on a high platform. The inner sanctum is still in use and the elaborately carved big pillared hall or mandap remains impressive.
Close to Kakanmath is a solitary colossus of Hanuman and an equally ancient Jain sculpture known as Chainath. Three other interesting temples are not far away but can only be reached after returning to Morena. A left turn 10 km from Morena gets you to a 35-km-long road that connects to Malanpur on the road between Bhind and Gwalior.
After a distance of about 25 km a small hill can be seen, rising above the wheat fields on the left. This is the amazing Chausat Linga temple of Mitaoli that is unique among the temples of India. It is also called Ekottarso Mahadeva Mandir. Although it has no spire, it commands attention. Built on a big hillock, it is like a giant chariot wheel with an outer ring of 64 Shiva shrines and a hub of a circular central shrine with a circular courtyard between them. When in use it must have been a magical experience for devotees worshipping at the central shrine with the lights of 64 surrounding shrines flickering all around.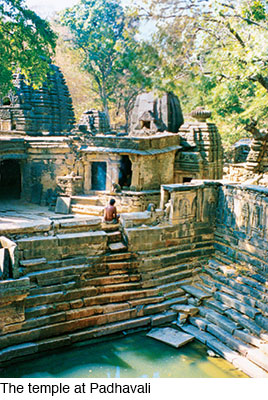 Just three km from Mitaoli but on the right of the road are clusters of equally interesting temples of Padhavali and Bateshwar. These early sculptures date to the time of the Nagas who had ruled the area from the third century until the Gurjaras and Tomars and Rajput rulers by turn succeeded one another. The tumbled clusters of temples, tanks, pillars and sculptures with gnarled trees growing between them look like a scene from Rudyard Kipling's Jungle Book. Many interesting carvings of Nagas, dancing Ganeshas, Hanuman, Surya, Kali and many other deities lie strewn around. There is a more recent fortification but no evidence of desecration. The temples seem to have simply been abandoned and fallen into disuse and disrepair.
A diversion to see all these temples will need about an extra four to five hours, which gives enough time to either go on to the many interesting attractions of Gwalior or to return to Agra. We did the area during two recent trips. On the first we went to Padhavali and Bateshwar and on the other we went to Kakanmath while returning from Khajuraho. The linking roads were not much of a challenge to drivers in any conventional car. It was, however, a most interesting diversion through pretty rural countryside that I would strongly recommend to anyone interested in travel to unusual places.