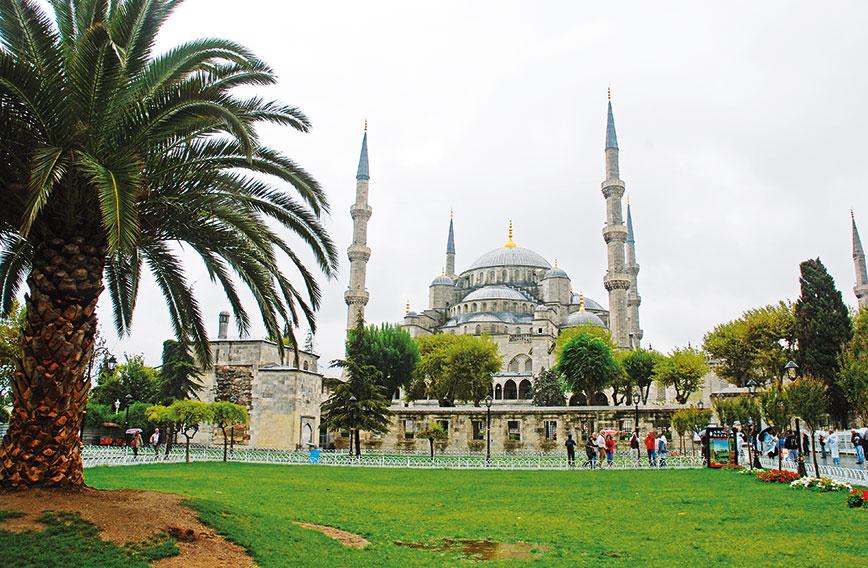 Istanbul and its many charms
Susheela Nair, Istanbul
Published: Aug. 28, 2019
Updated: May. 26, 2021
The unique city of Istanbul in the north-west of Turkey is, amazingly, the only city in the world straddling two continents. In fact, not only does it link Europe and Asia, it also fuses different worlds — the Occident and the Orient, the Islamic and non-Islamic.
Turkish history is replete with many different cultures. First, the Hittites settled here, then the Greeks, followed by the Romans. When Christianity spread, it found a solid base here, creating the empire of Byzantium. And finally, the Ottomans invaded and turned the country into an Islamic nation.
Istanbul is often mistaken to be the capital of Turkey. That honour goes to Ankara. But Istanbul is an interesting city, a synergy of many influences.
All the key attractions are within driving or walking distance. We started with Topkapi Palace which is an outstanding museum. There were three museums to explore before we got to the main palace, which made the excursion exhausting but very rewarding. The palace was home to the Ottoman royalty for 400 years of their 600-year reign, and later abandoned for the Dolmabahce palace along the Bosphorus river.
The palace flaunts state rooms, a harem, mosque, treasury, library, open pavilions and a row of royal kitchens set amidst landscaped gardens overlooking the Marmara and the Golden Horn. Its plain exterior is deceptive. Inside, the palace sports flashy interiors with opulent thrones, ornaments, armour, daggers, rose water sprinklers, writing boxes, holy relics variedly made in gold, enamelled or set with precious stones, paintings and fabulous china.
Commanding the city's skyline, the Blue Mosque with its six minarets is the most Instagrammed monument in Turkey. It's also called the Sultan Ahmet Mosque, after the sultan who commissioned this labour of love. Sadly, he passed away a year before the monument was ready and is buried close by. Every inch of space at the Blue Mosque is covered with decorative tiles, painted pillars, calligraphy, woodwork and ivory inlay. We had a look at the rare blue Iznik tiles, clicked photos of its massive chandeliers and exited.
The Blue Mosque is close to other famous sights like the Hagia Sophia, aka Saint Sophia, a basilica reconstructed in AD 535 by Justinian the Great. The monument was the largest cathedral in the world in its time. When Mehmet the Conqueror captured Constantinople (renamed Istanbul) in 1453, he declared it a mosque and called it Ayasofya. Then the Ottomans invaded, and the mosaic Christian symbols were hastily plastered over with Islamic designs and minarets were added, turning the monument into a mosque. Carefully restored, it is a museum since 1933 and experts have refurbished some of the old mosaic paintings. When we walked through this magnificent structure, we got to see part-Islamic, part-Christian designs. The ceiling is beautiful, with partly-restored mosaics of Mary with Baby Jesus and Angel Gabriel. Right next to them, we saw typically Islamic designs. It's the coming together of two civilisations which were at war for centuries.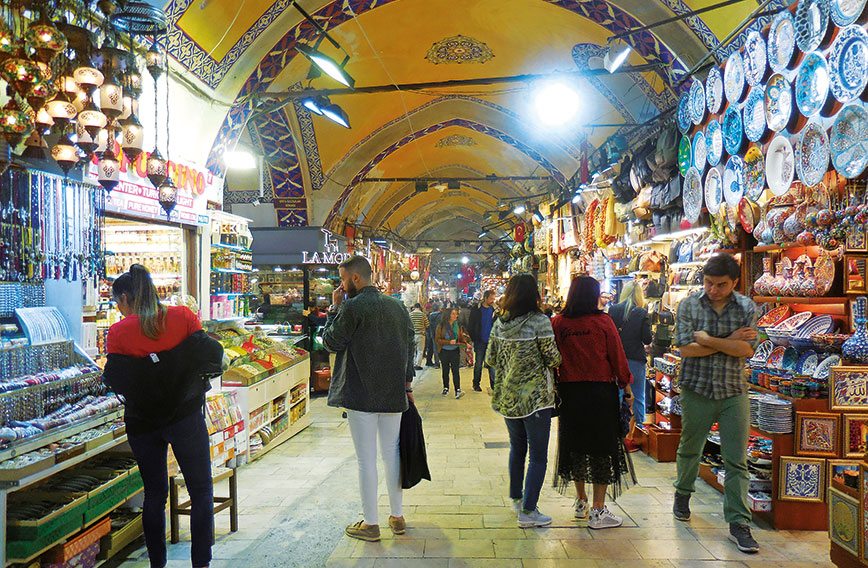 The Grand Bazaar is the world's oldest example of a shopping mall
No trip to Turkey is complete without a visit to the Grand Bazaar. It's the world's oldest example of a shopping mall with its labyrinthine lanes and massive structure. Everywhere there are shops selling jewellery, furniture, carpets, evil eye trinkets, leather goods. It's an overwhelming sight. History resonates here with interiors predominantly Byzantine in form and decoration with Ottoman overlay of chandeliers, ablution basins and medallions inscribed with fine Arabic calligraphy.
Reputedly the largest covered bazaar in the whole world, a sprawling 30,702 sq m, the Grand Bazaar or Kapali Carsi (covered bazaar) is unlike any urban shopping mall and yet serves the purpose of one. Its exterior is a nondescript stone grey. There are no signboards, show windows or displays, only a stream of people entering it. What comes as a surprise is that it has as many as 18 large and small entrances, 65 wide and narrow paved streets and 3,800 shops! What awaits us is bewitching — a labyrinth of painted vaults and arches, high windows with sunlight filtering in, lanterns, bright lights, shops overflowing with tempting goods and marble fountains.
You will find all types of Turkish carpets and rugs, gold chains, rings, brooches, bracelets and necklaces, chunky and filigreed silverware, colourful scarves edged with finely crocheted lace, embroidered blouses, a flood of leather and metal goods, onyxware, ceramics, and so on.
Another famous market is the Egyptian Bazaar (aka Spice Bazaar) near the Bosphorus river. Named after the Egyptian traders who came to buy and sell spices, among other things, it is an explosion of tastes and smells. It's like your average market, but with every imaginable colour on display. Spices, sweets, pistachios and different varieties of tea and much more.
The 62-m Galata Tower built by the Genoese in 1348, once the tallest building, now houses a popular roof-top restaurant, bar and nightclub. During the Ottoman era it was mainly used as a lookout tower for the fires that regularly swept the city. From the top of Galatta Tower, we had a panoramic view of the Golden Horn, the Bosphorus and the Historical Peninsula.
Foodie paradise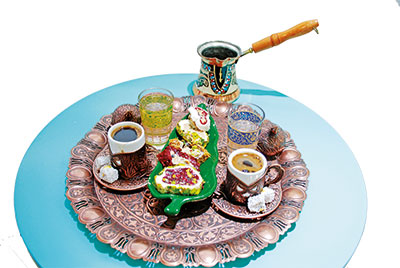 The food is tasty as it is prepared from fresh ingredients and includes Mediterranean and Middle Eastern flavours. The Turkish love their tea as much as their coffee. We tried Gozleme, similar to pancakes, filled with Turkish sausage, spinach and cheese, or minced lamb. If you have a sweet tooth, don't miss the sticky-sweet baklava and Turkish delight (lokum) coated with fine sugar and stuffed with pistachios. And while in Istanbul, get yourself a meat-stuffed doner kebab at a street-side kebabci.
FACT FILE:
Getting there: Turkish Airlines operates flights to Istanbul from various countries.
Where to stay: There are several five-star hotels like Hilton Istanbul with a view of the Bosphorus.
Tips: Visit a hammam for a scrub and come out clean. Have lunch at a waterfront restaurant, go on an Istanbul-by-night tour or an evening cruise on the Bosphorus.