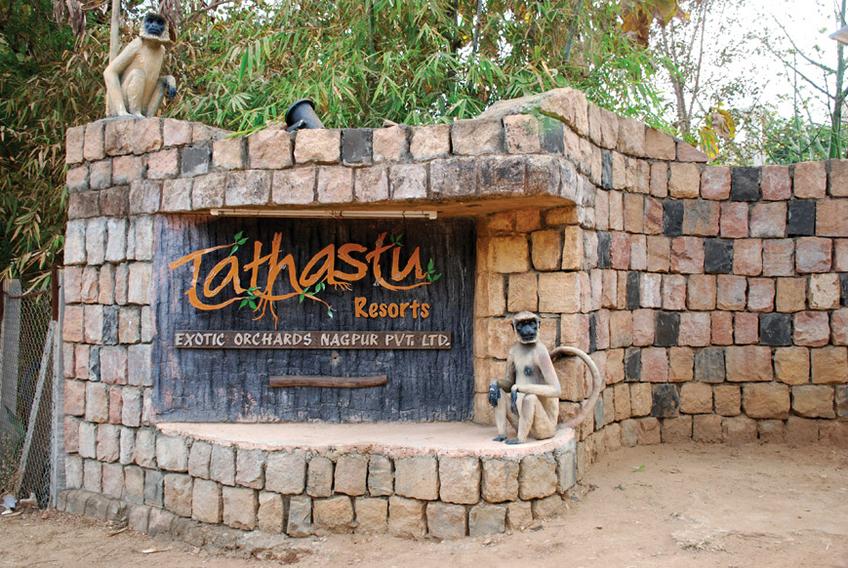 Tathastu: A rustic retreat near a jungle
Susheela Nair, Nagpur
Published: Apr. 18, 2016
Updated: May. 02, 2016
Tathastu resort is a charming weekend getaway located in a hamlet on the fringes of Pench National Park in Madhya Pradesh. Drive down there for an ideal break from the urban chaos of Nagpur city.
"What started as a personal retirement plan soon metamorphosed into a magnificent obsession to create a multispecialty world-class destination. When we took our first step, we felt as if God had just said Tathastu! Instinctively, we froze on this name," says Anil Agarwala, managing director of this wildlife and recreational resort.
And what is the meaning of 'Tathastu' which is a Sanskrit word? "It means 'so be it'. In Indian mythology, God grants you a wish by raising his right hand in blessing and saying 'Tathastu...granted as you desire…so be it'!" explains Agarwala.
Tathastu resort is a rustic retreat and it exudes the air of the jungle. Two langur statues perched on a compound wall greeted us. The tribal design of the gate and the reception area with its rustic furniture and animal paintings were equally arresting.
What instinctively captures attention is the aesthetic juxtaposition of design, luxury and art in detail. Each room has been done up to give the visitor the feel of the forest and its habitat. Everything and anything here is a work of art. Drawing inspiration from traditional tribal dwellings, the resort offers a wide range of ethnic accommodation: villas, tents, caves and even a tree house.
Interestingly, each of the seven villas is christened after the prominent features of different birds: Bulbul's crown, Kingfisher's catch, Hoopoe's stripes, Oriole's gold, Woodpecker's peck, Flamingo's streak, Hornbill's beak and Drongo's tail. The vibrant earthy tones and the natural materials used for construction blend perfectly with the surrounding landscape.
The architecture is a mix of Indian concepts and modern comfort. Rustic chic defines these rooms. Each displays simple but stylish furniture, while private verandahs add charm. They offer modern conveniences, designed using eco-friendly precepts.
The 4,000-sq-ft three-bedroom villa has a common drawing room, dining room, TV room, library, verandah and a private plunge pool. There is a private chef, waiter and housekeeper to attend to the guests.
The personal touch is evident. Every wall, every room's flooring, every bathroom has something unique in its design and décor. From natural soaps and shampoos in the bathrooms to bamboo laundry baskets, solar lamps, embroidered bedspreads and an amazing collection of books on wildlife, every aspect of each villa has been conceptualised with utmost attention to detail. Each room in a villa has a unique theme. Every particular artifact has been handpicked and chosen.
The resort, emphasising eco sensitivity, encourages employment of local villagers and tribals. A respect for local rural architecture is discernible and construction is done with locally available materials. In keeping with its eco-friendly status, all efforts are made to retain the gifts of nature. Food is prepared from locally grown items and vegetables.
There's also the tree house, perched atop a concrete tree, up a winding staircase. It was indeed an experience to enter its trunk from a concealed door and clamber up its spiral staircase to reach a comfy tree room offering a real feel of nature. It complements the jungle experience and offers a stunning view.
For the adventurous, there are tents with all the amenities of modern life. The names, Rani Jhansi and Veer Shivaji, seemed apt for the tents as they matched the majesty of the erstwhile royal families.
The highlight of the resort are the cave rooms, where one can live luxuriously inside primitive rocks named after park hillocks. Sculpted out of concrete, the undulating surface resembles a cave. Inside, handpicked artifacts and other carefully collected knickknacks add to the room's décor. The interiors sport gold-plated furniture and a profusion of traditional knickknacks like a stone mortar and pestle, an earthen kettle, a wooden bell and brass pots. The highlight of the cave room is the shower tucked behind cascading rocks, which gives the illusion of a natural waterfall.
For the young and restless there are activities like nature walks, archery, birdwatching, boating, star-gazing, village visits and cycling around the countryside. The adventurous can head to the adjacent Pench National Park for jungle safaris.
The resort is an avian paradise. Tathastu's resident naturalists accompany visitors on birdwatching trails and help identify different species. Folk performances and wildlife documentaries are also organised in the evenings.
You can pamper yourself at the resort's Wellness Spa. In addition there are yoga sessions, acupressure, mantra chanting and past life regression therapies. One can also take a plunge in the indoor swimming pool or attend pottery and handicraft classes at the Art Training Centre.
Explaining his ambitious project, Agarwala says, "Master craftsmen will be training villagers in various arts. Tathastu will be involved in providing inputs in design, raw material, production and, of course, marketing. The upcoming Art Centre will indulge guests in pottery, wood carving, carpentry and handicrafts."
Fact File
Address: Pench Tiger Reserve, Village Awargani, Seoni District, Madhya Pradesh
Email: info@tathasturesorts.com
Web: www.tathasturesorts.com
Reservations: sales@tathasturesorts.com
Tel: 91 97655 50606
Tariff: Rs 13,000-18,000