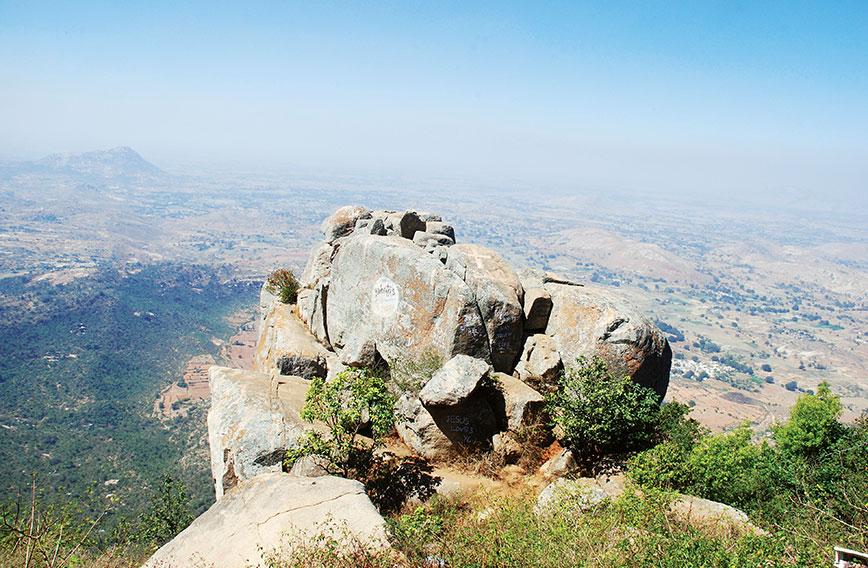 Bird's eye view from a rock at Horsley Hills
Horsley Hills is an ideal weekend getaway
Susheela Nair, Chittoor (AP)
Published: Nov. 13, 2017
Updated: May. 26, 2021
The eight-kilometre drive from the parched plains of Madanapalli in Chittoor district past wooded slopes and hair-pin bends to Horsley Hills was spectacular. Perched at an altitude of 1,265 metres, the fascinating hill station of Horsley Hills is an ideal weekend getaway tucked away in the Nallamalai range near Madanapalli. It was the summer retreat of W.D. Horsley, the erstwhile Collector of Cuddapah. If you are travelling in summer, you will be greeted by the exuberant hues of blooming gulmohar and jacaranda along the winding road. In the hills and their environs can sometimes be seen forest denizens like wild boar, monkeys, jungle fowl and snakes. One is also likely to encounter the Chenchu tribes who live here with their famous Pungannur cows who eat little fodder but yield a lot of milk.
After settling into our room at the Governor's Bungalow, we enjoyed the unhurried pace of life. Despite the verdant foliage around and the temptation to trek, we opted not to venture out. The magical stillness of the evening was broken by the raucous cries of birds as they returned to roost. Some common langurs were prancing from one tree to another, indulging in playful pranks. We found trees of all sizes and heights, sheltering a myriad of birds. An old eucalyptus, said to be more than 150 years old, and endearingly called Kalyani, was apparently planted by Horsley and is the star attraction of the place. The lush forests around these hills have plenty of activities to keep you engaged. If the outdoors fascinates you, there is birdwatching, trekking and camping under a starry sky on offer.
History and legend:
The place abounds in legends. According to one popular story, a religious woman called Mallama lived in isolation on a hill in the Nallamalai range of Andhra Pradesh. She was protected and looked after by an elephant (yenugu in Telugu). Subsequently, the place came to be known locally as 'Yenugu Mallamma Konda' (hill). A temple stands in her honour atop the hill.
Horsley heard this legend and decided to take a trip there to escape the heat, dust and spicy food of Andhra Pradesh. During one of his meanderings into the hill ranges of Chittoor district, he chanced upon these pristine tracts. Enthralled by their astounding natural beauty and cool environs, he constructed a cottage and spent his summers there. He laid the foundation of a hill retreat which came to bear his name. But, at that time, there was no access to this place by road. The beautiful house that Horsley stayed in still stands. In 1870, he constructed two quaint houses. Subsequently, various other bungalows were added.
These bungalows degenerated into despair and neglect. But the glory of Horsley Hills was revived by the Governor of Andhra Pradesh, Chandulal Madhavlal Trivedi, soon after the state was formed in 1953. A road was laid in 1958 and the hilltop villa was the residence of the Governor during his summer sojourns for many years. Since then Horsley Hills has taken its place on India's tourism map.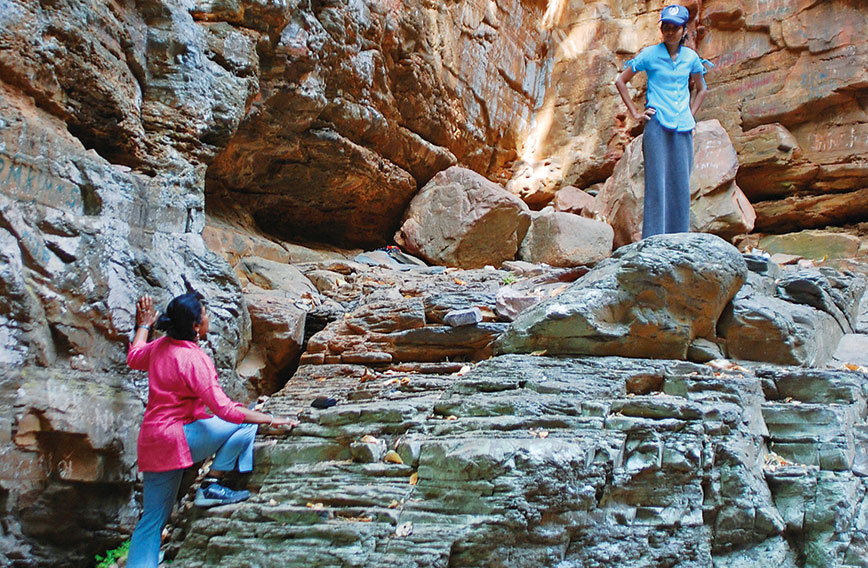 Red-coloured quartz rocks on the way to Talakona Falls
Horsley Hills flaunts a botanical garden with rare plants and a Deer Rehabilitation Centre. The forest department has developed the area into an attractive tourist park called 'Environment Park'. And the children's park with a mini zoo has rhesus monkeys and crocodiles. The densely wooded slopes developed by the forest department abound in birds. Hoopoes are the star attraction. The Environment Park is well-maintained, and the birds and animals are well cared for in cages.
From Valley View Point, just behind the Governor's Bungalow, one can have panoramic views of the valleys, and a patchwork of paddy fields and hamlets in the neighbouring areas. If you are in an adventurous mood, climb up the rocky escarpments to view spectacular sunsets. The magnificent boulders are an ideal place to practise rappelling and rock climbing. Another prominent tourist spot is Gali Bandalu (Windy Rock), a rocky slope that derives its name from the gusty winds that blow nearly all day.
Trek and pray:
On our return journey from Horsley Hills, we took a detour to Talakona Falls, 57 km from Tirupati and nine from Nerabilu. En route, we saw a forest department signboard indicating the presence of a 300-year-old, five-kilometre-long killer weed that had spread its tentacles and killed all the plants in that radius. A short trek from here led to small waterfalls surrounded by red quartz rocks, an ideal place for rock climbing and rappelling. There was nothing to disturb our quietude in this serene locale except the trickle of water. Talakona is famous for the temple of Sri Siddheswara Swamy and the picturesque waterfalls in the midst of thick forests. The Talakona Waterfalls which cascade 300 feet is a four-kilometre trek from the temple. However, there was not much water during our visit and we saw numerous silvery streaks descending the cliff face into the ravines below.
Around 40 km from Horsley Hills is Gurram Konda, another interesting spot adjoining Horsley. Atop the hill is a fortress, said to have been under the occupation of Raza Ali, nephew of Tipu Sultan. Stone plaques at the fort suggest that the 'Tiger of Mysore' stayed here from 1779. In 1791, British troops attacked the fort and took possession of it but later Tipu drove them out and handed the fortress back to his nephew.
Fact File
Nearest airport: Bengaluru (151 km),
Tirupati (140 km).
Nearest railhead: Madanapalli Road (27 km).
By road: Bengaluru (151 km).
Best Season: September to January.
Where to stay: AP Tourism's Haritha Hill Resort.