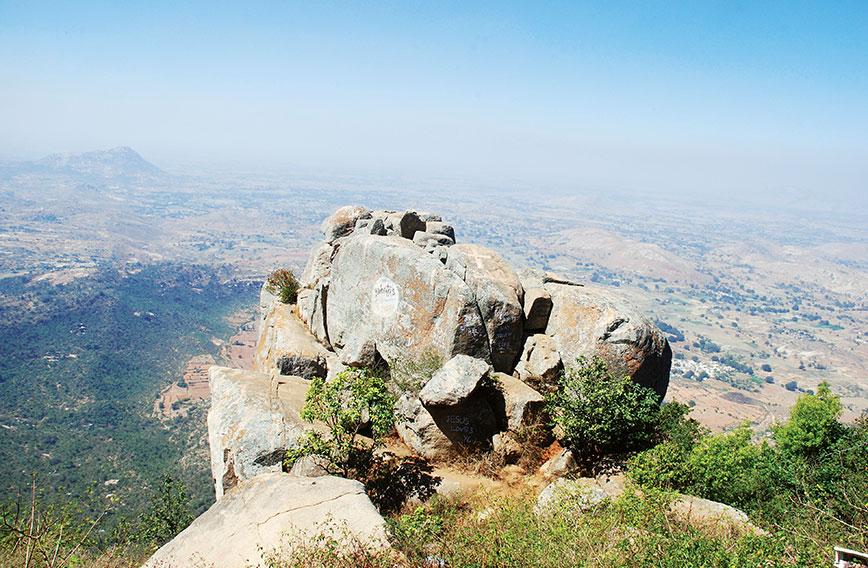 Bird's eye view from a rock at Horsley Hills
Horsley Hills is an ideal weekend getaway
Susheela Nair, Chittoor (AP)
Published: Nov. 13, 2017
Updated: Mar. 15, 2019
The eight-kilometre drive from the parched plains of Madanapalli in Chittoor district past wooded slopes and hair-pin bends to Horsley Hills was spectacular. Perched at an altitude of 1,265 metres, the fascinating hill station of Horsley Hills is an ideal weekend getaway tucked away in the Nallamalai range near Madanapalli. It was the summer retreat of W.D. Horsley, the erstwhile Collector of Cuddapah. If you are travelling in summer, you will be greeted by the exuberant hues of blooming gulmohar and jacaranda along the winding road. In the hills and their environs can sometimes be seen forest denizens like wild boar, monkeys, jungle fowl and snakes. One is also likely to encounter the Chenchu tribes who live here with their famous Pungannur cows who eat little fodder but yield a lot of milk.
After settling into our room at the Governor's Bungalow, we enjoyed the unhurried pace of life. Despite the verdant foliage around and the temptation to trek, we opted not to venture out. The magical stillness of the evening was broken by the raucous cries of birds as they returned to roost. Some common langurs were prancing from one tree to another, indulging in playful pranks. We found trees of all sizes and heights, sheltering a myriad of birds. An old eucalyptus, said to be more than 150 years old, and endearingly called Kalyani, was apparently planted by Horsley and is the star attraction of the place. The lush forests around these hills have plenty of activities to keep you engaged. If the outdoors fascinates you, there is birdwatching, trekking and camping under a starry sky on offer.
History and legend:
The place abounds in legends. According to one popular story, a religious woman called Mallama lived in isolation on a hill in the Nallamalai range of ...