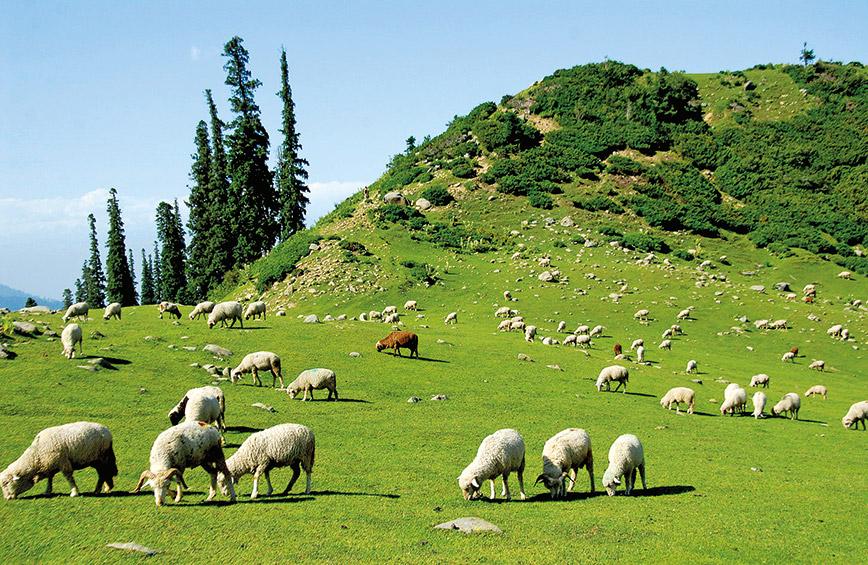 A flock of sheep graze in Tosa Maidan
Peace, sheep at Tosa, stay a while in village homes
Jehangir Rashid, Kashmir
Published: Feb. 10, 2023
Updated: Aug. 29, 2023
TRY an adventurous trek in Kashmir this summer after you're done with Srinagar's Dal Lake and Tulip Gardens. Tosa Maidan and its adjacent scenic spots in Budgam district are opening up for tourists with a yen for the outdoors.
You can spend the night in a homestay and go on a trek with a guide. The trekking route starts from Mujpathri, traverses Doodhpathri or the Valley of Milk and culminates in Tosa Maidan. Walk through verdant pastures dotted with sheep and dense alpine forests. Cross rivers and gurgling streams and spend time at a high altitude lake. This year, some 5,000 trekkers including foreigners undertook treks through Mujpathri.
Tourism really started here as a means to curb timber smuggling, a booming activity rampant 20 years ago. In 2005, villagers in Sitaharan and its adjoining villages near Tosa Maidan and Doodhpathri decided to take on the responsibility of protecting the adjacent forest. But their efforts were frustrated because of the timber smugglers who kept felling trees.
Volunteers led by Sheikh Ghulam Mohi-ud-din alias Adil, sarpanch of Sitaharan village, reached out to the smugglers. "At the end of the day it boiled down to the issue of livelihood. The timber smugglers said that they weren't happy to cut trees, but they had no choice since they didn't have jobs. This was a tricky situation and we had to find some solution," says Mohi-ud-din.
The volunteers got support from the Jammu & Kashmir Right to Information Movement (J&K RTIM) led by Dr Shaikh Ghulam Rasool. The J&K RTIM filed an RTI application to find out the extent of timber smuggling. They discovered that timber smuggling was rampant right from Mujpathri to Tosa Maidan. At that time the Tosa Maidan Bachav Front (TBF) had been formed to free the maidan from the Army which was using it as a firing range. The Army's lease expired in April 2014 and the maidan was given back to the people.

The movement against timber smuggling received support from the TBF. "Providing a means of livelihood to timber smugglers was a challenge. The timber smugglers were motivated to protect the forest. They were engaged as tourist guides and adventure tour operators and asked to take people on trekking and adventure tours," says Dr Rasool.
The trekking tours gave an impetus to rural tourism in Sitaharan and adjacent villages. Homestays have come up in these villages near the tourist spots of Doodhpathri and Tosa Maidan.
"Rural tourism has started here, but it needs to be given a proper fillip. We are not in favour of the kind of tourist infrastructure that has come up in Gulmarg, Pahalgam and Sonamarg. We want our villages to be developed on eco-tourism lines," says Mohi-ud-din.
Roads, washrooms and mobile connectivity are urgently needed. The road from Sitaharan up to the Dum Dum shrine needs to be macadamized. Locals say they don't want roads in the interiors of Doodhpathri and Tosa Maidan because that would disrupt the fragile ecological balance of the region.
"Once tourists reach Tosa Maidan near the Dum Dum shrine they can hire horses. That way they can enjoy the beauty of this meadow. Right now a small number of tourists are being hosted by the people of Sitaharan village. The government has given permission for homestays but there are very few and their number needs to be increased," says Mohi-ud-din.
Mohi-ud-din pointed out that once more homestays come up in Sitaharan and adjoining villages, employment opportunities will increase. He said the government should construct washrooms at Tosa Maidan and Doodhpathri. Currently tourists don't have any such facility.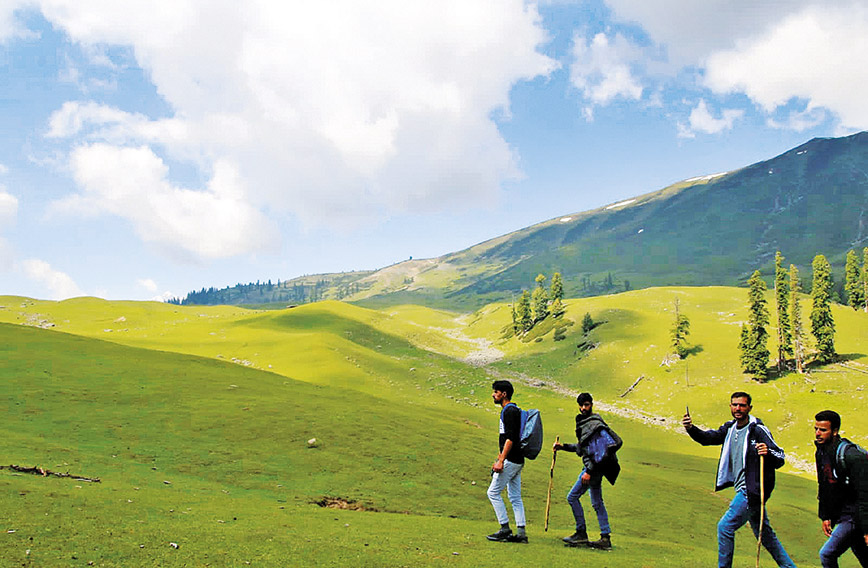 Go on a trek through pastures, forests, rivers and high altitude lakes
"Mobile connectivity is abysmal in both places and the villages adjacent to them. All mobile operators should be asked to improve their services. Tourists can then call their near and dear ones back home. If these facilities are provided Tosa Maidan will become a popular tourist destination in Kashmir," adds Mohi-ud-din.
Over the years guides have been taking groups of travellers on the trekking routes of Mujpathri and other villages in the vicinity of Tosa Maidan. The magnificence and beauty of 12 high altitude lakes adds to the beauty of the overall surroundings. These lakes include Konisar, Domailsar, Tatakutisar, Badarsar, Gaadsar, Guriwansar, Damamsar, Sandooksar and Paanisar. The main attraction for most trekkers is Kadlabal near Tosa Maidan.

"Adil Sahib should be given the credit for mobilizing and motivating villages here to stop timber smuggling and then finding a means of livelihood for the former timber smugglers. Adil and 52 sarpanches have been instrumental in making the dream of rural tourism a reality in Mujpathri and adjoining villages," says Dr Rasool.
He and Mohi-ud-din also emphasize they don't want mass tourism in villages close to Doodhpathri and Tosa Maidan. They say promotion of local cuisine and local culture is a priority and would enhance the tourist experience. They have already initiated steps to include food and culture as an important aspect in the villages. It costs `1,000 per night with breakfast and dinner to stay at a homestay. A night at Tosa Maidan costs `1,200. The guide charges `1,200 and so does the pony man.
"There should be no interference with flora and fauna, waterbodies and glaciers at Doodhpathri and Tosa Maidan. The local economy needs a boost and that is only possible when locals are engaged to serve tourists. But the tourism department has cold shouldered our suggestions," says a disappointed Dr Rasool.
For homestay and other facilities contact Sheikh Ghulam Mohi-ud-din alias Adil Sahib at 06006404740.