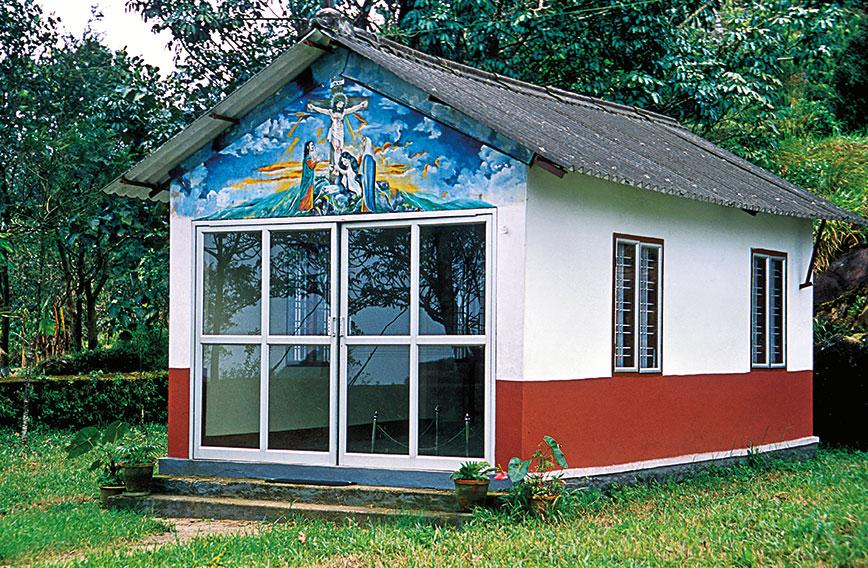 The hilltop ashram of Kurisumala
Travel to Vagamon, find synergy of 3 religions
Susheela Nair, Kottayam
Published: May. 08, 2018
Updated: Jan. 29, 2020
As we left the rubber town of Kottayam, we felt a perceptible change in the landscape and weather. The air smelt different too as our vehicle negotiated hairpin bends on the Peermade-Vagamon Road, unveiling mist-cloaked valleys and small tea gardens carpeting mountain slopes. There was a distinct crisp freshness in the air.
I was struck by nature's benevolence and the pastoral charm of the place. A green carpet rolled out in front of us. Nature was at her bountiful best with the roadside pageant unravelling itself, frame by frame — exotic flora and fauna, glades and dewy meadows interspersed with shola forests. What charmed me was the freshness of this grassy stretch of land, amazingly unexplored by most tourists.
Located at 1,100 metres above sea level, on the western fringes of Idukki district, bordering Kottayam district, the Vagamon mountain range is an expanse of varying shades of green flanked by the Idukki reservoir on one side and fabulous rolling grasslands, hillocks, cliffs and scenic views of Kottayam on the southern side.
All I learnt of its history was that about a century ago, the English chanced upon this land, and set up plantations here. Then followed Christian missionaries who built their church and ashram. Vagamon does not flaunt any vestiges of the Raj nor has it any vantage points named after Englishmen, like other places. The Kurisumala Ashram was established in the 1940s. All that is known is that Vagamon was opened in 1926 when Walter Duncan and Company planted tea on 534 acres. By 1930 the boom was over.
Cloaked in a blanket of green, Vagamon's unique ecosystem and topography are complemented by its salubrious weather. Casual tourists will be treated to scenic views of rolling hills with green meadows if they venture out on invigorating walks. There are plentiful options for adventure buffs to tread the off-the-beaten trails. There are birds to be stalked, butterfly trails to be discovered and endemic plants to be identified. Nothing can be more refreshing than walking in the rain along waterfalls when mountain slopes are carpeted with monsoon foliage and dotted with flowing streams. The grasslands are the abode of endemic mammals, birds, insects and butterflies. One can see the small Indian civet, porcupine, ant-eater, martin, flying squirrel, toddy cat, Malabar giant squirrel, slender loris, hares and so on.
Trudging up and down mounds of grass is a delightful pastime. We ambled around, following the bleating of the goats and sheep in the nearby hills and meadows. One can reflect in blissful solitude or simply curl up with a book on the grassy knolls. The pine valley in Kolahalamedu is just a few minutes' drive from the motta kunnu (bald hill). We felt refreshed after a leisurely stroll in the shade of towering pine trees, inhaling the pine-scented air with the crackling of pine needles and cones underfoot.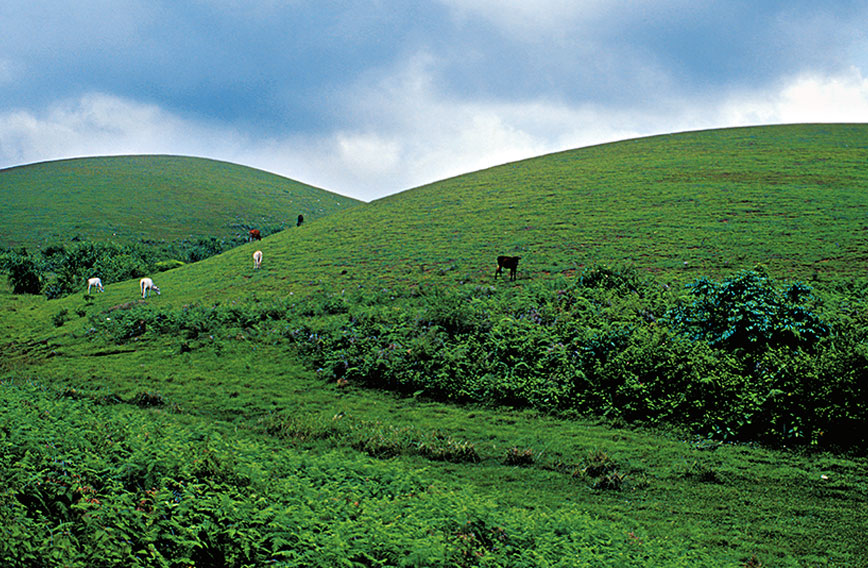 Vagamon has exotic flora and fauna, glades, dewy meadows and shola forests
Vagamon's claim to fame rests on a string of three hills signifying religious harmony, and a silent monastery, where Hindu religiosity coexists peacefully with Xian spirituality. One can embark on a para-hopping (rocky terrain) spree in Vagamon to discover the chain of three hills, each signifying a different religion.
Like many hill stations, Vagamon has a 'suicide point', Moopanpara, a V-shaped gorge. Standing on the precipitous edge of the gorge we peered into the depths of the ravine and the valley below. Thangal Para, a precariously perched huge rock with the dargah of Sheikh Fariduddin, is famed for its annual Urs festival when thousands of devotees congregate. It is associated with an Afghani Sufi saint who lived and died here about 800 years ago. According to a local legend, a small stone he used to grind pan with transformed into a spherical rock. On the eastern side of Kurisumala is Murugan Para with a rock-cut temple dedicated to Lord Murugan.
Located 10 km from Vagamon is Kurisumala (Mountain of the Cross), a Christian pilgrimage spot, with 14 crosses fixed along the path leading to a church on the hilltop which offers magnificent views. Hordes of devotees trudge up the hill, carrying wooden crosses, during the Holy Week. One can see the recreation of Christ's final journey in a series of pictures or tableaux. We lingered for a while to fill our lungs with fresh mountain air and feasted our eyes on the inspiring view below — the cows of Kurisumala Ashram grazing afar, the rolling plains of Pala and Thodupuzha, the mist-wreathed hill slopes and lush tea plantations. At the foothill is St Thomas Mount, a centenary memorial.
The last stop of our sojourn was the hilltop ashram of Kurisumala where we found a curious melange of Christianity, Indian spiritual traditions and Gandhian thought. Sprawling over 40 acres, the 50-year-old ashram has a community prayer hall, vegetable garden, bread bakery, a barn and a milk-processing centre. The granite building houses a church, community quarters with cells for monks and a library. The entire place exuded a meditative calm and silence.
We were treated to a glass of hot 'Kurisumala milk', a popular brand among the locals and the ashram's main source of income. We were impressed with the simple and austere lifestyle of the monks. They walk barefoot, cook vegetarian food and sit on the floor for meals. In the evening, when the monks congregate in the chapel for prayers, a traditional oil lamp is lit in front of the altar. The sacred chants mingled with quotations from Hindu scriptures resonated in the air and we felt at peace when we left the serene ashram.
FACT FILE
Website: www.idukkitourism.com
Best season: August to May
How to reach: Nearest airport: Nedumassery (Kochi) –120 km
Nearest railhead: Kottayam – 64 km
By road: Thekkady – 60 km, Munnar – 150 km