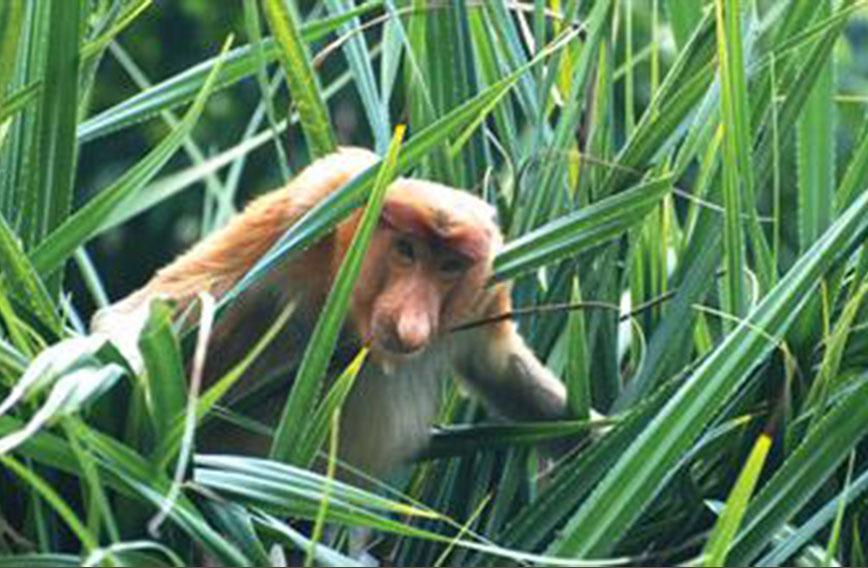 At Bako in Borneo find great jungles and beaches
Susheela Nair, Kuala Lumpur
Published: Nov. 24, 2015
Updated: Mar. 15, 2019
To get to the Bako Wildlife Park, we took a pleasant drive from Kuching, the capital of Sarawak, to the nondescript village of Kampung Bako. The only way to reach the park headquarters is by boat so we started our wildlife sojourn by donning life jackets and hopping aboard a boat. En route along the picturesque Santubong river (the last part of the boat ride was through the South China Sea), we passed several scenic stretches of sandy bays. Steep cliffs and rocky headlands stood like sentinels, affording us a welcome.
All the beaches are lined with limestone and sandstone cliffs. Wave erosion at the base of the cliffs has carved many of the rocky headlands into brilliantly-shaped arches and stacks with coloured patterns formed by iron deposition. We saw some of these rock formations on entering the Teluk Assam Beach, which fronts the park.
Established in 1957, Bako has several claims to its credit. It is the oldest and smallest national park in Sarawak, in eastern Malaysia, on Borneo Island. Spanning an area of 27.27 square km at the mouth of the Bako and Kuching rivers, the visit to Bako encompasses a broad canvas — over 100 species of birds, a profusion of other wildlife, particularly monkeys, a panoramic rocky shoreline, bizarre rock formations, jungle streams and waterfalls, coastal cliffs, dramatic sweeps of beach and sea stacks, and scenery ranging from rolling hills to peaks.
The wide range of attractions and activities in a compact area has made Bako one of the most popular parks in Sarawak. One can explore the park through several trails, bridges and boardwalks. The well-maintained network of nature trails — ranging from easy forest strolls to full-day jungle treks — allows visitors to get the most out of this unique environment.
A ...