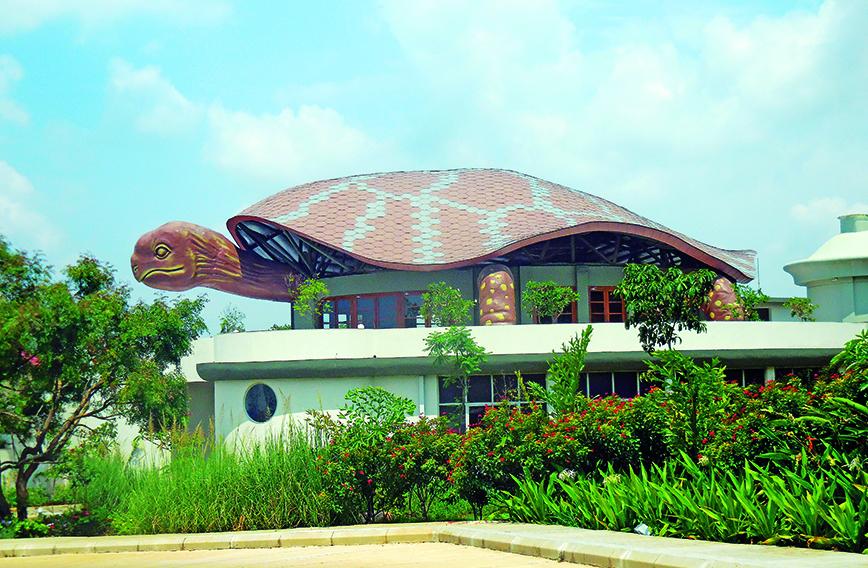 Kurma, the Turtle House | Photos: Civil Society/Susheela Nair
Get away from it all
Susheela Nair
Published: Jul. 27, 2023
Updated: Aug. 29, 2023
IF you are seeking to unwind and calm your nerves, jangled by urban living, head to Kshemavana, a wellness and naturopathy retreat far from the madding crowds, din and bustle of Bengaluru.
Kshemavana (meaning forest of well-being) was conceived and started by the well-known Sri Dharmasthala Manjunatheswara Educational (SDME) Society.
The lush greenery that greets you when you enter the premises is a soothing contrast to the blaring horns outside. As I was ushered into Garuda, the administrative block, I was charmed by the traditional wooden carved canopy, the entrance courts with open layouts, the indoor trees and the Garuda installation.
The installation, as its name suggests, is an ode to the beings of the sky. It is the first place of interaction at the property. It houses the OPD, Pravesha, the administrative block, and the treatment areas. Consultation rooms, breaking away from the typical doctor's desk, have a round table for informal interactions.
Designed by prominent architect Mahesh Diophode and conceptualized by reputed designer Ayush Kasliwal, the architecture is indicative of ancient vaastu principles with colours, designs, and structures inspired by Kurma the turtle, Nandi the bull and Garuda the eagle, bringing together the elements of the sea, earth and sky.

The buildings are interspersed with courtyards, atriums and open screens, making the most of the pleasant weather. The spaces are mainly categorized into two blocks — public and residential. The Nandi block has dining areas that offer customized diets and over 25 therapy units.
The Kurma building is a masterpiece. It is an ode to all the water creatures. The building houses the pool (called Vari), a modern gym, Garadi (a yoga studio), Bodhi (a library), and Dhyana (a meditation hall), at the ground level. On the upper level is Siddha, an airy yoga hall-cum-auditorium.
The pool treatment area is designed to give the feel of a water world. The colour palette with elements such as a hanging boat (sourced from Dharmasthala's private collection) makes this place come alive. The Meditation Room, in a cave-like structure with micro concrete finishing, is a sanctum for reflection with acoustics designed for soft reverberation.
Kshemavana offers therapies and treatments to help balance one's inner energy and heal the mind and body. The expansive property is designed to make you experience calm while absorbing nature all around.
Spread over 20 acres, the verdant retreat is a combination of exquisite spaces and tranquility, and has been created without disturbing nature. Ambling around in this pastoral paradise, I saw a profusion of trees, plants, herbs, flowers, fruits and vegetables which are used for the treatments as well as for the vegetarian cuisine.
On our arrival at the resort, multi-hued flowers were in bloom in clusters. Along with native species, the use of non-invasive exotic plants attracts beneficial insects and wildlife — offering additional colour and year-round interest. The Temple Plaza is a gentle intervention that builds upon the existing brick kiln structures to create a sacred and social space. After a stroll, as I relaxed on the stepped layout which doubles as seating, I could sense positive vibes. In the distance peacocks strutted around, butterflies flitted from one flowering plant to another, and birds chirped.
NUTRITION AND HEALING
One has to follow a strict regimen at Kshemavana and each person has a prescribed diet. Meals are vegetarian, and smoking and alcohol are prohibited. Food served ranges from soups and salads to just fruit, and boiled or raw vegetables. The day starts with fresh juices and for breakfast there are smoothies with coconut milk and flaxseed or fruit bowls with coconut milk plus soaked dry fruits. One is advised to avoid tea, coffee, white flour, sugar, milk, refined food, bakery products, fried stuff and refined oil.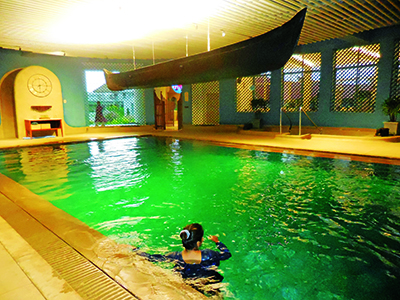 The patient's daily routine and diet are decided, depending on his or her ailment. The therapies and treatments offered are personalized to help balance inner energy and heal the mind and body.
"Kshemavana is a lifestyle that evolves through consultation, integrity in treatment and a mind-shift in living. We offer a lifestyle of health and sustainability. Therapy sessions are customized and designed on the five pillars of well-being: mind-body medicine, sleep medicine, nutritional medicine, energy medicine, and gut medicine," explains Dr Narendra Shetty, chief wellness consultant.
The healing sessions are customized to ensure optimal benefit during the course of the stay. The therapies are drawn from ancient Indian healing sciences of naturopathy and yoga. Meditation has taught people that the body's innate healing tendencies are switched on and these are combined with deep relaxation techniques, remedial breathing, physical rehabilitation, holistic nutrition, and much more where nature is one's partner in healing.
Rest and relaxation is the only agenda at Kshemavana. One can feel aches and pains melt away as the nimble fingers of the expert masseurs knead away body tension and put an end to insomnia. The massages are complemented by steam baths, showers, hot packs, showers, yoga exercises and meditation. The gamut of treatment packages includes therapies like acupuncture, mud therapy, hydrotherapy, counselling, physiotherapy, and nutrition, not only to treat medical conditions but also to build immunity, improve blood circulation, purge toxins, help shed excess weight, and promote general health and well-being.
With the relaxing treatments and strict diets, one is ensured that there is very little that cannot be conquered, including ailments. In all, it is a back-to-the-basics return to nature. By the end of the wellness programme, one is certain to learn more about how to achieve optimal health on all levels: physical, psychological, and spiritual.
Contact: Kshemavana – info@kshemavana.com