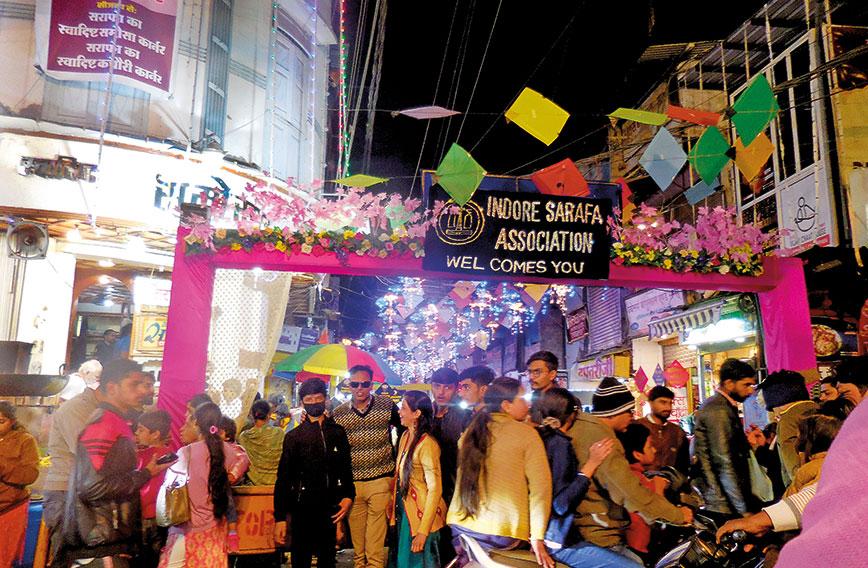 Indore's famous Sarafa Bazaar becomes a crowded food hub at night
A cultural binge and a food trail to savour
Published: Apr. 10, 2023
Updated: Aug. 29, 2023
THERE is much to see and savour in Madhya Pradesh, the heart of India. There are historical monuments, intriguing palaces and lakes. There are wildlife sanctuaries with tigers and cheetahs too. And then there is Indore, India's cleanest city with its aroma laden food street, certified as the cleanest, nationally.
I went first to Mandu to participate in the fourth edition of the five-day festival called Khojne Mein Kho Jao (meaning lose yourself in discovery), and to rediscover this quaint town with a past, replete with stories of romance and battle, courage and betrayal.
As I entered the historical hilltop fort town of Mandu, the roads sported a festive look decked with colourful flags and festoons, arches, streamers and multi-hued ribbons. The illuminated baobab trees and multi-hued buntings added to the flavour.
The festival was an immersive experience in culture. An eclectic mix of performing arts, workshops, art installations, architecture and music was on offer. Visitors could also enjoy an array of activities — hot air balloon rides, heritage walks, Maa Narmada Aarti at the Rewa Kund in the evening, sunrise yoga, cycling tours and poetry reading sessions.
"The entire festival was curated keeping historical relevance in mind. Delving into heritage, culinary experience and romance through Instagrammable locations, the festival also provided employment and business opportunities to local artisans," said Jai Thakore, COO and co-founder of E-Factor, an event management company which helped organize the festival.

"The heartening news is that Mandu has been included in the Tentative List of UNESCO World Heritage Sites," said Sheo Shekhar Shukla, principal secretary, tourism, and MD, Madhya Pradesh Tourism Development Corporation (MPTDC).
"This year, the spotlight was on the regal splendour of Mandu apart from positioning it as a rural tourism destination. Each monument in Mandu seems to tell a story, lending an aura of agelessness to the place. The storytelling sessions retell the love story of the legendary Baz Bahadur and his beautiful consort, Roopmati."
FROM JAMI TO TAJ
We embarked on our monument-hopping spree with the Village Group at the Jami Masjid, patterned on the great Omayyed Mosque in Damascus, overlooking the village of Mandu. Begun by Hoshang Shah, it is considered the largest and finest example of Afghan architecture in India. The ornate Imam's pulpit next to the central niche is distinctly Hindu in decoration. I stood gazing in admiration at the beautiful courtyard enclosed by huge colonnades with a variety of arches, pillars, bays and domes, all aesthetically laid out, evoking a sense of grandeur. The vast masjid can seat 5,000 people. Its variety of domes are sound-amplifying and echo-absorbing devices so that the frailest voice, speaking from the pulpit, would be heard miles away.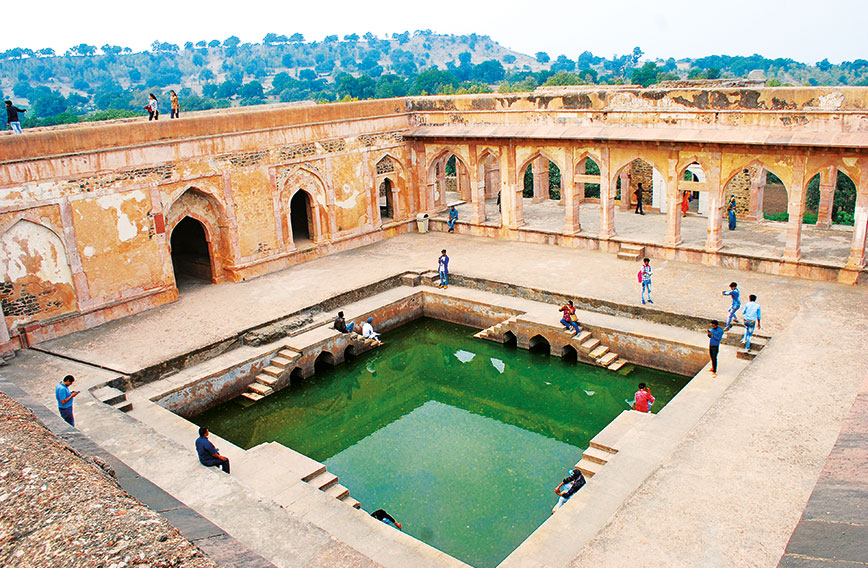 Baz Bahadur's palace wiith its beautiful courtyard and tank
Hoshang's Tomb, located behind the mosque, is one of the first marble edifices of its kind constructed in India. The interior of the tomb, with a well-proportioned central dome, surrounded by four smaller domes, the beautiful lattice work, and the porticos and towers are overwhelming. Light enters the interior through stone jalis, and falls on the six tombs within. It is no wonder that Shah Jahan sent his architects on a recce to Mandu before they designed the Taj Mahal though few know that this is said to be the inspiration for the Taj Mahal.
ON TO THE ROYAL ENCLAVE
From there we headed to the sprawling Royal Enclave which flaunts the Jahaz Mahal or Ship Palace — the star attraction of Mandu. It was built by Ghias-ud-din, son of Mahmud Shah, for his harem of more than 10,000 beautiful women. A striking two-storeyed palace with scalloped arches, airy rooms, and beautiful pools, it is flanked by two lakes, adding to its ship-like look. When viewed from afar, its open pavilions, balconies overhanging the water and open terraces are unforgettable on a moonlit night.
Next to this star attraction of the Royal Enclave is the Hindola Mahal, an audience hall. It derives its name, meaning 'swinging palace', from its perceptibly sloping side walls which give an illusion that it is always swinging. It is valued for its trellis-worked sandstone and elegant façade. The famous Champa Baoli, a stepwell with underground chambers, and a hammam with chambers equipped with channels supplying hot and cold water and a steam sauna are other attractions.
ETERNAL SAGA
The palace of Baz Bahadur, the last independent ruler of Mandu, is located beside Rewa Kund with an underground tank, and a water lift which supplied water to the palace. The palace is a blend of Rajasthani and Mughal styles of architecture. While strolling through the long corridors, amidst the numerous pillars and arched entrance, we could sense the echoes of a resplendent past.
Roopmati's Pavilion, located on the crest of a hill, gazes down at Baz Bahadur's palace, a magnificent expression of Afghan architecture. It was originally conceived as an army observatory, then became a look-out point for the lovely queen as Baz Bahadur's palace was visible from there. Roopmati is said to have been a very beautiful Hindu singer, and Baz Bahadur persuaded her to move to the fort by building this pavilion from where she could have sweeping views of the fertile Nimar plains with the silvery streak of the Narmada flowing across.
When Emperor Akbar marched to the Fort, Baz Bahadur fled, leaving Roopmati to poison herself. Mandu's ruins still narrate the tragic end. But the glory of Mandu lives on, in its palaces and mosques, in legends and songs, chronicled for posterity, and the balladeers of Mandu still sing of the romance of these lovers.
POHA PERFECTION
After sightseeing in Mandu, we embarked on a culinary trail to the bustling metropolis of Indore which has many claims to fame. It is known as the commercial capital of Central India besides being the cleanest city in India. Another feather in its cap is that it has bagged the 'Clean Street Food Hub' certification from the Food Safety and Standards Authority of India. With its rich food culture, mindboggling array of vegetarian street food, and innovation of dishes, it can lay claim to the title of gastronomic capital.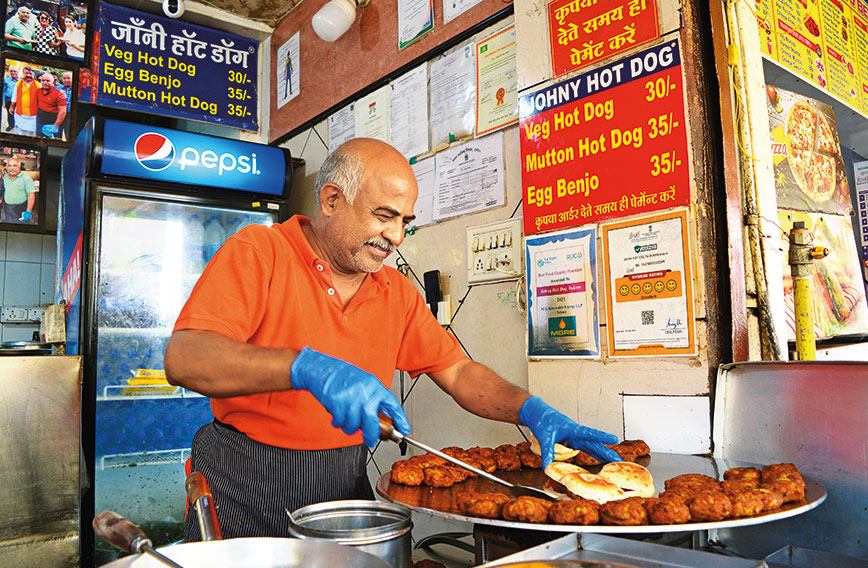 Johny Hot Dog, a big hit with foodies, is in the Chappan Dukaan
As we ambled around Indore, exploring the food hubs of Chappan Dukaan (56 Shops) and Sarafa Market, we realized how passionate and fiercely proud Indoris are about their food. They take their food very seriously. It is truly a culture imbued in the ethos of this vibrant city. There is so much to tickle your taste buds in these two eat-streets of Indore.
To relish Indore's specialty cuisine, we started our jaunt with Chappan Dukaan. Our first stop was Johny Hot Dog, run by Vijay Singh, a culinary sensation. The dish served here is an in-house innovation in which Indore takes great pride. Hot Dog refers to a well-cooked and spiced mutton patty inside a soft bun with chutney and onions. We had spicy masala omelettes sandwiched between soft, round fresh buns served with chutney and ketchup. What baffled us was the speed at which the owner was flipping the burgers and serving them.
The local favourite, Indori Pohe, is part of the legacy of Indore. The unique combo of flaky poha and sweet and crispy jalebis is a popular item in the Malwa region of Madhya Pradesh. Wherever you go in Indore, you will find enticing mounds of poha, steamed to perfection and topped with sev, a sprinkling of coriander, and a dash of lemon. The breakfast isn't complete without poha along with a bite of crispy jalebis. Another must-have in this area is the sweet and spicy Bhutte Ka Kees, a savoury corn mash sprinkled with chaat masala. It is essentially boiled and grated corn tempered with hing, cumin, green chillies, and fennel seeds, topped with other spices, a touch of lemon, and served with shredded coconut.
The Sabudhana Khichdi blended with a variety of namkeens and crunchy chips, topped with spices and sprinkled with lemon and coriander, is equally tasty. Try out the Khopra Patties made up of perfectly cooked potato patties with a coconut filling and a generous amount of zesty chutneys. The Khatta Samosas, known for their sweet-tangy flavour, are worth a try. No trip to Madhya Pradesh is complete without savouring the dal batti, a delectable meal eaten in Rajasthan, Madhya Pradesh and Uttar Pradesh. Made with lentils, wheat flour, and a whole lot of ghee, and served with salad and a coriander dip, it will melt in your mouth.
When you have had your fill of snacks and savouries, head to Madhuram Sweets for the rich, creamy variety of Shikhanji. It refers to a sweet and delicious thickened milk drink. The Shikhanji glass is decorated with piles of dry fruit and has a texture between rabri and lassi. One must try the Jalebas, the giant form of the regular jalebi found in Indore. It is almost three times the size of a regular jalebi.
SARAFA BAZAAR
In the evening we headed to Sarafa Bazaar for a night food exploration. It is one of the country's biggest jewellery markets. At night, after the shopkeepers pull down their shutters, the street gets transformed into an open-air food plaza, popular for its amazing variety of street food. It opens at 9 pm. It is believed that the idea of the food market was encouraged by the owners of the jewellery shops to ensure that the noise and bustle kept their stores secure at night.
The food street, which is open till 1 am, gets choc-a-bloc with food carts peddling an amazing variety of food ranging from fruit platters to 10 flavours of pani puri. The colourful varieties of fruit and flavoured paan here will grab your attention. Smoke paan, ice paan, fire paan and chocolate paan are some of them. The smoke paan is known for its strong flavours as the betel leaves are set on fire while preparing the paan. Don't miss the mindboggling variety of chaats, parathas and sandwiches.
Another favourite at Sarafa is the Flying Dahi Vada at Joshi Dahi Vada. What makes it distinctive is the way it is served. The owner deftly tosses the vadas in the air, ensuring that they land exactly on the serving bowl. After that, the quintessential Indori seva and spicy sauces are added for extra flavour. We were baffled by the expertise and dexterity with which the flying vadas were made. We watched in awe as the Joshi Dahi Vadawala twirled the bowl in the air, then added four different spices with a single pinch before offering you this melt-in-the-mouth tangy treat.
Braving my way through a sea of humanity, I reached a stall selling Garadu. This is Indore's take on Delhi's crispy and tangy Aloo ki Chaat. Garadu, a variety of yam, is sliced, cooked till golden brown, and then topped with a generous serving of a particular masala. Prepared with deep-fried yams, Garadu is a crispy and delectable street food. These fried yams are flavoured with an assortment of Indian spices and some lime juice for that spicy-tangy taste.
During the food trail, we were impressed not just by the multiple stall owners offering varied spreads, but also by the incredible quality of food and hygiene and safety standards.