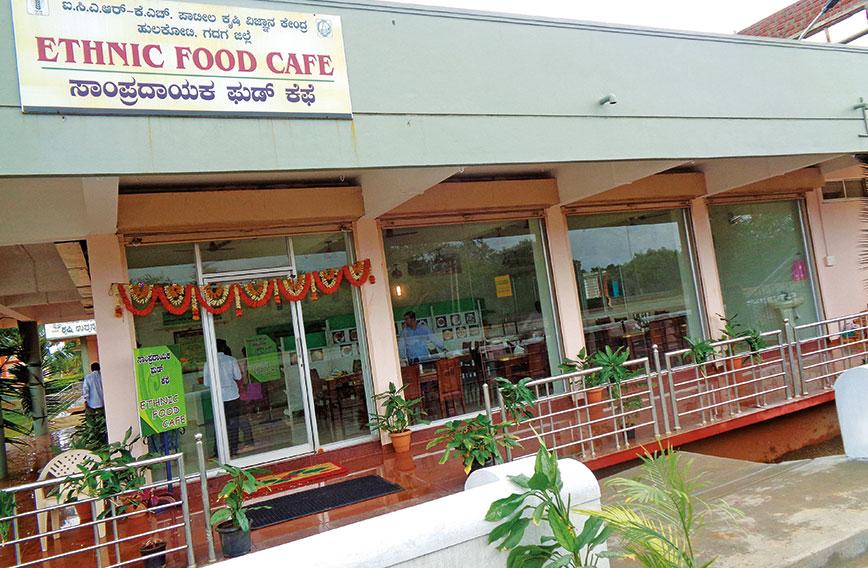 The Ethnic Food Cafe | Photograph by Kvk Hulakoti
Going to Hulakoti? Tuck in at the millets café
Shree Padre, Hulakoti
Published: Feb. 15, 2019
Updated: May. 26, 2021
An Ethnic Food Café on National Highway 67 which links Ankola to Bellary is attracting locals and travellers with its unusual menu. All the items are made of millets. Not only is the café the first of its kind in Karnataka, it is probably the first to be set up and run by an agricultural extension centre — the K.H. Patil Krishi Vijnana Kendra (KVK) Hulakoti in Gadag district of Karnataka.
"Customers enjoy the food and make repeat visits. Many of them are not aware of the nutritive value of millets. Their first reaction is, do millets really have so many health benefits?" says Dr Lakshman Hiregoudar, coordinator of the KVK.
The Ethnic Food Café was started on the KVK campus just four months ago, on Independence Day. Similar attempts have been made to start millet cafes elsewhere in Karnataka but this one retains its uniqueness. Not only is it the first of its kind in Gadag district, the idea behind setting it up is not commercial but idealistic — to induce millet farmers to actually eat the millets they grow!
"Since our main objective is to inspire local millet farmers to eat it too, we have restricted our menu to three millets that are grown in the district — navane (foxtail millet), same (little millet) and korle (barnyard millet)," says Sudha Mankani, home science specialist at the KVK.
Breakfast, lunch and desserts are on offer. Paddu, a local specialty breakfast preparation, is popular and served throughout the day and so are millet idlis. Other fast-moving items are roti, dosa and puris made from foxtail millet. A millet thali is also on offer. It consists of foxtail millet puri or roti, pongal made of foxtail millet or little millet, and holige (puranpoli) made from little millet, sesame and groundnut.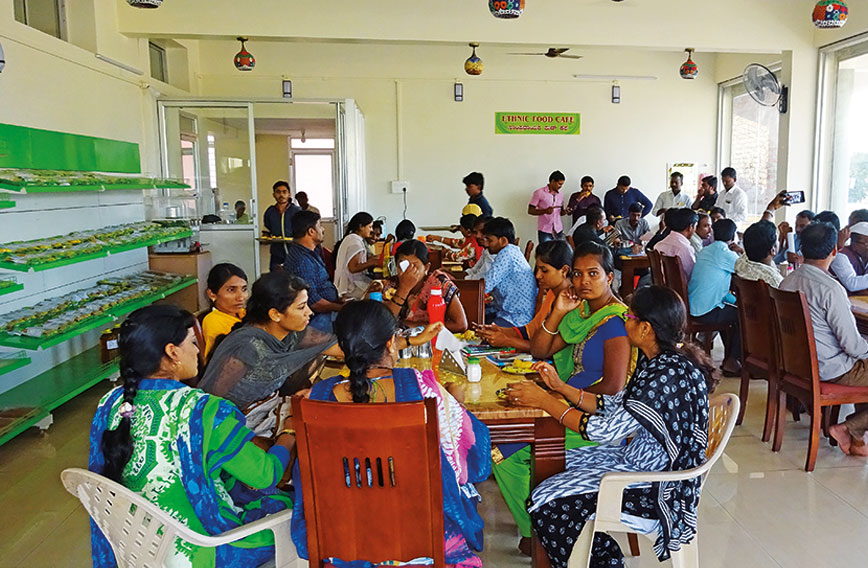 The Ethnic Food Cafe is the first to be run by an agricultural extension centre | Photograph by Kvk Hulakoti
The café is spread across 1,500 square feet, including a kitchen and a store. The KVK has recruited a staff of six — three cooks, two suppliers and a manager — all of whom are locals. They were trained in cooking and management.
"The café is doing well. It is popular with travellers and locals. Foreigners on their way to Goa are our special customers. They like our foxtail millet puri," remarks Dr Hiregoudar. "A considerable part of our sales consists of takeaways. Mostly people ask for dosas, paddu, bajji and mirchi to
be packed."
To add variety, the café cooks dosa, pongal, idli, paddu and chakkuli with little millet on one day and with foxtail millet the next day. Barnyard millet, which has debuted in the district, is also used. From 6 pm to 7 pm it is 'bajji' time in Gadag district. So, in deference to local food habits, the café offers evening snacks — little millet onion bajji similar to kanda bajji, little millet palak bajji and mirchi, another deep-fried snack made with a particular variety of chilli. The bajjis are served with a puffed rice dish called girmit.
The Ethnic Food Café's larger purpose is to create awareness about the health benefits of eating millets. It does this by detailing the nutritive values of all the millets being used on its menu card and comparing it with the nutritive value of rice, wheat and jowar. "Local customers, mostly from the farming community, read the menu and express surprise about the high nutritive value of millet," says Mankini.
In fact, the Ethnic Food Café draws inspiration from Café Ethnic, the first millet restaurant set up in India by the Deccan Development Society in Zaheerabad in Medak district of Telangana. A team from KVK visited Café Ethnic about 15 years ago.
"We realised the best way to impress people or change mindsets about a particular food is not just by organising awareness classes, but by getting them to eat it. We were very impressed by Café Ethnic and we wanted to replicate the idea ever since," recalls Dr Hiregoudar. "But due to one reason or another our project kept getting postponed."
Naturally, customers who taste the millet dishes have a torrent of questions. The café staff has been trained to answer such queries. If women in the group are curious to know more, they are taken to the kitchen where they can see for themselves how the dishes are being made. For those who would like to try their hand at cooking millets, a variety of packaged millets are available in a corner of
the café.
The most grown millet in the district is foxtail. Till about four decades ago, it used to be boiled and consumed as 'anna'. But after rice and wheat were introduced, the millet lost favour since it wasn't considered as tasty as rice and wheat.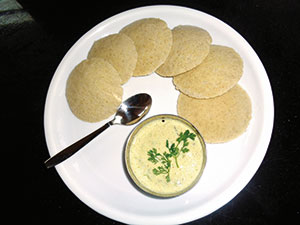 Therefore, dosa, roti and idli made of millets are all new inventions for local millet farmers. "They are getting interested, learning from the cafe and slowly introducing these as part of their diet at home," says Mankini.
Any invention requires experiments and so it was with millets. Making roti from foxtail millet proved intractable in the beginning. The flour was grainy and wouldn't bend to roti making. Dr Hiregoudar is diabetic and his wife, Kamalakshi, made many attempts but failed.
Three years ago she sent some foxtail millet to a commercial flour mill. The mill ground it to a talcum powder consistency. And it made excellent rotis! The secret of making rotis with foxtail millet is now shared with interested customers.
To popularise millets the KVK has conducted innumerable workshops, demos and cookery classes in millets. Some members of a self-help group have started making a few millet preparations like holige and selling it through a few outlets and at weekly bazaars.
"Millets are the best drought-resistant crops we have. Not only are they life savers for farmers, they also have a good market. Even with a meagre rainfall of 150 mm we can grow them. Our sustained mission to popularise millets has created new interest at a time when millet cultivation had fallen to 500-600 acres in the district. Now we have an estimated 10,000 acres under millet cultivation," says Dr Hiregoudar proudly.
Yet, the Ethnic Food Café is mainly attracting a middle class health-conscious clientele. People of low income aren't interested at all. "That's mainly because millets are expensive whereas rice and wheat are cheaper," says Mankini. "The best solution is to introduce millets in the public distribution system, through ration shops, as they have done in Andhra Pradesh," points out Dr Hiregoudar.
The café's average turnover is `3,000 per day. Dr Hiregoudar explains, "Since there is no pressure on us to make profits, it runs on a no-loss and no-profit basis. But we are happy. The cafe is spreading a strong message."
Contact: Dr L. Hiregoudar - + 91 94483 58772 / kvkhulkoti@gmail.com