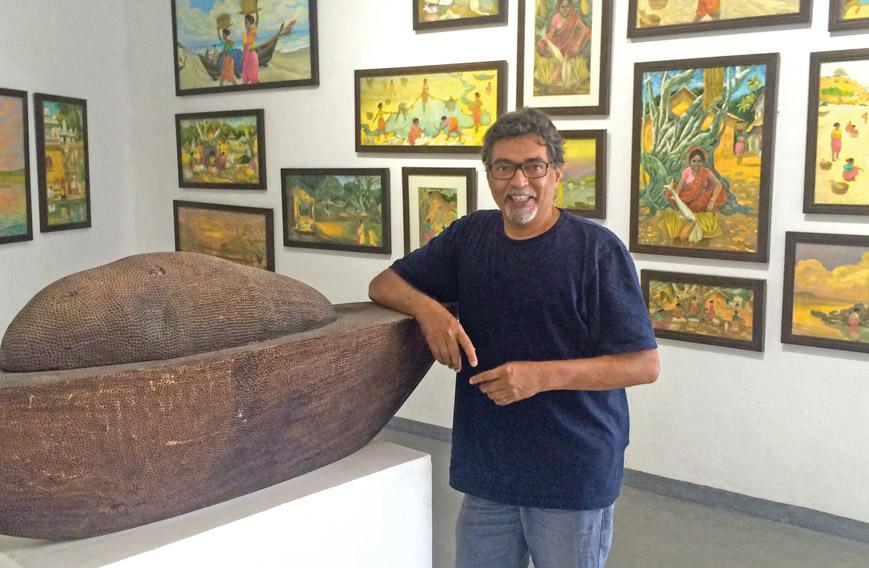 When in Goa next visit this museum of modern art
Civil Society News, Candolim
Published: Jun. 06, 2016
Updated: Jan. 29, 2020
From the outside, it is a high and yet somewhat boxy structure in an industrial estate, but inside is a provocative diversion from the sun, sand, beer and curry holiday world that Goa has come to be known for.
Bright indigo figurines point the way to the Museum of Goa on a very short drive from the commercially busy Candolim and Calangute. There is a lot more indigo in the frontage as you arrive. From there on unfolds a passionate effort to showcase contemporary art. It is a world far from the beaches and shacks and loud parties.
The museum is the brainchild of Subodh Kerkar, a sculptor and installation artist. His studio used to be located here till he sold a house in Calangute and put the money into constructing the museum, which at 1,500 square metres lays claim to being the largest private museum in India.
"It is my mission to take art to the masses," says Kerkar as he settles into his sofa in his second floor office. It is not a planned interview, but he is easy to find as one climbs through the museum discovering what it has along the way.
He is also happy to talk. So, the chance sighting of a leaflet at the Fortune Hotel leads to both museum and founder. "Contemporary art is mainly for the elite these days. I would like to break that cultural barrier," Kerkar explains. "I don't want to be known as an art dealer. This museum is a kind of hybrid between an institution and gallery. We do sell our works, but our objective is much greater."
Contemporary art is what is created at one point of time. It is the "expression of an era". So, Kerkar's museum is open to the whole range — realistic, super-realistic, installation, sculpture, multimedia, video, documentary.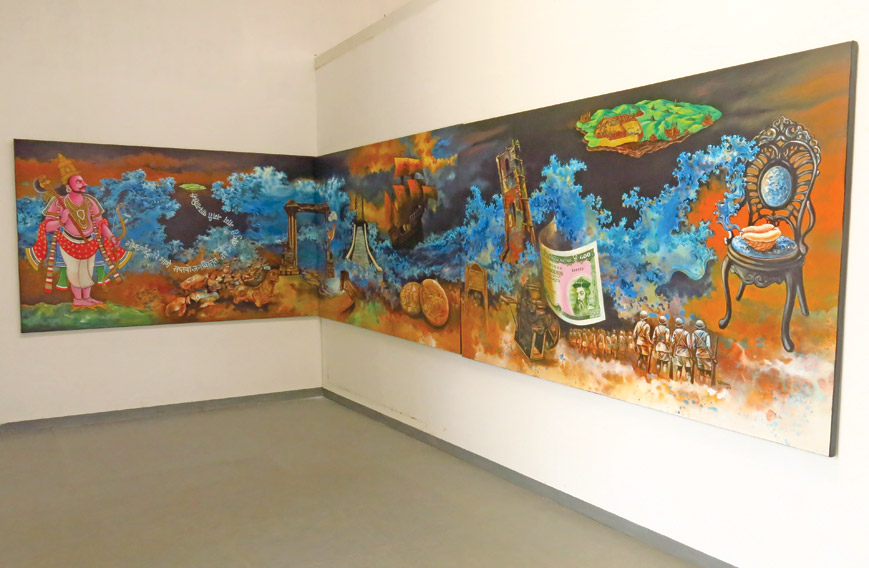 "In India we have a lot of good contemporary artists," says Kerkar. "The only thing is that they do not have an audience. They do not reach the masses."
There are at least 50 or 60 artists doing good work in Goa. They have trained in Goa and then at higher levels in Baroda and Mumbai. But they go unnoticed.
In India there is only the National Gallery of Modern Art where contemporary work post the 1940s can be found. "No other city in India has such a museum, which is a shame," he says.
In Europe, on the other hand, the average child is exposed to art because there are lots of galleries and museums with free access for students. Governments, wealthy individuals and companies put their money in such public facilities. He recalls visiting South Korea and finding a world art museum created by Samsung.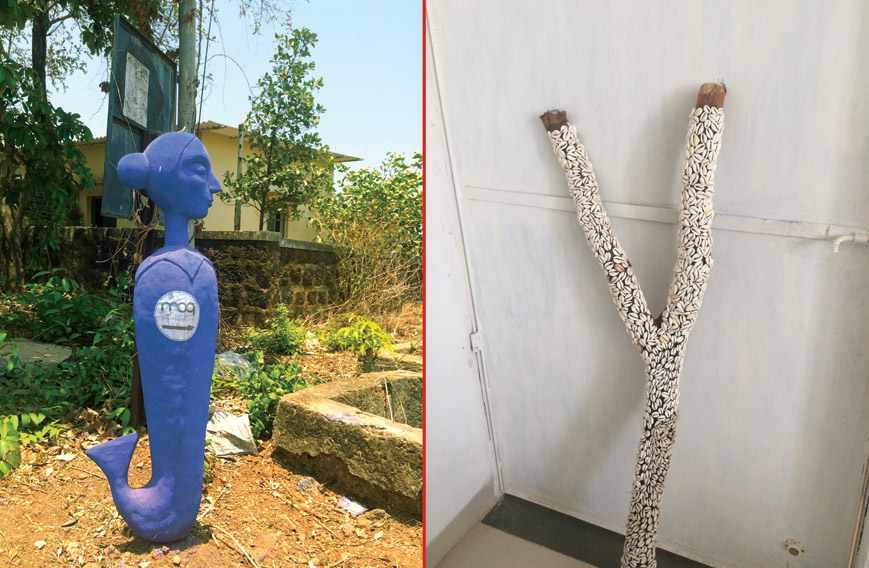 "I have therefore taken it upon myself to put Goa on the art map of the world," says Kerkar. "The Museum of Goa is for artists from all over the country and for artists from around the world. Art is universal and does not believe in Goan and Maharashtrian and Delhiwallah."
But it is in Goa that Kerkar hopes to be able to make an impact by changing the way people perceive the state. He would like Goa to be known for its history, architecture, biodiversity, cuisine and so on.
History he is particularly interested in and says Goa was once one of the big landing destinations in the world for ships along with Lisbon and London. There is also a lot of local history in villages waiting to be discovered. On a stray request he began doing heritage walks and now that is an activity linked to the Museum of Goa too.
"Anywhere in the world, whether you are a great connosieur or not, you go to a museum. When you are in Paris you have to go to the Louvre, the Picasso museum, the Rodin museum.... But you come to Goa and you have absolutely bullshit art displayed by the government at the airport. It is so horrible that it is a slap in the face of all practising artists here."
"Delhi airport is also bad. In Mumbai's new airport standards have been maintained because Rajiv Sethi was given the responsibility," he says.
The Museum of Goa opened just six months ago and so it is still early days. But there is a lot planned and the museum will go beyond being a repository to serving as a hub for activities and ideas. It will cut across forms to include music, theatre, design, video art and films. There is a small indoor auditorium.
The building has been designed by the well-known architect, Dean D'Cruz. It cost about Rs 3 crore to put up the structure, the money coming from the house in Calangute that Kerkar sold.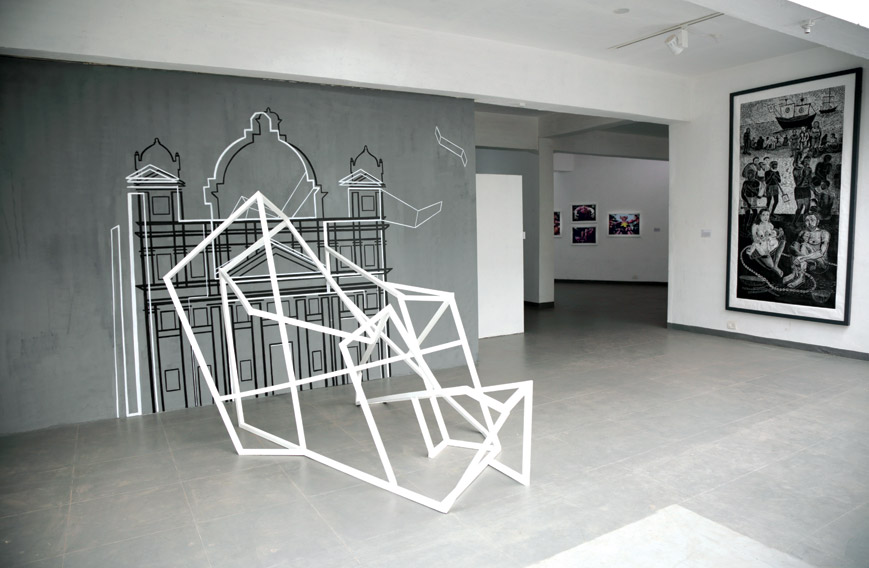 Kerkar's personal journey is interesting. He is a qualified physician who had his own practice and small nursing home while continuing to paint and then became a sculptor and installation artist. He finally gave up practising medicine and devoted himself entirely to being an artist.
His first and only teacher was his father, Chandrakant Shankar Kerkar, who was a realistic painter of outstanding calibre. But he couldn't earn from his art and so remained a government schoolteacher all his life. One of the displays at the museum is of Chandrakant Shankar Kerkar's works.
As a young boy, Subodh learned from his father who kept getting transferred from one village school to another. He never saw painting as a profession. Nor did Subodh really, so he went on to become a doctor to earn a living.
"My father was my first teacher and in fact my only teacher till the age of 16. I was a village boy. My father was a village schoolteacher. With each transfer I changed schools. I studied in the Marathi medium till Class 7 or 8 and then in Class 9 and Class 10 the medium was English. So it was from my father that I learned."
Chandrakant Shankar Kerkar learned to paint from S.L. Haldankar who was a celebrated painter of the 40s renowned for his classical water colours and portraits.
"I took a long time to come out of my father's influence and his realistic mode," says Kerkar. "But over time I got exposed to the world's museums of contemporary art and then the museums became my teachers. From being a realistic painter, I moved on to conceptual art, installations and so on."
Kerkar's father's paintings are brilliant scenes from the Goa he knew. For art to thrive it needs to be interwoven with lifestyles and social customs, be reflected in skills and find expression in architecture and technologies. That harmonious everyday balance has been shaken at the grassroots by colonial rule and the pattern of development that got entrenched thereafter. Can contemporary art be meaningful in an everyday way again? Or has too much been lost?
"I think it can. In the life of a nation 150 or 200 years is not much. I am an optimist," says Kerkar.
www.museumofgoa.com