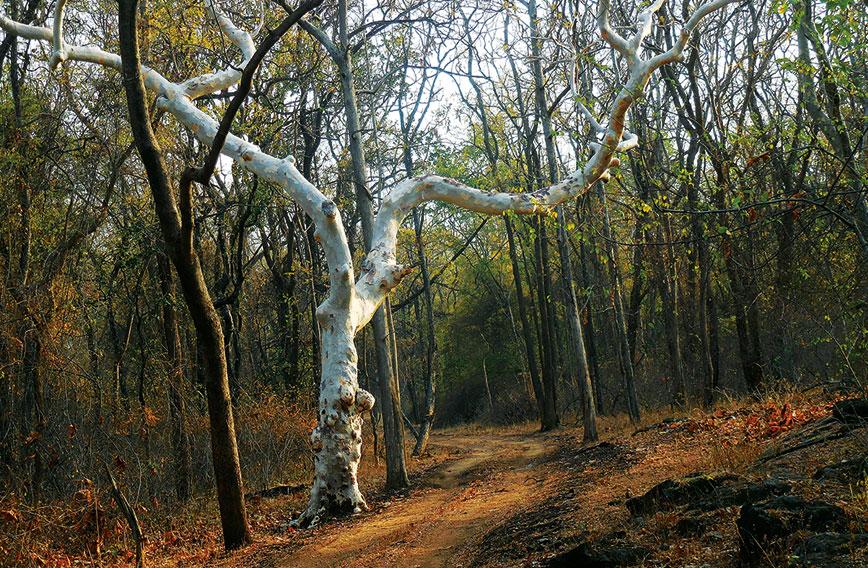 A 'ghost' tree in Satpura National Park | Photograph by Susheela Nair
Feel the jungle
Susheela Nair, Bhopal
Published: May. 18, 2019
Updated: May. 26, 2021
It was pitch dark when I reached Reni Pani Jungle Lodge, a luxury lodge on the outskirts of the comparatively less known Satpura National Park and Tiger Reserve in central India. This forested village in Hosangpur gets its name from reni, a local berry. Dinner was in the Gol Ghar which has a unique design. It features a dining area, a bar, a library and a lounge in its various corners. Old and new photos grace the walls, and handicrafts and knick-knacks collected from around the world are on display.
Fixed meals are provided using fruits and vegetables grown in the kitchen garden of the lodge. The meals, featuring Bhopali cuisine, are excellent. Alternatively, dinner is also laid out outdoors near a scenic waterfront. And, sitting on roughly hewn benches and boulders, you can also sip your favourite drink in the evening under a starry sky by the light of old-fashioned lanterns slung from trees.
I was escorted to my cottage by a personal butler with a flashlight. To ensure safety, guests are advised not to loiter around without an escort after sundown since there are chances of encountering wild animals straying into the lodge's premises from the neighbouring woods.
Located in a 30-acre oasis of wilderness, with golden meadows, waterholes and a stream, the lodge features 12 luxury cottages symbolising three distinct architectural designs. The lodge gives visitors a real jungle experience.
The units near the property's seasonal stream, the forest units and the hill units are all built with indigenous material and furnished with local materials. Not a single tree was felled in this area adjoining the protected Satpura National Park for construction. And local villagers and artisans were engaged in the construction of this eco-resort.
The alcoves, viewing decks, verandahs and large lounging windows make the cottages feel cosy. Since the lodge is totally eco-friendly, there are no water-draining bathtubs. Instead, there is an outdoor shower. All the rooms are without televisions, music systems, telephones or 'room service' of the hotel kind. I was advised to honk the horn in my room in case of an emergency at night. The highlight of the lodge is its luxury tents strategically arranged around a watering hole which ensures sighting of animals.
Unlike most other national parks in the country, visitors are allowed to walk through this classic tiger country and engage more deeply with the forest. The lodge offers multi-day walking safaris with two- to three-day options under its Satpura Under Canvas programme. This is a mobile camping and walking experience that offers a unique blend of subtle luxury in an unspoilt wilderness.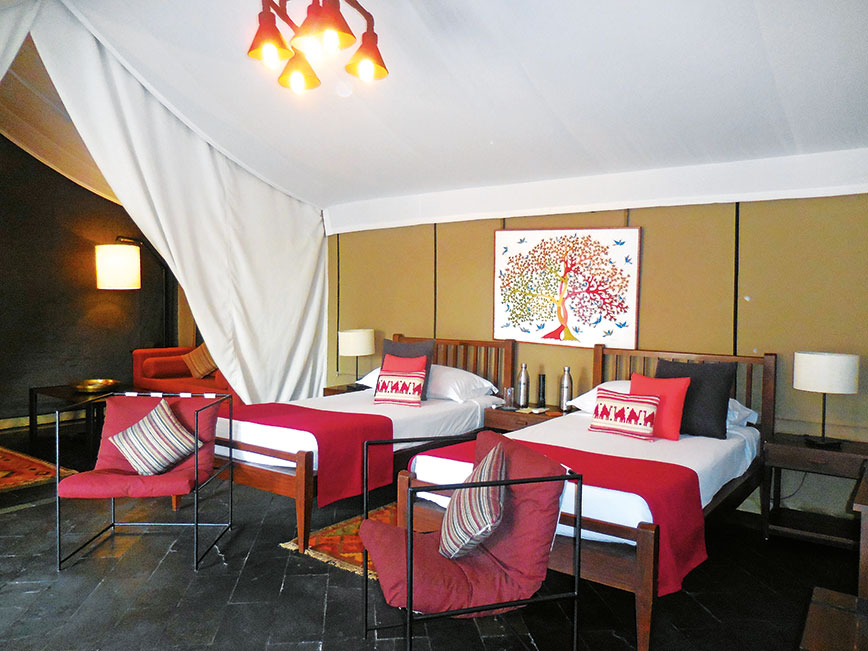 The plush interiors of a tent in Reni Pani Jungle Lodge | Photograph by Susheela Nair
The hike begins in Panchmarhi, the area's well-known hill station, and provides ample opportunities to sight animals. It is an equally rewarding trek for birding enthusiasts. There is also the option of spending a single night in the forest under a starry sky. The lodge organises night safaris in the buffer zone, with the chance to spot nocturnal animals. Visitors can also opt for canoeing and motorboat trips in the reservoir around the national park, offering an unusual experience of the forest and its residents.
I opted for the vehicle safari into the forest. As the river was dry, I had to cross over to the park on the opposite side by walking on a makeshift bridge. Vehicles were waiting to ferry us into the jungle. Many of them are donated by the lodges in the area. As only 12 vehicles are allowed into the tourism area at any given time, we rarely encountered another one, so it turned out to be a private game viewing experience.
Naren, the lodge's in-house naturalist, shared interesting snippets of information about the forest and its inhabitants. We learnt that this forest gets its name from the Satpura Hills that run horizontally across central India. Satpura means seven peaks. It is also Madhya Pradesh's largest tiger reserve with an area of approximately 2,200 sq km. Interestingly, it is the only park in central India in which you can find teak and saal forests. The Satpura Hills are historically believed to be the bridge between the Western Ghats and the Eastern Himalayas. This has made Satpura unique in central India and has resulted in rich biodiversity and occurrence of some rare species.
As our vehicle wound its way through undulating terrain, we spotted a variety of animals like chital, monkeys, sambar, and jungle cats, We also saw the Malabar giant squirrel, gaur by the dozen and peacocks strutting around. Though the sloth bear, which is endemic to the Indian sub-continent, is frequently seen in Satpura, I had only a glimpse of one with her cub from afar. Then she clambered over a rocky outcrop and disappeared into a cave. Satpura is a birdwatchers' delight and more than 300 species can be seen. We spotted birds in plenty, including a crested hawk eagle perched on a branch. But the big cat remained elusive.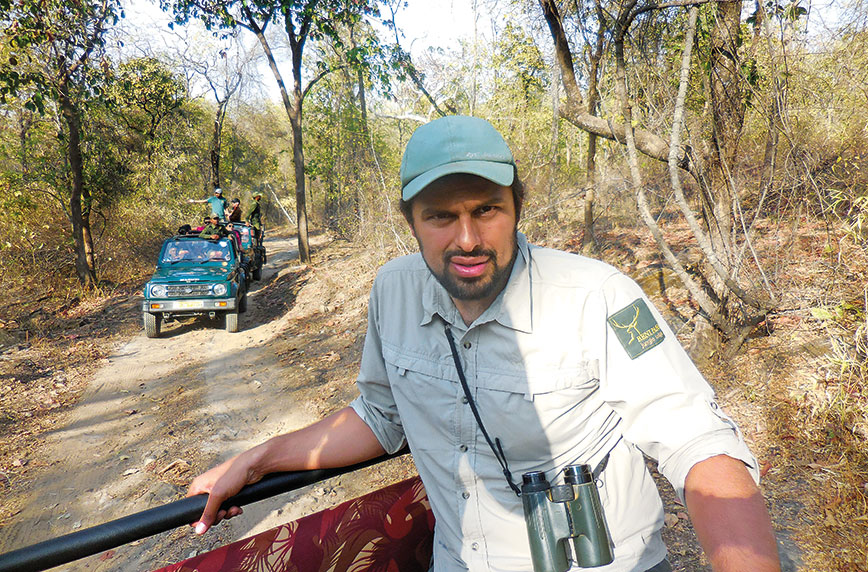 Aly Rashid on a jeep in the park | Photograph by Susheela Nair
Owner Aly Rashid, of the Bhopal royal family, is also an avid naturalist. He accompanied us on our wildlife safari and knew the jungle like the back of his hand. Thanks to his dedication and commitment to conservation, Reni Pani has established very high standards in environment-sensitive practices not only in the lodge but also in the neighbourhood. "We believe in low-impact tourism, aesthetically pleasing buildings, excellent guiding services,
and our ongoing work with local communities as well as our support for the Satpura Tiger Reserve," affirms Rashid.
FACT FILE
Getting there: Reni Pani Jungle Lodge is 11 km from Satpura National Park and 135 km from Bhopal, which is connected by rail, road and air to major cities.
Contact: info@renipanijunglelodge.com www.renipanijunglelodge.com Telephone: +91 99819 97714