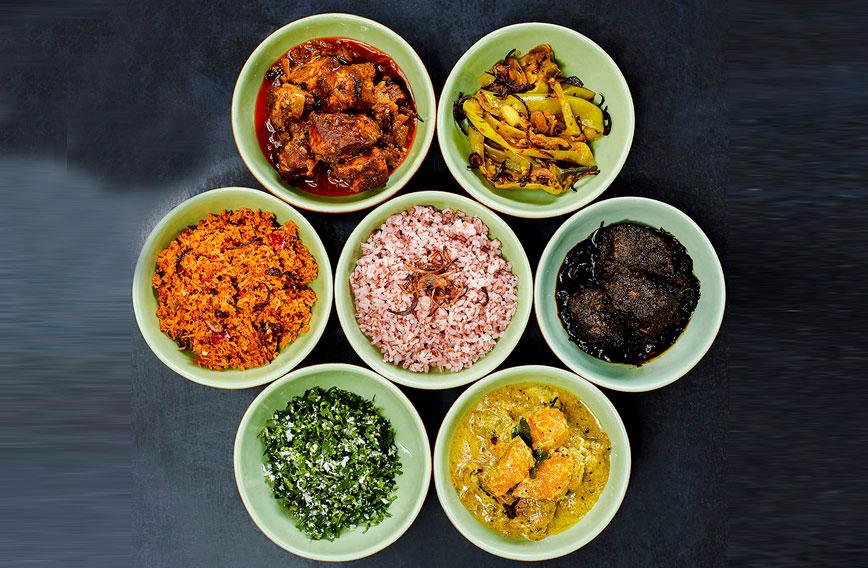 Sri Lanka's delectable cuisine
Susheela Nair, Bengaluru
Published: Oct. 07, 2020
Updated: Sep. 29, 2023
What do Tamil Nadu and Kerala have in common with the tear-shaped island of Sri Lanka? It is the versatile use of the omnipresent rice. No meal is complete without rice in these geographical regions. Like in God's Own Country and Tamil Nadu, it's not just a staple but also the base for a large number of dishes. During my sojourn in Sri Lanka, I was initially bewildered when a Sinhalese greeted me with a "Have you eaten rice?" Later, it dawned on me that it was because rice plays an important role in Sri Lankan cuisine.
Rice and curry are the national dishes of Sri Lanka. Rice, which is served at every meal, takes so many forms and shapes that it is almost unbelievable. Once pounded into flour, it morphs into various manifestations. It starts with breakfast. It is the main ingredient in the island's famed rice flour pancakes or appam (hoppers), idiyappam (string hoppers) and pittu (the equivalent of the Kerala puttu). The popular breakfast dishes of Sri Lanka with the same nomenclature reminded me of the breakfast dishes back home in Kerala.
The signature dish is the spongy, lacy appam, a crispy, bowl-shaped pancake made from a batter of fermented rice flour with coconut milk, palm toddy and a little sugar. It is generally served with hodhi (coconut milk stew) and sometimes with a fried egg cooked inside, then topped with chutney. In Kerala it is served with stew. Hopper variants can be either savoury (such as egg hopper, milk hopper and string hopper) or sweet (such as vanduappa). Another favourite is the idiyappam or noolputtu, steamed string hoppers of rice flour. Pittu is a preparation of rice flour and grated coconut steamed in a cylinder of bamboo or brass. Besides being a daily staple, rice also features in special dishes such as kiribath, or paal choru (milk rice), which is traditionally the first solid food given to a baby, and served at weddings or on New Year's Day.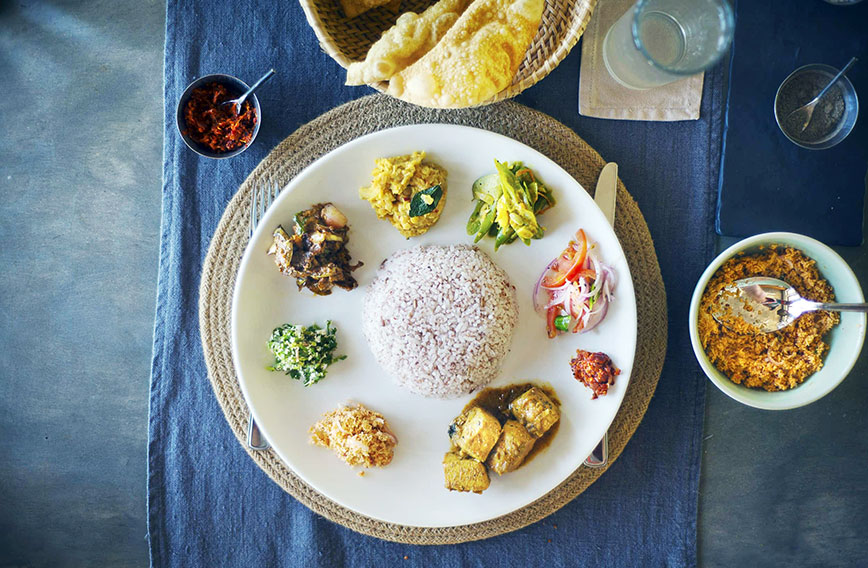 The genesis of Sri Lanka's rich culinary heritage goes back to the Indians, Arabs, Malays, Portuguese, Dutch and English who colonized, traded with or settled in this island over centuries. Sri Lankan cuisine is also inspired by the Dutch Burgher community. The greatest culinary heritage of the Dutch is lamprais, a word derived from the two Dutch words for 'lump' and 'rice'. It is a blend of meat, rice and sambol chilli sauce, wrapped in a banana leaf and steamed. The rice is cooked with meat stock – usually a combination of different meats like beef, pork or lamb infused with cardamom, clove and cinnamon.
Like in Kerala and Tamil Nadu, some staples of Sri Lankan cuisine are rice, coconut and spices. The abundant use of spices is attributed to Sri Lanka's history as a spice producer and trading post over several centuries. The fragrant coconut milk curries, tangy fish dishes and spices heighten the earthy flavours of the dishes.
A favourite relish is the pol sambol. It comes in various forms, the most common being pol sambol (coconut sambol), a deadly combo of grated coconut, chopped onions, chilli powder, and shredded Maldive fish (salty, intensely flavoured shreds of sundried tuna) that is absolutely heavenly.
One can find traces of Tamil Nadu cuisine blended with the food of the Sinhalese. They have transformed Madurai's signature parota into kothu roti (meaning chopped roti in Tamil). The pancake is fried with meat and vegetables on a large, hot, plate while simultaneously being chopped with a cleaver. It is a treat watching it being made because of the clanking of metal.
Because of its abundant coastline, seafood is the mainstay for many people in Sri Lanka. Seafood lovers can treat themselves to fish curry meals and a whole range of delicacies, enhanced with exotic spices. Kool is a seafood broth from Jaffna containing crab, fish, cuttlefish, prawns and crayfish. It also contains long beans, jackfruit seeds, spinach and tamarind. The dish is thickened with palmyra root flour. Ambulthiyal, a dry curry dish, is a must on the menu of every Sri Lankan. All the ingredients are simmered with a small amount of water and cooked until the liquid reduces so that the spice mixture seeps into each cube of fish.
No trip to Sri Lanka is complete without sampling the sweet treats. Wattalappam, a rich custard flavoured with spices, has achieved iconic status. Now a staple of Sri Lankan desserts, this spiced Sri Lankan custard is a perfect way to end a meal. It can be served warm or chilled. First introduced by Malay immigrants, wattalappam is a steamed pudding made with coconut, milk, eggs, cardamom and jaggery. Palm jaggery is profusely used instead of sugar in the desserts.
There are lesser known delicacies like the golden crispy kokis, inspired by Dutch crisps, made with rice flour and coconut milk batter and deep-fried in a flower-shaped mould. Kithul honey, coconut and rice flour form the traditional base of most of these sweets which are augmented with the addition of various fruits and nuts such as cashew, raisins and pumpkin preserves. Domestic spices, jaggery and kithul treacle are the main ingredients of most Sri Lankan sweets and desserts. The delectable banana fritters akin to Kerala pazhampori form the ideal finale to a delicious Sri Lankan meal.