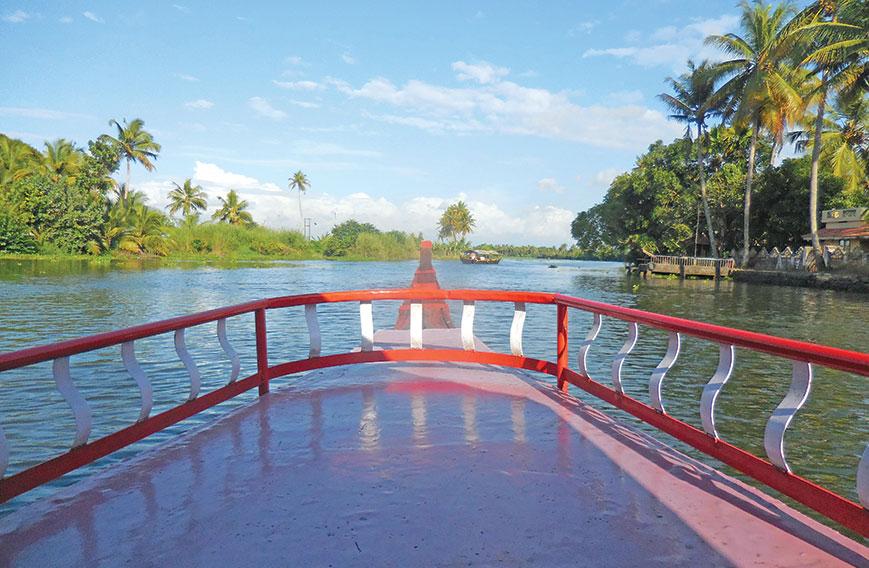 Sail down the Vembanad lake in a languid country boat
Tourism makes the people of Kumarakom smile
Susheela Nair, Kumarakom
Published: Dec. 23, 2016
Updated: Jan. 29, 2020
We zigzagged amidst a cluster of tiny picturesque islands around the Vembanad lake in a languid country boat, intrigued by the landscape unfolding before us. We were in Kumarakom, known for its lake, its pearl spotted fish (karimeen) and the scenic beauty of its lush, dense landscape.
Sandwiched between the immense lake and its network of backwaters, this small water world forms part of the Kuttanad region. As the boat weaved its way through a maze of canals, we enjoyed the gentle pace of life and soaked in the stunning view of nature. The innumerable resorts, hotels and homestays have transformed this once sleepy settlement into a much sought after destination.
We were there to sample the Village Life Experiences (VLE) package, which took us right into the heart of Kerala and gave us an insider's perspective of the land. The package offered us a slice of rural life and culture and a chance to explore, observe, discover, interact and learn from villagers. We watched Ajeesh clamber up a coconut tree to tap toddy, Sati make screw pine products, Latha spin coir strands, Gowri weave coconut leaves, a fisherman demonstrate traditional fish catching methods, a skilled artisan deftly craft country boat models, and villagers share their life experiences.
Also included were interesting packages like 'A day with farmers' and 'A day with fishermen', all of which are part of the Responsible Tourism drive in Kumarakom. We felt elated to be part of these packages which encouraged conservation of natural and cultural heritage, protection of traditional livelihood and shared 95 percent of earnings with the local community.
Explaining the genesis of this mammoth project, Rupesh Kumar, State Responsible Tourism Field Coordinator, said, "Realising the detrimental impact of over-exploitation of natural resources, the shrinkage of the Vembanad lake, the environmental degradation and the dissatisfaction with the socio-economic benefit generated by tourism in that area, the state government announced a pilot scheme in 2008 for Responsible Tourism in Kumarakom. Before this project was launched there was no purchase of local products, and the local people had no role in tourism packages and decision-making. Subsequently, the Grama Panchayat, Department of Kerala Tourism, the Kudumbashree, the tourism industry, local Self-Help Groups, NGOs and farmers became actively involved with the implementation of our responsible tourism initiatives."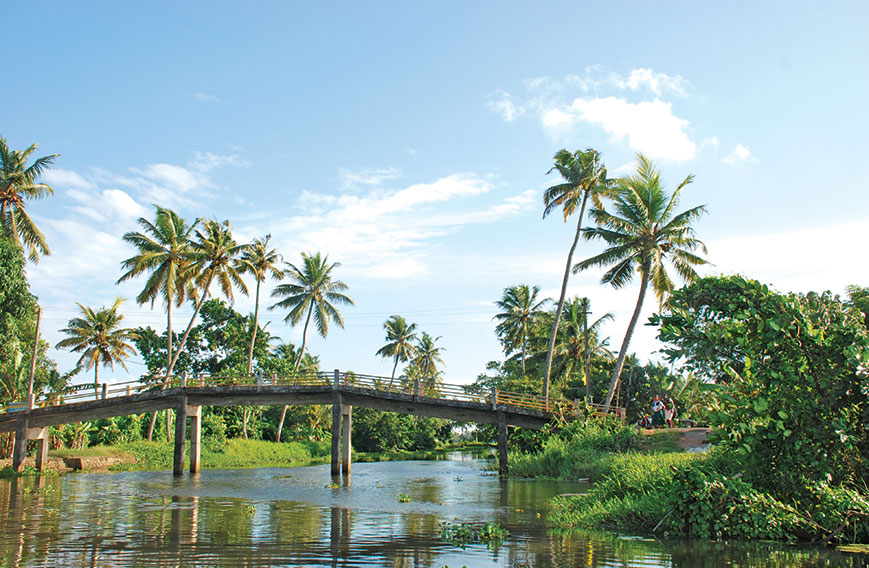 A bridge across the backwaters of Kumarakom
Escorting us around the village, he explained how Kudumbashree, an active arm of the Kerala State Poverty Eradication Mission, plays a significant role in Responsible Tourism by ensuring participation of women through a myriad entrepreneurial innovations. This motivates them to play an active role in mainstream social and economic activity and governance. Promotion of local cuisine is one of the important aspects of responsible tourism. At the Samrudhi Ethnic Restaurants run by Kudumbashree, we had a taste of the ethnic food which is a big hit with local people as well as tourists.
The Samrudhi shop was established to procure locally. It buys all its vegetables and other requirements from villagers. The SHGs and local units of Kumarakom arrange the supply of vegetables to hotels. Special attention is paid to women from disadvantaged sections so that they are included in the supply chain. The cooperation of homestead farms and local farm groups has helped sustain procurement.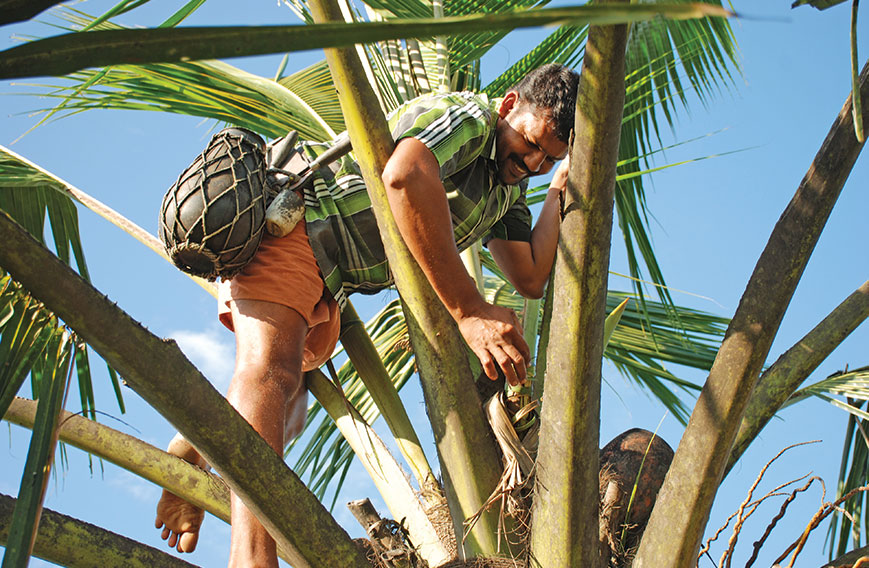 Realising that bonding with the local people is a good thing, the majority of resorts in Kumarakom also procure local goods for their daily use from the community and provide them with employment opportunities. "Currently more than 48 locally produced items are purchased by the tourism industry and the turnover is a minimum of Rs 1.5 crore a year. MICRO enterprise was formed to collect farming produce. Regular supply is ensured by preparing a farming calendar and fixing the share of produce for each farmer. It helps a family to sell their produce. All these assure local people a thriving market and reasonable prices," emphasised Kumar.
With the objective of making idyllic Kumarakom a 'zero waste destination', the Responsible Tourism project launched an ecosystem regeneration programme, mass awareness campaign, clean drive and conversion of fallow land to cultivable land. As an alternative to non-degradable products, the Responsible Tourism Cell promotes cloth bags, paper bags, areca nut plates, bamboo products, screw pine products in the destination. Other commendable achievements of responsible tourism are — declaration of the Kumarakom bird sanctuary as a plastic-free zone, promotion of bicycle trips around hotels and resorts, organic farming, mangrove protection and control of backwater pollution with the help of the local community.
Considering the importance of mangroves as an integral part of the ecosystem, special attention was given to plantation and regeneration of mangroves. Other successful ventures are an awareness drive against excessive use of pesticides and insecticides, filling of paddy fields and promotion of organic farming at Kumarakom.
Kumarakom is now a living example of how tourism becomes meaningful in the lives of people by creating several lessons on people's participation, grassroots leadership, women's empowerment, sustainable livelihood, agriculture, destination management and environmental preservation. Hence the new mantra in the field of destination management is that the quality of a destination has to be defined by the quality of life of the local population.
In recognition, the Kumarakom Responsible Tourism project has been conferred the UNWTO Ulysses Award for innovation in Public Policy and Governance. This is the highest honour given by the UN to government bodies for shaping global tourism policies through innovative initiatives. This is the first time India figured on the list of UNWTO Award winners. It has also bagged the National Award for Best Responsible Tourism Project 2011-12, Ministry of Tourism, India, and the PATA Award, 2011.
Fact file:
How to reach:
By air: Nearest airport is Kochi (72 km); nearest railhead is Kottayam (15 km); connected by road from Kochi and Kottayam.
Best time to go: September to February.
For Village Life Experiences contact Rupesh Kumar at 08111805554.