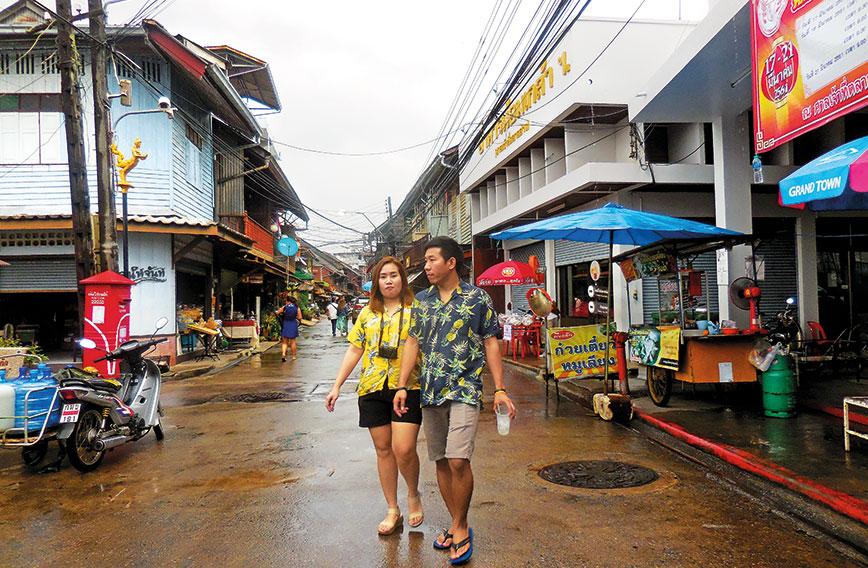 Taking a stroll along the one-km lane in Chanthaburi
Chanthaburi heritage and Pattaya's 3D art
Susheela Nair , Chanthaburi (Thailand)
Published: Jul. 21, 2018
Updated: Mar. 01, 2021
The Indian tourist has evolved and matured. When destination fatigue sets in, Indian tourists scout for off-the-beaten track destinations, new experiences and experiential travel in the 'Land of Smiles'. Cashing in on the changing demands, perspectives and consumer patterns, the Tourism Authority of Thailand (TAT) has come up with innovative ideas for attracting tourists. Currently, TAT has embarked on a marketing spree to promote and showcase niche destinations like Rayong and Chanthaburi in eastern Thailand which are not as flamboyant as those in southern or northern Thailand.
Weary of the bustling nightlife, world-class shopping, spectacular shows, top-notch leisure and entertainment facilities of Bangkok, we set out to explore Thailand's cultural heritage in the ancient town of Chanthaburi, and then hopped over to the picturesque Ko Samet island in Rayong province. We gazed admiringly at art in a 3D art gallery and watched the spectacular visual extravaganza of the Kaan show in the bustling neon city of Pattaya.
A visit to the quaint, multi-cultured Chantaboon Waterfront Community, an old town overlooking Chanthaburi river, is a voyage of discovery. Exploring the narrow streets lined with old wooden and brick shops and houses we felt we were travelling back in time. Every nook and crany of Chantaboon had a story to tell. Chanthaburi means 'Moon City'. We strolled past a Christian church, a Chinese shrine, a Buddhist temple, wooden houses, timeworn mansions and old houses lining the waterfront. The most prominent landmark in Chanthaburi is the Cathedral of the Immaculate Conception, Thailand's largest Catholic church. The cathedral, with its two towers, is visible from anywhere along the Chanthaburi river waterfront.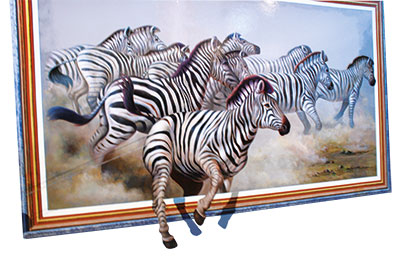 Chanthaburi has another claim to fame. It has been the hub for Thailand's gem and jewellery trade since the old days. Like its eastern compatriot, Rayong, Chanthaburi is sometimes hailed as the 'Land of Fruits' or the 'Orchard of Thailand' by locals for the abundance of fruits the province produces. Ambling along the narrow alleys, we passed by many private homes, art galleries, coffee shops and tasty snack stalls luring visitors. We came across some restaurants, and noodle shops peddling local dishes like moo liang noodle, a Chanthaburi-style fried noodle, chamuang pork curry, and fresh seafood dishes with tasty local seasonings.
From the ancient town, we headed to Koh Samet, an eight-square-mile island in the Gulf of Thailand. Located in Rayong province, it is part of the Khao Laem Ya-Mu Ko Samet National Park. As our motor boat approached the island, two statues loomed into view. They were of the flute-playing Prince, the hero of an epic poem, Phra Aphai Mani, and a mermaid. The poem chronicles the wanderings and romantic adventures and misadventures of Prince Aphai Mani and how a mermaid saved him from an ogress by guiding him to this island. There are other legends as well. Interspersed with coconut palms and the occasional white-flowered Cajeput trees which gave the island its name, 'Cajeput Isle' became known as Ko Samet.
Though it is not on the regular tourist radar, locals from neighbouring places come in hordes to have their ubiquitous dose of fun and adventure on Koh Samet, a weekend getaway just a four-hour drive from Bangkok. It is famed not only for its sun, sea and sand but is redolent with scenic beauty, myths and mythology. It has something for everyone — beachcombers and backpackers, sun worshippers and solitude chasers. With its aquamarine waters, sandy shores, a series of bays, secluded cosy coves separated by rocky outcrops that dot the length of the island's eastern side, it is the favourite haunt of Bangkok's residents. There is a host of activities to indulge in — watching fire-juggling shows, savouring beach barbeques and experiencing the thrills and spills of aqua sports.
The incredible interactive Art in Paradise Museum in Pattaya merits a visit. If you want to flaunt your vacation selfies posing as an angel, feeding elephants or balancing on a precarious footbridge over a treacherous canyon, do visit. It is the brainchild of Shim Jae Yeoul, a Korean businessman who along with 10 artists reclaimed an old nightclub and curated amazing optical illusions, 3D paintings that you can put yourself right into. The art gallery is divided into 12 zones with themes such as the ocean, the wonders of the world and nature.
Take photos of yourself as you explore the exhibits in each of the 12 distinct galleries and interact with art like never before. Here you can paint new eyebrows on Mona Lisa, be featured on the cover of Time magazine, get your picture clicked among the ruins of Ayuthaya or in the deserts of Egypt. You can put yourself under the ocean, atop precarious cliffs, or balance with friends over raging waterfalls or pose with racing zebras. You can laugh out loud gazing at the picture of an elephant sitting on a potty with its trunk reaching out for toilet paper.
The highlight of our trip to Pattaya was the Kaan show, a 75-minute show based on Thai mythology and folklore. It's a juxtaposition of spectacular cinematic live experience, stage performance and world-class technology which transported us to a realm of make-believe inspired by classic Thai literature, creatively adapted into a show. It is the world's first levitation theatre presented by Sigha Corporation at D'Luck Theatre in Pattaya. We sat glued to our seats gazing in wonder at the eight-metre-high Ravana robot in the midst of an epic battle, the mythical beasts from Thai literature and the huge pirate ship that set sail right in front of our eyes. The dazzling costumes, special effects and the computer generated imagery projected on an area of over 1,500 sq m had us spellbound.
Fact File
11 airlines operate 240 weekly flights between Thailand and 17 major cities in India. It is a 365-day destination.