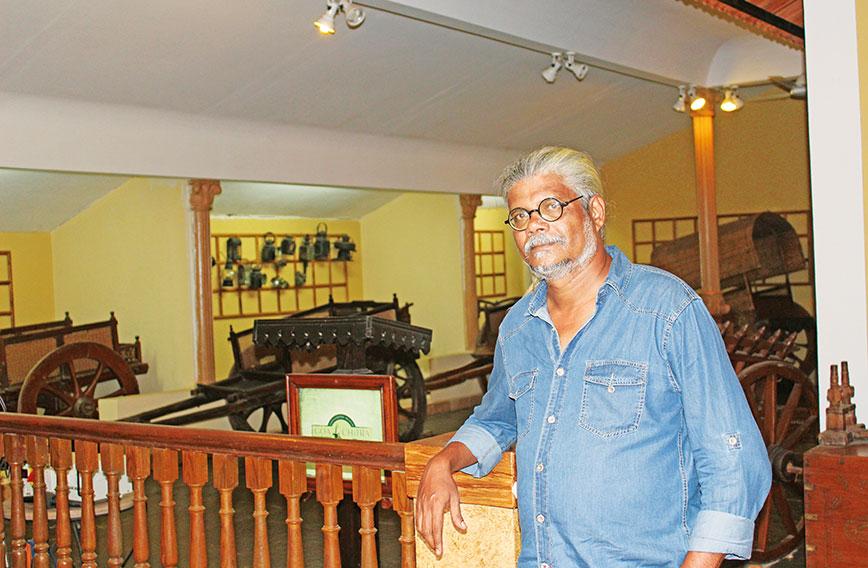 Victor Hugo Gomes at the internationally renowned Goa Chitra Museum
Three museums on the ordinary citizen
Derek Almeida, Panjim
Published: Nov. 13, 2017
Updated: Jan. 29, 2020
About a year ago a Russian girl made a frantic call to Victor Hugo Gomes, curator and founder of the internationally renowned Goa Chitra Museum. The architect in whose house she had rented a room had passed away and the family was going to put his collection of books to the torch. Victor acquired the collection. Among the many books was a diary dating back to 1861 and a mysterious woman named Isabella Michael.
Why did that Russian girl think of Victor Hugo Gomes?
Two years ago the temple committee of the Shree Bugga Sangameswara Swamy Temple in Guntakal, Andhra Pradesh got in touch with Victor. A rath belonging to the temple was on the verge of destruction and they desperately needed someone to preserve it. The rath was eventually sold to Goa Chitra Museum and it now stands at the entrance, totally restored, granite wheels and all.
Why did the temple committee think of Victor Hugo Gomes?
Because single-handedly he has set up three museums in a span of seven years — Goa Chitra, Goa Chakra and Goa Cruti. The museums aren't about kings and rulers or about famous men and women but about the common man. There are saxophones, clay apparatus for distilling feni, surgical implements, ploughs, cameras, walking sticks, colonial furniture and the original plaques from the casket of St Francis Xavier. The common theme is the ordinary man.
"If you have noticed, the artifacts and the museum are not guided by aesthetics, but by utility," says Gomes. "Everything here has utility value and was used by common people over the years."
When Goa Chitra was inaugurated in 2009, the ceremonial lamp was lit by six traditional professionals: a toddy tapper, a farmer, a basket weaver, a fisherman, a coconut plucker and a potter. Nothing symbolises the guiding principle behind the museums more than this simple ceremony which was bereft of VIPs and politicians.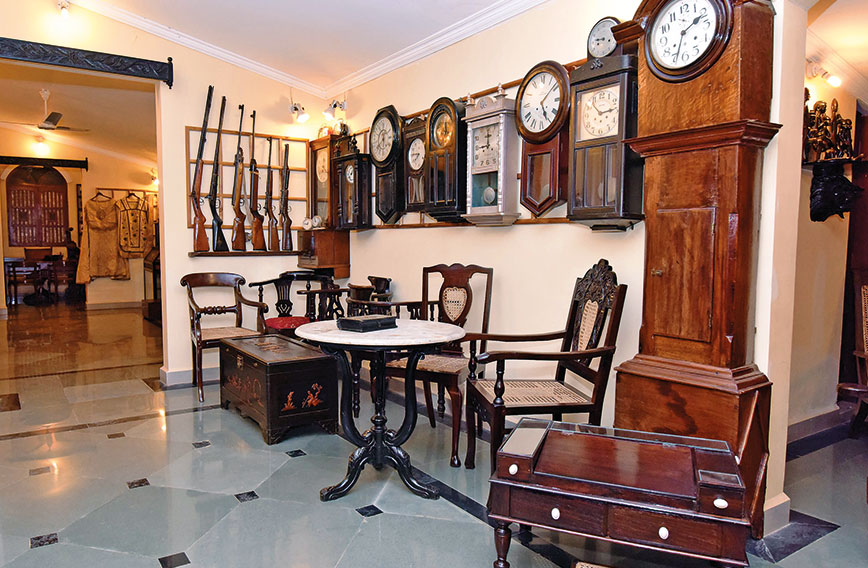 Antique clocks and furniture
"I want to preserve everything," says Gomes, but this is clearly not possible. For every three artifacts that arrive at the museum either as a donation or paid for, 10 more leave the state through a network of artifact dealers.
Goa's unique 450-year colonial past has made it a treasure trove of artifacts and many of them leave the country without a trace. Says Gomes: "When I went to remote areas of Goa they told me that people came in big vehicles and took whatever they had at that time. No one knows where those things have gone. When I was collecting musical instruments I was told about a priest who collected these instruments from areas where he was posted and no one knows where they went. Then there was a lady who sent a letter to the church saying that she was setting up a museum. The artifacts collected by her have disappeared. There is a gentleman from Portugal who comes to Goa every year and takes back Goan objects."
Over the years Gomes has maintained close links with antique dealers and the standing instruction to them is that he must be given the first right of refusal. "Every day I receive WhatsApp messages about artifacts for sale. The good thing is that these dealers inform me, but the prices quoted by them are not affordable."
One message reads: "Portuguese handi for sale, two pieces." Another one goes like this: "Sir my name is Atish (name changed) from Mapusa. I deal in antiques. I saw your museum on Google. Do you buy antique things?" Victor replies: "Send me pictures of anything interesting you have." What follows is a series of pictures of crockery and religious items.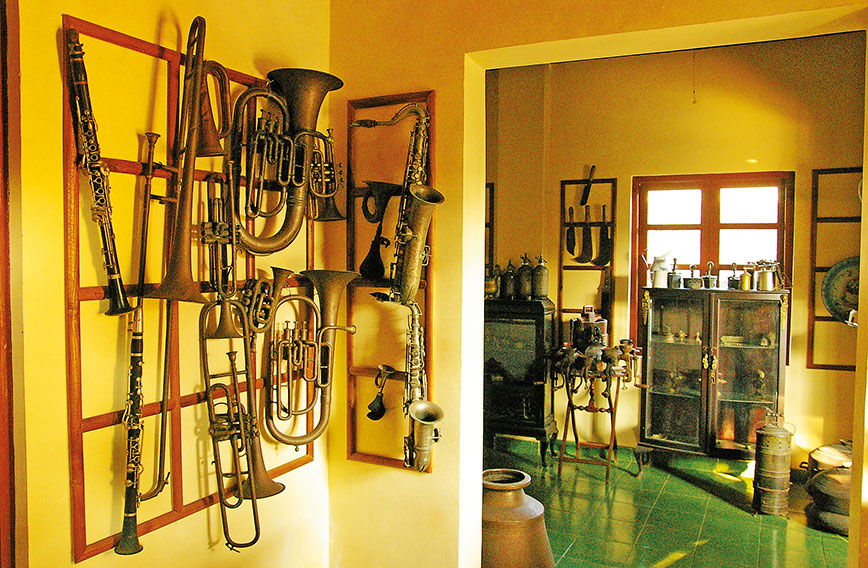 A set of old musical instruments
Gomes has tried warning antique dealers about possible action by the government, but this only resulted in dealers melting silver and gold objects and the silver thread on church vestments.
"When you sell an artifact to a foreigner or an outsider who did not grow with these things, it destroys the narrative and the story. I have been to one place where a church confessional was used as a bar," laments Gomes who has laboured for over three decades to gather, restore and preserve nearly 40,000 artifacts.
One of Gomes' latest acquisitions is five boxes of neatly arranged tiny cards with summaries of important court judgments, some of them dating back to 1910. These slices of history were sold as scrap when the courts were being renovated or shifted in Goa.
A similar episode occurred in 2004 when the buildings that housed one of the oldest medical colleges in Asia were torn down and renovated to make way for the first International Film Festival of India. Gomes, again through scrap dealers, managed to get hold of the photos of the first directors of the college and hospital which was founded in 1842.
The three museums are not just a collection of artifacts, but a treasure trove of stories and Gomes is perhaps the only one who knows all of them. He relates them with the excitement and zest that few of his contemporaries can match.
The first museum, Goa Chitra, is a collection of agricultural implements and trade tools used in ancient Goa and is set up against the background of an organic farm.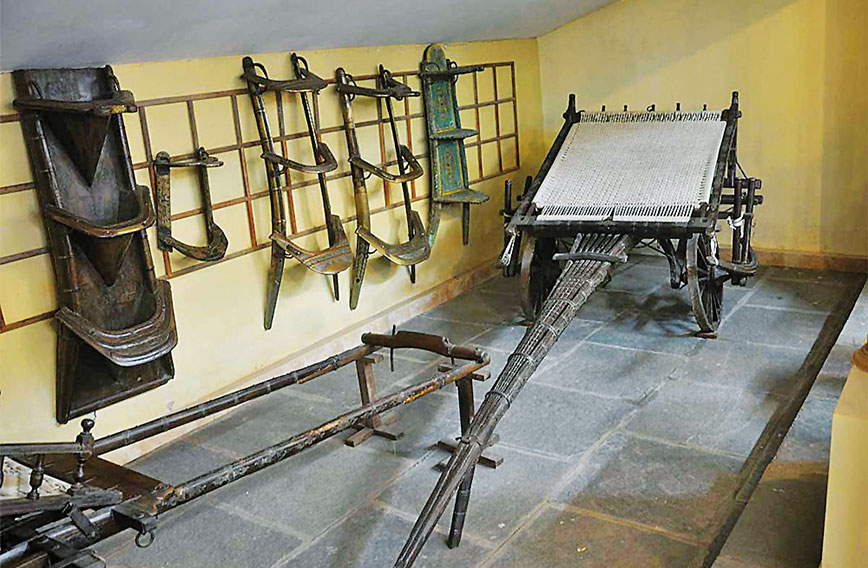 Goa Chakra is a unique collection of carriages from all over India
The second museum, Goa Chakra, is a unique collection of carriages from all over India and the third, Goa Cruti, is dedicated to Goa's colonial past and native craftsmanship. Surprisingly, Goa Cruti is dedicated to the late Jaswant Singh, who for 16 years, helped restore and preserve artifacts at the museum. All three museums boast of a collection of 40,000 items.
Gomes' tryst with Goa began in 1992 when he gave up a scholarship at the Lucknow College of Arts and Crafts to set up the Christian Art Museum at the Rachol Seminary in Goa. Differences with top administrators forced him to leave after which he dabbled in advertising, restoration of old houses and even set up a restaurant, but he never stopped collecting artifacts.
His success lies not only in setting up three museums, but creating a unique revenue model to sustain and grow them.
Leaning on his love for music, Victor started holding music concerts at the museum with membership fees.
The museum also offers paid internships to students from all over the world and this was possible because Goa Chitra is now on the world map. Gomes has participated at international workshops, and was selected as a resource person for UNESCO-based programmes. He was appointed by the British Deputy High Commission to map museums in Western India.
Goa Chitra has tied up for an 18-credit semester programme with Carleton University, Minnesota, and is affiliated with the University of Bologna, Italy.
In 2009, Gomes was invited to exhibit at the University Institute of Lisbon (ISCTE), Portugal, where he presented a part of Goa Chitra's collection on costumes and jewelry of Goa's indigenous tribe, the Gavdas.
That brings us back to the mystery of Isabella Michael. Who was she and to whom was she writing love letters? Why did she write in English and not Portuguese which was widely used in Goa? The only clue is a mention of Calcutta and a picture of four gentlemen, presumably British, dressed in polo uniform. The rest of the story is for Victor Hugo Gomes to unearth.