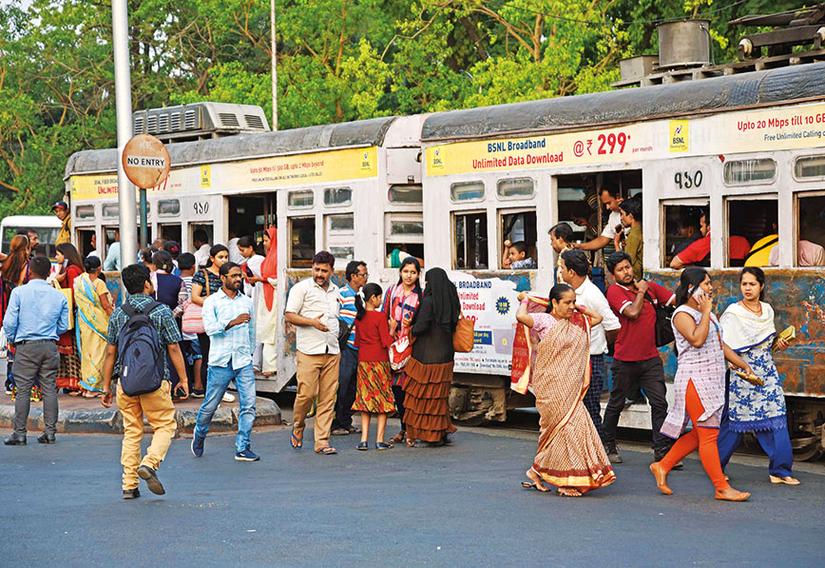 Thousands of people continue to use trams for their daily commute | Photograph by Ankit Dutta
Will trams get a new lease of life in polluted Kolkata?
Subir Roy, Kolkata
Published: Apr. 30, 2019
Updated: Mar. 24, 2020
A small, dedicated group, stretching across generations, observed the annual Earth Hour late last month in Kolkata by gathering at the Ballygunge tram terminus with posters and banners in support of "Sustainable Mobility and Heritage". Their demand before the government was simple: take tram services forward, not back. And since celebrating weighty causes should also be fun, at the end of the hour the group took a joy ride in a tram to the Tollygunge depot!
The event served two goals. The first was to focus on energy consumption and its impact on the environment, which is what Earth Hour seeks to do. The second was to celebrate an icon of the city's heritage — trams. The two goals reinforce each other as the dedicated group wants to save the city's trams, the only ones left in the country, and trams are a marvellous enabler of non-polluting urban mobility.
Shrishti Hazra of Class 11 from Silver Point School said they encouraged their friends to travel by tram and thus save them as otherwise they would perish. Their teacher, Rahul Deb Sarkar, gave a call for more trams for a better environment.
Underlining the focus on being practical while highlighting a good cause, Anurag Mitra of Calcutta Tram Users Association, which had organised the event, offered the advice: Just as the best way to see London is from the upper deck of a doubledecker bus, the best way to see Kolkata is to take a window seat in a tram.
While covering this event I came up against a powerful contradiction. I had grown up in the city eons ago when it was another kind of city and one of my pleasantest memories is of taking a ride on Route 32. It went from Howrah, across the famous bridge, via Dalhousie Square, Esplanade, an incomparable part of the evergreen Maidan, upmarket Alipore, skirting Kalighat with the Kali temple, past the Tollygunge race course and ending up at the Tollygunge depot amidst pleasant suburbia. On the other hand, trying to save Kolkata's trams today seems an almost lost cause, suitably romantic but hopeless nevertheless.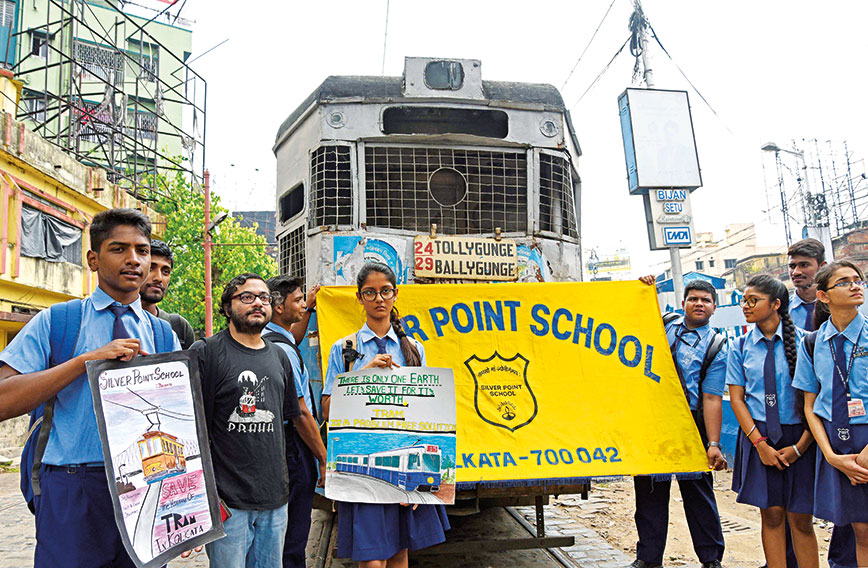 Schoolchildren with placards speak up for Kolkata's trams | Photograph by Ankit Dutta
There are any number of good reasons why Kolkata's trams need to be saved and we will get to them in a moment but it is only the government which can save and restore a dying piece of capital intensive infrastructure and the West Bengal government appears to have given up the good fight long ago. There has been a steady decline in investment, from `5.5 crore in 2011 to nil in 2018. The last new tram built was in 1982. If the odd tram on the road now looks new, then it is a refurbished one.
The final blow came in 2016 when the West Bengal government decided to merge three loss-making state-owned transport companies into the West Bengal Transport Corporation. Thus died the Calcutta Tramways Company, founded in 1880, which had, well over a century ago, brought electricity-driven tram services to the city in 1902.
Here is a picture of the decline as the present decade draws to a close. Today (latest figures are for 2018) there are only eight routes along which ply less than 40 trams, carrying around 15,000 passengers a day with the operation run by 3,700 staff. In 2011, there were 37 routes which ran over 180 trams, carrying nearly 75,000 passengers per day with the operation run by 7,000 staff.
The only glimmer of hope for less polluting public transport facilities in the city is the recent decision by the state government to introduce trolley buses. A German firm, DIZ, has submitted a feasibility study on this. Trolley buses run on bus-type tyres, don't need steel rails like trams do but draw electricity from overhead cables through two poles. They are currently running in cities across the world like Berlin, Ankara and Shanghai. Jochen Weikert, the India head of DIZ, told a newspaper, "The tramways network is excellent though it needs some overhaul. Kolkata is the only city (in India) which has been able to preserve trams. They are environment-friendly and carry a lot more people than buses and taxis."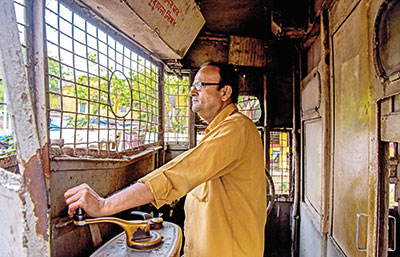 The case for trams is well known. They run on electricity and so are non-polluting for the urban environment in which they operate. Plus, they are supplied energy online and so do not use lithium-ion batteries like electric vehicles do.
Disposing of a large number of these batteries when they need replacing, which will happen once electric vehicles become common, will pose its own environmental challenge.
The only negative point against trams is that they take up a lot of road space which is very scarce in a city like Kolkata.Plus, maintaining road surfaces with tram tracks is costlier than regular roads. Trolley buses, which have greater manoeuvrability than trams, provide a part of the solution. But they don't have the passenger-carrying capacity that tram cars do.
So the West Bengal government will not do away with trams but use trolley buses as an additionality in a multi-modal transport system. These may first be introduced in newer areas of the city like Salt Lake and New Town where there is comparatively huge road space. Trolley buses can be used as feeders for the city's expanding Metro network and even in the central business district.
A key intangible about trams is that they create an emotional connect wherever they have plied and Kolkata is no exception. A well-maintained tram car is a tribute to the age of heavy industries when products were made to last a lifetime. They convey a sense of durability, stability and grace in an age when a great deal of life has become virtual and lives in the cloud. A tram is a real thing that you want to hang on to for a sense of reassurance.