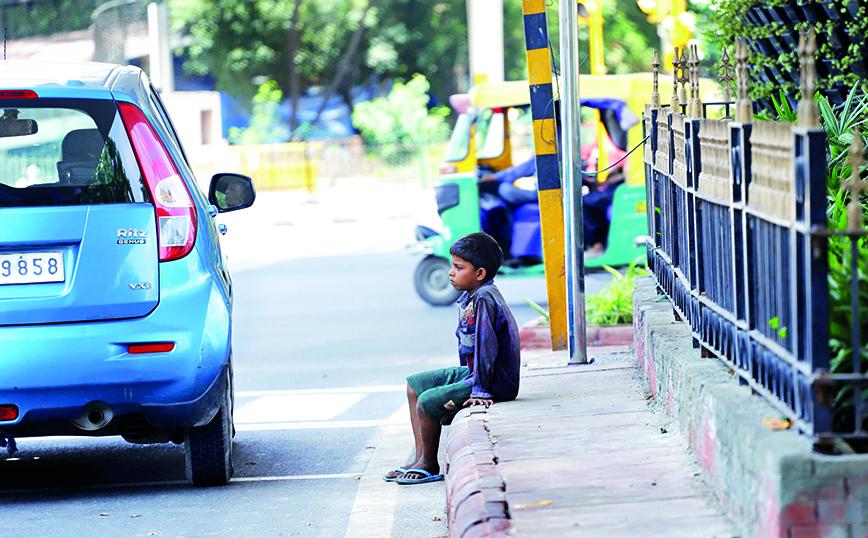 A child sits disconsolately on a pavement in Delhi | Photo: Shrey Gupta
For street children is there anything like being home and safe?
Kavita Charanji, New Delhi
Published: Jul. 13, 2020
Updated: Jul. 13, 2020
Children who live on the streets of the city ordinarily have a tough time, but after the coronavirus epidemic and lockdown, their lives have become tougher. Shops and eateries are closed, so if they are wastepickers there is no money to be earned. Their parents too have lost their jobs.
Sixteen-year-old Priya lives in a slum near the Inter-State Bus Terminal (ISBT), at Kashmiri Gate in central Delhi. With the pandemic her studies at the Government Senior Secondary School, Mori Gate, ground to a halt. So did afternoon classes at the NGO, Butterflies' open-air learning centre at Kashmiri Gate. Food became scarce. Priya recalls days when relief food supplies from NGOs and the government were disrupted. When food did arrive, desperate people rushed to edge their way into queues, only to be roughed up by the police.
The shutdown has lifted and rice and wheat are available from ration shops. NGOs too pitch in with dry rations and vegetables. But adequate food remains a challenge for Priya's family. Her mother has been thrown out of her job as a cleaner at Old Delhi Railway Station. Priya has four siblings. It is a hand-to-mouth existence. While many other daily wagers in her area have gone home, her mother is reluctant to return to their ancestral village in Morena district, Madhya Pradesh, as she holds on to the hope that things will improve in Delhi.
That may be a mirage. Rita Panicker, founder-director of Butterflies, which works with street and working children, says that though the lockdown has been lifted parents of children living on the streets or in slums have not recovered their livelihoods. "Casual labour, domestic help, drivers, street vendors have lost their jobs. Street hawkers have not been able to restart their occupation because people are not buying from them due to fear of being infected with the coronavirus."
Likewise, there is a major slump in markets. Adolescents who worked in shops and lived on their own are still unemployed. A few have resumed work but they are unsure they will get their wages on time or their full dues. Child scrap collectors say that demand for waste material has been hit. "In these circumstances children still face difficulties in getting food and safe drinking water. Most importantly, they are afraid that they might get infected with the coronavirus. They are still dependent on relief efforts by the government or NGOs," says Panicker.
According to some estimates there are 70,000 street children in Delhi. NGOs tend to believe that the numbers are much higher. "They live like ghosts," says Sanjay Gupta, founder-director of CHETNA (Childhood Enhancement through Training and Action), an NGO that works with 8,000 street children in Delhi, Haryana and Uttar Pradesh. They are in an abysmal condition due to the fear of the coronavirus. "The distribution of relief material has reduced with the partial ending of the lockdown. They are at unprecedented risk of poor nutrition and malnutrition, leaving them vulnerable to health complications and even death," says Gupta.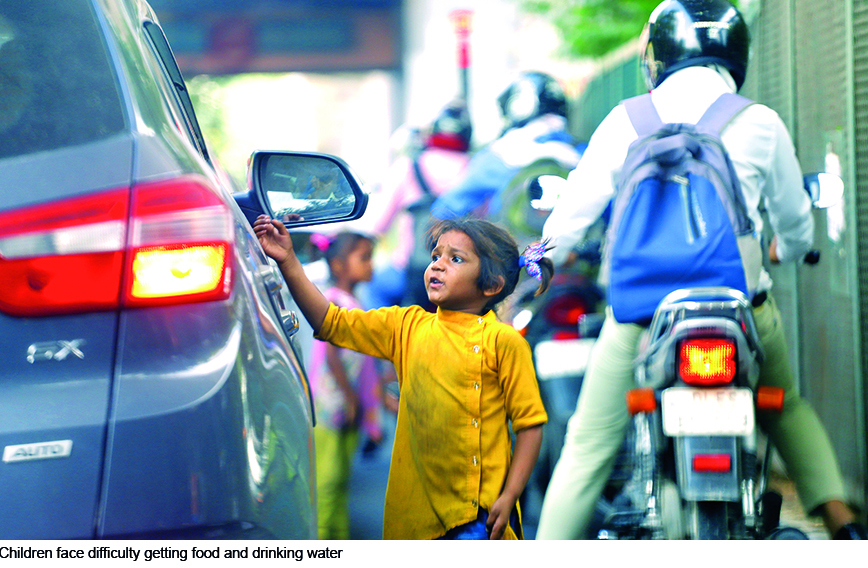 In the course of field trips, the CHETNA team found many children were falling ill. The heat has exacerbated their plight. Besides, commuters don't buy their goods on the streets or at traffic signals anymore for fear of contracting the coronavirus. Nor do children get anything from begging.
The "stay home, stay safe" advisory is a mockery for homeless street and marginalized children. Many live in cramped jhuggis where distancing isn't possible. The Salaam Baalak Trust, an NGO for street children, found that the lockdown and loss of jobs forced more families to shelter on the street. Though a large number has gone home, many have taken refuge in night shelters or under flyovers or on the banks of the Yamuna.
What's even more worrying, say NGOs, is that economic distress may lead to an increase in child labour, physical and mental abuse of children, trafficking, early marriage and domestic violence. NGOs are unanimous that stress levels have built up with extended confinement and limited social contact.
"Mental health issues of the kids in our homes during the lockdown increased by over 30 percent," says Sanjoy Roy, trustee of the Salaam Baalak Trust. While the children were initially receptive to the idea of being confined to shelters and full-care homes with staff living in for a week at a time, "the mental health of our kids at our shelters is cause for concern. Self-harm, fights, a sense of restlessness, anxiety and depression have been evident," says Roy.
The Trust's mental health staff cannot go to the homes because of minimal public transport. Online media like Zoom or Skype are not always suitable for counselling or group therapy sessions. Growing levels of depression are also seen among many young adults from Salaam Baalak Trust who live in rented or owned accommodation and have lost jobs or have no income.
Indicators of the issues that disturb children surface on Childline 1098, an emergency helpline for children in crisis situations. A programme of the government, the service is run in partnership with NGOs.
Butterflies operates the Childline services in Delhi's South and South-East districts and at Nizamuddin railway station. According to J.B. Oli, head of programmes at Butterflies, phone lines have been very busy in the South and South-East districts. While a lot of the calls were from adults seeking information about food or vaccinations for their babies, children stranded in Delhi wanted to know how they could get passes to go home. The Salaam Baalak Trust recorded 25 percent more calls that were pleas for help or assistance against domestic violence and physical and mental abuse of children.
Children like Priya are upset about the closure of their schools. Priya has difficulty in doing her schoolwork online as she shares a smartphone with her extended family. She also misses Alam "Bhaiya", a Butterflies teacher-social worker, also known as a Child Rights Advocate (CRA), who used to help her with her studies. During the pandemic he is unable to come to her locality in Kashmiri Gate and she has to depend on WhatsApp and phone calls to keep in touch with him. While she has been promoted to Class 11, she says her brothers and sisters do not have textbooks.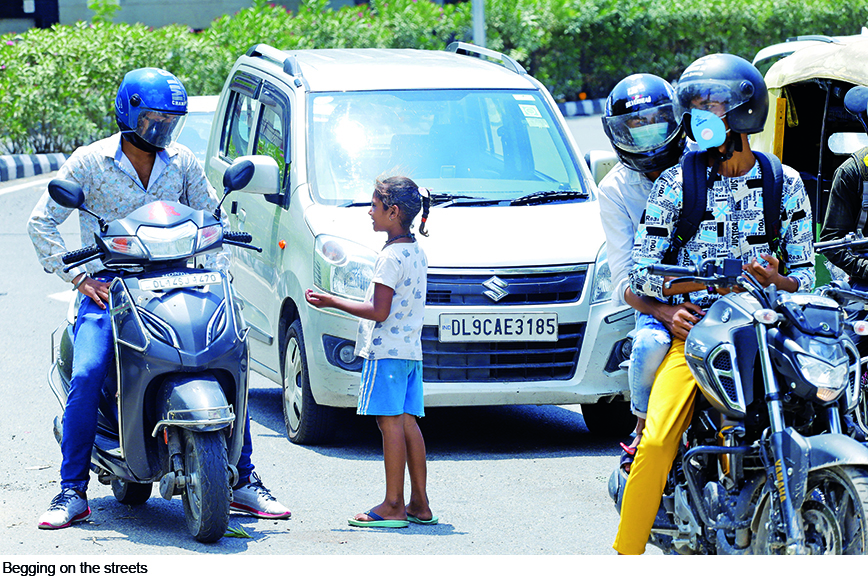 To help children like Priya, Butterflies team members have downloaded and shared NCERT textbooks in the groups. The children also receive relief material, including books and stationery, at contact points. "Most importantly, Butterflies' CRAs make it a point to call parents to find out how they are doing and if there is any crisis that needs support. This has helped as we have heard girls saying that parents are now talking about sending them to the village or pulling them out of school or contemplating marriages," says Panicker.
CHETNA, meanwhile, uses phones to stay connected with children. Team members have daily conversations with the children to keep tabs on their psycho-social well-being. They are then provided necessary assistance and teaching material, while getting updates on the corona situation and precautions they must take.
NGOs are pitching in to support children in other ways. The Salaam Baalak Trust runs a food programme and feeds around 2,400 to 2,600 people in association with Kyassa Farms who provide wheat and fresh vegetables and the Ford Foundation in vulnerable areas and across shelter homes and contact programmes. Children's Hope India has distributed 30,000 meals, 15,000 masks and gloves along with 25,000 sanitizers. Child Rights and You (CRY) provided support and hygiene kits to underprivileged families during the lockdown. Front-liners at CRY and its partner organizations have touched many children's lives and witnessed many moving stories.
Puja Marwaha, CEO of CRY, relates this story from Kolkata. Dolon, 13, and Rintu, 10 (names changed), live with their mothers in Sonagachi, a well-known red-light area in North Kolkata. The two children study in Class 7 and Class 4, respectively. Both their mothers are into prostitution and currently are forced to live in a very vulnerable situation, since they have no income due to the lockdown. Their savings are depleted and now they are fully dependent on relief support, since no local shops are giving food items on credit. They tried to borrow money from some local people, but the high interest deterred them.
Both families have received dry rations for a month along with soap and play materials from CRY, while sanitizers and play materials have been sourced by Sanlaap, a local NGO that partnered with CRY.
This has been of enormous help to their families. Both the girls could use drawing books and colouring boxes to keep their minds occupied.
To get in touch with CRY contact: Abhik Bhattacharya, 9051668304