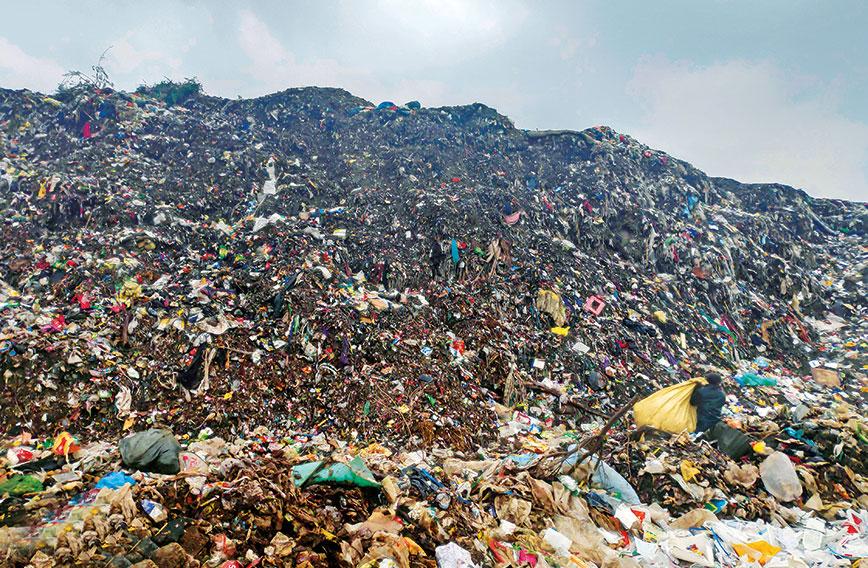 Chandigarh's massive garbage dump
Mayor gets set to demolish hill of garbage
Raj Machhan, Chandigarh
Published: Dec. 24, 2019
Updated: Mar. 24, 2020
Chandigarh's mayor, Rajesh Kumar Kalia, is a contented man. His dream project of getting the city's massive garbage dump cleared from Daddu Majra, a locality near Sector 38 West, is finally becoming a reality.
"This project has been my life's ambition, the culmination of long years of my political struggle. I am most satisfied that I have been able to initiate this change," he says.
Making this mountain of garbage vanish will, no doubt, be a feather in the mayor's cap. But 46-year-old Kalia has a more deep-seated, personal reason for getting this waste cleared.
His family, comprising five siblings and his parents, lived in this locality, in the vicinity of this garbage dump, for many years after they moved to the city in 1977.
"After living in a hutment in the Sector 25 jhuggis, we moved to Daddu Majra in 1984. My father was uneducated and it was a challenge making ends meet," he recalls. So the family took to rag-picking, collecting paper and other reusable waste from the garbage dump nearby. This went on for a few years, but destiny had other plans.
Kalia never gave up going to school, where he proved to be a good sportsman. "I was interested in politics from the very beginning and it was my interest in sports that gave an impetus to my leadership skills." After passing Class 12 in 1991, he devoted himself to politics and emerged as the leader of Chandigarh's Valmiki community. Kalia held various positions within and outside the Bharatiya Janata Party (BJP). He quickly rose through the ranks, eventually becoming mayor of India's most planned city.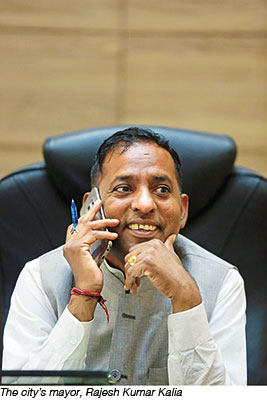 As per official estimates, the Daddu Majra garbage dump has accumulated 'legacy waste' weighing a whopping 500,000 tonnes and rising to a height of 12 metres at places. Kalia has witnessed first-hand the way the land here was transformed into its present state.
"It was a shame. The garbage dump emanated a foul stench and people regularly fell ill due to various diseases," Kalia said. During rainfall, the waste mixed with the water to produce leachate — a disease-causing toxic liquid that percolated through the soil, rendering the groundwater unfit for human consumption.
The clean-up drive
In 2005 Chandigarh was one of the first cities in India to get a garbage processing plant. Set up by the Jaypee Group, the plant had the capacity to process 500 tonnes of waste per day. This was the amount of garbage generated by the city on a daily basis, so the plant was seen as a solution to its problem of waste.
Municipal corporation officials, however, say the plant at best functioned, on average, at merely 25 to 30 percent of its capacity. Over the years, it ended up adding to the volume of accumulated waste.
N.K. Vohra, the plant manager of Jaypee, disputes these calculations. "The plant is fully operational," he says. "But we cannot do anything about unsegregated waste. We cannot process construction waste, horticulture waste, cow dung and other such items that have been dumped into our facility. This is a municipal solid waste plant and that has been our brief from day one."
Just across the road from the processing plant lies the dumping ground. The long-standing tiff between the city's municipal corporation and the plant authorities has led to the accumulation of vast quantities of untreated waste in the compound of the plant itself.
Under a new Smart City initiative, the Chandigarh authorities have now chalked up an ambitious plan to clear the dump and free up the 25 acres of prime city land on which it stands for more productive purposes.
N.P. Sharma, general manager of Chandigarh Smart City Ltd (CSCL), says, "The project is now within the ambit of the Chandigarh Smart City programme. We are deploying scientific mining to clear the dump. We will remove the waste and deploy the reusable by-products suitably."
To clear the garbage, CSCL has awarded the 'clean up' contract to a private company at a cost of `33 crore. The task is to be completed within a period of one and a half years. Sharma says that the company has already started setting up a segregation facility near the dumping ground. "The sheds are being built and we expect the facility to become operative by January 1," he says.
Three Categories
The legacy waste has broadly been classified into three categories — Construction and Demolition waste (C and D waste), municipal solid waste and industrial/commercial waste to be used for Refuse-derived Fuel (RDF) and fibre waste.
Of the 500,000 tonnes, the dumping ground is estimated to contain 150,000 tonnes of C and D waste, 150,000 tonnes of RDF-compliant waste, 150,000 tonnes of fibre waste, and 50,000 tonnes of plastic and mixed waste. The compostable waste is to be transported in batches to the nearby segregation site and treated in the sun for seven days. Next, it will be put on conveyor belts with sieves and other separating mechanisms for segregation. The 150,000 tonnes of segregated C and D waste will be transported to the municipal corporation's existing processing plant in Chandigarh's industrial area. Sharma says that the plant has already been producing sand, tiles, gravel and bricks for public use.
The RFD waste is to be transported to nearby cement plants, where it will be burnt to produce energy. "This has been made mandatory for them under law," says Sharma. The fibre material is more of a challenge. As per plan it will be disposed of in waste pits in low-lying areas of Chandigarh's southern sectors.
"We are scouting for a suitable site. Since Chandigarh is a landlocked city, we are still in the process of finalising a landfill for this purpose," says Sharma. The residual 50,000 tonnes of plastic and mixed waste are proposed to be treated at a small plant to be set up for the purpose.
After mandatory treatment with bio agents, the Daddu Majra waste dumping site will be transformed into a public ground which could be used for creating a public park and other civic installations. And, hopefully, Mayor Rajesh Kumar Kalia's ambition of a city without the eyesore of a massive garbage dump will be realised.