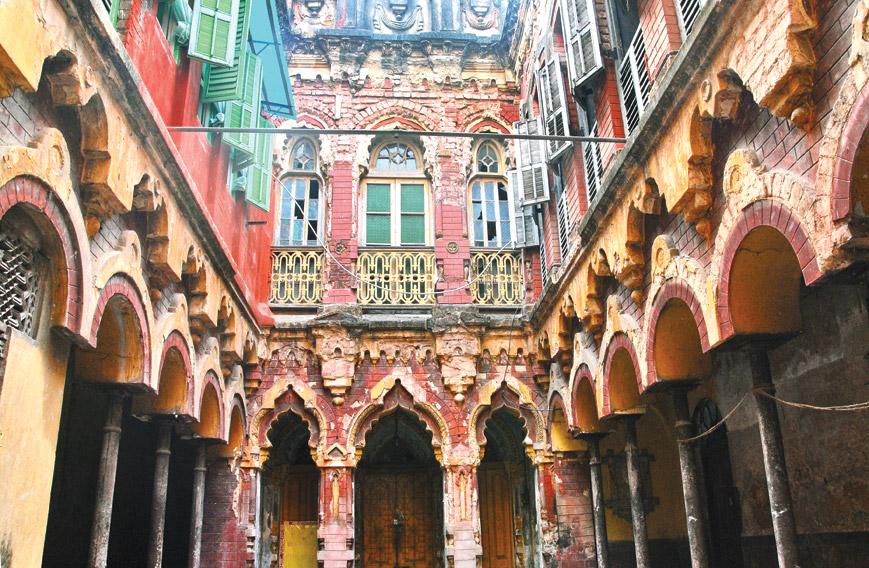 Heritage showdown in Kolkata
Saibal Chatterjee, Kolkata
Published: May. 30, 2016
Updated: Jan. 29, 2020
In the lanes and bylanes of the busy shopping district of Gariahat in South Kolkata, an intense battle is being waged.
On one side are inheritors of old residential properties built between the early 20th century and the immediate post-Independence years. On the other side are builders and real estate promoters for whom these unique buildings mean nothing. For them it is the land on which these heritage structures stand that is a goldmine.
Signs of 'destruction' are everywhere. Not too many of the decaying structures have survived. Most have been replaced with boxy multistoried buildings to accommodate the city's upwardly mobile. The neighbourhoods or paras have in the process been robbed of their inimitable character.
The new multistoried buildings tower over the old ones. They look large and threatening. The old buildings with their fading beauty appear small and vulnerable.
Many of the heritage homes that have disappeared or have been altered to serve the needs of increasingly consumerist times were once occupied by men and women who made the Calcutta of yore India's intellectual and cultural capital.
The few buildings that have escaped the hammer in South Kolkata's residential neighbourhoods are, of course, nowhere like the grand palaces in the city's north. And that is precisely what makes their part European, part Bengali architecture distinctive.
These crumbling structures are marked by refined understatement – a living testimony to an eventful era when the city was enthusiastically courting modernity after being stripped of its status as "the second city of the Empire".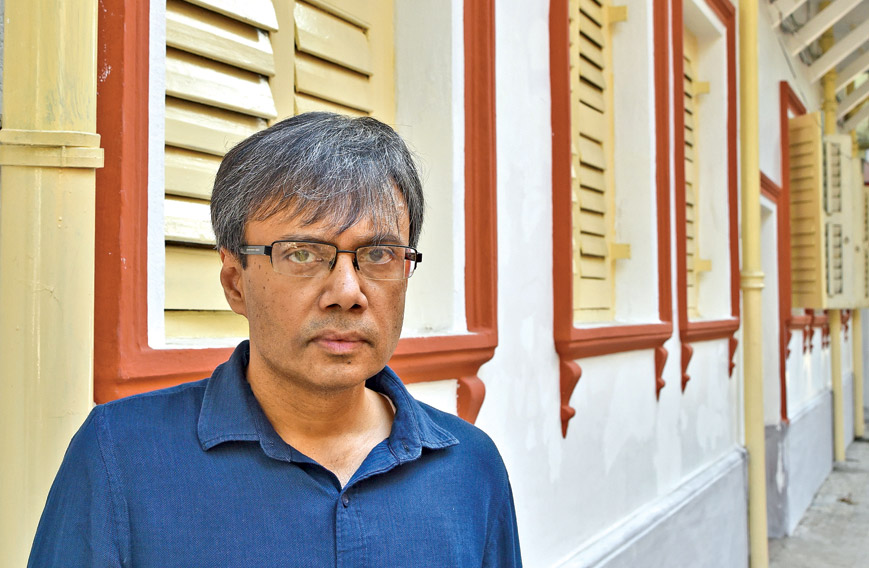 Amit Chaudhuri in a restored heritage building
Novelist and singer Amit Chaudhuri has initiated a campaign to bring the fate of these historically and architecturally significant homes and their precincts to the notice of those that run the city and seem to be bent upon ruining it.
"Lots of people are already on board," says Chaudhuri. "They are beginning to see value in these houses, value that goes beyond personal and individual reasons and extends to their place in the city's architectural diversity and history of modernity."
Chaudhuri, like the others who are part of the newly-launched Calcutta Architectural Legacies (CAL) campaign, are responding to the cavalier manner in which beautiful old facades are being mindlessly wiped off the face of South Kolkata's neighbourhoods in the name of development.
Erasing legacy
Kolkata's paras (localities) are central to the city's social life. They are the fulcrums around which neighbourhoods develop their identity and cultural dynamics. "There is something inherent in these precincts and houses that is of value," says Chaudhuri.
Many striking homes built in the colonial era in South Calcutta, with their high ceilings, red-oxide stone floors, semi-circular verandahs, intricate cornices, ornate wrought-iron grilles, French-style slatted windows and open terraces, are falling to pickaxes, crowbars and heavy hammers unleashed on them by realtors.
A combination of legal tangles, economic distress, lack of awareness of the value of the beautiful old structures and lax municipal regulation have led to owners of many of these ancestral properties parting with their amazing bequest and leaving the magnificent, architecturally diverse structures (some of them built nearly a century ago) at the mercy of profit-seeking builders who have no respect for either history or architectural nuances.
The situation has worsened since the turn of the millennium. With land prices skyrocketing and the younger generations of Kolkata residents moving out in search of better lives elsewhere, the builders have moved in and promptly demolished some unique structures that defined the character of upscale South Calcutta.
Most of these houses were built between the 1920s and the 1960s. One of the few surviving old buildings in this part of Kolkata — 18/56, Dover Lane — was the home of Taraknath Sen, the legendary English literature professor at Presidency College.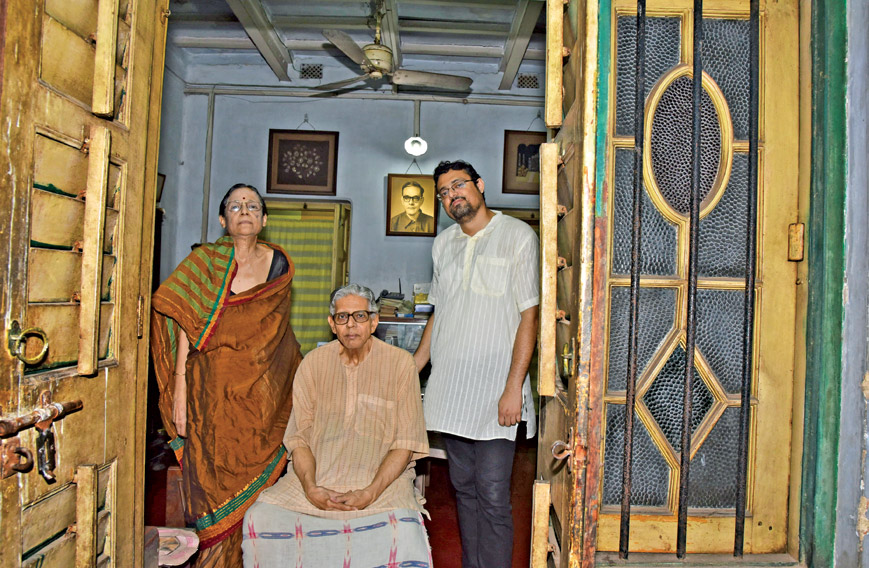 Professor Taraknath Sen's family: Saumendranath Sen with his wife, Sreelekha and son Dhritishankar
His grandson, Dhritishankar Sen, now lives here with his father, Saumendranath Sen, holding on proudly to his enviable heirloom. Dhritishankar, who, too, teaches English, is part of the CAL campaign.
Chaudhuri says: "Not every city is fortunate to have an architectural inheritance worth fighting for. Those that do, and have succeeded in hanging on to it, have without exception benefitted — London, Edinburgh, New York City, Istanbul, Berlin, Marrakech, various Latin American cities… architecturally vibrant neighbourhoods in all cities are sites of creative innovation and regeneration. They are not only vital to abetting tourism — they foster cultural transformation."
Chaudhuri's initiative has elicited support from many quarters, including leading conservation architects. But it is obvious that Kolkata's conservationists and heritage enthusiasts have a full-on battle on their hands. Yet, they know that winning this war would be worth the struggle.
Chaudhuri dismisses the suggestion from some quarters that conservation is anti-development. "Our campaign does not say do not do development," he says. "But do not destroy old neighbourhoods in the name of progress. These localities bear witness to a unique cultural efflorescence and should be preserved at all cost."
"If it can be done in Mumbai, why not in Kolkata? If Kolkata fails to preserve its past, it can only mean that the city has lost all sense of its history and civil society," he adds.
"In Istanbul, London and New York neighbourhoods have been developed without destroying their intrinsic character. They have not been turned into Dallas or Gurgaon," he points out.
"People will have to look at their habitats with a sense of distance. Only then will they understand that the spaces they live in have emerged from a particular kind of culture and history and therefore need to be conserved," he asserts.
Past and present
In the absence of support from the government and the municipal authorities, the campaign faces many challenges. Says leading conservation architect Manish Chakraborti: "It is important to conserve in order to develop, not conserve simply to romanticise. Let us not spend another 50 years trying to set things right. Let us embed conservation in the development framework of the city so that the initiative to save the city's architectural environment becomes truly effective."
He adds: "Segregated use planning is not for Kolkata. The city's buildings and localities are appropriate for mixed functions. They call for creative reuse. Here, business planning and conservation planning must go hand in hand."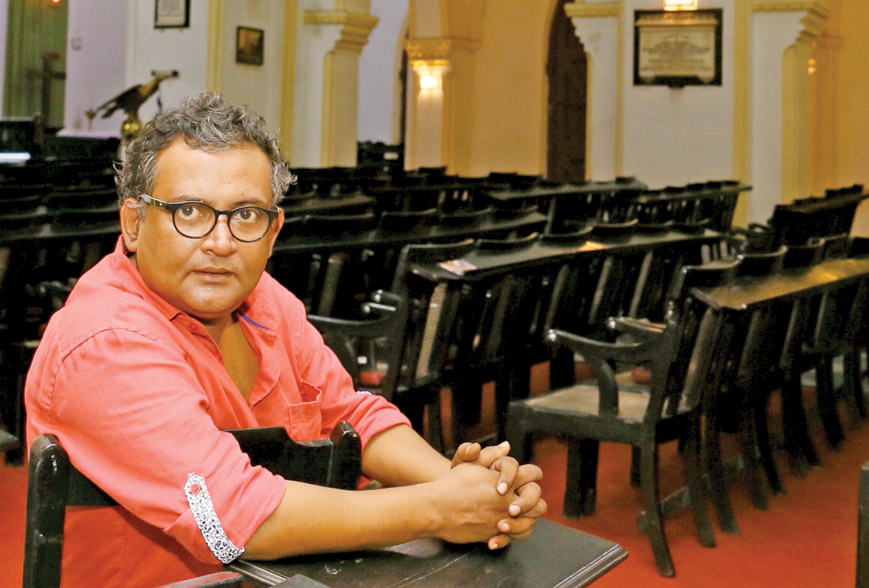 Architect Manish Chakraborti in St James' Church, which he has restored
Among the many heritage projects that Chakraborti has executed is the conservation and adaptive reuse of Tagore Hall, the residence of Rabindranath Tagore's son, Rathindranath, and one of the last extant bungalows on Gurusaday Road, a short drive from Gariahat.
Says G.M. Kapur, convener, West Bengal and Calcutta regional Chapter of the Indian National Trust for Art and Cultural Heritage (INTACH): "Unless incentives are given to the owners of these old houses, they will not step up and support the campaign whole-heartedly. They will ask: what do we get out of it? And that would be a fair question."
Under the current dispensation, Kolkata Municipal Corporation (KMC) isn't exactly showing the way forward. On the last day of February, its heritage conservation committee relegated the nearly century-old Roxy Cinema in Esplanade from Grade II to Grade III on the heritage buildings list on the specious grounds that the Art Deco structure off Chowringhee Road has no historical significance and architectural value.
The historic Chaplin theatre, which was not very far from Roxy, was razed in 2013 despite vehement protests from many quarters. This was the site of Elphinstone Picture Palace, India's first permanent cinema hall. It was built in 1907 by Parsi theatre and film entrepreneur Jamshedji Framji Madan, who until then ran tent cinemas on the Maidan. It was renamed twice – first Minerva, and then Chaplin.
Current KMC rules lay down that for a Grade III structure, "a plaque depicting the history of the building should be provided (and) where the structure has no architectural importance, demolition may be allowed". So does Chaplin's fate await Roxy?
Kolkata Mayor Sovan Chatterjee says that he plans to use the plot on which Roxy stands to extend the KMC headquarters. "This would enable us," he adds, "to deliver better services to the people and decongest the headquarters."
His statement has, of course, riled those fighting to protect the city's remarkably diverse architectural history. "The profligate disregard for Kolkata's historic built environment continues," Chaudhuri says. "Kolkata is in the unique position of having its heritage looked out for by a committee whose brief seems to be to destroy extant heritage buildings."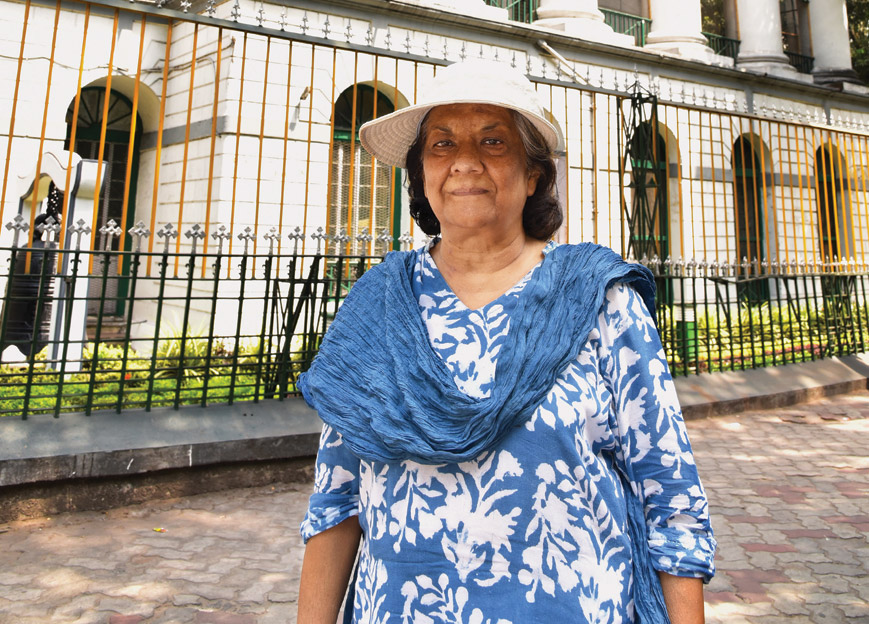 Bonani Kakkar at Bishop's House
"The move to downgrade Roxy Cinema definitely needs to be stopped," says Bonani Kakkar of the NGO, People United for Better Living in Calcutta (PUBLIC), who, like INTACH's Kapur, has won several such conservation battles since her organisation came into existence in 1990.
Chakraborti, who was a member of the KMC's heritage conservation committee until recently, says legal intervention may now be the only option for those who do not want to see Roxy vanish from Kolkata's map.
The widespread consternation was perhaps best summed up by Professor Tapati Mukherjee, president, Rabindra Bhavan, Visva Bharati University, at one of the three sessions that CAL organised as part of a two-day event, titled Triptych, on February 26 and 27.
She said: "What right do we have to destroy these buildings when we cannot build such houses again?" Prof. Mukherjee continues to live in the two-storied family home that her grandfather built in Hindustan Park in the 1930s.
The building next door, built in the same colonial style and in roughly the same period, however, failed to withstand the winds of change and disappeared.
Two of the Triptych sessions were held on the ground floor of Parna Kutir, 32 Hindustan Park, a wonderful but decaying building inherited by Alok Basu. It still stands its ground in the face of the frenetic landscape-altering construction activity going on in its vicinity.
Citizens' action
Kolkata has numerous Art Deco buildings like Roxy, and these include Metro Cinema in Esplanade and Purna Talkies in Bhowanipore, another locality of the city that has seen many heritage properties disappear in the recent past.
Occasionally, and only occasionally, citizens have succeeded in stopping the government of the day from riding roughshod over the city's timeless landmarks. In the 1980s, the then Left Front government had planned to paint the copula of Ochterlony Monument (Shahid Minar) red.
At another point, the same government had also decided to demolish the Town Hall, known for its impressive Doric architecture. Both these ill-advised plans had to be aborted in the face of strong protests from eminent residents of the city, including filmmaker Satyajit Ray and writer and collector R.P. Gupta.
More recently, the Trinamool Congress (TMC) government wanted to fill up Lal Dighi (the Great Tank) to make way for another version of Writers' Buildings, the state secretariat that dates back to 1777. An understandable uproar stymied the move.
Most of the buildings in North and Central Kolkata — grand old palaces built by the Bengali aristocracy in the former zone, and imposing colonial structures erected by the British rulers in the business district — are safe because they figure on KMC's heritage list. This list has about 1,000 buildings.
But the latest citizens' campaign is focused primarily on protecting the standard residential buildings that the Bengali middle class built in South Calcutta in the early decades of the 20th century.
These buildings are unlike anything else in the country because their architecture evolved organically, blending a variety of European influences with typically Bengali elements. These structures lend South Kolkata a character of its very own.
Last year, in an essay in The Guardian, Chaudhuri, who teaches contemporary literature in the University of East Anglia but spends months in the city of his birth, spelled out why South Calcutta's architecture was peerless.
"It's neither Renaissance (hardly any Corinthian pillars as you might spot in North Calcutta homes) nor neo-Gothic (as Bombay's colonial buildings are) nor Indo-Saracenic, which expresses a Utopian idea of what a mish-mash of Renaissance, Hindu and Mughul features might be. It's a style that is, to use Amartya Sen's word, 'eccentric' and beautiful, and entirely the Bengali middle class," he wrote.
French development economist Esther Duflo, who teaches at the Massachusetts Institute of Technology (MIT), advocates showcasing to the world precisely this "madness of Kolkata".
Duflo, who has been coming to Kolkata frequently in the past two decades, believes investment to preserve precincts in North, Central and South Kolkata can be financially rewarding.
"Just after the end of Communism, a big project was taken up in Prague to restore old trams, building facades and bridges. It has paid dividends and is today a top-draw tourist destination. Kolkata has the potential to become a Prague," she has said.
In a letter addressed to West Bengal chief minister Mamata Banerjee in May last year, Chaudhuri called for urgent action to "protect not just heritage but both the cultural individuality and the multifariousness of the city as represented by its architecture".
Chaudhuri wrote: "Calcutta neighbourhoods should be showcased to the world in the same way that Prague and other great cities showcase their architecture. The first reason for this is the vivid way in which the history of a unique Bengali modernity is represented by Calcutta's buildings from the last century to the 1950s."
The appeal to the CM was signed, among others, by economists Pranab Bardhan and Kaushik Basu, historian and MP Sugata Bose, artists Jogen Chowdhury and Chittravanu Majumdar, filmmaker Aparna Sen and photographer Dayanita Singh.
It pointed out: "Calcutta is one of the great cities of modernity, and Asia's first cosmopolitan metropolis. Like other great modern cities, its cultural inheritance is contained not only in its literature, cinema, art, and music, or in its political and intellectual history, but palpably in its lived spaces and its architectural ethos."
It added: "This ethos is remarkably distinctive, and unique to Calcutta; it includes not only the rajbari mansions of north Calcutta and the grand colonial institutional buildings of central Calcutta, but the houses in which people have lived, and still live, in various neighbourhoods in the city — Bakulbagan, Hindustan Park, Kidderpore, Paddapukur Road, Bhowanipore, Sarat Bose Road, and Ganguly Bagan, to name just a few. These and other areas should really be declared heritage precincts."
Chaudhuri held up conservation architect Partha Ranjan Das's proposal to introduce transfer of development rights as "one of the most practical solutions towards protection".
Under these rights, owners of buildings would be allowed to sell the equivalent of land value to "developers", who can then use those rights to extend new properties being built elsewhere.
"In this way, the great buildings and neighbourhoods will continue to survive. Moreover, transfer of development rights costs the government nothing, and, in fact, will earn it considerable revenue. We urge the government to see this not as a marginal issue, but as one that's central to the city's history and to its future, and to act without delay," Chaudhuri wrote in his appeal to the state chief minister.
A letter of support for the appeal came from Nobel laureate Amartya Sen. He wrote: "We do owe to the future generations a preserved and unmutilated heritage of Calcutta's eccentric but exciting old buildings. I hope we succeed in bequeathing to people in the future the opportunity of enjoying Calcutta's enthralling architectural inheritance."
Chakraborti, while being acutely aware of all the challenges that the campaign faces and the difficulties of implementing transfer of development rights, believes "what Amit (Chaudhuri) is doing is necessary".
Chaudhuri, Chakraborti says, is the city's first writer to raise questions about its architectural inheritance, residential localities, public spaces and street life. "These had never been addressed in Bengali literature," the architect says. "Only dance, music and art are regarded as culture here. Architectural spaces were never in the realm of cultural discourse."
"Bengali filmmakers have used the city's spaces, but they have never overtly celebrated them and explored how they occupy our mindspace," says Chakraborti. What Chaudhuri has done, he says, is bring civic pride and a sense of what Kolkata is as a city back into the public discourse.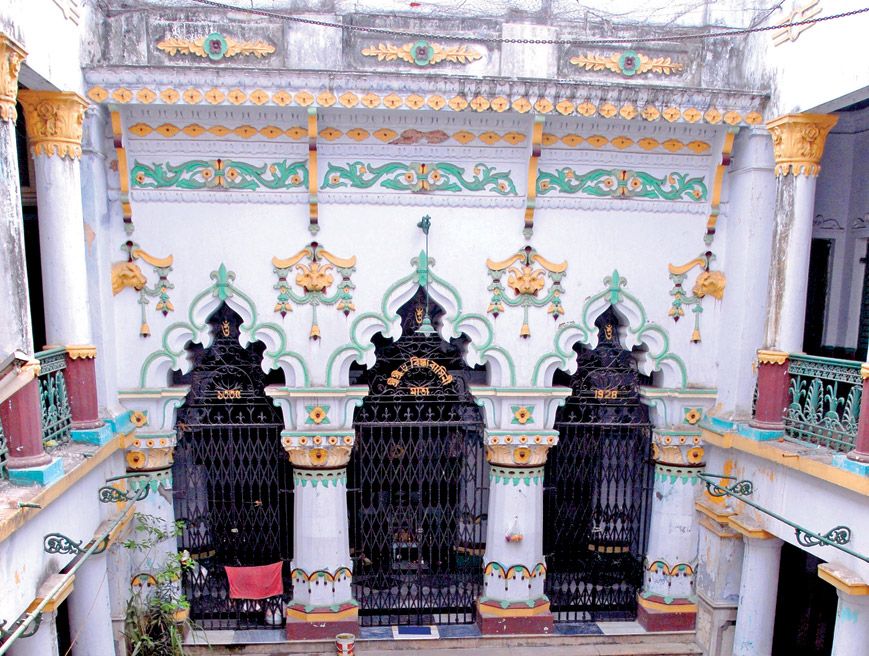 Kolkata's residential heritage buildings have distinctive architecture
Lost and found
Many other concerned Kolkata residents, including INTACH's Kapur and environmental activist Kakkar have thrown their weight behind the campaign.
"This is a very, very good initiative. You have to begin somewhere," says Kakkar. "Under the present government and legal structure, there cannot be an instant groundswell of support, but there is reason to be upbeat that people are coming together to save Kolkata's built environment."
Kapur, a mechanical engineer and IIM-Kolkata postgraduate who has been with INTACH since its inception in the mid-1980s, laments the many remarkable Raj-era buildings that have been lost and believes that the latest initiative hasn't come a day too soon.
He says: "The Bengal Club as it originally stood was demolished to make way for Chatterjee International, Dalhousie Institute was torn down to build the Telephone Bhavan and Calcutta University's Senate Hall was replaced by the Centenary Building. The new buildings are eyesores designed by architects devoid of creativity."
While Chaudhuri has for many years now been actively highlighting the plight of architecturally noteworthy structures built by middle-class Bengalis, he and his ilk were galvanised into more concerted action when a Bauhaus building at 3/1 Sunny Park, across the street from where he lives, was torn down to build a multistoried apartment block on a 72-cottah plot a couple of years ago.
The building, constructed in the 1940s, belonged to Rabindranath Tagore's nephew, Josnanath Ghoshal. Its architectural style, marked by straight, clean lines that came into vogue in Germany in the 1920s, was unusual for the time in Calcutta. It could not be saved despite a PIL filed by Chaudhuri and artist Swaroop Mukherji.
Kakkar feels that the people of North Kolkata are more attached to their buildings. "These buildings are a part of their family heritage and a source of pride, so they work to preserve them," she says.
Supporting Chaudhuri's initiative to save entire precincts instead of just individual buildings, she says: "The feel of a locality is very important. Who wants to live in a sterile environment marked by rows of buildings, all looking the same?"
A little bit of chaos, the energy of street life and the bustle of humanity enhance the character of a neighbourhood, Kakkar adds.
Chakraborti has a worry. "Kolkata produces great individuals, but it does not create great institutions. That is a problem. Every good idea has to be institutionalised or it will die with the individual from whose mind it springs. That has been the story of many initiatives in this city," he says.
But it certainly isn't all downhill for the crumbling edifices of a city that has seen better days. Much of the Kolkata riverfront is now back in harness and foreign tourists are shelling out dollars for a ride down the Hooghly, says Kapur.
Three or four of the Calcutta Walks are doing very well and minting money, says Chakraborti.
So, notwithstanding the stumbling blocks, a turnaround might be around the corner for Kolkata.