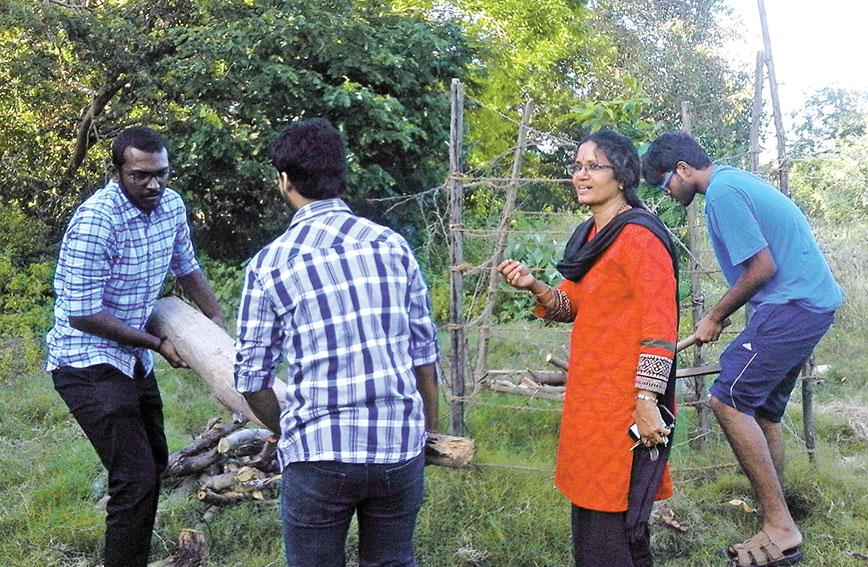 Shobha Menon and volunteers of Nizhal at the Kotturpuram Tree Park in Chennai
Cyclone Vardah and Chennai's missing trees
Jayashankar Menon, Chennai
Published: Feb. 20, 2017
Updated: Aug. 22, 2018
On 12 December last year, when Cyclone Vardah hit the coast of Chennai, its howling winds uprooted thousands of trees. For the city, it was a wake-up call. Chennai has the lowest green density among cities in India. It has a green cover of just 9.5 percent. In comparison, Delhi has a green cover of 20.20 percent.
"Already, we can feel the heat. This summer is going to be gruelling," says Shobha Menon, founder of Nizhal, a volunteer group devoted to trees and their protection.
The disaster has galvanised the Chennai Corporation and environmentalists. A drive to replant trees has been launched. The corporation recently held a strategy meeting at which it invited environmentalists, NGOs and academic institutions for suggestions.
Representatives from the Chennai Rivers Restoration Trust, CP Ramaswami Aiyar Foundation, Anna University, University of Madras, Madras Christian College, Women's Christian College and NGOs such as Nizhal, Bhumika and Care Earth Trust took part in the meeting.
The Chennai Corporation believes that trees fell because they were planted on pavements and surrounded by concrete. The roots couldn't find room to grow and the soil couldn't hold up the tree. Trees weren't trimmed on time either; so growth was unbalanced, causing many to topple.
"What happened to the trees wasn't just due to the cyclone," says Menon. "Human-induced factors are also responsible. No sensitivity or care is taken in choosing tree species. There is currently no health management plan for existing trees. Unless you take care of them how can they give you their best?"
In 2014 Nizhal partnered Teems India, an engineering and construction company, to map Chennai's trees and compile a tree database. Teems India came up with a GIS application and a DGPS (Differential Global Positioning System) to map and digitise tree data. The objective was to survey ...