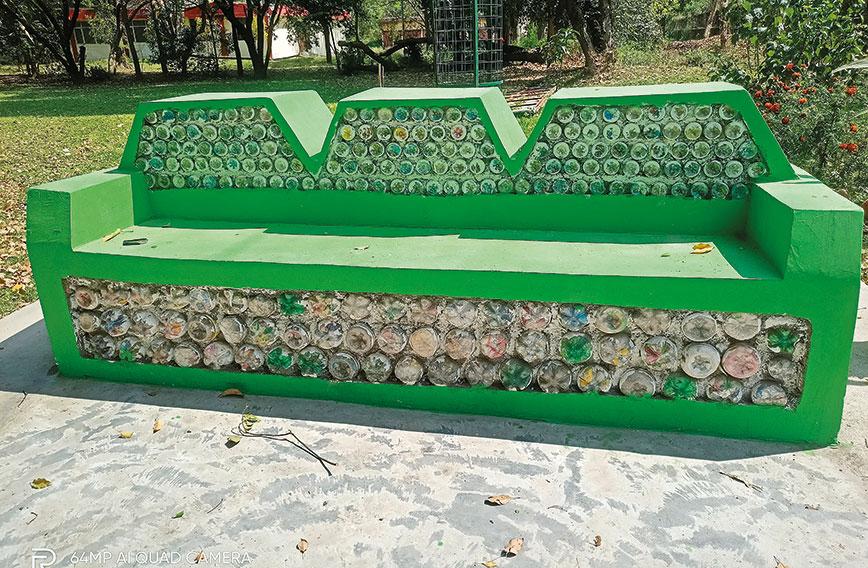 A bench made of eco-bricks at the Botanical Survey of India in Dehradun
Plastic waste becomes park furniture with eco-bricks
Rakesh Agrawal, Dehradun
Published: Dec. 21, 2022
Updated: Mar. 29, 2023
EIGHT years ago, when Ranjit Bar came to Dehradun to study B.Tech in computer science, he was taken aback at seeing mounds of garbage strewn across the city. Bar is from a village called Kalagachhiya in East Midnapore district of West Bengal and the sight of so much rubbish surprised him.
He decided to act. The next day, Bar, who was just 19 years old then, collected some garbage in a bag on his way back from his college, the Dev Bhoomi Institute of Technology. He took it to his quarters and started segregating it in the evening. He had spotted homeless children begging on the streets and asked their parents if he could pay `1,500 to each child to stop begging and help him instead. Two parents agreed.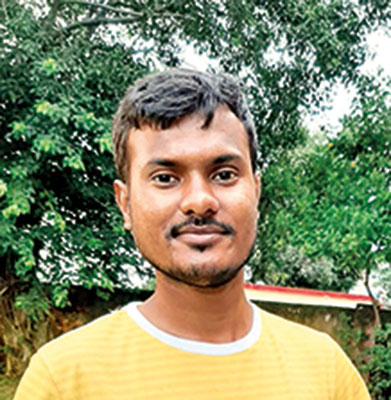 Ranjit Bar
"I follow the ideas of Swami Vivekananda," he says. "Swamiji said, Take up one idea. Make it your life, dream it, think of it, live on it. Let the brain, the body, muscles, nerves, every part of you be full of that idea and leave every other idea alone. This is the way to success, this is how great spiritual giants are produced."
Spirituality, sadly, doesn't make plastic waste disappear. What was he to do with the pile of waste in front of him, Bar wondered. At the institute he was studying in, he'd been shown a documentary on using plastic bottles as bricks. "In 2000, Andreas Froese, a German in South America, started converting PET bottles into bricks. He used them in parks, schools, houses, and water reservoirs. Then, Susanna Heisse, an environmental activist in Guatemala, developed the first construction system with eco-bricks in 2003. She filled PET bottles with plastic bags and built a wall. It inspired people around the world. In the Philippines and Indonesia entire houses have been built with eco-bricks," says Bar.
He decided to replicate this idea in Dehradun. The two children he'd rescued from begging helped him. "I feel proud helping him collect plastic waste. It's the only way I could repay his kindness," says Shreyansh, who now studies in Class 5 in a government school.
He registered his non-profit, Building Dreams Foundation (BDF), in August 2016 with four friends. "Everyone has a dream but it is not realized on the ground. As A.P.J. Kalam said, one should see dreams with eyes wide open," says Juhi Pandey, 25, an engineer and co-founder of BDF.
"We wanted to capture the young mind. Our strategy was the three Es — education, empowerment and environment. After making 100 eco-bricks we started conducting workshops in schools," says Dr Surabhi Jaiswal, a dentist and another co-founder.
The first school they held a workshop in was Naugaon Primary School in 2018. Using short videos and PowerPoint presentations, they explained the history, rationale and method of making eco-bricks. They showed how all kinds of plastic waste, even milk and oil sachets, could be reused after being cleaned, dried and put inside plastic bottles.
Then they held workshops in Maharshi Vidya Mandir, Doon Public School and DAV Inter College. So far, they've covered nine schools and universities, including Oakridge International School in Mohali, Doon University and Graphic Era Deemed University.
"They brought empty PET bottles and plastic waste with them. We learnt how to make eco-bricks after the workshop with live music playing in the backdrop. It was great fun," says 13-year-old Neha Kumari, a Class 8 student of DAV Inter College, a higher secondary school in Premnagar, Dehradun.
Teachers were also happy to see their students working for an environmental cause. "Almost everything these days is wrapped in plastic. They showed us a commendable way to reuse plastic. Our students loved doing it," says Mamta Guleria, a teacher at Cantt Board Junior English Medium School in Premnagar, Dehradun.
As word spread, institutions started inviting them to put up eco-brick structures on their premises. "The Botanical Survey of India (BSI), the Zoological Survey of India (ZSI), and Doon Cantt Board asked us to instal eco-brick structures on their campuses," says 23-year-old Himanshu Pathak, an agriculturist and co-founder of BDF.
Using thousands of eco-bricks, BDF made stools, benches, statues, tree guards and fences in these three institutions. "It's terrific to sit on these benches and stools. They are quite sturdy," says 24-year-old Mahesh Rana who was visiting the BSI to examine threatened plant species for his research paper.
"At the moment, these benches are out on the campus, but soon we will have them in our offices as they're cheap, durable and sturdy," says Dr Gaurav Sharma, officer-in-charge, ZSI.
Tourists visiting Doon Cantt Board are thrilled to see the big statues of elephants, tree guards and a flag-post base made with eco-bricks. Children are especially thrilled.
BDF has now been invited to Sikkim to demonstrate their work. "We heard about them and invited them in June 2022 to build stools and benches in Sikkim. Their work is really commendable, more so for a zero-waste state like Sikkim," says Yishey D. Yongda, district collector, Gyalshing.
In West Bengal, BDF made stools and benches out of eco-bricks for the Aurai Gram Panchayat in Purba block of Midnapore district in 2018. However, Bar says he is still waiting for other government institutions to show some interest.