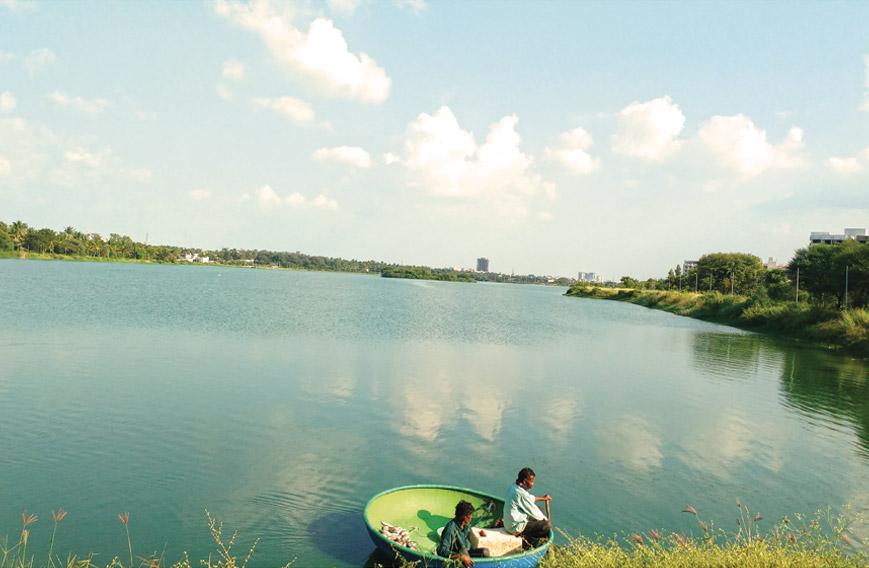 Life after death for Bengaluru's lakes
S. Vishwanath, Bengaluru
Published: May. 02, 2016
Updated: Jun. 06, 2016
It is a sizzling hot day, unusual for Bengaluru. Students of the Srishti Institute for Art, Design and Technology, as part of a design charrette, walk on the banks of a lake. Its shimmering sheet of water and cool breeze comes as a pleasant surprise.
For many students, this is their first exposure to the city's lakes. Hopefully they will use their skills to improve the condition of lakes and draw the attention of the community to a very important local ecological asset.
This full lake is, however, not unusual in this northern part of Bengaluru. The Yelahanka Lake with a water surface area of 150 hectares too is full. Downstream of Jakkur lake is Rachenahalli which also has a good amount of water in its 50-hectare basin. Puttenahalli is a flourishing wetland with a large population of birds.
In a city where the dominating news has been froth, foam and fire in Bellandur, one of its major lakes, the existence of cleaner lakes for whose preservation citizen groups are active is omitted from the headlines. Yet, in the case of many of Bengaluru's lakes, this has been happening for some years.
The 'tanks', as these man-made structures were called, have a hoary history. Built primarily for irrigation, they became part of the small town's life. In 1895, Bengaluru, now a city, started to receive water from the Hessarghatta reservoir on the Arkavathy river and these tanks gradually started to become dissociated from the drinking water needs of the city. Agriculture continued to flourish in the command areas of many of the tanks on the periphery but a fast-expanding metropolis voraciously devoured atchkut or cultivated areas and, in many cases, the tank in these areas too.
In 1985 a committee was appointed by the state to look into the affairs ...