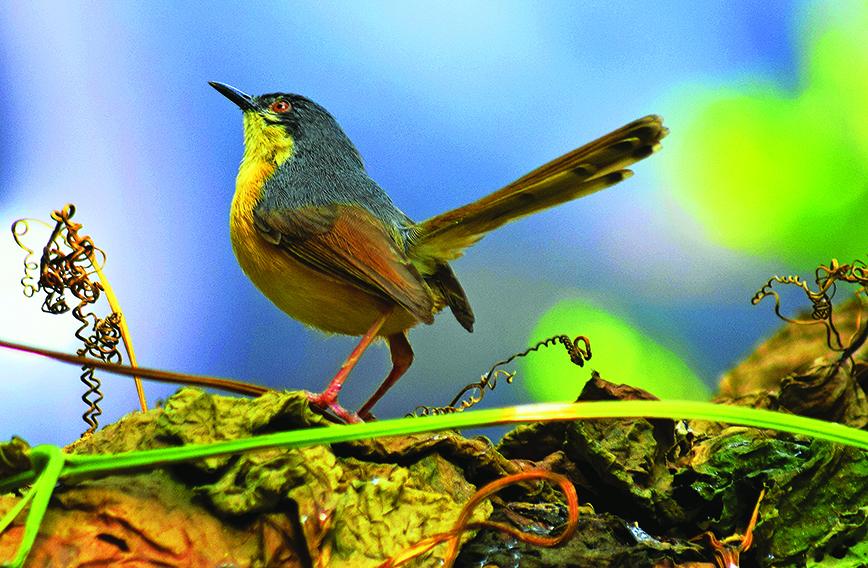 The comings and goings in a Gurugram neighbourhood
NATURE WATCH
Published: May. 19, 2023
Updated: May. 23, 2023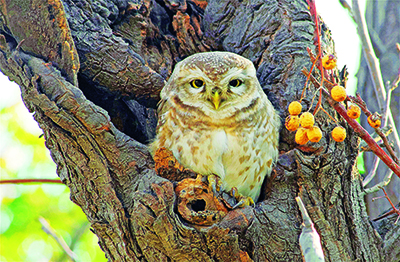 Spotted Owlet
When buildings come up and neighbourhoods change, what do birds do? We mostly don't know unless you are someone like Dr Sonal Malhotra, a microbiologist, for whom watching birds is a serious hobby.
Some years ago, he identified 80 species of birds in the leafy neighbourhood of Palam Vihar in Gurugram, where he too lives. Recently, he set out daily on his bicycle, helmet on and torch and camera handy, to find out how many of those birds remained.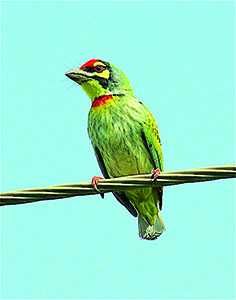 Coppersmith Barbet
Over the month of March, he found that very few were still around. Somewhere the branch of a tree had been chopped off, buildings had come up, bushes had vanished and the odd pool from a leaking sewer that had resulted in a marsh was no longer there. The birds had all found reason to move on.
A worrisome departure is that of the common sparrow. Why would it want to leave? But then there are birds that have gone and come back. The story of the Spotted Owlets is particularly interesting.
This owlet couple occupied the hollow in a neem tree near a Mother Dairy booth. They were visible to anyone willing to stand still long enough and keep looking up. They had many babies in the neem tree's hollow. It was a quiet corner till a couple of big plots changed hands and four-storied residential buildings began coming up.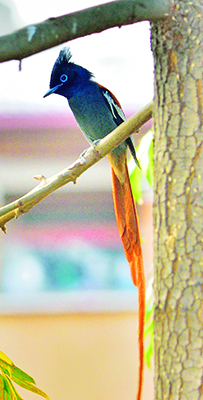 Rufous Indian Flycatchers
Disturbed by the construction, the owlets moved on and Dr Malhotra could not sight them, even during the pandemic when things had quietened down during lockdowns and birds were generally aplenty.
But when he was out in March making a tally of the birds, he found the owlets had returned to the neem tree and occupied the hollow once again. The buildings have been completed. Now they are out every night hunting just like they used to.
"For two years, 2020 through 2022, I did not notice any nesting activity. Interestingly, once the housing construction was almost complete, I noticed the owlets had reappeared. They reside and breed at the tree from November through April," says Dr Malhotra.
Species that typically thrive in an urban environment and can still be found in Palam Vihar are the mynahs, crows, kites and pigeons.So marking them present is not important.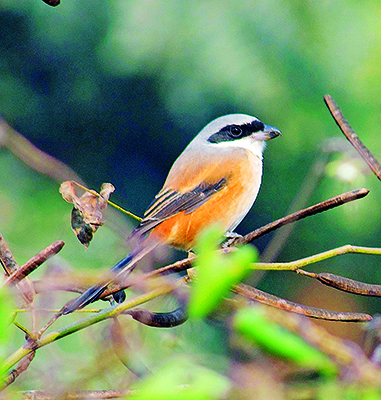 Rufous Shrike
What is nice are the surprises. A vacant two-acre plot, for instance, has attracted birds. Dr Malhotra has spotted the Rufous Indian Flycatcher with its long tail here. Found nearby also is the Rufous Shrike. It's common, he says, to hear the shrill call of the Ashy Prinia here among the bushes but not spotted it. Similarly he hasn't been able to spot the Grey Hornbill, but he has heard its call and so it is definitely around. So also with the White Breasted Kingfisher and Coppersmith Barbet which can be heard but not seen.
Birds he hasn't been able to spot or hear and therefore don't seem to be around are the Common Drongo, Common Hoopoe, Black-shouldered Kite and the Honey Buzzard.
Honest and meticulous as might be expected of a man of science, Dr Malhotra emphasizes that birdwatching is just a hobby for him. He is not a specialist. It is quite possible that some of the missing birds will resurface in other seasons. But for now they seem gone. ν