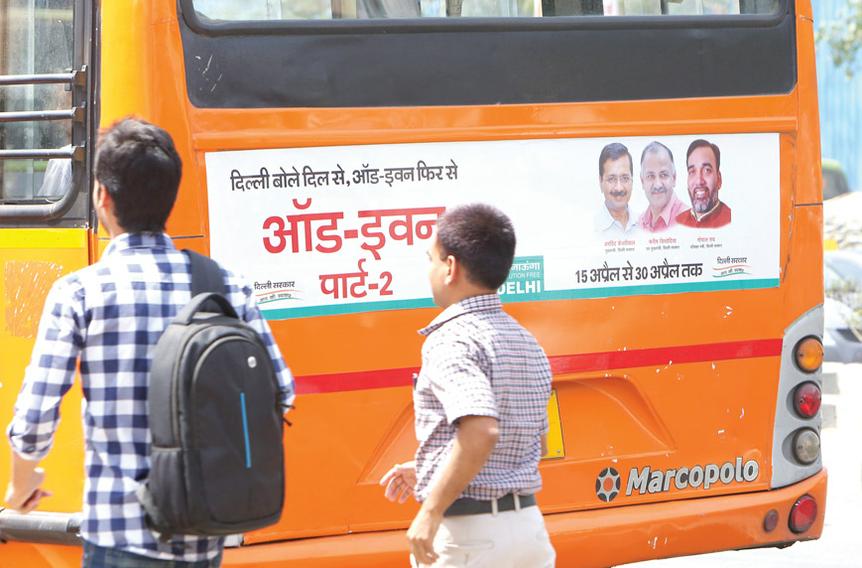 Is AAP govt's choice of odd-even a farce?
Civil Society News, New Delhi
Published: Apr. 25, 2016
Updated: May. 02, 2016
In April, residents of the National Capital Region (NCR) usually brace themselves for the onset of summer and dust storms that accompany the change of season. This year they also readied for a second round of odd-even — a regulation for rationing road space by which cars with odd and even numbers would be allowed out on alternate days in New Delhi from 15 April to 30 April.
The first time this was done was in January with the aim of curbing runaway winter air pollution. It was enforced again in April with fanfare and an expensive advertising blitz which splashed pictures of Chief Minister Arvind Kejriwal, his deputy, Manish Sisodia, and transport minister Gopal Rai all over New Delhi.
However, for all the high-decibel activity, no one was quite certain what results would accrue from another round of odd-even. Studies show that the first round in January had at best a negligible impact on air pollution. Except in patches, it didn't do much to speed up traffic and unclog roads either.
The AAP government, however, claimed it had done a survey in which residents had supported odd-even and wanted it back. The second round was by popular demand, the government claimed, though not much about the survey is public.
Transportation and urban experts say the use of odd and even number plates to ration road space does little to promote sustainable urban travel in a city. It can at best be a short-term, emergency measure. In New Delhi a long-term solution is needed. The challenge is to get more people to use public transport. To achieve this serious efforts are needed in design and infrastructure together with disincentives for the use of personal transport. A lot of learning has taken place across the globe. There are experts who could ...