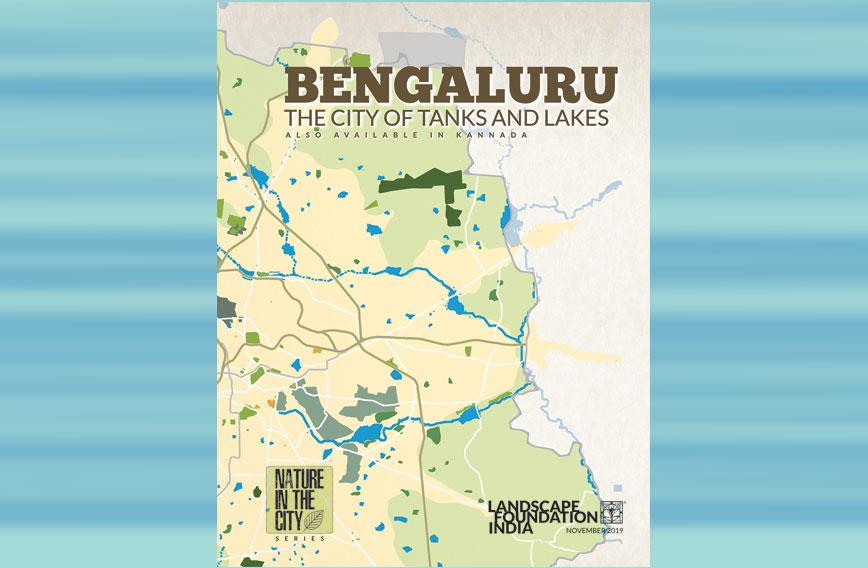 The Bengaluru Nature Map is available from the Landscape Foundation India
Can Bengaluru get back its lost green heritage?
Geeta Wahi Dua, New Delhi
Published: Jan. 27, 2020
Updated: Mar. 24, 2020
Every summer, Bengaluru, India's IT hub, faces an acute shortage of water. Water tankers criss-cross the city as residents wait patiently. Over the years, the city's lakes have become cesspools or have been encroached upon. Open wells, which once recharged Bengaluru's groundwater, have vanished. The city's lone source of water is now the Cauvery river which can't meet the demands made on it by so many consumers – industry, farmers, citizens and the nearby state of Tamil Nadu.
Ironically, Bengaluru is not short of rainfall. The early city, founded 500 years ago, was designed to be water-rich. It had a series of connected tanks and lakes. The region's natural topography with hills, plateaux, valleys and small streams, supported an ingenious water system. The city also had natural forests with lush biodiversity and fecund agricultural fields yielding a variety of crops.
In the 1990s, Bengaluru became an IT hub, aka India's Silicon Valley, attracting global companies, BPOs, start-ups and multinationals. World-class commercial hubs comprising global brands came up to cater to a prosperous middle class. The Garden City, as it was once known, turned into India's third largest city, a throbbing concrete jungle expanding recklessly into its hinterland, swallowing forests, farms and water bodies.
But what is the ecological wealth the city has lost? Landscape Foundation, a non-profit private trust, has brought out a green map of Bengaluru, which identifies the city's cultural and ecologically significant sites and pinpoints its main environmental concerns. The map's research explores the city's historic past and how its relationship with nature has evolved over the years.
The upside is that Bengaluru's traditional water system and ecology can be reinvented. There are groups of citizens trying to revive lakes and wells. A coordinated effort by all can bolster Bengaluru's ecology. This map and the research on which it is based serve as a guideline for what has gone, what remains and what can come back.
Tanks and gardens
Bengaluru's natural topography allowed settlements to develop an indigenous system of interconnected tanks (manmade lakes, keres) for their water needs. These tanks recharged shallow aquifers that were linked to massive open wells. Various settlements emerged around these tanks and, subsequently, temples and other religious structures were also built.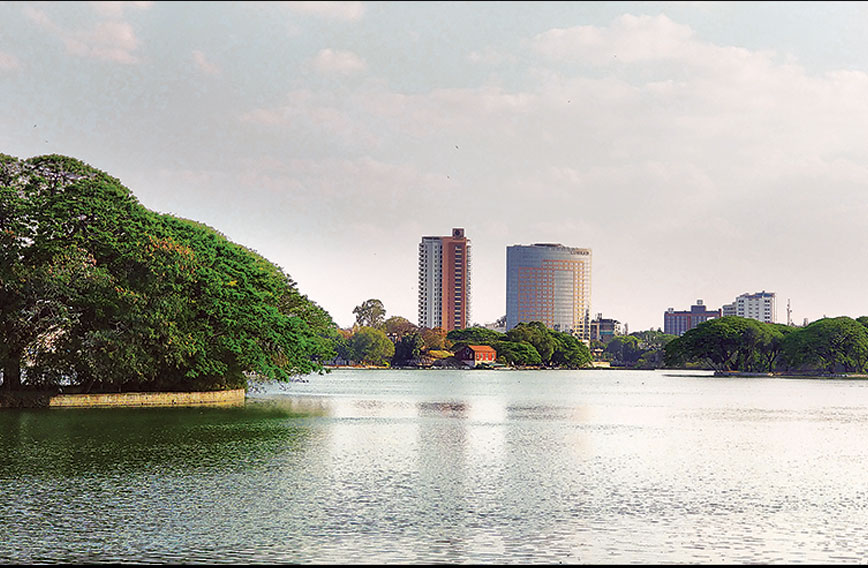 The Ulsoor Lake
Tanks gave an impetus to agriculture and encouraged the design of gardens, fruit orchards and tree plantation in the new town. These tanks were ecological and cultural assets, recharging groundwater, harvesting water, creating biodiversity habitats, controlling floods and acting as growth nodes around which new settlements got established. While tanks were constructed under the patronage of various rulers, they were also taken care of by local communities.
The tradition of gardens, nurtured by rulers, patrons and people, is another important natural heritage of the city. With a conducive tropical climate and abundance of water, agricultural belts, orchards, gardens and parks, tree-lined avenues, home gardens and, lately, institutional greens, are all part of the city's incredible ecological legacy.
Lalbagh, a garden complex in the city, was designed during the rule of Hyder Ali, commander-in-chief of the Wodeyar kingdom with its capital in Mysore. Lalbagh's design was similar to the Mughal gardens with a geometrical layout and intricate irrigation systems. It became the Botanical Garden of Mysore State, a first in the country. The garden, which now covers over 200 acres, continues to be a working laboratory for many international designers, botanists and horticulturists.
During the colonial era, the British developed a series of public parks, tree-lined roads and outdoor recreational areas, especially for the European population. The attempt was to replicate a very European image of nature. The new ways of engaging with nature were based on the concept of exclusiveness and formality, culturally different from the past. The old city on the west, where the natives lived, was primarily used as an agricultural belt, with produce of millets, coconuts and fruit.
Cubbon Park, spread over 100 hectares, is a picturesque English landscape garden with winding paths, tailored water bodies and undulating meadows. It is an example of an urban public landscape based on the European notion of preserving nature. Over time, the belt between the old city and the Cantonment became the city's biggest green lung. Many new neighbourhoods for the European population were designed with tree-lined avenues, vistas and parks.
At the beginning of the 20th century, Krishnaraja Wodeyar, maharaja of Mysore, appointed Gustav Hermann Krumbiegel, German horticulturist and city planner, as the superintendent of government gardens. During his tenure of 20 years till 1932, Krumbiegel changed the character of the city, by introducing nature in the design of streets, roads, government complexes, institutional greens and other public spaces.
In the early 1950s, continuing the tradition of the Garden City, many farms, nurseries, gardens and parks were laid out and expanded. In the following decades, many urban forestry programmes in the city, which included the cultivation of mixed plantations of Indian and non-native flowering trees, were launched. With its numerous water bodies, ponds, lakes, expansive city parks, wide tree-lined avenues and home gardens, the city exuded a unique green character.
The IT boom
In the 1990s when Bengaluru became India's IT hub, its population expanded rapidly, placing enormous pressure on resources. There was large-scale acquisition of farmland, infringement on public spaces to build parks and many old water bodies were converted into residential colonies or public amenities. According to a study by researchers at the Indian Institute of Science, the city's vegetation cover has reduced from 68.27 percent to less than 15 percent (1973– 2013). Moreover, community open spaces, orchards, neighbourhood gardens and groves have given way to manicured privately owned green spaces.
Environmental Issues
Although the city's traditional water infrastructure thrived for more than three centuries, by the end of the 19th century, it became inadequate for the growing city. The municipality began exploring other water sources. Water was now brought from rivers located elsewhere, stored in reservoirs, treated and supplied to the city. Simultaneously, more tanks were built to meet the growing demand for water.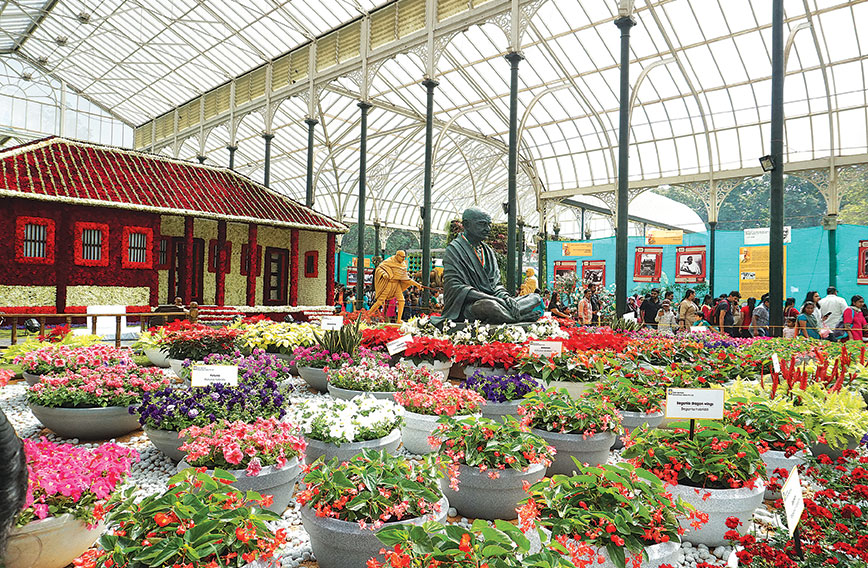 The Lalbagh Flower Show
After the introduction of piped water in the late 19th century, the once community-managed and thriving system of lakes and wells gradually fell into disuse. Within a few decades, these water networks began shrinking and became fragmented. Many such structures were filled and reclaimed for urbanization in the city's subsequent growth plans. As a result, by the beginning of the 21st century, the entire catchment was transformed. At present, surrounded by encroachments and unregulated development and as sites of garbage disposal, these tanks (now defunct ecological structures) have become a health and security threat for the population of the city.
For the past five decades, water for the city is entirely drawn from the Cauvery river, more than 100 km from the city and at a lower elevation.
Reimagining Water Systems
For a growing metropolis, a sustainable water source is a must. The city must take urgent steps for natural resource conservation — by reimagining the regional systems of tanks and integrating them into its current water infrastructure.
Bengaluru's sewage system needs to take into account the ecological significance of these water structures, which took care of its water requirement for many centuries. The National Green Tribunal (NGT) judgment of 2016 suggested conservation of important water structures, including water bodies and wetlands. It said for lakes, 75 metres from the periphery of the water body should be maintained as a green belt and buffer zone; 50 metres from the edge of the primary rajkulewas (stormwater drains); 35 metres from the edge for secondary rajkulewas and 25 metres for tertiary rajkulewas. This buffer/green zone will be treated as a no-construction zone for all intent and purposes, said the NGT.
Bengaluru's water structures are a habitat for more than 300 species of flora and fauna. Flora includes a unique mix of floating, submerged and emergent vegetation that harbours varied aquifauna, amphibians and insects. There are storks, egrets, moorhens, herons, kingfishers, cormorants, a variety of ducks, frogs, toads, snakes, rats, mongoose, snails, worms and water insects. For biodiversity to thrive, the ecological health of these tanks needs to be maintained.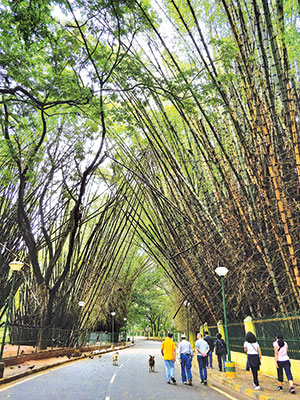 Cubbon Park
Conservation of Biodiversity
Old institutional campuses, academic complexes, government offices, cantonment area, graveyards and cemeteries, tree-lined avenues and urban public greens are other hotspots of biodiversity in the city. Extensive tree plantations created in the early 20th century to provide shade, greenery and visual relief with species of local and exotic trees flowering in different seasons provide a large green envelope to the city throughout the year.
The city's aquatic ecosystem of grasses and shrubs encourages a large bird population. Home gardens are a repository of plant species planted for medicinal and religious use and at times include jackfruit, mango, drumstick, papaya, banana, coriander and basil.

Landscape Foundation India is a non-profit trust founded by Geeta Wahi Dua and Brijender S. Dua. With a background in landscape architecture and architecture, they also conceptualise diverse landscape research works. They can be contacted at 011-41584375 and 9810600754. Email: landscapefoundationindia@gmail.com. Website: www.landscapefoundation.in