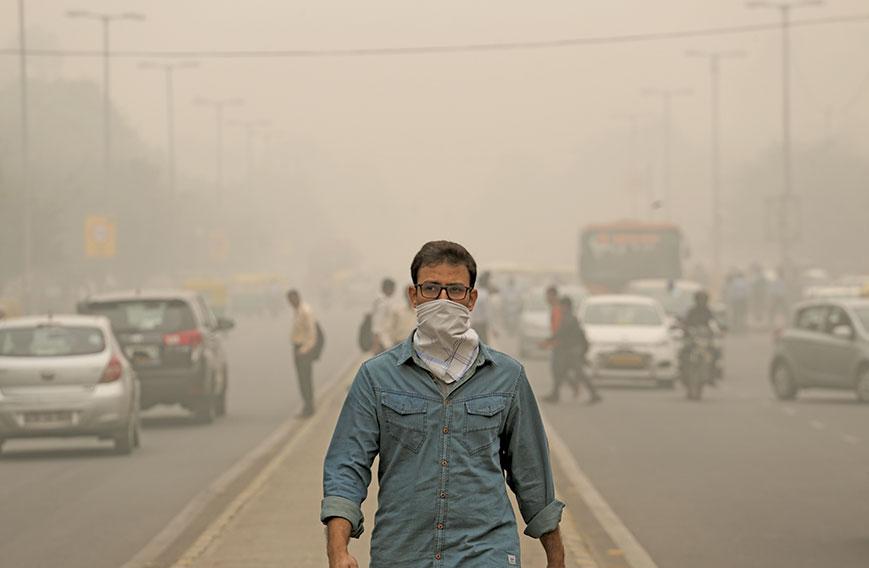 Choking in Delhi: How AAP has failed the capital
Umesh Anand, New Delhi
Published: Nov. 30, 2016
Updated: Mar. 25, 2020
For several days after Diwali, a cocktail of life-threatening chemicals hung over Delhi and its adjoining areas. An orgy with fireworks, despite Delhi's already foul air, had pushed pollution levels to the highest they had been in almost two decades. Some of the pollutants scaled such peaks that they couldn't even be measured!
In conditions like these, major cities elsewhere in the world would declare a health emergency and swiftly take steps to bring down pollution. But in Delhi, the state government run by the Aam Aadmi Party (AAP) did nothing even as the situation worsened. Nor, for that matter, did the Central government under the Bharatiya Janata Party (BJP), though the national capital was involved and deadly toxins were engulfing it. The Congress and other opposition parties also did not bestir themselves.
The need to contain pollution and ensure clean air for citizens was clearly not among any party's priorities despite the damage being done to the health of millions of people and the shocking deterioration in the quality of life in Delhi. Even more worrisome was the plight of other Indian cities, which are equally and at times more polluted than Delhi every winter. If Delhi's air quality didn't matter to the very powerful would anyone come to the rescue of lesser cities?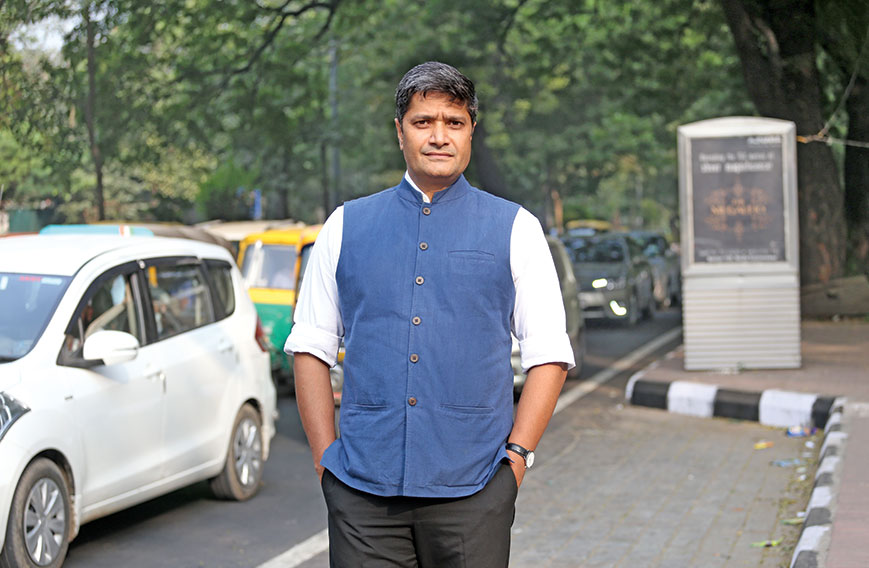 Chandra Bhushan: 'Politicians don't understand the urgency of this issue'
"I don't think the political leadership in India understands the urgency of this issue. I am yet to find a politician who is serious about air pollution. They will say, 'Haan bahut problem hai'. But their answers are so shallow that it makes me feel that they are not serious about the issue. They have not understood the gravity of the situation," says Chandra Bhushan, Deputy Director-General of the Centre for Science and Environment (CSE).
When AAP came to power in the Delhi state assembly with a brute majority, the expectations were that it would be different. People elected the fledgling party because it was born out of social initiatives. The hope was that it would address issues like air, water, transportation and public health with the seriousness they deserve and from the perspective of the common man. New politicians would find new and innovative solutions to old problems. They would go beyond slogans.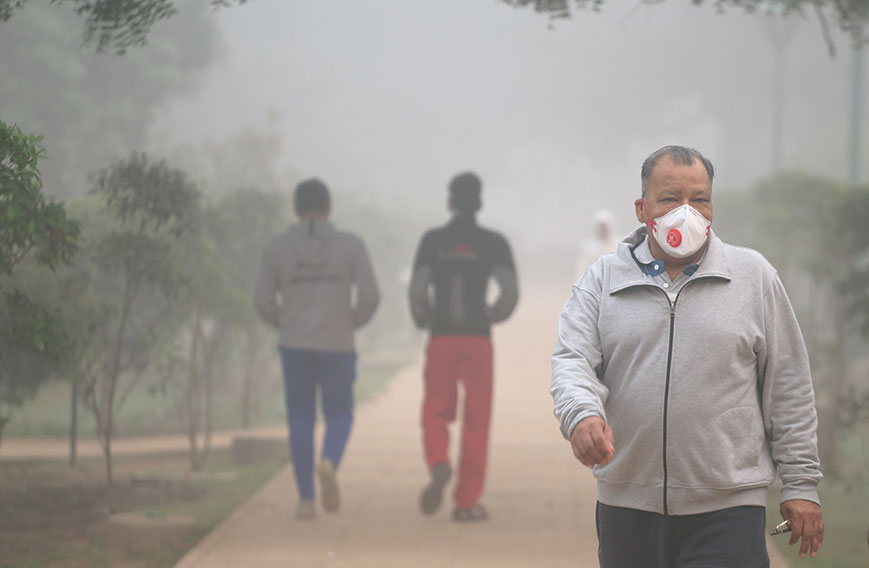 Morning walkers in a Delhi park
But after two years in office AAP has shown it has little inclination to be radically different. Even as pollution levels continued to grow in Delhi, placing it among the most polluted cities in India and the rest of the world, the AAP government didn't seem to find the time to address the issue. Election-time promises to put out more buses were also not kept. Around Rs 400 crore was collected as a green cess that was to be spent on controlling pollution, but wasn't utilised.
NOT ONE MEETING
"I am very disappointed with the AAP government. The political leadership of AAP, by which I mean Chief Minister Arvind Kejriwal and Deputy Chief Minister Manish Sisodia, for the past six to seven months did not hold a single meeting to address the air pollution problem of the city," says Chandra Bhushan.
"All the records that we have show that there was not one coordinated meeting called by the Chief Minister to take stock of how to reduce air pollution," he says. "This government was absolutely not prepared and did nothing to deal with the issue of air pollution during and post Diwali and in winter."
But it could have made a serious difference had it wanted to. To begin with, there was the money: around Rs 40 crore a month, totalling around Rs 400 crore, coming in from the court-imposed cess on trucks entering Delhi.
Then, there was an action plan provided by the Environment Pollution Control Authority (EPCA). The plan called for removal of dust from the roads, but the AAP government bought just two dust suction devices in the entire year and even they were not working.
The action plan also called for the shutting down of the Badarpur thermal power plant, which is highly polluting. But the power plant and its fly ash dumpsite continue to contribute 10-15 percent of the pollution in Delhi.
"All that is needed is a transmission line and a transmission station which can bypass Badarpur and supply electricity to south Delhi," explains Chandra Bhushan. "Closure of the Badarpur thermal plant is the responsibility of both the state government and the Central government and neither has done anything about it."
Another element of the action plan was to increase public transport so as to discourage people from driving. It was also a promise made by AAP at election time. But the AAP government has not been able to put more buses on the road despite parking space being made available by the courts.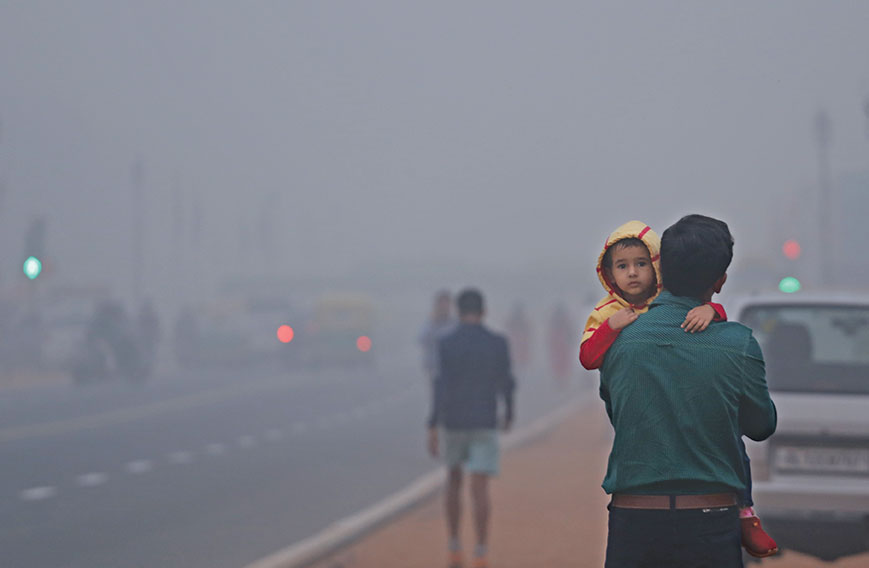 A thick blanket of smog, filled with pollutants, hung all over Delhi
There were other measures like preventing the burning of garbage and ensuring that construction sites keep dust levels down. There was also a need to reduce congestion and improve roads. Biomass as a cooking fuel was to be replaced.
Much has been made of the burning of crop stubble in the fields of Haryana and Punjab. But the impact it has on Delhi's air accounts only for a small portion of the overall pollution.
The fact is that burning of stubble in agricultural fields has been happening for decades and is also seasonal. Pollution in Delhi extends into many more months. Containing pollution in Delhi involves a host of administrative measures for dealing with multiple other sources. There was also the need to work with neighbouring states to contain stubble burning.
"I am especially disappointed because a lot of people in AAP come from civil society, the community of activists to which I belong. A group of us decided to get into politics, which is very good, because we all crib about politicians. These people were brave enough to enter politics but I never expected them to play the kind of politics that they are playing right now. Instead, they should have been addressing the issues which civil society addresses," says Chandra Bhushan.
ROLE OF THE COURTS
When CSE went to court 15 years ago, asking for the use of CNG as the single fuel in public transport, it was a long and lonely battle waged by Anil Agarwal, CSE's founder. There was disagreement over a single fuel for public transport. Bus operators and petroleum companies resisted change. The Congress state government under the leadership of Sheila Dikshit was at first reluctant, then cautious and finally threw its weight behind the idea. Ajay Maken, the young transport minister in the state government at that time, took the lead in bringing in CNG.
It was the Supreme Court then that mandated the CNG switchover. CSE continued to play a vigilant role under Agarwal's successor, Sunita Narain. But this time around, too, in the absence of government action, it was once again left to the courts to speak up. The Delhi High Court equated government inaction with genocide on citizens. The National Green Tribunal wanted to know if the Centre and state governments were waiting for people to die. The Supreme Court demanded an action plan.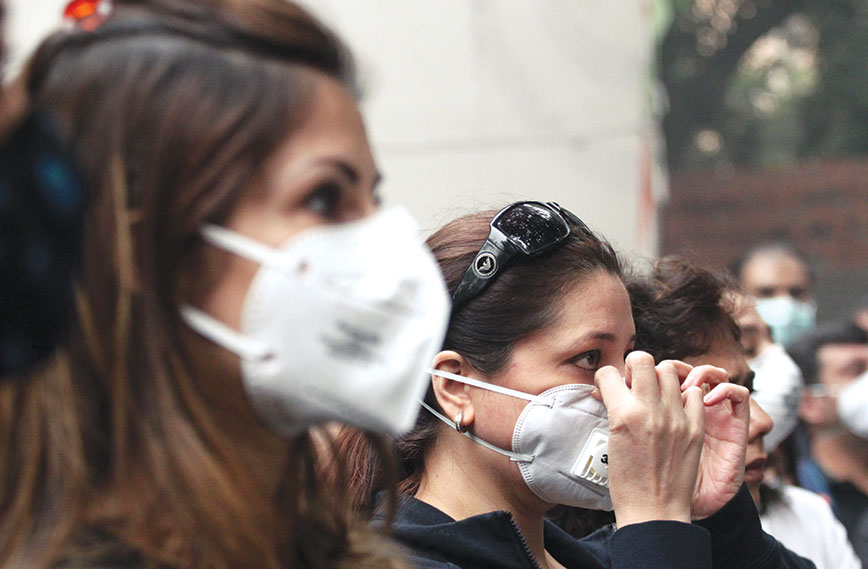 A group of girls wearing masks and protesting air pollution at Jantar Mantar
THE COST OF POLLUTION
The cost of pollution to an economy is estimated at between three and four per cent of GDP. It translates into the loss of productive work, health bills, reduced lifespan and serious physical impairment. Health insurers are already considering charging higher premiums for people living in Delhi because the risk factors have mounted.
At its best, Delhi's air is unhealthy — which means pollutants are three or four times above normal levels. In winter months, the pollution gets worse because the air does not rise in the cold and pollutants stay low. There is a massive increase in particulate matter, some of it so fine that it passes through the lungs into the bloodstream and sticks to organs, becoming the cause for inflammation in the body.
Where does Delhi's pollution come from? The sources are automobiles, the Badarpur thermal plant, dust from construction sites and kicked up along roadsides, tandoors and kitchen fires that use biomass, and diesel generators. In October and November, burning of crop stubble in the fields of Haryana and Punjab sends smoke in the direction of the city.
The emissions from diesel vehicles put into the air highly toxic polyaromatic hydrocarbons like benzene and xylene. There are oxides of nitrogen that come out of tailpipes. From the thermal power plant come mercury, chromium, cadmium and sulphur.
When all these and other pollutants come together with particulate matter they cause long-term harm to health. Anyone living in Delhi is taking in smoke the equivalent of several packets of cigarettes a day and together with it an array of toxic pollutants.
THOUSANDS OF DEATHS
Thousands of deaths each year can be linked to air pollution, which affects the heart and lungs and is known to be the cause of different cancers. Yet establishing the exact correlation is difficult and so politicians and policy-makers continue to duck the issue.
In 1952, in the London fog some 4,000 people died within a short span, forcing a cleanup. In Delhi and other Indian cities, deaths in perhaps larger numbers are taking place, but they are disaggregated, taking place over time and, therefore, overlooked. There is also an absence of medical sentinels tasked with establishing the correlation between a death and pollution. This is particularly so with regard to the poor, who are affected the most because of inadequate nutrition and direct exposure to sources of pollution in slums and at road level.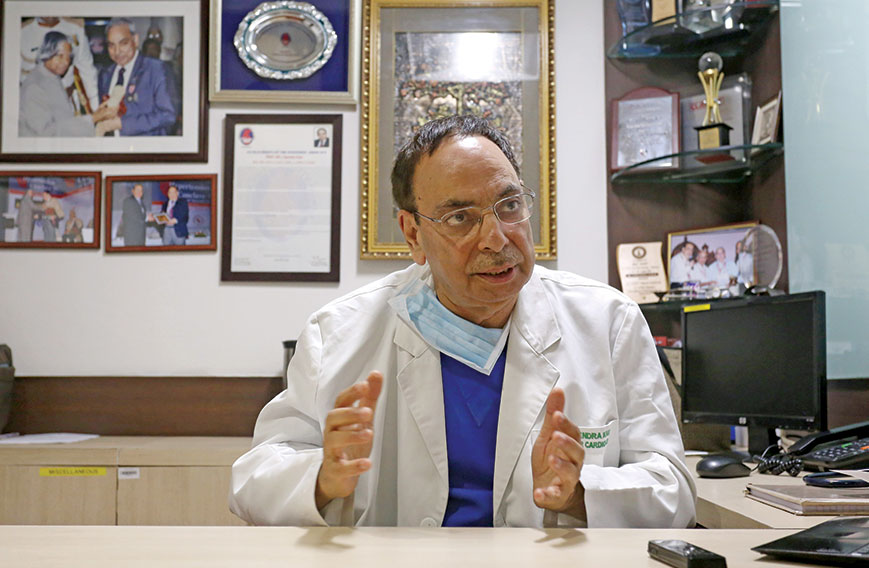 Dr Upendra Kaul
Dr Upendra Kaul, the well-respected cardiologist who was formerly at AIIMS and is now with Fortis, says exposure to pollutants from an early age increases the wear and tear in the body.
"Very fine particulate matter passes through the lungs into the bloodstream and attaches itself to different organs. Those with diabetes and high cholesterol are particularly vulnerable because they have sticky insides. Particulate matter that attaches itself causes inflammation, which is a known cause of heart attacks and strokes," says Dr Kaul.
"A young person exposed to air pollution may not experience a problem straightaway, but over time the damage to the body adds up, leading to that heart attack at 30 which would otherwise have been at 70," says Dr Kaul.
AIRTEL HALF MARATHON
In the absence of the government highlighting the danger from pollution and issuing health advisories, there is widespread ignorance among people. Even the empowered and educated community of running enthusiasts has difficulty in understanding how high levels of pollution could be harmful.
As the date for the Airtel Delhi Half Marathon (ADHM) on 20 November neared, it was left to runners, aware of the dangers, to caution others. Thousands of people take part in the half marathon each year, but there was no advisory from the state government. Airtel and its associate sponsors didn't act in the public interest either despite the overwhelming evidence that running in very polluted conditions is extremely harmful.
Instead, the organisers publicised a statement by Dr Tamorish Kole of Max Healthcare and Medical Director of ADHM, claiming that pollution levels had come down and regular runners had inbuilt resistance to particulate matter!
"There is already a 33 percent reduction in PM 10 and 25 percent reduction in PM 2.5 levels as of today, 16 November 2016. Participants who have been training regularly have higher immunity/resistance to combat the adverse effects of airborne pollutants. Our medical opinion is that a normal trained participant should have no difficulty in completing his or her chosen distance," said Dr Kole.
He also said there would be battery-operated nebulisers and inhalers available for runners who developed breathing problems.
Clearly, Dr Kole's statement was a command performance on behalf of Airtel, which didn't want the race cancelled at any cost.
Finally, it was Rahul Verghese, the well-known runner and founder of Running and Living, who sought to create awareness among runners. Two days before the half marathon, Verghese posted that he wouldn't be running because pollution levels hadn't come down. He also advised others not to run in such conditions.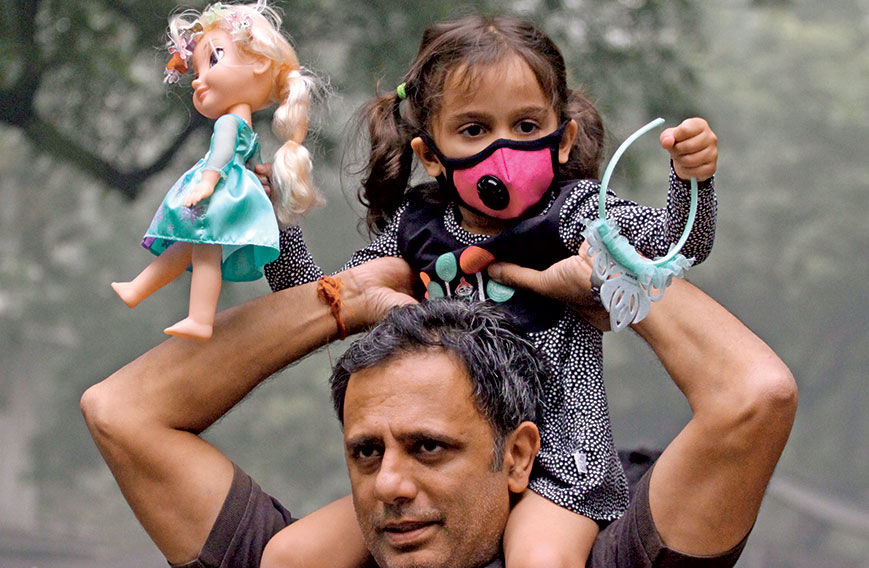 Children are the worst sufferers
Earlier, he advised runners in the NCR not to train outdoors. Instead, he suggested using a treadmill and doing yoga and muscle toning exercises. Outdoors he recommended an N95 mask, saying: "No bravado and no machismo here — the fine particles when you run without a mask and are inhaling deeply go deep into your lungs and lodge themselves there which will have an adverse impact over time, and in some cases sooner rather than later."?
Another post on the Running and Living website by Ina Jolly accused Airtel and sports companies Nike, Adidas, Reebok and PUMA of not warning runners of the dangers of running in pollution. "Do you really think that lungs can sustain hours of long distance running? Particles will go deep into your lungs. Some might fall two years down the line and some maybe immediately. At least cigarette companies put a warning and graphic images on the pack. What do these companies put out to let you know how damaging it could get for your lungs?" she posted.
Airtel showed an unwillingness to listen to runners' concerns. A change.org petition by Ranjan Soni, a regular runner, urging Sunil Mittal to do the right thing and call off the Airtel Delhi Half Marathon because of pollution received no response from him or Airtel. Attempts by Soni to post the petition on the half marathon's official website were repeatedly rebuffed.
So, even as Delhi wallows in another smoky winter, politicians and businessmen who call the shots, prefer to live in denial. It is as if clean air just doesn't matter.