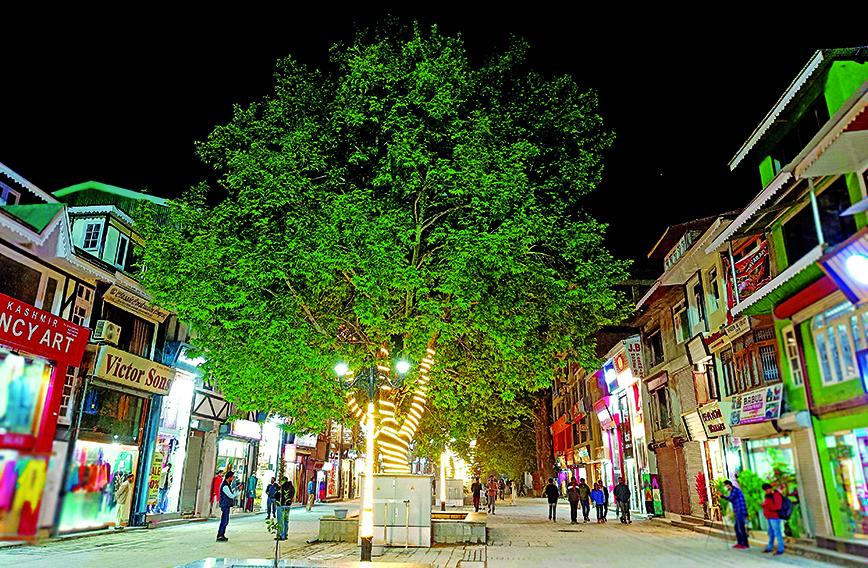 Transformation: Polo Market was renovated and prettied up in time for the G20 summit
Polo wow! But Central?
Jehangir Rashid, Srinagar
Published: Jul. 11, 2023
Updated: Sep. 29, 2023
SRINAGAR's new hangout zone is Polo Market where locals and tourists congregate to shop, pass time at a café or just relax on a bench and watch the world go by. The market is now a pedestrian zone with a smart bicycle station. It looks spiffy and cool.
The other hangout joint is a two and a half-km stretch along the Jhelum river on the Rajbagh side which too has got a facelift. It's been prettied up with luminous lights, plants and paving. There are also walkways being built between Lal Mandi and Rajbagh. Battery-operated rickshaws are now plying in the city and a modern bus depot is expected to come up soon.
Srinagar owes much of this speedy revamp to the G20 summit which took place over May 22-24. Delegates visited Polo Market and shopped and were all praise for the market, much to the satisfaction of shopkeepers.
But another market is wondering why it was bypassed. Shopkeepers in the Government Central Market, located in the heart of Srinagar city, are upset that their market has been completely ignored, though officialdom has its own side of the story. Shopkeepers here say theirs is a historic market, inaugurated by Maharaja Hari Singh, the last king of Jammu and Kashmir. It was a shoppers' paradise for locals and tourists.

"The Government Central Market was a famous market. Tourists and locals used to throng here. The market was the ultimate destination for tourists keen to buy pure Kashmiri art products. However, over the years the market has lost its charm and the hustle and bustle is missing," says Nisar Ahmad Kitab, president, Government Central Market Shopkeepers Association.
The market is spread over 4.5 hectares and has 125 shops selling exclusively local Kashmiri products like pashmina shawls, kani shawls, papier mache items, carpets, copper work, khatamband, walnut wood carvings, chain stitch and crewel embroidery products, sozni, namdha, gabba and silk. Locally, people referred to the market simply as 'numaish'.
Kitab says that the shops used to sell pure Kashmiri art at fixed prices and no seller indulged in cheating. All products were properly tagged. Nobody could doubt the genuineness of the products, he emphasizes.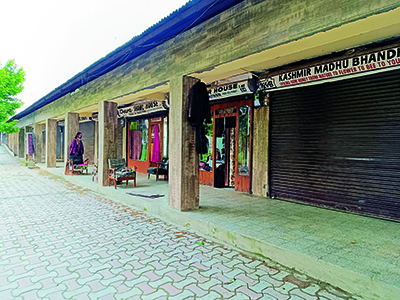 The derelict Government Central Market
"This market has a history of 70 years. It was well organized with business hours extending to 11 pm. It used to open as early as 9 am. If a shopkeeper indulged in cheating he would be asked to close his shop for seven days. A nominal rent was charged for the shops by the government," points out Kitab.
It was during the tenure of Chief Minister Bakshi Ghulam Mohammad that people were allotted shops in Central Market. With the onset of militancy tourists began ignoring the market and preferred to spend time visiting the Dal lake and surrounding touristy places.
Kitab says that later the market saw a revival of sorts but the devastating floods of 2014 acted as a dampener. Since then the shopkeepers have been suffering losses. He says that the government is pressuring them to keep their shops open despite the fact that there are no customers.
"We have demanded that shopkeepers should be allowed to sell local products till tourists return. This place should come up on the tourist map. Around 40 shops have been shifted to the nearby Power Development Department (PDD) building," says Kitab.
According to him, the government has started organizing exhibitions at Kashmir Haat in the vicinity but there is nothing attractive being sold there. Instead, this market should be given proper publicity so that tourists come to know of it.
However, an official of the Department of Handicrafts alleged that shopkeepers in Central Market have in a way cheated the government since many of them have sold off their shops. He said that since the shops were given on lease to them, the shopkeepers had no authority to sell them.
"The shopkeepers were asked to pay `15 as monthly charges to the government but they haven't been paying it. We have told them to keep the shops open. But they have resorted to breach of trust by keeping them closed. The government is lenient towards the shopkeepers but they cannot take things for granted forever," said the official.
He said only 15 shopkeepers are carrying on business. The rest, including the ones who have been shifted to the PDD building, either keep their shops closed or are selling them off. He said that a detailed project report (DPR) of Rs 55 crore has been submitted to the administrative department for modernizing Central Market but it has not been cleared till now.
Prominent social and political activist Jagmohan Singh Raina has written to Prime Minister Narendra Modi, seeking his intervention in the revival of Central Market.
"There is no centralized market in Srinagar. Master artists and craftsmen have no dedicated place to showcase their arts and crafts. As a result, the economy is in a doldrums. Since the prime minister has been emphasizing the economic revival of Jammu & Kashmir, revival and resumption of this exhibition ground market on the old pattern would be a booster dose in this regard," says Raina in the letter.
He has said that tourists would also get an opportunity to buy real Kashmir-made products from the actual stakeholders. Srinagar needs an art and crafts centre on the pattern of Pragati Maidan in New Delhi and Fashion Centre of Chandigarh at the exhibition ground in Srinagar, he said.