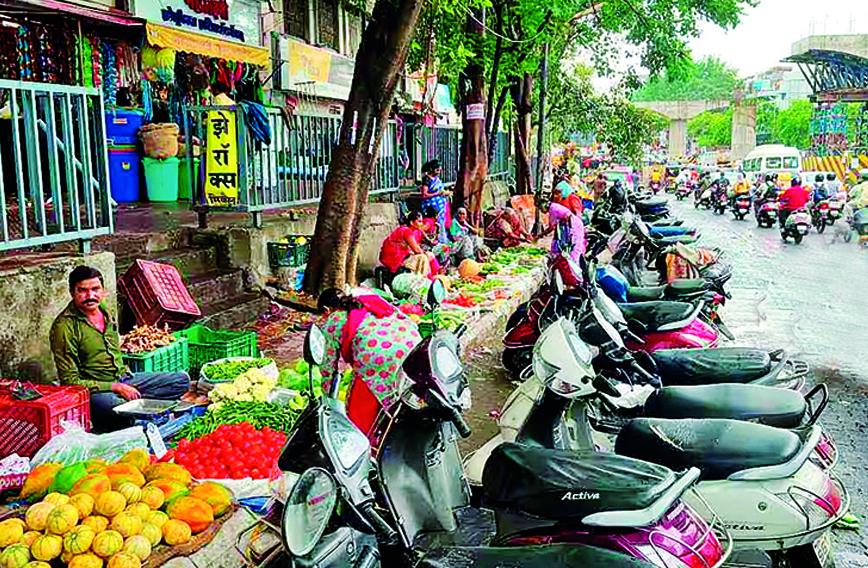 Footpaths are encroached upon by authorized or unauthorized vendors, hawkers, illegal food stalls, beggars and parked vehicles
Pune's footpaths have rules, a PIL seeks answers
Rina Mukherji, Pune
Published: Sep. 29, 2023
Updated: Oct. 28, 2023
EVERY Indian city has broken roads and ramshackle footpaths occupied by vendors and squatters. In some instances, wealthy residents have extended their houses onto footpaths. There are also hazards like open manholes, rusted pipes, dangling wires and whatnot.
Pedestrians contend with multiple hazards as they move about. But it need not be so if municipalities were to fulfil their responsibility of maintaining amenities and shared public spaces as they are supposed to under the Indian Constitution. Providing the right to walk safely is inherent in that responsibility.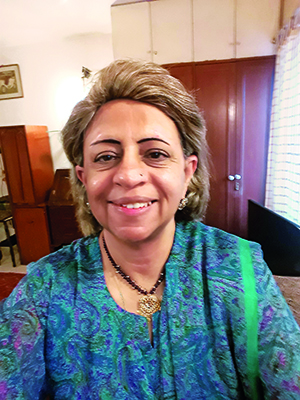 Qaneez Sukhrani, a citizen-activist in Pune, has filed a Public Interest Litigation (PIL) in Bombay High Court seeking pedestrian rights from the Pune Municipal Corporation (PMC).
The PIL comes close on the heels of another petition filed to demand safe and usable roads in areas under the PMC's jurisdiction. The municipality has been told to file an affidavit in three weeks' time outlining all that it has done to improve its roads.
Both PILs are directed at the PMC. But the issues are really of national concern. They hold good for citizens and municipalities across the country.
Sukhrani points out about Pune, "The Metro Rail project is progressing in an unplanned manner to the extent that in several locations, the entire footpath has been dug up. In several locations the entry and exit staircases connecting Metro rail stations have consumed the entire footpath."
Footpaths are encroached upon by authorized or unauthorized vendors, hawkers, illegal food stalls, beggars and illegally parked vehicles. Entire footpaths are blocked due to unplanned digging for private or public civil work. These are never covered and restored to their original status.
In other instances, footpaths are covered with debris and garbage, making it impossible for pedestrians to walk. They are instead forced to walk on roads, dodging speeding vehicles, or travel by car even for short distances when they could very well walk.
Incidentally, the PMC was one of the first municipal bodies to accept the Urban Street Design Guidelines (USDG), which are in line with the recommendations of the Indian Roads Congress, and the Smart City Initiative.
As per the USDG, roads in the city ought to be designed as mobility corridors with preference for non-motorized transport, feeder roads, neighbourhood roads, and through traffic roads.

The guidelines go into great detail on the kind of footpaths cities must have. They say footpaths should be walkable, clean and safe for pedestrians. They should be free of encroachments, parking and utility obstructions and accessible to all users.
The adjoining landscaping must create a buffer space between pedestrians and vehicles and also provide shade. A good footpath design must provide a clear and unobstructed minimum walking zone of two metres horizontally, have a tough, anti-skid surface and provide clear visibility and visual continuity so as to get easily noticed by vehicular and pedestrian traffic.
The footpath should be above the carriageway, of uniform height and maximum 150 mm above road level, separated by the curb. It should slope gradually towards the stormwater drain to prevent accumulation of water. Suitable ramps ought to be provided at entry and exit. In case a raised footpath is not possible, railing or curb stone separators have to be provided to create a walkway segregated from the carriageway. If there are obstructions that cannot be removed, the footpath width has to be increased to ensure minimum clear width of the walking zone.
Ramps and steps at the entrances of houses and compound walls should be within the property premises without any encroachment on the footpath. The width of the footpath cannot be reduced to provide ramps or steps. The gate of the property should open inside without causing any obstruction.
The guidelines specify that the footpath level should never be lowered, to prevent motorists from using it for parking. The guidelines provide for a minimum two-metre-wide cycle zone at a 100-mm level above the carriageway and bollards for cycle tracks. Recommending asphalt or cement with coloured surface treatment for cycle tracks, it rules out the use of paver blocks.
Although the PMC has built good footpaths and streets with cycle tracks in a few parts of the city, one finds that in most of Pune the USDG are yet to be put in place, even seven years later. Roads remain incomplete owing to land acquisition issues.
Jutting manhole covers, potholes and open manholes make existing roads dangerous, and accidents are a daily occurrence.
"The merger of 34 new villages into PMC limits has swollen the city's population to six million. We have 1,400 sq km of roads within the PMC and now face a scarcity of resources. We are trying our best," says Municipal Commissioner Vikas Dhakne. Regarding the PMC's response to the petitions filed, Dhakne declined to comment, "The PILs will be taken care of by our legal department."
However, advocate Satya Muley, who has filed the petition on the pedestrians' right to usable footpaths on behalf of Sukhrani, questions the PMC's insistence on "scarcity of resources".
"The PMC has been showing an increase in its revenues, year after year. There is provision in the law to provide amenities, it is the intent that is lacking. Whenever a housing society comes up, 10 percent of the land becomes the property of the PMC, which is reserved for the provision of amenities. These include vendor zones, open markets, parks and the like. They are part of every development plan," says Muley.

He admits the PMC is struggling with an overcrowded city. But the constraints it complains about are of its own making, he says. "The corporation wants to divert the people to a mass transit system. But if you are building Metros and introducing e-buses, you ought to have the infrastructure to give people access. If footpaths exist, the people can easily walk up to the Metro station or bus-stand safely."
It is not possible for people to walk safely due to encroachments, open manholes and other obstacles. Walking itself becomes hazardous. People then turn to two-wheelers like scooters and motorbikes. "You do not need any resources to improve footpaths. It is a question of maintaining and administering your existing infrastructure. It is only in the case of building new footpaths that you need additional resources," Muley emphasizes.
"As per Schedule XII W of our Constitution, it is the duty of our urban local bodies to administer and plan our towns and cities. Planning is an essential function of the PMC. It is the absence of planning that leaves roads unfinished, and deprives us of bridges and footpaths to access public transport," he concludes.
Referring to roads being left unfinished, he asserts, "The PMC needs to step in and acquire the required land by force. There is provision in the law for the same. Why doesn't it do that?"
The Bombay High Court's decision on Pune will have implications for municipal governance all over. Could the PILs on footpaths and roads be the trigger for petitions in others cities?