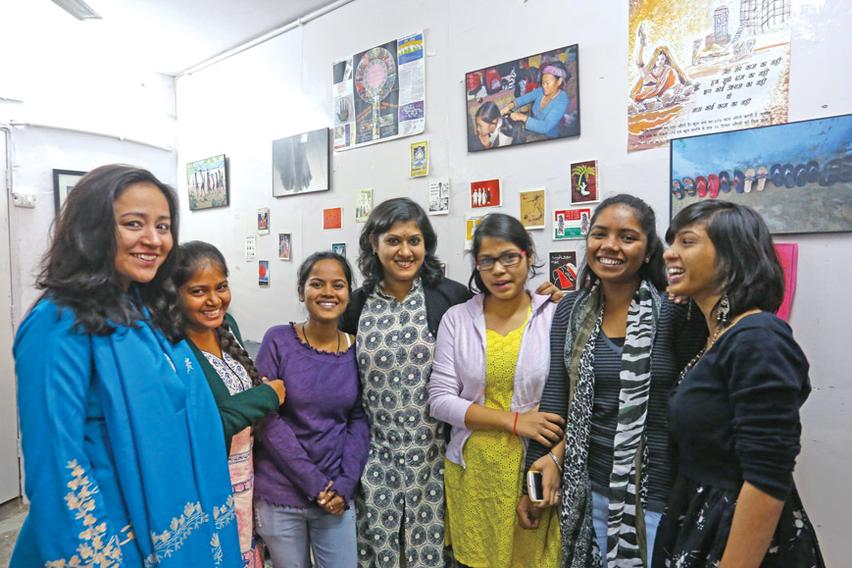 FAT girls teach poor women how to use technology
Kavita Charanji, New Delhi
Published: Mar. 11, 2016
Updated: Jan. 29, 2020
Women don't take to technology as quickly as men. They aren't always confident or nimble with smartphones, computers and various gizmos. Feminist Approach to Technology (FAT) is a pioneering organisation that helps girls from poor families to use technology. The girls are also encouraged to question patriarchy, discrimination and harassment. By the time they complete their stint with FAT the girls acquire the confidence and the technical skills to handle their lives.
"I got the idea of starting this organisation when I was a tech support person at CREA, a feminist human rights organisation," says Gayatri Buragohain, founder and executive director of FAT. Initially, she started developing websites for other NGOs and used the money to organise workshops for underprivileged women and girls in tech skills like computers at her home in Lajpat Nagar in New Delhi. FAT started in 2008 and the work expanded. A tech centre was set up for girls in the 14-25 age group in 2010.
Now FAT's Tech Centre at Lajpat Nagar has spawned the Young Women's Leadership Programme. The stepping stone is a basic computer course that has 60 girls, divided into three batches.The girls largely belong to low-income migrant families from Haryana, Bihar, Rajasthan, West Bengal and Tamil Nadu.
But the centre is not just another computer learning hub to equip girls for the job market. It is also meant to foster activism and leadership. Often, other activists are roped in to hold discussions and workshops on subjects like rights, gender discrimination, patriarchy, feminism and decision making. The girls learn some basic English too.
Risha Samanta, programme associate, Tech Centre, says, "We link computer classes with feminist issues. When we are doing computer fundamentals, we connect it to the girls' everyday lives. How can they relate a computer to their bodies? How can they use the Notepad to describe a typical day in their lives? That sets off discussions about sexual rights and reproductive health, gender discrimination and inequality."
The girls also get to sharpen their mathematics and science skills through classes, field trips and videos that fuel their curiosity about these subjects. The aptly named Jugaad Lab is at the centre of this effort.
In the long run, the Tech Centre is the launching pad for a life-long transformation in the girls' lives. Once through with the initial course, many choose to be trained as Young Women Leaders and take part in FAT campaigns and programmes. FAT Young Women Leaders take particular pride in the Apna Haq (Our Right) and Todo Bandishen (Break the Chains) campaigns. For these projects, FAT collaborated with VOW Media so the girls could receive training in photography, filmmaking and radio work.
The workshops have culminated in photo-stories, radio shows and films by the girls. The Apna Haq documentary is about the hazards of community toilets for girls. Twenty- two year old Deepike Passi, a trainee at FAT who was part of the Apna Haq team, says, "The subject was critical because girls said that they were severely harassed by men when they went to use toilets. Also, they said that if they went to the jungle after the toilets closed at 10 pm they were likely to be raped." As a result of the campaign, cameras and streetlights have been put up at strategic points and chowkidars are stationed in the vicinity by the Municipal Corporation of Delhi.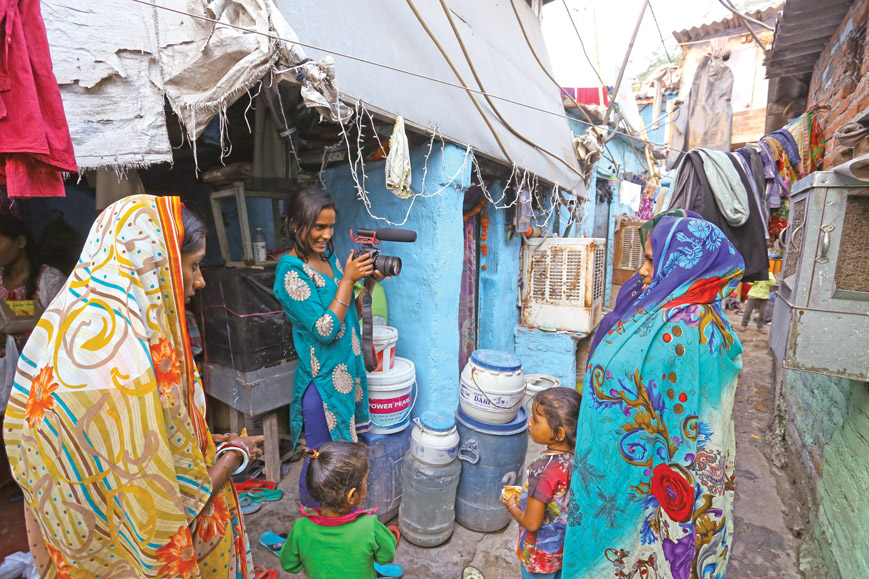 The Todo Bandishen campaign against Early and Forced Marriage (EFM) is the outcome of much hard work by 31 young girls from FAT. We go to see a screening of the film at a Srinivaspuri basti, largely populated by Bihari migrants. With us is Renu Arya, a community mobiliser in the EFM project. The screening is followed by a discussion initiated by Arya.
The women, most of whom had been forced into early marriage, are only too eager to share their stories. Some are ambivalent, torn as they are beween societal norms in their communities and the need to free their daughters from the dangers of early marriage.
"The campaigns that we do in the community help us to project the girls as leaders, change agents and decision makers of their lives," says Buragohain. "Second, the violence of harassment that they face whether at home or outside reduces for multiple reasons."
FAT's Young Women Leaders know this from first-hand experience. Durga Vishwas was under family pressure to get married ever since she was in high school. At every step of the way she faced taunts and indignity. She came to FAT for computer classes. Later, she started working as an intern in their office and began to put aside money for her education. That gave her bargaining power with her family and after a great deal of negotiation with them she completed school. Though she continues to face taunts from her elder brother, she has decided to go to college.
Renu Arya learnt the meaning of gender discrimination early on. Her brother was enrolled in a better school. Then he was encouraged to study engineering. She realised that she needed to break free and face her family head-on. So she began to earn money through tuitions and completed her education from an open school. She enrolled at FAT's Tech Centre in 2012 to fulfil her dream of picking up computer skills. She was also oriented to ideas of feminism and gender through workshops and discussions.
Many other girls from FAT too have broken out of the rigid constraints imposed on them. "Just computer skills open up so many doors. We don't train our girls to get jobs, we train them to be confident, aware women who can find solutions to their problems," says Buragohain.
FAT also runs other programmes: advocacy initiatives, a school intervention programme to promote Science, Technology, Engineering and Mathematics (STEM) and careers in STEM. There is also technical training for women and the We, Women in Technology (WeWIT) initiative to create a community of women who work in technical fields.