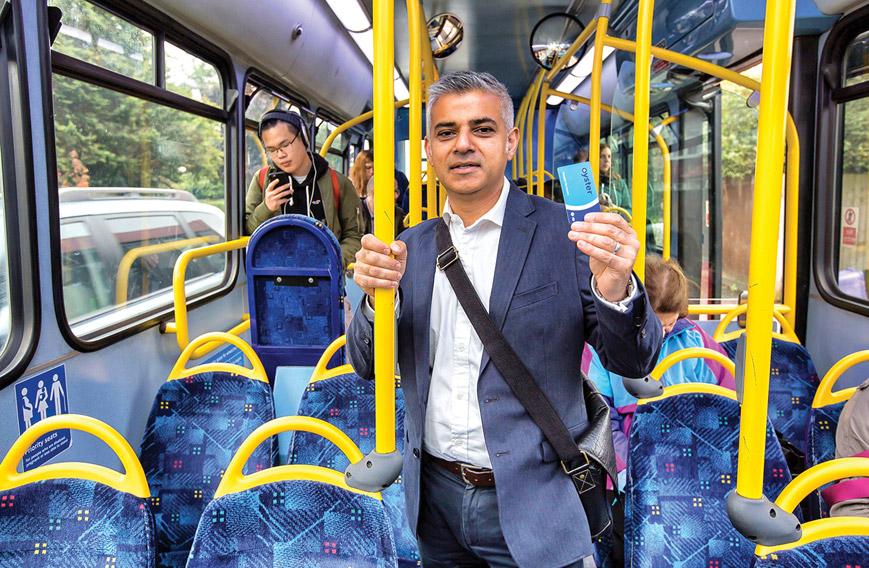 London's first Muslim mayor doesn't want to be typecast
Shyam Bhatia, London
Published: Jun. 06, 2016
Updated: Feb. 28, 2017
Just days after being elected with a significant majority, Sadiq Ameen Khan has already distanced himself from the far Left leadership of the Labour Party.
The outgoing MP for Tooting, South London, was in fact one of those renegade Labour MPs who originally nominated party chief Jeremy Corbyn to become leader of the opposition in Britain's House of Commons.
Subsequently, Khan, the son of a Pakistani migrant who became a London bus driver, set out his stall during the campaign vowing to become London's most business-friendly mayor, rather contrary to the Labour leadership's determination to identify the rich as the source of the country's problems.
In his acceptance speech at City Hall after a comfortable victory over his nearest rival, Conservative Zac Goldsmith, Khan pledged to bring unity to London and to tackle the city's acute housing crisis. It is consistent with his pre-election pledge when he declared, "I want all Londoners to have the same opportunities that our city gave me: a home they can afford, a high-skilled job with decent pay, an affordable and modern transport system and a safe, clean and healthy environment."
Since the election he has broadened his objectives by holding several meetings with the metropolitan police commissioner, Sir Bernard Hogan Howe, to discuss the ever evolving terror threat facing London.
Despite London's police force, undoubtedly the best prepared in the country to face a terrorist attack, Sadiq Khan says he is determined to press ahead with a full capability review to ensure the capital is as protected as possible from the murderous aims of extremists from the likes of Al Qaeda and ISIS.
The new mayor has significant powers of control over how the police force functions. That is just one of the many executive powers that single him out as more than just a figurehead chief executive of a major Western capital. He also controls the fire authority, transport budget, has access to a small percentage of local tax yields, wields influence over the many local councils that help to run London, as well as representing the city at major trade events.
For these reasons this mayor and his term of office inevitably attract more interest than, say, the mayor of the Dutch city of Rotterdam which also has a sitting elected Muslim mayor in Ahmed Aboutaleb.
Where London is concerned the 45-year-old dark skinned, silver-haired city chief would not seem out of place as mayor of South Asian cities like Delhi, or Mumbai, or Karachi, but in predominantly white, Anglo Saxon Britain his election inevitably draws attention to his ethnic roots.
Most political commentators say the London mayor's powers are an indication that he has considerably more authority and prestige than a middle-ranking cabinet minister. Currently, there is one Muslim cabinet minister, Business Secretary Sajid Javid in the British Conservative government, but the London mayor is guaranteed to get much more day-to-day coverage of whatever he does.
Given popular fears surrounding Islam, described by some as 'Islamophobia', Khan's election could be seen as a victory for multiculturism and equality. The next four years will be key in persuading British voters and voters in other Western countries whether Islamic values are indeed compatible with high elected office on behalf of many who will always arguably, understandably, regard Islam with a degree of suspicion.
Memories of Osama bin Laden's attacks of 9/11 are still fresh among Americans where there are weekly if not daily reports about how Muslims and Muslim converts have succumbed to extremist Islamic ideology.
In Europe recent terror strikes in Brussels and Paris have inevitably fuelled the agendas of right -wing politicians who warn that Islamic terrorists will use the cover of migration from North Africa and the Middle East to spread their tentacles of panic on every street.
Statistics culled from some European Muslim communities — constantly bombarded with questions about whether their faith and democracy are compatible — tell their own story.
In the UK a survey carried out by the ICM polling company revealed how some 39 per cent of Muslims believe wives should always obey their husbands, 52 per cent believed homosexuality should be made illegal and only 34 per cent were prepared to contact the police if somebody they knew was involved with people who supported terrorism in Syria.
Hence the alarmed response of former British Equality and Human Rights Commission chief Trevor Philips who described Muslims as a "nation within a nation", adding that British Muslims "basically do not want to participate in the way that other people do" with different views on gender, sexuality, Jews and terrorism.
Philips, who commented on what he called the "life and death struggle for the soul of British Islam", observed how on specific issues like familiy, sexuality, gender, violence and terrorism "the centre of gravity of British Muslim opinion is some distance away from the centre of gravity of everybody else's opinion."
Back in the US the presumptive Republican presidential nominee, Donald Trump, who so famously called for a ban on Muslims entering America, appeared to stage a partial climbdown when it comes to Sadiq Khan, describing his election as "very, very good", adding that he would be welcomed on any trip across the Atlantic.
Khan responded by saying, "Donald Trump's ignorant view of Islam risks alienating mainstream Muslims around the world and plays into the hands of extremists. Trump and those around him think that Western liberal values are incompatible with mainstream Islam. London has proved him wrong."
A few months earlier he commented in a newspaper article, "Islamophobia is on the rise. The number of Islamophobic incidents recorded by the Metropolitan police increased by 70 per cent over the past year alone. Every time there is a terrorist incident involving evil fanatics who abuse the name of Islam ordinary, law-abiding Muslims pay a heavy price."
He went on to pledge, "As Mayor of London, I'll make tackling hate crimes – including Islamophobia, anti-semitism and homophobia — a top priority for the Metropolitan police and ensure they get the resources to make a real difference."
Khan is the fifth of eight children born to bus driver Amanullah and Sehrun Khan, a seamstress. One set of grandparents migrated to Karachi from India, while other close family members have ties to Faislabad and Islamabad in Pakistani Punjab.
Khan himself grew up in the southwest London area of Earlsfield, where he went to school, before going on to the University of North London where he graduated with a law degree and then became a solicitor specialising in lawsuits against the Metropolitan police. He became a local Labour councillor in 1994, eventually winning election as the MP for the London borough of Tooting in 2005. He has held two ministerial jobs, first as Minister of State for Communities, when he replaced Parmjit Dhanda, and a year later as Minister of State for Transport.
Following his election as mayor, he is obliged to give up his role as an MP. The by-election for Tooting will take place next month.
He paints himself as a family man — he's married to fellow solicitor, Saadiya Ahmed, and the couple has two daughters, Anisah and Ammarah (who incidentally don't wear headscarves). He's run the London marathon and enjoys watching football. In many ways a man of the people.
The political reality for Khan is that he now replaces one of the most popular British politicians of all time in Boris Johnson who commands the kind of across-the-board grassroots support that most lawmakers can only dream about.
The outgoing white Mayor of London is now spearheading the campaign for Britain to leave the European Union and many believe the referendum result will indicate whether he will be able to make a push to take over as leader of the Conservative Party or even become prime minister.
If Khan can have half as much resonance as Johnson did and continues to have with Londoners, he'll be deemed a success and well-placed to project himself as the first Muslim prime minister of the UK.