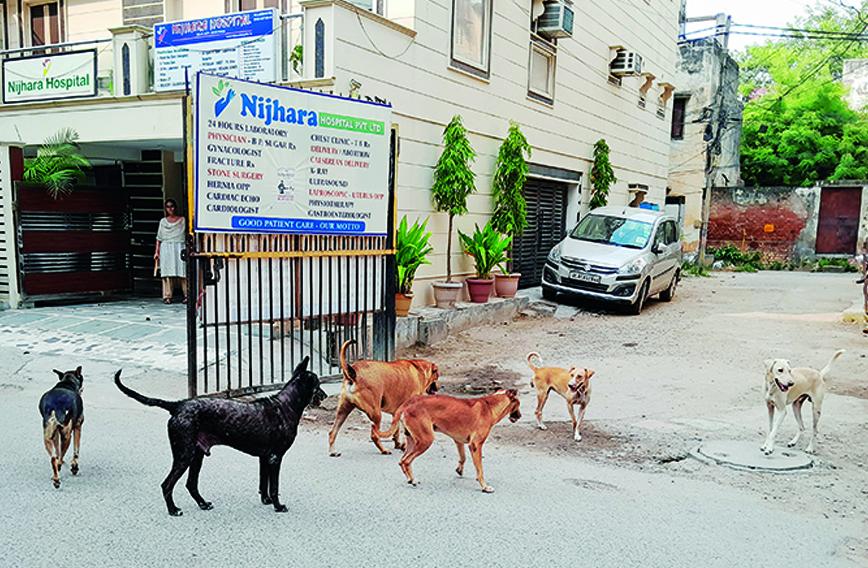 Strays outside a small hospital in west Delhi. An apprehensive patient looks on from within the gates
Deadly strays? Or docile 'community dogs'?
Civil Society News, New Delhi
Published: Oct. 28, 2023
Updated: Oct. 30, 2023
A resident of Ganga Apartments in the south Delhi colony of Vasant Kunj was on her way down the stairs of her building, when a pack of stray dogs on the loose rushed at her. She lost her balance, fractured her leg and ended up at the AIIMS Trauma Centre where surgery was recommended. At the age of 56, this was the last thing she needed to happen to her.
A lawyer appeared in the Supreme Court with his arm in a bandage. The Chief Justice asked him what happened. He said he had been attacked by some dogs and severely bitten. The Chief Justice graciously asked if he could get the lawyer some medical assistance. This in a courtroom short of time for judicial matters.
At Lotus Boulevard, a gated community in Noida in the National Capital Region, a seven-month-old infant of a labourer was mauled to death by a pack of sterilized and vaccinated dogs which were being regularly fed by some residents of the housing colony. No one was held accountable. On the contrary, when the majority of residents had the dogs removed, animal activists brought them right back with the help of the police.
So, what is going on? Why are dogs making unprovoked attacks on people in different settings with such regularity? A lawyer showing up in court with his arm bandaged. An infant mauled to death in a condominium. A middle-aged woman off for a morning walk. And these are just a few incidents. The list is really too long to be recounted here and comes from all over the country — big cities and small towns alike.
The Animal Birth Control Rules or the ABC Rules as they have come to be known were recently amended to define strays as 'community dogs'. But what are 'community dogs' and why are they making unprovoked attacks on members of the community itself?

Under the ABC Rules, stray dogs have to be fed by resident welfare associations (RWAs) and located at the same spot even if they bite and kill. They are to be vaccinated and sterilized, for which they need to be taken away, but they have to be brought back.
With such conditions, residents are up in arms. They don't see aggressive strays, rapidly increasing in number, as 'community dogs'.
As the woman in Vasant Kunj, awaiting surgery on her broken leg, plaintively told reporters: "I do not hate dogs. They deserve care. But not at the cost of human lives. The children cannot play freely in parks inside the compound due to dogs. Residents also fear getting out at night."
"Dog lovers do not understand the pain we (victims of dog attacks) go through," she went on to add.
Nor have the courts been in any great hurry to find a workable solution. In fact, they don't seem to have been moved by the many deaths of children.
The original case was filed more than 20 years ago from Goa, questioning the ABC Rules. A paediatrician in Vasco received a patient, a young girl, whose nose had been bitten off by a stray dog.
There were other children who used to come to the paediatrician with dog bites. He and some public-spirited individuals finally filed a case seeking a serious solution to the problem of strays. The case lingers in the courts after two decades.
Animal rights activists, funded as they are, being NGOs, have the resources to give them a disproportionate say on the issue in comparison to ordinary folks.
It appears this is how the term 'community dog' seems to have recently come up and been adopted as the definition of a stray. Our picture above shows stray dogs at the gates of a nursing home in west Delhi. A patient inside is fearful of coming out. The dogs hardly look like they have community ownership of any kind.
As neighbourhoods get overrun by packs of dogs there is growing anger among residents. When Vijay Goel, a senior BJP leader, called a meeting on the stray dogs problem in Delhi it was widely attended not just by people in Delhi, but by those who came from Mumbai and Pune as well.
"There was a time when there would be a stray dog or two in a lane and local people would look after them. That is not the situation now. In many instances it is getting difficult to go on morning walks and move about freely because of packs of aggressive dogs. It is wrong to put on to RWAs the responsibility of looking after these feral dogs," says Goel.
Even as cases have gone ding-dong between the high courts and the Supreme Court and back, there has been little clarity and certainly no relief for victims of dog attacks. Children of poor families who have been mauled and killed have been completely forgotten in sharp contrast to the sympathy that a lawyer with his arm bandaged evoked in the Supreme Court.
Some of the episodes have been outright bizarre. For instance, in February this year a seven-year-old was mauled by sterilized dogs in a housing society in Pune. The municipality caught and removed 50 stray dogs from the premises.
"An activist, who does not live in the society, filed a case in the Bombay High Court to bring back all the stray dogs into the premises. The court ordered the release of the dogs inside the society citing the ABC rules of 2023," says Meghna Uniyal, who promotes an animal welfare philosophy, points out that matters have gone too far.
"At 2 am, without any intimation to the residents, a bus full of policemen accompanied a municipal van and dumped 20 stray dogs inside the premises. The dogs did not have any identification, collars or documents to show their vaccination status," she says.
Uniyal has been arguing for dogs to be taken off the streets and dealt with in pounds as they are in the rest of the world.
She says the definition 'community dog' has no basis because the ABC Rules can't be at variance with the Prevention of Cruelty to Animals Act.
The act in fact disallows animals being put on the street. If the dogs indeed belong to the community, they have to first be taken off the street. The community has also to be accountable for attacks and injuries.
Decades of confusion and dithering by the courts and governments have resulted in an exponential growth of dogs on the streets. The numbers run into millions. The chances now are remote that strays can be fed in designated places and sterilized for their numbers to be reduced. Adoption of millions of dogs is also impossible.
In the meantime, dogs on the street, whether vaccinated and sterilized or not, are a growing danger to innocent citizens and a reason for decline in the quality of life in Indian cities.