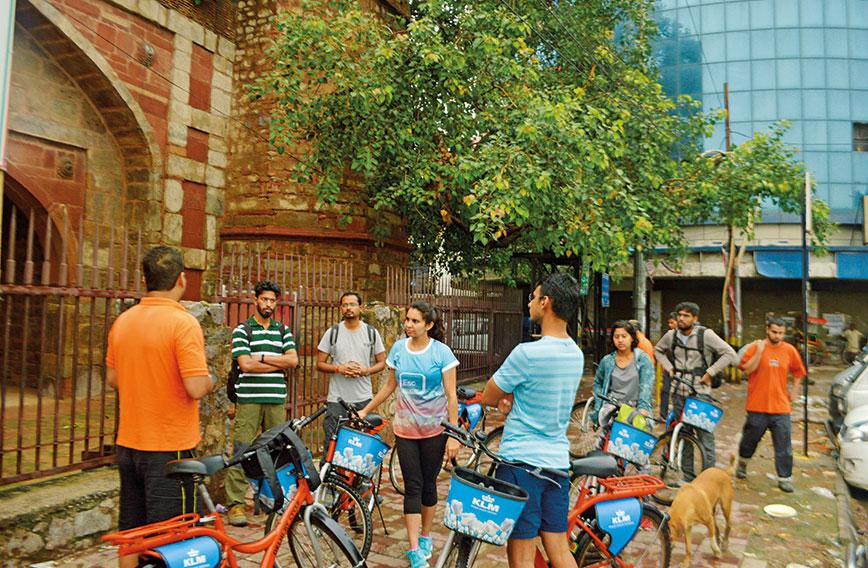 Cyclists pause at the Turkman Gate
Old Delhi slowly: Cycle tour takes you to monuments
Kavita Charanji, New Delhi
Published: Oct. 14, 2022
Updated: Nov. 07, 2022
IT is 6.30 on a warm Saturday morning in Old Delhi. Gathered outside Delite, a run-down cinema on Asaf Ali Road, are seven enthusiastic bikers ready for an adventurous cycle tour through Old Delhi's chaotic traffic and narrow alleys. Among them are Serena and Scissor, a couple from Milan in Italy. They flew into Delhi at 3 am and despite jetlag headed straight for Old Delhi.
Accompanying the group are a guide and a co-guide from Delhi By Cycle (DBC), India's first cycle tour group. "We heard about DBC from Lonely Planet which described it as one of the best cycle tour groups in India," explains Serena.
The tour of the historic city of Shahjahan has been carefully mapped and planned down to the last detail. The itinerary is Delite cinema to Turkman Gate, on to Chawri Bazar, Khari Baoli, Madrasi Colony, Civil Lines, Chandni Chowk, Red Fort and then Karim's restaurant for breakfast. Also included are a tea break at Civil Lines and brief stopovers at Labour Chowk and the Jama Masjid. Then it is back to run-down Delite.
The cyclists are led by Jeswin Joseph, a seasoned guide for DBC and other tour groups. Supporting him is a co-guide, Mukesh Paswan, who has been with DBC since its inception in 2009.
As they begin to cycle from Delite, Joseph explains the significance of each spot. Turkman Gate is named after famous Sufi saint Shah Turkman Bayabani, whose tomb is believed to lie inside, he says. He regales the cyclists with stories of Chawri Bazaar's tawaifs or courtesans whose charms once attracted the nobility. "They were highly respected ladies and the highest taxpayers," says Joseph.
The cyclists marvel at the overpowering aroma of spices from the spice market of Khari Baoli. After a brief stop at Madrasi Colony, the group arrives at serene Civil Lines, where the British moved after the 1857 uprising. Passing by the Lieutenant Governor's house and Maidens, a heritage hotel, the bikers get time to unwind — it's time for chai and biscuits at a small tea stall next to Maidens.
The cyclists engage in some friendly chit-chat. Anna, from Wurzburg in Germany, is on the trip with her family and a friend. She has been in Delhi for a year now. "We are on a DBC tour for the third time. We love the tour and take all our visitors along to give them an insight into Old Delhi. I really like the Khari Baoli spice market even though it is very strong on the nose. I think it is a fantastic place," says Anna.
Tea and banter over, the cyclists restart their tour. They pedal to Labour Chowk, Chandni Chowk, Red Fort and the Jama Masjid where they stop for a meal at Karim's. The cyclists tuck into meat curry, vegetable curry and the famed rotis of the restaurant. And then they are back at Delite. The entire tour was for four hours.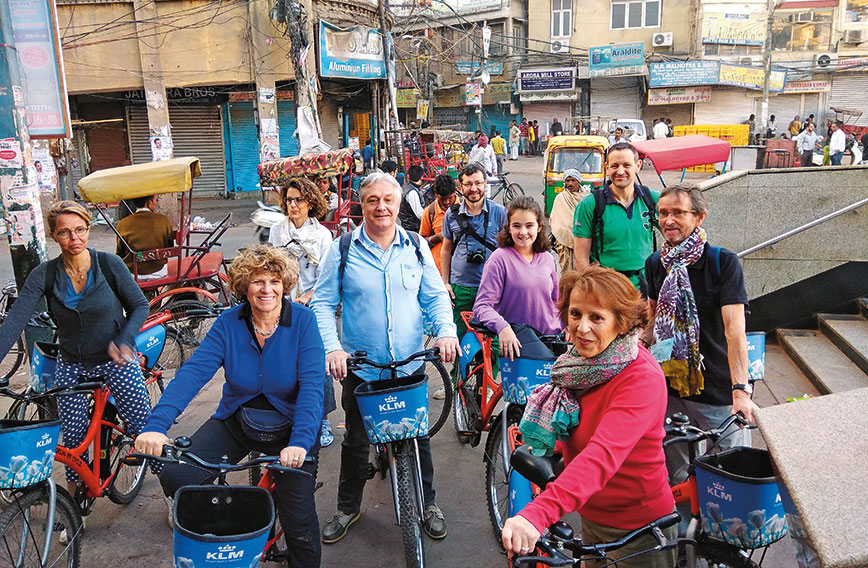 Near the Chawri Bazaar metro station
The 31-year-old Himanshu Shekhar, CEO, director and team leader of Delhi By Cycle (DBC) has just returned from a rushed cycle tour that he led in Old Delhi. Over coffee at a South Delhi café, Shekhar says, "Before DBC was set up in 2009, the concept of cycle tours was unheard of in India. People never thought of taking cyclists to the small, congested and dirty areas of Old Delhi. But for them it is like riding in an open-air museum. An American from Germany described Old Delhi as a close encounter with death that made him feel alive. Others who did the tour with me today labelled it as the experience of a lifetime."
Jack Leenaars, the founder of DBC, thought along the same lines. As the South Asia correspondent of Dutch daily De Telegraaf, he spent a lot of his time exploring Old Delhi on a bicycle.
"A bike is a great way to explore new areas. You can cover large areas and you are in full contact with your environment and its sights, sounds, smells and people. And it's green!" says Leenaars in an email interview.
He invited friends to join him. Exploring the historic city for two months on a cycle, he finally designed the best possible route — the Shahjahan Tour of Old Delhi. In 2009 he set up DBC and eventually gave up his career in journalism to focus on this unusual business. Soon DBC had 85 cycles, three routes in Old Delhi and two in New Delhi, as well as a team of great guides and co-guides. The tours got glowing reviews, and Lonely Planet gave it a positioning in its Delhi chapter.
Leenaars has since moved back to the Netherlands. He continues as adviser to DBC, now headed by avid cyclist Shekhar. Pedalling away on a big-frame cycle even as a pre-schooler, Shekhar hasn't stopped cycling since. A graduate from Delhi College of Arts & Commerce, he was all set for a career as a chartered accountant. However, he decided that he was not cut out for the staid world of finance.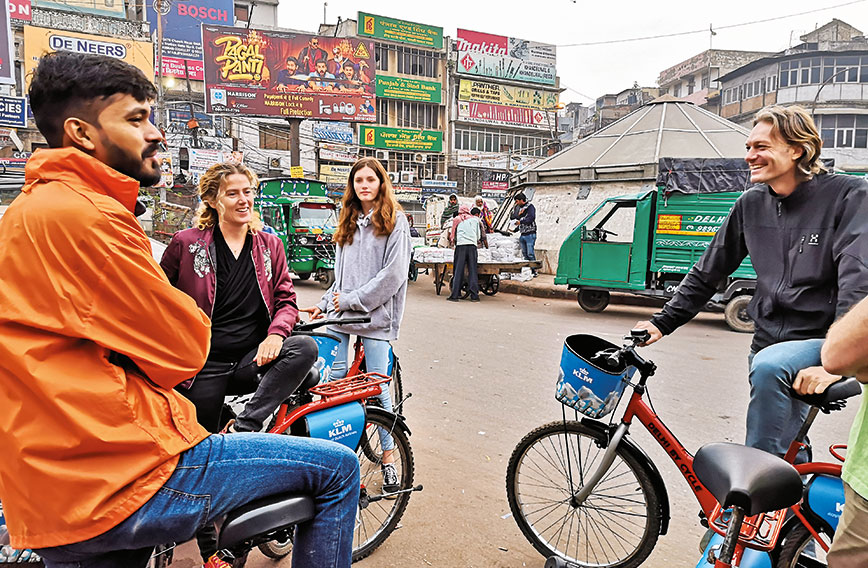 Shahjahan Tour with Jack Leenaars on the right and Himanshu Shekhar on the left
He grabbed a job offer from Mysore-based travel start-up goMowgli where he worked as Operations Manager, showing people around Mysore. Though he enjoyed the city's rich history, culture and stories, he missed Delhi.
Shekhar joined DBC in 2016, but not before he had cycled 3,300 km across the country to understand it better. Joined by a friend, he began a 32-day cycle odyssey from Mysore to the Jim Corbett National Park in Uttarakhand.
He says Jim Corbett, the famous British hunter and conservationist, was a major inspiration for him. He believes that travellers to the Jim Corbett National Park could do more than just shoot pictures of tigers. "The problem is that the people who go to Corbett don't want to understand the flora, fauna, villages, culture or heritage of the place. I fell in love with birdwatching there."
DBC has a list of cycle tours. There is the Raj Tour, Yamuna Tour, Nizamuddin Tour, all priced at Rs 2,000 (inclusive of single-speed cycles, tea, food, guides and co-guides, optional helmets and baby seats). A good bet is the Ghalib Tour in the Walled City. Priced at Rs 500 it conjures up the life and times of famous poet Mirza Ghalib and relates poetry and stories about him.
For the less energetic, there are walks to Old Delhi, the vicinity of Connaught Place, the Lodhi area and Mehrauli. Also included is a Street Food Safari to Old Delhi for foodies in search of a culinary experience. They've even organized a treasure hunt on cycles.
DBC also offers multi-day cycling holidays. These include Krishna's Trails, a two-day cycle tour from Delhi to Agra. En route, cyclists get to explore Brajbhoomi and fascinating villages and towns steeped in Krishna lore, like Nandgaon, Barsana, Govardhan, Gokul, Badgaon and Vrindavan. There are tours to the Golden Triangle — the Delhi-Agra-Jaipur route — as well as to villages near Jim Corbett National Park and a West Coast Ride from Mysore to Goa.
DBC, which is financed by KLM, has acquired over 40,000 clients and much goodwill over the years. But they face challenges. "The main problem is that India is neither cycle-friendly nor tourism-friendly," says Shekhar. Moreover, there is the inevitable class stereotype about cyclists. The majority of DBC's clients are foreigners, happy to explore the city.
The DBC team plans to convince more Indians to sign up for cycle tours by trimming costs and pricing the tours between Rs 500 and Rs 700. They also hope to introduce more cycling holidays and cycle tours around South Gurugram with its beautiful Aravali hills and in Mehrauli.