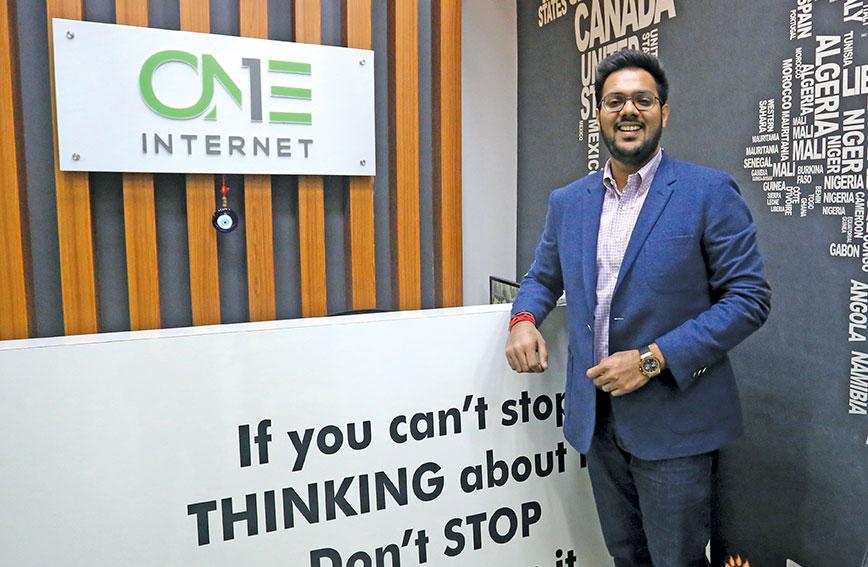 Himanshu Bindal at OneCo.Work's trendy office in the heart of New Delhi
Shared workplace comes with many advantages
Kavita Charanji, New Delhi
Published: Mar. 14, 2017
Updated: Mar. 23, 2017
Connaught Place is abuzz as usual — cars whiz by, pedestrians gingerly negotiate the chaotic traffic, and shoppers and diners throng shops and restaurants. In G block, in an office somewhat removed from this frenetic pace of living, a bunch of young people is hard at work. At first glance, the office of OneCo.Work is an open workplace like any other — row upon row of bright seats and desks, employees tapping away on their laptops, hushed conversations with an occasional meeting or training session thrown in, relieved by a stop at the little cafe.
Look closer and you find that the 70-odd people working in the main area are brought together only by their use of the common work space offered by OneCo. Work. So there are graphic designers rubbing shoulders with hard-nosed corporate types, start-ups juxtaposed with freelancers — anyone, in fact, looking for a flexible and affordable work space.
It's a co-working or shared workspace, a concept well-developed in the West and now rapidly gaining ground in India. Competition may be fierce but a fast emerging name in the business is OneCo.Work, founded by 24-year-old entrepreneur Himanshu Bindal. The company launched in October 2015 as One Internet but has since rebranded itself as OneCo.Work.
"We started out with the idea of creating an incubation accelerator to fund start-ups," says Bindal. However, eyeing the vast potential of the co-working space idea, the company has since shifted focus. The success of the co-working model has prompted Bindal to expand operations from Connaught Place to Pitampura in West Delhi and Gurgaon while the Bengaluru and Mumbai markets are next in line.
"I started OneCo.Work because it is my passion," says Bindal. Moreover, he says, entrepreneurs and start-ups have quickly discovered that such a co-working office space enables them to do away with the day-to-day hassles of running independent offices — paying electricity and water bills, housekeeping, maintenance charges and so on. OneCo.Work gives them a much-needed breather — mentorship and networking, IT support, conference rooms, HR plus administration, legal services, membership privileges and a virtual office with a prestigious business address. This leaves them free to expand their networks and scale up their businesses in a conducive work environment.
OneCo.Work is great news for start-ups or anyone looking for office space in prime locations in Delhi and Gurgaon. Ritu Sharma, Human Resources and Accounts Manager with the London-headquartered telecom provider, Destiny Business Solutions Ltd (DBSL), has worked in OneCo.Work's office space for a year and intends to stay put for another year. "Not only is the location very good, commuting from Ghaziabad is easy and there is security and good infrastructure in place. So I have access to high-speed internet, a conference room, a locker, a desk and the cafe. For Rs 9,500 plus taxes a month I can use the space also for networking. For instance, I discovered a co-worker here who is now my client," she says. "It is also advantageous to have people from other companies so that I can explore new ideas."
Ayushi Goel is a team member of Bengaluru-based online fitness app Healthifyme. She's enthused about OneCo.Work because she works alongside like-minded people and has great networking opportunities.
There are other start-ups like Letslogin and Startup Connect, co-founded by bright sparks Vimal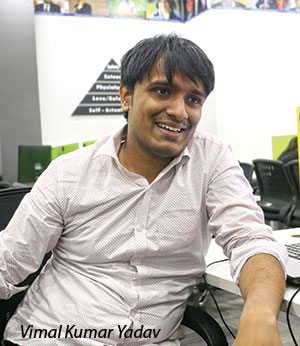 Kumar Yadav and Saurabh Kothari who are in the office to pitch in for OneCo.Work's Gurgaon launch. Letslogin is an online platform for event jobs, freelance projects, flexible start-up jobs and contractual corporate jobs. "We have an app coming up which will make it as easy as booking a Uber cab for candidates as well as companies," says Yadav. Meanwhile, Startup Connect is a great way for start-ups, venture capitalists, job-seekers, employers, companies and entrepreneurs to connect with each other.
Yadav and Kothari work closely with OneCo.Work and there is great synergy between the two. On the cards are online theme-based events by OneCo.Work and Startup Connect that will focus on the nitty-gritties of setting up start-ups. "Such events will fuel the business development of our own start-ups and give us ownership of our work," says Kothari.
Bindal, who estimates that an average co-worker shells out around Rs 13,300 a month for a dedicated seat, provides great mentorship to start-ups like these. He also ropes in well-known inspirational speakers to build the community such as the founders of famous start-ups like Yatra.com, PayU, Jugnoo.
"We have a lot of events on Fridays and Saturdays inside the office space — they could be networking events, gyan events. For instance, famous founders of companies like Yatra.com, PayU and Jugnoo have come in to talk about their own journeys. Or there could be speaker sessions on specific subjects like HR, time management or digital payments," says Bindal. Moreover, twice a year co-workers can pitch their ideas to in-house investors.
Bindal has what it takes to be a successful entrepreneur. An alumnus of Bradford University, SP Jain Institute of Management and the London School of Economics, he plunged headlong into the high-profile family business, Valley Iron & Steel Co. Ltd, at the age of 17. Juggling his studies and the family business, he decided to strike out on his own and start One Internet.
Now rebranded as OneCo.Work, the company has a young, 15-member core team. Among them is Smriti Sharma, community manager, whose role is to ensure an environment in which co-workers can work at optimum productivity. She also organises the events and helps build the community. "There is a lot of connectivity and collaboration here," she says.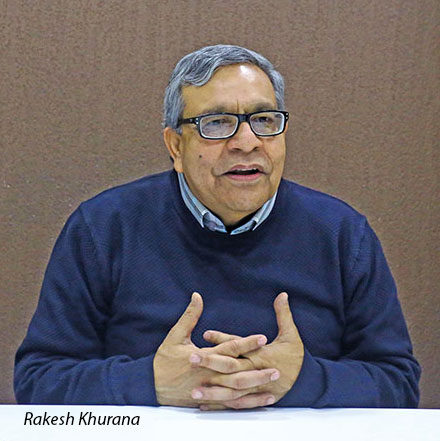 Meanwhile, CEO Rakesh Khurana prefers to keep a low profile. He is the guiding presence who says his task is to see that the "house is in order". Nevertheless, he plays a consultative role and is an important figure. "Selling is selling, whether services or products; you have to prove yourself better than the others," says the affable Khurana.
Now OneCo.Work will expand its operations in a big way. The company has taken on three additional floors in an adjoining building in Connaught Place equipped with co-working spaces, classrooms, meeting rooms, cabins, dedicated and hot desks.
Six or eight months down the line, OneCo.Work intends to create a separate venture with "someone from the fraternity", says Bindal, to take care of incubation of start-ups. "We will ask other investors to fund the start-ups but not directly provide investment to them. Our role will be to offer mentorship, guidance, support and networking," says Bindal, adding that "people will put their money on the right idea".
Bindal draws inspiration from the likes of American billionaire Adam Neumann, co-founder and CEO of WeWork, a company that rents out co-working space, often with perks, in 30 cities in 12 countries around the world. But even as Neumann has an eye on India, other major players such as global giant Regus and well-entrenched Indian companies Awfis and 91 Springboard offer fierce competition.
Bindal is unfazed. "We believe in collaboration rather than competition. I also feel that once we keep going, we will arrive at our destination," says Bindal, who nurtures an ambition to make his company the largest office space provider across the globe for entrepreneurs.
A tough call, but Bindal has his finger on the market pulse. "I believe by 2020, over 30 percent of large corporates and business houses will convert their offices into co-working spaces," he says.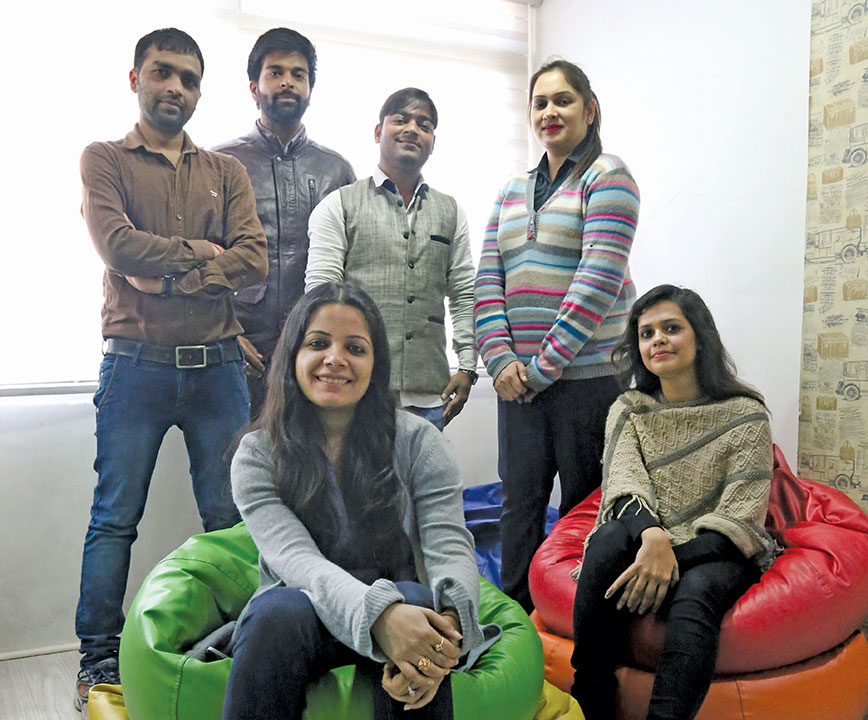 Smriti Sharma: 'There is a lot of connectivity and collaboration here'