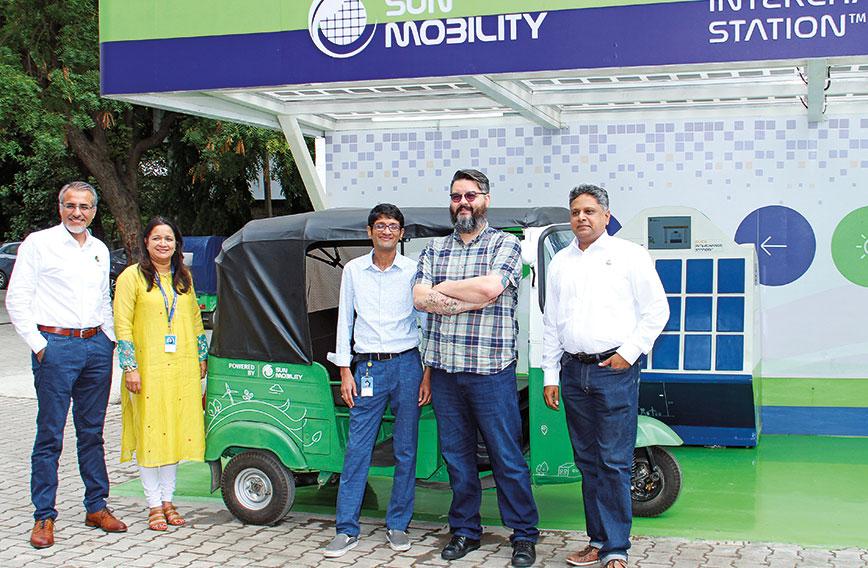 Chetan Maini, Latika Pai, Muni Pulipalyam,Chad Fowler and A. Sampathkumaran in front of the Sun Mobility Quick Interchange Station in Bengaluru
A smart network makes electric cars smarter
Civil Society News, New Delhi
Published: Aug. 27, 2018
Updated: Mar. 29, 2019
What will I do if the battery runs out and there isn't someplace nearby where I can get an easy recharge? Just about anywhere in the world, this is the concern someone planning to buy an electric vehicle has.
Cars that run on petrol and diesel are served by a vast infrastructure built over many decades to support the internal combustion engine. You can find a petrol pump, spares, and a mechanic just about anywhere.
But plan a switch to an electric vehicle and you get the sense that you are going to be stranded on the frontiers of a technology. The life and durability, size and weight of a battery have improved, as has the design of vehicles. Yet, it is early days and the charging stations and other service paraphernalia that build consumer confidence are lacking.
To fill this gap and prepare for a major shift in India to electric transport by 2030, Sun Mobility, founded by Uday Khemka and Chetan Maini, has begun working on providing the infrastructure that a large number of electric vehicles, public and private, will need.
Most recently it has partnered Microsoft for technology that will connect Sun Mobility's smart batteries and Quick Interchange Stations using a mobile phone application. What this will add up to is an intelligent system through which it will be possible to know when a battery is running out and where it can be conveniently swapped.
Combining the cloud, Internet of Things and Artificial Intelligence (AI), Sun Mobility expects to access a stream of data which will allow efficient investments in infrastructure and an optimum use of energy. It holds out the promise of ending the uncertainties and isolation of running an electric vehicle in a world dominated by combustion engines.
If Sun Mobility can get these complex ideas successfully into practice, it will be the originator of a transformational transportation architecture that will change mobility as we know it in India, making it cleaner and less chaotic. Additionally, the experience here would equip it to enter other markets elsewhere in the world.
Khemka belongs to the family that promotes the Sun Group with wide-ranging interests in businesses in India, Russia, and other emerging markets. Maini is the creator of the Reva, India's iconic electric car, which proved to be much ahead of its time and could not be marketed successfully for want of government support and adequate infrastructure. He finally sold out to Mahindra.
Announcing the tie-up with Microsoft in Bengaluru, Khemka said: "In an era when the future of mobility is electric, powered with renewable energy and driven by AI, we are excited to partner with Microsoft."
Chad Fowler of Microsoft said: "After working with Sun Mobility as part of the ScaleUp programme, we are excited about the immense potential that the organisation will be able to drive, using Microsoft's Azure-based solutions in the sustainable energy industry. Together we enable both efficient and safe transportation for
our planet."
Maini said: "Sun Mobility's Smart Network enables us to plan and optimise our energy infrastructure investments. We are using the latest technologies to improve the availability and performance of our batteries and interchange stations. Better utilisation of assets helps us to offer energy services to our users in a cost-effective and efficient manner."
Key challenges
Speaking to Civil Society earlier, Maini referred to four key challenges that came in the way of there being more electric vehicles on the road. The first was that the vehicle cost structure had to change. Electric vehicles cost more than their internal combustion engine counterparts, mainly because of the cost of the battery.
Secondly, the limited range of electric vehicles made people worry. Third was the six to eight hours taken to recharge a battery — refuelling a petrol or diesel car is easily done in minutes. Fourth was the lack of infrastructure.
"We formed Sun Mobility with the idea that unless you address these imbalances this transformation is not going to happen. If you want that kind of sustainable growth, separate the battery from the vehicle and the price of electric vehicles becomes similar to other vehicles," said Maini.
"If you can get the cost of energy to be lower than that of petrol or diesel and you can refuel in a couple of minutes, then you won't have anxiety over range anymore. You can do that by swapping the battery. Sun Mobility is going to own the battery. We will put up battery-swap stations. So people will pay only for what they use, when they use it. Separating the battery from the car gives them a cost advantage and range," he explained.
"You don't need a battery to last you the whole day. You can come after a few hours and swap the battery again. By doing this and reducing the battery size you also reduce vehicle costs. The hot temperature in India has an impact on the life of the battery. By charging it perfectly you extend the life of the battery," said Maini.
Sun Mobility's effort would be to make the process of getting a fresh charge no more difficult than refuelling at a petrol station. An e-rickshaw driver, for instance, would stop at a station, take out his battery and put in a fully charged one and drive away. An electric bus, on the other hand, would have larger and heavier batteries and the swapping would have to be done by a robotic arm. Getting in and out should take no more than a few minutes.
"To start off we will be focusing on three-wheelers and buses. We think the larger impact in society is going to be in transportation modes that drive a lot and pollute a lot. It also makes business sense," said Maini. "Over time we will go to cars, two-wheelers and other forms of transportation. So the core proposition is to address the four challenges and give the customer something that is faster, cheaper and more convenient than what he or she is using today."
The collaboration with Microsoft will give Sun Mobility and its customers the information they need on battery performance in real time. It will also give electric vehicle users the comfort of being on a supportive network and having quick access to battery-swap stations.
Sun Mobility also has a collaboration with Ashok Leyland under which it will provide the energy solutions for its electric buses, which are expected to be purchased in thousands by cities like Delhi which are burdened by pollution. The kind of infrastructure that Sun Mobility can provide is needed for buses to have a healthy turnaround time and be cost-effective.
The market for electric vehicles has emerged from the converging of concerns over energy, climate change, pollution, and mobility. People in Indian cities are tired of long commutes and worried about their health being compromised by emissions. There is a new willingness to share vehicles and take rides together. The government's target of 300 KW of renewable energy has come as a boost.
With all this happening at the same time, the moment for the clean car or bus or rickshaw has arrived and presents a serious business opportunity. With the government deciding to place large orders for electric cars for its own use and cities buying buses, demand has been stimulated. It will encourage investments in the manufacture of vehicles and manufacturers of components too will come up.
Maini believes that the opportunity for India and Indian companies goes much beyond the creation of a robust domestic market. By learning from many complex local challenges, he thinks India can become a significant exporter of electric vehicles and components and related services. This could happen in much the same way as it did with IT and small cars.
"There's no reason why that can't happen. In 10 years some Tata electric company could globally have valuations as big as the largest companies in the world. It doesn't need hundreds of years. Companies have created this kind of wealth in 10 years," says Maini.
Almost two decades ago, Maini's own Reva car was a frontrunner that found appreciation in London and other cities of Europe even as governments in India did little for it. With Sun Mobility it seems the moment is right. Its battery-swap stations and other solutions, it seems, are just what cities in India and the rest of the world are waiting for.