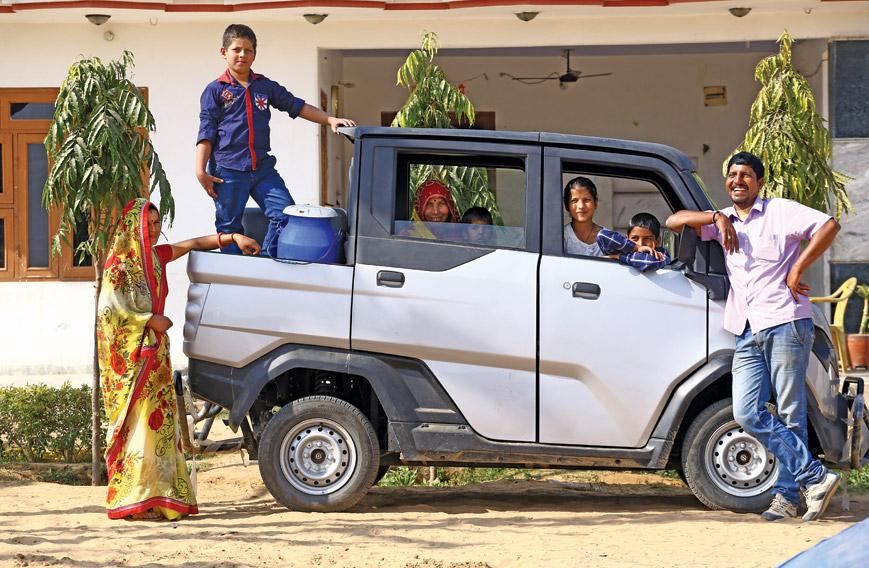 Multix as rural car gets big thumbs up from users
Civil Society News, New Delhi
Published: Feb. 08, 2016
Updated: May. 02, 2016
Ganesh Narayan Chaudhry is a farmer in Mahapura village of Jaipur district in Rajasthan. His is an even-paced rural existence where few things change. He grows his fruits and vegetables and makes his usual trips to the mandi where he sells to traders. A lot of time goes in tending to his fields. With 10 acres he is reasonably well-off but not rich. In his 40 years he has learnt the virtues of living within his means and not splurging on new possessions.
But when a dealer for the Multix, a personal utility vehicle, turned up last year, Ganesh Narayan was hooked. He kept the vehicle for seven or eight days to do trial runs, but he knew right away that this was what he needed.
The Multix instantly meant many things to him. It could be used as a small car in which he and his wife and two children could travel. On mandi days, it was perfect for transporting fruits and vegetables. He could take it into his fields because it was rugged and could cope with varying terrain. And, if the need arose, he could also use the Multix as a generator to power his home or run a pump set. At around Rs 2.32 lakh, its price was just right.
The ease with which Ganesh Narayan made his decision has much to do with the humungous amount of homework that has gone into designing and pricing the Multix. Unknown to him, his needs and preferences had been closely mapped for more than a year by Polaris as it conceived a vehicle for launching in rural India.
Polaris is a global company with more than one avatar. It is better known in India for IT consulting and software. But it is also a manufacturer of high-end all-terrain vehicles and its Ranger is popular for recreational purposes. Polaris brought its vehicle business to India in 2011 with completely knocked down kits. Simultaneously, it began researching the demand for a cheaper rural vehicle, which would give the company a sizable presence in India.
The Multix was conceptualised and designed after engaging with customers in rural areas across the country. Once Polaris was sure of its product, it looked for an Indian partner and collaboration with Eicher followed in a 50-50 venture, Eicher Polaris Pvt Ltd.
The Multix, which is made at Eicher's plant in Jaipur in Rajasthan, was launched in August. The target is to sell 3,000 vehicles in 2016.
Ganesh Narayan, who was the first customer, says: "The dealer came to our village. He took us to the plant where it was manufactured. We tried out the vehicle for eight to 10 days. I liked it. I use it for transporting my fruits and vegetables to the mandi and to carry manure to my fields. I also go on trips with my family."
Sohan Lal Sharma, who owns a dairy in Bhambhori village, has also bought a Multix. "I was looking for a small van to move around in and to carry my milk cans and fodder for my cows. A friend suggested the Multix. The van and the Multix cost the same but the Multix is any day better. I can convert it myself from a pick-up van into a family car."
What makes him even happier is that the Multix costs very little to run. It comes in two models: Multix AM and Multix MX and its price starts from Rs 2.32 lakh and goes up to Rs 2.72 lakh.
Shiv Shankar Chaudhury, a farmer in Chouru village of Phage tehsil, says he learned about the vehicle through the Internet. What attracted him was its solid suspension that could handle bumpy rural roads. "That is correct. I use it to go to my fields, transport my crops and visit my relatives with my family. The Multix is giving me mileage of 28-30 km a litre," he says.
In India, Polaris gave itself the goal of combining the aspirations of rural consumers with the technological strengths of the company.
"We did workshops in Ludhiana, Jhansi, Gorakhpur and remote places in Tamil Nadu and Andhra Pradesh. We tried to understand the kind of vehicle farmers who were using tractors, transporters, small business persons and bikers would like to have," says Pankaj Dubey, managing director of Polaris India Pvt Ltd. The research, he says, was done independently and Polaris watched from behind the scenes.
"The ideas which came in sounded impossible to fulfil for a company entering the Indian market. People were asking for fuel efficiency equal to a motorcycle, a vehicle which could travel on-road and go off-road, and add-ons like a generator," says Dubey.
The rural consumer seemed to be asking for the moon. "Basically, they were asking us for a non-existent product. We thought, why not use Polaris' off-road strength to create an on-road vehicle?" says Dubey.
Cost was a factor. Their potential customers were honest people who would repay their loans but they did not have documentation or deep pockets.
When Polaris found Eicher, the latter was working on a similar product. While Polaris brought its solid technology to the table, Eicher's strength was its manufacturing expertise, supply chain, dealer network and good reputation. Its service in rural areas is considered one of the best. The two got into a 50:50 joint venture.
They decided to design a rugged vehicle with strong tyres and shock absorbers that could navigate rough rural roads. "People almost always overload their vehicles. Our vehicle ensures that farm ,produce like bananas doesn't get ruined on bad roads with potholes," says Dubey.
Siddhartha Lal, managing director of Eicher, says that the two companies identified the 'Independent Indian Businessman' as an untapped segment of about 58 million customers with "specific needs and issues that were not being met through existing vehicles in the market".
"When we started work on the Multix, we were certain that we didn't want to follow any archetype of an existing vehicle. Two-wheelers, cars, trucks, they are all western concepts, which have now been made adaptable for India. What we wanted to do, and have done, is that we've started ground-up. We have looked at the customer first," says Lal, under whose leadership Eicher has experienced great success as a manufacturer of light commercial vehicles and the iconic Bullet motorcycle.
"The Multix is India's first Personal Utility Vehicle (PUV). We aim to popularise the Multix, grow this customer segment and get scale to create a conducive and progressive ecosystem for independent businessmen to unlock their potential."
The Multix has a 510 cc diesel engine, mileage of 29 km to a litre of diesel and meets Euro 3 emission norms. It is a four-wheel drive vehicle. The AX version can seat five people and there is storage capacity at the back. The MX version has a rear area for goods and a cabin for seating people. The vehicle is low on maintenance costs.
"We worked it out like this: the customer buys a motorcycle for Rs 50,000, then he buys a generator for another Rs 50,000. He also has to either buy or hire a commercial vehicle to transport his goods. That still doesn't take care of his family's transport needs. So we reached a sweet spot with this price," says Dubey.
The Multix is manufactured at the company's state-of-the-art factory located in Jaipur. Vehicles have started rolling out. They have 30 dealers in UP, Rajasthan, Bihar, Tamil Nadu and Madhya Pradesh.
"Our objective is to reach rural areas first," says Dubey. "Then, peri-urban areas. Areas which have a power shortage and poor infrastructure are the ones most likely to buy the Multix."
B.C. Nitharwat, a Multix dealer in Jaipur, is a busy man on the verge of selling his 100th Multix. "We are getting a very good response from customers," he says. "People are buying it for various reasons."
Two carpenters bought it for power generation, says Nitharwat. "One is running four machines through the Multix. He had approached a bank for a loan but within 15 days he paid me half the money, saying he had recovered its cost, and he will pay the rest soon," says Nitharwat.
A sweetshop-owner bought it for his catering business. A manufacturer of solar panels bought it to transport his panels safely. Until he bought the Multix, a few of his solar panels would invariably get damaged during transportation.
The company is relying on word of mouth for marketing the Multix and it seems to be working. "The idea is to give potential customers firsthand experience of the vehicle. Otherwise, people disbelieve our claims. People ride it, use it and spread the word. So our advertising costs are minimal," says Dubey.
Nitharwat seconds Dubey's opinion. "The best part of being a Multix dealer is the support we get from the company. We organise a three-day camp in the villages to give a demo of the Multix. On the third day, people from the factory join us. Our customers are our brand ambassadors. They recommend it to their friends and relatives and are even ready to clear any doubts. They feel kind of proud when somebody buys the vehicle because of their recommendation," says Nitharwat.
For city roads, Nitharwat recommends a few alterations: more comfortable seats, and a very silent engine. But Dubey is clear: the Multix has been designed for rural India and that is his absolute focus for now.