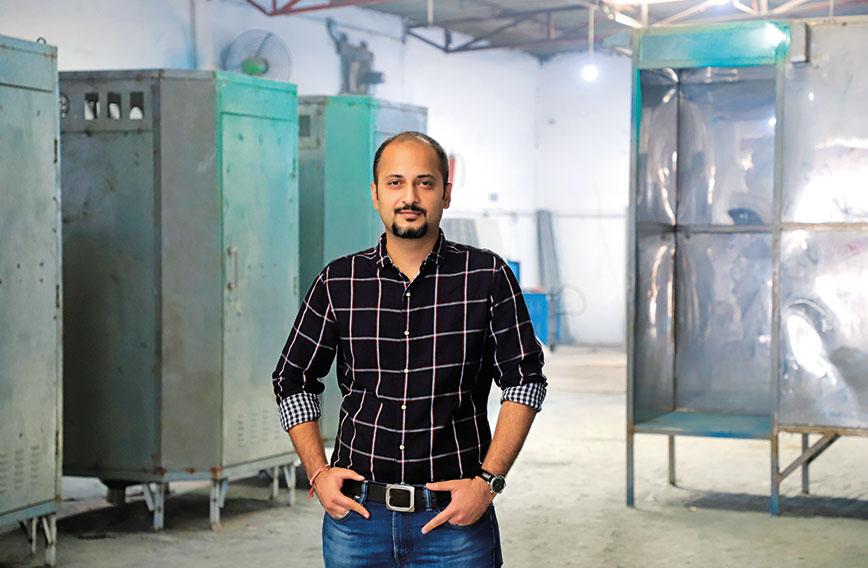 Mayank Midha at his factory
Toilet has sensors to stay clean
Rwit Ghosh, Faridabad
Published: Nov. 29, 2019
Updated: Dec. 24, 2019
Most public toilets stink but not GARV toilets. Small and portable, these loos are equipped with biosensors which sniff out odour and alert the maintenance staff. Micro controllers figure out if the user has flushed. If not, it activates the flush.
GARV was started in 2014 by Mayank Midha and his wife, Megha. At that time, Midha used to work in a company which made transceiver station enclosures for telecom companies on contract. Some of these enclosures were left over once the contract was over. "They looked very similar to portable toilets. I thought, why can't we have public toilets that are portable and can be placed anywhere?" reminisces Midha.
The Swachh Bharat mission was, fortuitously, launched at that time. According to the 2013 Census, 17.4 percent of India's population lives in urban slums and there is a huge unmet demand for clean toilets. The decision to go ahead and start a sanitation company, he says, was a no-brainer.
The couple put in their own money, bootstrapping with a small fund of Rs 10 lakh. But breaking into the sanitation industry with a new product wasn't easy. There weren't many people interested in a toilet that looked and acted different. "People like toilets the way they are," explains Midha.
So far, GARV has made and deployed 794 toilets. Their main clients are NGOs and CSR (Corporate Social Responsibility) projects. Government agencies are now keen on GARV toilets and the company recently signed an MoU with the Delhi Metro Rail Corporation (DMRC).
Government schools, too, are clients. A neat row of GARV toilets stand in the premises of a South Delhi municipal corporation school in Tughlakabad extension. "These are a lifesaver. The extra toilets reduce the stress on the two toilets inside the school," said a teacher.
GARV toilets have many pluses. The toilets run on solar power and come installed with bio-digesters. Recently, they have begun installing a decentralised sewage system that converts sewage into charcoal.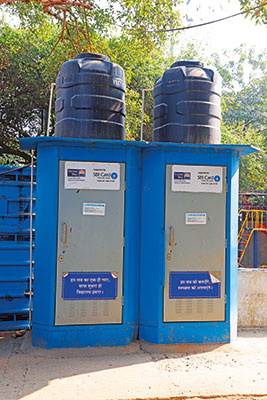 GARV toilets lined up at a government school in Delhi
Unlike toilets which are made of cement and ceramic, GARV toilets are made of stainless steel. The benefits are two-fold. They can be easily produced in a factory. Second, they need less water to clean and don't require chemical cleaning agents.
GARV can track real-time data through biosensors installed inside toilets. The sensors can figure out if the toilet is damaged or malfunctioning, if a door needs repair or if water is running out.
The sensors can also monitor usage and therefore, identify behaviour patterns, like the number of people who flush or wash their hands after using the toilet. The data that GARV receives can be passed on to NGOs the company works with to educate communities on proper hygiene and toilet behaviour. In future the company hopes to track the presence of vector-borne diseases through biosensors.
Operational and maintenance costs, as compared to conventional public toilets, are also lower, he says. "On average, an NGO like Samagra (which works on sanitation) would spend between Rs 3,000 and Rs 4,000 per toilet, per month." Toilets clog frequently and require lengthy and messy repairs which not only exacerbate costs but make the toilet inoperable for the duration of repairs.
Stainless steel, on the other hand, points out Midha, is highly durable. The sanitary pan and the flushing system are integrated into one structure. The toilets have an auto-cleaning system that uses micro controllers. After 10 to 15 people have used the toilet, it cleans itself. A piping system is laid on three sides of the bathroom and the micro controllers are able to detect if the toilets haven't been flushed, thereby activating the flush. There are also biosensors that detect malodour in the toilets.
Since the toilets are modular they can be installed easily. The only requirement is light excavation work. The toilets are small and compact, and require just 12.25 feet of space in width and a height of seven feet. Many of the toilets that GARV has installed are in densely populated areas where space is the main constraint.
"If, for example, in a slum there is space for only one toilet, we can install it," says Midha. "We fit toilets wherever there is a requirement."
The sewage systems of GARV toilets are self-sustaining which is important as demand for their toilets comes from places that are not connected to sewage systems. GARV toilet complexes are equipped with a bio-digester which breaks down all the waste, using bacteria, and discharges treated water which can be used for horticulture or in the toilet itself.
The company initially made their toilets entirely with stainless steel but soon realised that the material was expensive. "A lot of CSR and NGO projects that we were pitching to asked us to bring our costs down," says Midha. So they developed a less expensive toilet by making the exterior of galvanised steel while the interior continues to be of stainless steel.
The most basic model starts at Rs 1.7 lakh and comes with a solar panel and bio-digester and can go up to Rs 4.25 lakh for toilets that include auto-cleaning and track toilet usage data.
The toilets sold over the past four years have come with a maintenance contract from the technology. The technology needs to be looked at once in a year. The daily maintenenace was done by the customers. The annual maintenance cost works out to nine to 10 percent of the total cost of the toilet facility.
GARV now has tweaked this model and decided to take land on lease for the toilets from the appropriate authority. It will maintain the entire facilitiy including the technology and earn by charging for usage. The user fee will cover the cost of maintaining and operating the toilets. For a month's usage a family of four would spend about Rs 250 to 300.