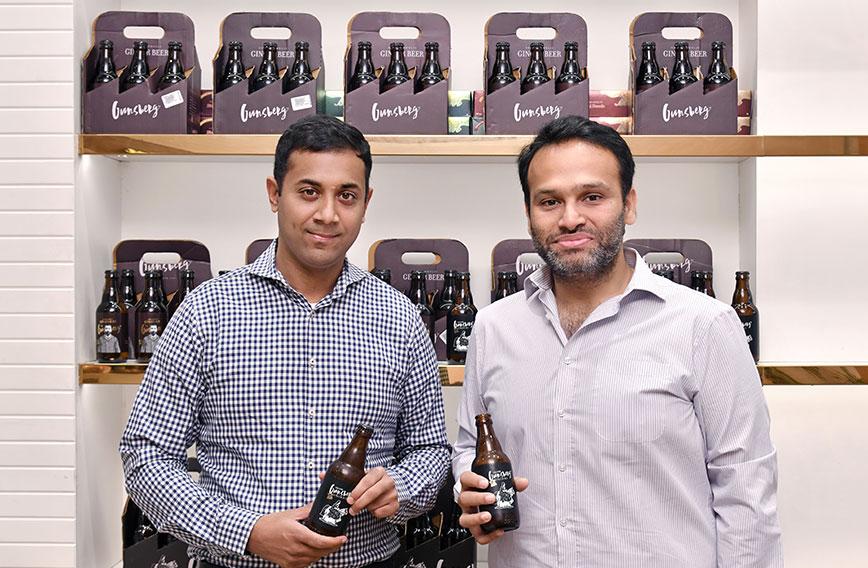 Sarthak Aggarwal and Abhishek Bajaj, founders of Gunsberg
Gunsberg gingerale is the new flavour
Raj Machhan, Chandigarh
Published: Apr. 23, 2020
Updated: May. 28, 2020
In a market dominated by international beverage majors, here is a homegrown brand of natural ginger ale and ginger beer that puts forth a serious claim of 'superior quality'.
Gunsberg, a brand of non-alcoholic beverages manufactured in Chandigarh, uses natural ingredients in its formulation. It can be consumed as a mixer and as a standalone soft drink — just sip it as a natural beverage, without the side effects of any preservatives.
The drink is a combination of ginger juice and cane sugar with a sprinkling of fresh apple and lemon juice in carbonated water. The end result is a drink that is a blend of traditional Indian flavours with a twist.
The beverage is the brainchild of two Chandigarh-based entrepreneurs, Sarthak Aggarwal and Abhishek Bajaj, both 38 years old and born and brought up in Chandigarh.
"My mother used to make ginger ale," says Aggarwal. "She had her own recipe. It was pure and tasted great. I looked around and found that there was no such drink available in the market. Most of the beverages used artificial ingredients."
In Bajaj he found a partner willing to give concrete shape to the idea. The two had a lot in common. Both came from premier schools — Bajaj studied at Lawrence School, Sanawar and Aggarwal went to St John's, Chandigarh. Later both joined AIESEC, an organization that develops youth leadership, where they forged a friendship.
They invested `30 lakh each as seed capital and began working on the formulation of the drink with the help of a chemist and a food scientist. After 150 tasting sessions, they finalized their product. "We wanted to create something unique. Every aspect of the beverage, the name, packaging and taste had to be new," says Aggarwal. 'Fiery and fresh' is how Bajaj describes the taste.
In September 2018, they launched the Gunsberg brand after finalizing the end product with the help of a food consultant. "Both of us did not have any background in beverages. I was running an IT company and Abhishek manages a chain of restaurants in Chandigarh. So we started very small, and took it up very slowly."
The two started production from a plant in Mohali. "We began operations in start-up mode and formed a core team," says Aggarwal. The venture at present employs 25 people with plans to aggressively expand the team.
They picked up the tricks of the trade as they went along. "When we started we thought the product would have just a very niche market. We visualized people combining it with other drinks or as an alternative to the popular Schweppes ginger ale," said Aggarwal. But they were in for a surprise.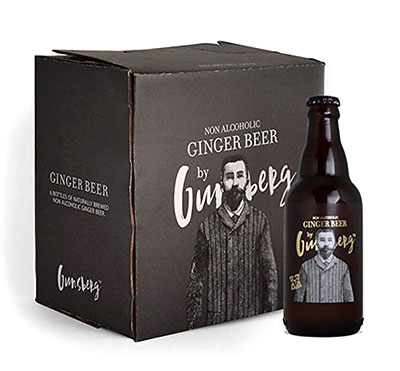 "As we went along, we realized the market was actually much bigger and that people were looking for healthier, low-sugar, premium beverages as alternatives to cold drinks," said Bajaj.
Gunsberg uses natural ingredients and the cane base and is made without preservatives. It is pasteurized for longevity and has inverted sugar to make it sweeter. Natural ginger ale can be used as a health drink as ginger is known to fight infection, is anti-inflammatory, lowers cholesterol levels, improves digestion and increases immunity.
Aggarwal says that the market for the drink is demographically agnostic. "The growing middle class in India and increasing health consciousness among millennials combined with increasing preference for Indian brands makes it a huge market."
So far, the market for ginger ale lies majorly in urban areas, comprising health-conscious, upwardly mobile consumers with a high level of awareness. "Earlier, such drinks were considered exotic but now awareness levels have increased. People travel more. We get more traction in the bigger cities but even in smaller tier 2 cities, people take to the drink after they taste it for the first time. People want quality products," said Aggarwal.
An average ginger ale consumer is between 25 and 65 years of age. "But it is safe for children too. It's a healthy drink and can be had by anybody," adds Bajaj.
Indian tastes differ from those of people in more developed countries. "Our palate is sweeter. Our drinks are sweeter than what is made in global markets. But since Indians too are becoming more health-conscious, tastes are changing as well," said Aggarwal. Gunsberg has an Indian flavour, but with a twist as it strives to strike a balance between the two.
Gunsberg has strong farmer linkages as the company sources ginger from Sirmaur district in Himachal Pradesh. "The quality of ginger in the hills is very, very good. We are one of the few ginger ale companies that use genuine ginger in our drinks, so it's important for us to get high-quality raw material," says Bajaj.
At present, the company juices around 300 kg of ginger per day. It sources the ginger directly from farmers, thus doing away with middlemen. Sirmaur district in Himachal is a major ginger producing area of India. "Procurement will only grow in the coming years and we are looking at forging strong partnerships with the farmers," said Aggarwal.
What is special about ginger from Sirmaur? "It is of good quality, absolutely farm-fresh, organically grown, has larger chunks, and it has that fiery taste that suits our drinks," said Bajaj.
Gunsberg is now available in 400 outlets across the north, with a major presence in Chandigarh, Punjab and Haryana. "Now we are present in Delhi too. We have around 50 outlets in Delhi, 50 in Gurgaon and a few in Noida," said Bajaj.
The company is on a fast-growth track and plans to increase its presence to 2,000 outlets across the country by the end of the year. "Gujarat is a logistically important state for us. We plan to have a major presence in the south because of the year-round demand in those states," said Aggarwal.
Gunsberg relies on organizing sampling events at new outlets in various places to market the drink. "We go to different cities, do a lot of sampling, demonstrate the various ways in which it can be consumed such as mocktails and cocktail pairings," said Aggarwal. The company does not deploy mass media advertising. "Sampling works best for us. It is cost-efficient and most effective. We are confident about the quality of our product and we know people will take to it once they taste it." The creators have taken care to choose attractive glass bottle packaging, which adds to the appeal.
The name Gunsberg is European in essence. It comes from Gunsberg, a Swiss town located on the Swiss-German border. "It is a small but very beautiful place and I thought it captured the characteristics of the beverage we had in mind," explained Aggarwal.
The company manufactures the drinks at its plant, Libation Crafts Private Limited, in Mohali. But why did they choose Punjab to set up their unit? "Mohali is an extension of Chandigarh and this area has now come of age as a business eco-system. In terms of logistics, its proximity to Himachal is an advantage for sourcing quality ginger. Good quality water is our other major requirement and we get plenty of that here," said Aggarwal. Do they get any incentives from the government? "The role of the government is only at policy level. We have to do the rest on our own," said Aggarwal.
The company plans to introduce three more flavours in the next 12 months. "We want to position ourselves as a high-quality non-alcoholic beverage, which is a healthy alternative for all," said Aggarwal.
They don't plan to tap the export market as of now. "We have queries from abroad, but currently we would like to tap the Indian market. The time and era we are living in are just right to venture into new areas and experiment," said Aggarwal.
The Chandigarh-based entrepreneurs find motivation in contributing towards putting the city on the business map. The city does not have very many big brands based here. "The business environment in Chandigarh has now matured to a level which is encouraging for entrepreneurs. We are doing this, and there are other people doing different things. We want Gunsberg to be known as a Chandigarh brand," Aggarwal said.
Five years from now, the two visualize Gunsberg as one of the leading premium beverages companies in India, associated with high-quality raw material. The company has adopted innovation as a credo and plans to come up with products with high market potential.