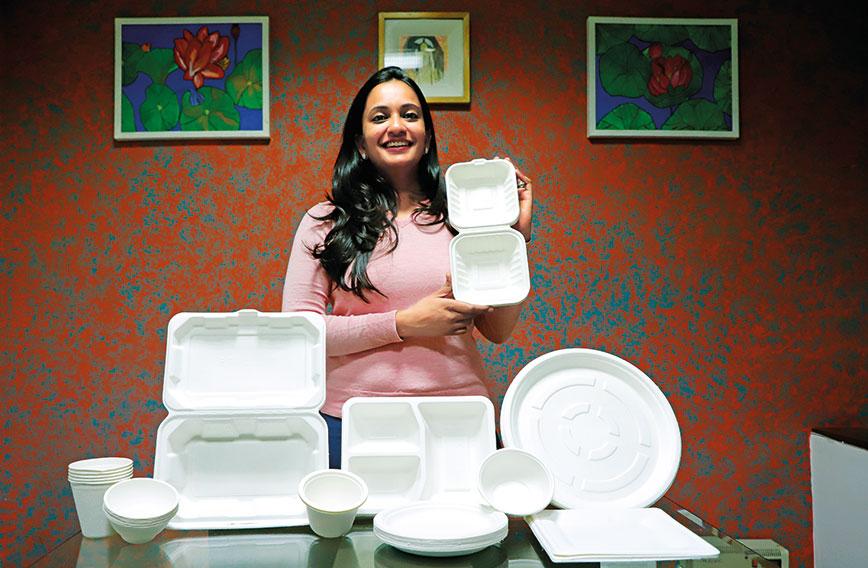 Guilt free eating: Rhea Mazumdar Singhal with her company's eco-friendly tableware
Folks, plates, trays and more from paddy straw
Rwit Ghosh, New Delhi
Published: Dec. 24, 2019
Updated: May. 28, 2020
Every year Delhi's skies turn extra murky when farmers in Punjab burn paddy stubble to clear their fields. Ecoware is attempting to mitigate some of this air pollution by picking up Punjab's paddy straw and converting it into eco-friendly tableware. A pilot project has been launched with farm aggregators in Punjab.
"Paddy straw has high silica content so it can't be used as fodder for animals. It really has very little value," says Rhea Mazumdar Singhal, founder and CEO of Ecoware, manufacturers of eco-friendly tableware and compostable packaging. Using paddy straw converts it into something useful and lessens stubble burning to some extent.
Ecoware manufactures spoons, forks, plates, trays, containers and more for the food industry. They also make compostable packaging. Their products are natural, biodegradable, eco-friendly and inexpensive.
Singhal founded the company in 2009. At that time there was no ban on single-use plastic and little awareness in the food industry about the harmful effects of plastic packaging and tableware. Today, the situation has reversed. There is huge demand among quick service restaurants, kitchens and e-commerce sites for eco-friendly tableware and biodegradable packaging. In fact, demand is so big it's difficult to estimate the size of this massive market.
The inspiration for Ecoware came from Singhal's father-in-law, Sunil Singhal, a chemical engineer who worked for over 35 years in the sugar industry.
"The idea was to create a like-for-like product which had all the good uses of plastic — lightweight, easy to handle and sturdy. The difference was to make it easily biodegradable and compostable," says Singhal. The company decided to use agricultural waste because it moulded easily into various shapes.
At that time the Commonwealth Games were being organised in Delhi and the government wanted the event to be green. Ecoware swung its first deal with the Indian Railway Catering and Tourism Corporation (IRCTC) to supply eco-friendly tableware for the meals being served. Their first foray into the market enabled them to test their products and capture feedback.
"Our tableware got a significant amount of attention and acceptance. That gave us the confidence to go ahead and launch ourselves commercially," says Singhal.
Ecoware now manufactures 125 million pieces of tableware a year at its manufacturing factory in Greater Noida. The initial investment was `4 crore in 2009. They are expecting to close this fiscal year with `14 crore in revenue.
"Our products are only 10-15 percent more expensive than plastic," says Singhal. "They aren't meant to be premium products especially since we make them out of a raw material that is common," he adds. For example, a packet of 20 bowls that can hold 180 ml each works out to just `36. Also, very little waste is generated. Twenty grams of bagasse is needed to make a 20-inch plate which weighs 20 gm.
Ecoware has succeeded in making products akin to plastic. Their tableware is light, water-proof and oil-proof. You can even place their spoons, forks, plates and containers in the microwave and turn up the heat to 140 degrees C. The products are marketed as single-use though you can reuse the tableware.
All the cutlery and containers can be composted in your backyard. "It should take around 90 days," she says. "That's important in India where we don't segregate our waste at source."
A section on their website lists all the tests their products have gone through to ensure transparency and reassure their customers.
Bagasse and straw aren't sourced directly from farmers or farmer cooperatives but through intermediaries like sugar mills and paper pulping units. The advantage is the bagasse is cleaned and sand, silica and harmful chemicals removed. Ecoware finally receives a fibrous pulp which they use to manufacture their products.
Since Ecoware was an early bird in eco-friendly tableware and packaging, it had to invest in building an ecosystem from scratch.
"We had to go to wholesale markets like Sadar Bazaar and convince sellers who had been there for generations selling plastics, to sell our products," says Singhal. Initially, they had to provide high profit margins to sellers to push their products.
The company switched to direct selling by opening its own online shop. It now has four main revenue channels — 30 distributors across the country, Haldiram's, a relationship that they developed when they first started, retail and exports.
In fact, exports are picking up as more and more countries are beginning to push legislation banning the use of single-use plastic, says Singhal.
It was Indian Railways that gave them their first break in 2010. "We lost touch with them in the middle but we approached them three years ago," she says.
The railways serves up 11 million meals a day and was keen to convert to biodegradable packaging.
Ecoware designed a tray for the railways that can hold rice, dal and sabzi on one plate, and is also microwaveable. For train passengers food is cooked by the IRCTC in a central kitchen early morning before being moved to the stations and finally to the trains. By the time the food gets to passengers, it needs to be heated.
Ecoware was selected via a tender and for the past year their trays are being used in trains starting their journey from Delhi. These include the Rajdhani, Shatabdi and Duronto Express trains. "This is a small programme right now. Once it's proven to be successful it will be expanded to other zones," says Singhal.
Ecoware wants to help the railways gradually eliminate aluminium casseroles and replace them with biodegradable ones. "Preferably ours," laughs Singhal, who has been a recipient of the Nari Shakti Puraskar, the highest civilian honour for women, from the President of India.