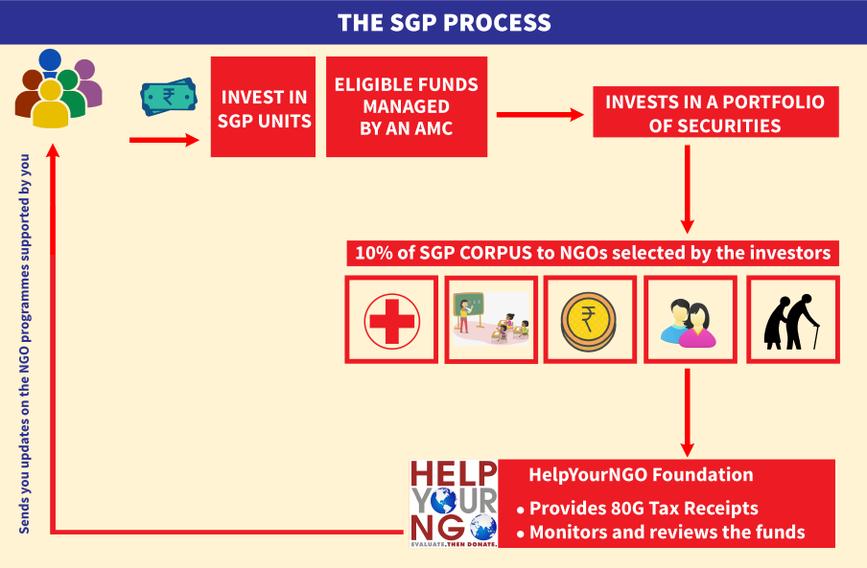 An infographic explaining how the Systematic Giving Plan (SGP) functions
Mutual fund for NGOs? It may just be possible
Civil Society News, New Delhi
Published: Feb. 01, 2019
Updated: Mar. 18, 2019
Non-profits mostly have to strive hard to raise funds for their causes. It distracts them from the good work they are doing. But what if those with a proven track record could be assured of funds from individuals investing in mutual funds and, at the same time, eager to do their bit by society? Given the sums that mutual funds attract, the potential is huge for putting money into non-profits and through them promoting better development and inclusion.
The Quantum Mutual Fund has started what it calls a Systematic Giving Plan (SGP) for its investors. It collaborates with HelpYourNGO Foundation to provide the names of non-profits in different sectors into which investors can opt to put their money.
Both Quantum and HelpYourNGO have in common Ajit Dayal, 58, who moves money around but has a social heart. Dayal is lean, doesn't drink and is passionate about transforming India. Many years ago, when Civil Society first met him, he talked about cheerfully flying economy and donating the difference in fare with business class, which his clients were ready to pay for.
Dayal is a man of new ideas and he has kept coming back to Civil Society with them. Quantum's SGP is the latest and has the potential of being a game changer. Dayal is all excited about it.
Meanwhile, it is Winnie Dholakia, 29, at HelpYourNGO who has been doing a lot of heavy lifting while identifying and verifying non-profits with the team there. Civil Society spoke to her for the details.
How does the Systematic Giving Plan (SGP) work?
The SGP created by HelpYourNGO enables investors to contribute 10 percent of their investment with a mutual fund towards a charitable cause and give it to NGOs vetted by HelpYourNGO.
This is the first initiative of its kind in the world. The idea was born out of our founders' passion for sensible, long-term investing and a desire to create a steady stream of inflows for NGOs so that they can focus on the work they do rather than on fundraising — which they might not be good at.
The money invested in SGP units is invested in the stock markets. The value of the corpus will rise or fall with the markets. Every year, the investor may choose to donate 10 percent of the SGP corpus value.
There is flexibility. Investors in SGP units can change the NGO they wish to support. Furthermore, if the investor needs the money due to some changed circumstance, he or she can redeem the SGP units and sweep the residual money back.
Though the money is earmarked for NGOs, it belongs to the investors till they finally decide to click the button and transfer it.
How much money have you raised through SGP and what do you think is the potential?
The Quantum Mutual Fund (QMF) is the first mutual fund house to adopt and offer the SGP option to its investors. It is termed the 'SMILE' facility. Funds invested and pledged under SMILE are currently over Rs 1 crore. It is important to note that one pay-out cycle was seamlessly completed in September 2018. The operational backend worked efficiently and 80G tax receipts were shared with the investors/donors in time. Now that we have the assurance that the full cycle works impeccably, we shall focus on increasing visibility for the SGP.
For QMF, we have chosen the annual pay-out date as September 30. This would allow the NGOs sufficient time to plan the utilisation of the SGP funds disbursed within each financial year.
QMF plans to achieve a SMILE corpus of Rs 10 crore in 12 months, Rs 100 crore over the next three years, and Rs 500 crore in five years! The power of small (or large!) pooled donations via the SMILE units has the potential to systematically give Rs 50 crore every year to NGOs.
We are hoping the mutual fund industry, which had assets under management of Rs 25.20 lakh crore as of August 31, 2018, adopts HelpYourNGO's Systematic Giving Plan, thereby helping to create a significant and predictable source of funds for NGOs.
For India to be a stable society where opportunities are created for millions to further their lives it is imperative that we support the many good NGOs who help the less fortunate of our country with opportunities to flourish.
You say you have identified 650-plus NGOs. That is a pretty large number.
We are hoping to build a database with thousands of NGOs over time. But there are 3.3 million registered non-profits in India and, assuming even a small number is currently operational, we have a long way to go.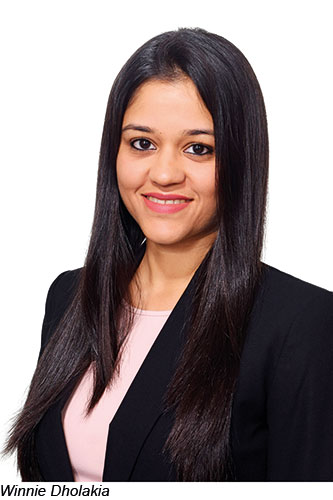 HelpYourNGO was set up in 2000 with the objective of promoting transparency in the social sector and helping donors make donation decisions in an enlightened, strategic and impactful manner. HelpYourNGO is the only organisation in India that standardises detailed financial and programme information of over 650 NGOs across 489 zip codes and 13 sectors.
How did you get to them?
When we started operations in early 2013, we approached NGOs for listing with us, based on desktop research and our own knowledge of non-profits. During this process, our endeavour was to list NGOs covering various sectors. While communicating with NGOs, we recognised that they incurred a visible cost in compiling financial and programme data. So, HelpYourNGO paid Rs 1,000 to each registered NGO to offset this cost.
This was discontinued eventually after we started getting an overwhelming response from the NGOs. They saw potential benefit in listing on our platform in terms of increased visibility and presentation of their work. Also, the NGOs appreciated that the registration process with HelpYourNGO was completely free with no annual renewal charges.
How do you keep track of them?
We register NGOs having a three-year track record. They are required to submit documents like 12A (mandatory), 80G, FCRA, registration certificate, trust deed/memorandum of association/article of association, PAN, etc., and also their audit and annual reports.
Once the registration is complete, the NGO is only required to submit audit and annual/activity reports. Our team updates the NGO's financial and programme information on our website based on these reports. While doing so, we double-check the information already displayed on the website like board members/trustees, auditor, address, donor contact, website, FCRA status, donor tax benefit, etc. During the course of the year, if there is any change in their organisation's profile showcased on our website, mostly the NGOs connect with us for an update.
Are they all small NGOs? Your mission is to give the small NGOs visibility.
Since we are trying to build a database of non-profits pan-India, we register all NGOs on our platform — small, mid-sized and large. Currently, only five percent of our NGOs have an income of over Rs 15 crore, 33 percent fall in the Rs 1 crore to 15 crore category and the balance 62 percent have an income of less than Rs 1 crore.
We display standardised information for every NGO (which facilitates easy comparison between NGOs across sectors and within the same sector) with 'Donate' buttons so donors can read information and donate directly to an NGO of their choice. The idea is to offer the small and mid-sized NGOs the same visibility and presence on the internet as the large ones.
Our interaction with NGOs since 2013 has made us realise the challenges the smaller, un-branded NGOs face in fundraising. Larger, established NGOs hire teams (and pay external marketing agents an exorbitant 30-35 percent to collect donations!) while the smaller NGOs struggle. They have poor web presence, no payment gateway, lack of knowledge about online fundraising and no resources to establish an online presence.
As per Bain India HNWI survey 2015, 68 percent of individuals donate based on relationships or media presence. We recognise that in the public eye, the larger/better-branded NGOs would gain more visibility and more donations, but we are here to neutralise that.
We aim at raising funds for any credible NGO but make an effort to recommend and identify small and mid-sized NGOs which run efficient programmes but don't know how to leverage a donor's charitable contribution. These NGOs meet our standards of transparency and credibility, but are less known than the popular NGOs.
We publish the HelpYourNGO Yearbook annually which showcases information of credible NGOs. Via the Yearbook we offer the same visibility and space to the relatively smaller or less-known NGOs running excellent programmes.
Via our offline Donor Advisory Services, we recommend NGOs whose programmes, financial reporting and organisational values make them stand out.
Could you name a few you have identified and how they have benefitted?
Select NGOs of our database of 650-plus are moved to the 'Recommended' category to highlight that they are credible. The identified NGOs for Quantum Mutual Fund's (QMF) Systematic Giving Plan (SGP) option for their investors termed the 'SMILE' facility are all from our 'Recommended' category. Some of them are CanSupport, Make-A-Wish Foundation, Vidya Poshak, Parinaam and the Sree Guruvayurappan Bhajan Samaj Trust.
University endowments and foundations in the US invest their corpus for long-term capital appreciation. For example, Harvard University's endowment has built a corpus of over $37 billion by raising money from their alumni and investing it sensibly. This saves the president's time from worrying about raising money and allows him to focus on enhancing the reputation of Harvard.
The potential benefit to the identified NGOs could be just like Harvard's.
You speak of high-impact non-profits. How do you define them?
A high-impact non-profit is one whose efforts have been proven to cause sustainable, positive change in the community.
For Bengaluru-based SMILE NGO Sree Guruvayurappan Bhajan Samaj Trust's (SGBS Trust) Unnati programme, the placement record of their students and starting salaries indicate the sustainability and impact of the programme. Many of their students break out of the cycle of poverty they were raised in, often earning a salary equal to that of their parents. The training, exposure and value system offered to them thanks to Unnati means that many of them do not need to depend on charity further. Students then become role models for the next generation of young people. For us, that is an indication of Unnati's impact as an organisation.
Mumbai-based NGO Apne Aap Women's Collective is working with sex workers and one of their key objectives is to break the intergenerational cycle of prostitution. They implement various programmes for empowerment of sex workers and their daughters and toddlers. The impact can be gauged from the fact that none of the daughters of the sex workers has entered prostitution and in fact, they have become independent and successful due to the NGO's interventions. Some have even helped their mothers quit prostitution and supported their siblings' education expenses.
Light of Life Trust's Education programme, Anando, focuses on successful completion of secondary education of children from rural India and their holistic development. The impact of their interventions has been that over 80 percent of the students who have appeared for SSC so far are pursuing a higher education. Many of the employed beneficiaries earn a monthly income which is much larger than the total family income. Finally, there has been a marked increase in the average age (20.5 from the earlier 17 years) at which girls get married.