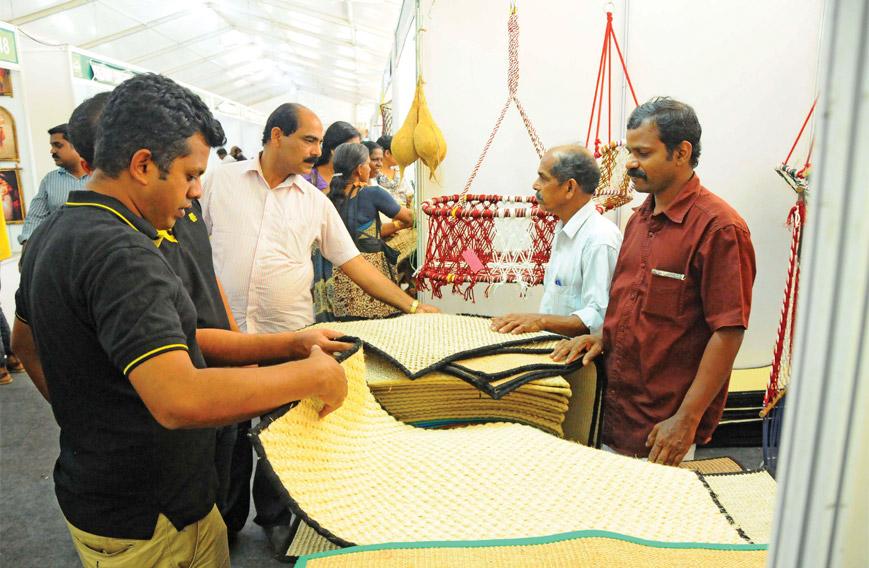 Kerala promotes coir with organic sound panel
Saibal Chatterjee, Alappuzha
Published: May. 24, 2016
Updated: May. 30, 2016
Of all the products that were on view at the sixth edition of Coir Kerala, an international exhibition, the Accoir organic sound panels aroused the greatest interest.
This breakthrough blend of coir and acoustics has the potential to revolutionise sound panel designing. It is being developed by the Kerala chapter of the Institute of Indian Interior Designers (IIID) in association with the National Coir Research and Management Institute (NCRMI) in Thiruvananthapuram.
"Accoir is in the final stage of production and we are in the process of getting the patent," says Anil K.R., director, NCRMI. "These sound panels made of natural fibre could be used in movie theatres, concert halls and recording studios," he adds. When ready, Accoir would be available in 25 mm ceiling panels and 40 mm wall panels.
Coir Kerala, held over 1-5 February, is aimed at developing Alappuzha as the world's coir hub and showcasing research and development (R&D) advances being made by the industry. The annual exhibition is among a slew of other initiatives taken by the state government to improve the lot of coir workers.
Accoir isn't the only acoustic design innovation that industry professionals in Kerala are working on. A 3-D coir-based panelling system that absorbs sound and heat is also being developed by a private engineering firm, 2M Engineers Group.
Prem Kiran of 2M Engineers says, "The pores in coir allow it to absorb 50 per cent of sound and heat, offering a viable soundproofing and insulation method. Made completely from coconut fibre, this wall and ceiling panelling is entirely organic and a great low-cost alternative to plastic, wood and tiles."
New products suggest a dramatic transformation of Kerala's biggest cottage industry which is undergoing modernisation and diversification. It currently employs 375,000 workers, 80 per cent of whom are women, and provides indirect employment to an additional 1.5 million people. India has a 72 per cent share of global coir exports. Kerala alone accounts for 60 per cent of the country's sales.
Says Adoor Prakash, Kerala's Minister for Revenue and Coir: "We need to move forward from mats and mattresses. The Accoir acoustic panels developed through years of R&D elicited a lot of interest at the exhibition."
"Coconut trees are plentiful in Kerala, so coir is in the blood of the people here," says Anil. Eco-friendly mechanisation is the only way forward for the industry as it seeks higher productivity and viability in a changing world, he adds.
The state's abundant coir resource yields a range of sustainable products — geotextile for soil reinforcement, coco chips and pots for plants, doormats, rugs, carpets, ornaments and wall hangings, among other things.
Adoor Prakash points out, "This is a traditional industry, but we are in the 21st century. We have to change our approach to coir-making in order to take the business to the next level."
Higher wages, a government pension scheme, marketing subsidies, and smaller, easy-to-operate mobile defibering and spinning tools developed for widespread use have ensured a better deal for Alappuzha's coir workers.
According to Rani George, Kerala's Coir Development Secretary and Chairperson of Coir Kerala, "In the first couple of years, we had to struggle to attract international participants. But now the exhibition is on the world map and seen by buyers and sellers as a strong platform."
This year, she says, Coir Kerala had 156 delegates from 54 countries and 200-plus exhibitors and exporters from different states of India. "New countries and entities are registering every year," she adds.
A buyer-seller meet is the centrepiece of Coir Kerala, where industry players, major and marginal, come together to explore export and partnership deals.
The exhibition also allows coir workers to interact directly with the minister in a special session. They shared with Adoor Prakash their concerns over the absence of Coirfed godowns to store fibre, paucity of work and tardy distribution of defibering machines and electronic ratts.
Although their wages have increased in the past five years from Rs 100 to Rs 300 for an eight-hour shift, coir workers worry about job losses due to mechanisation and the reluctance of the new generation in their families to join the industry.
Smithamol, Secretary of the Coir Cooperative Society of Kanhikuzhi village of Cherthala taluk, where 600 families are engaged in coir-making, is sceptical of the government's assertion that mechanisation will lead to more people being attracted to the industry. "While mechanisation will definitely lead to increased production, we have reason to worry that there would be fewer jobs available for traditional coir workers," she says.
"Worries about job loss are not entirely misplaced, but as volumes grow the industry will be able to absorb more people than it has ever done before," says Rani George.
Officials point out that untapped capacity is harming Kerala's coir industry. Tamil Nadu, a new entrant, has large plantations where mechanisation has been extensively adopted, making transportation of coir fibre a profitable proposition.
Anil poins out, "Kerala buys coir fibre from Tamil Nadu despite the fact that we have 600 crore husks and need only 300 crore of them to fulfil our requirement of 2.25 metric tonnes of fibre." The state produces 60 varieties of coir yarn.
"Import of coir fibre," says Adoor Prakash, "is increasing. That is a worry. So we want to increase fibre production in the state."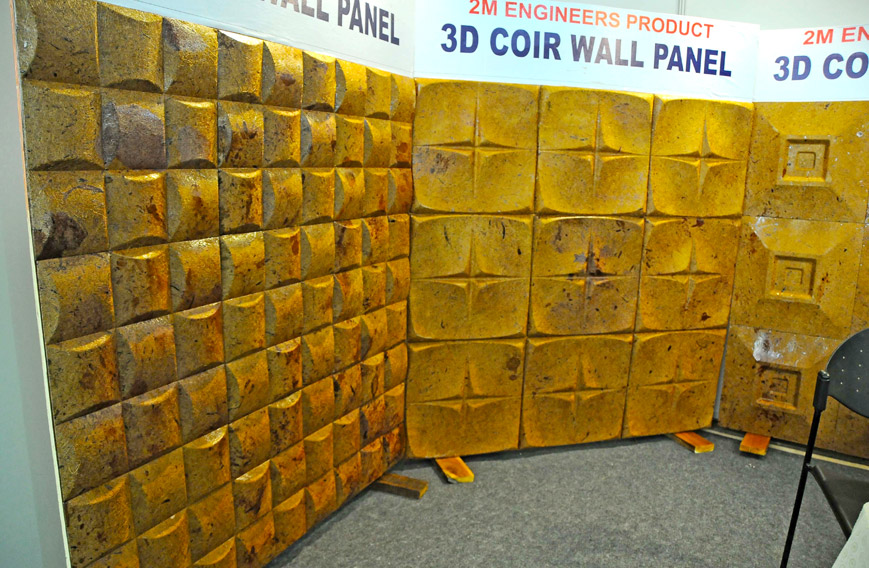 To reduce Kerala's coir fibre shortfall, NCRMI has been tasked with developing new technology and modern defibering machines and taking the state away from its age-old homestead farming and mixed cropping system.
"We have to create a new environment and give the younger generation of coir workers a modern factory set-up that they would like to be a part of. In the long run, mechanisation will draw more people to this industry," says Anil.
Coir is a labour-intensive industry. "Up to 60-70 per cent of the cost of coir production is on getting the work done. Unless this is brought down to under 40 per cent, the business cannot be sustainable," says Anil.
NCRMI is developing three areas — technology, machinery and products. The organisation's initiatives were unveiled at the exhibition.
K.N. Satheesh, Director of Coir Development, Kerala, says: "We are receiving export orders at the exhibition. Earlier these came only from private players. But now government outfits are increasingly placing orders."
Latha Shaji and Thankachi Bhanudas, two sisters-in-law in Kanzhikuzhi village who spin coir at home, reveal that the process has become much simpler since the introduction of electronic ratts. "Until four years ago, we had a manual spinning wheel. So our output would be far less."
Thankachi's young niece, Ananthalakshmi, who is a first-year engineering student in a nearby college, will probably not do the same work when she graduates. But she says: "I want to support the traditional work of the family by designing better machines."
A visit to the Alappuzha factory of the Kerala State Coir Corporation reveals a reality that cannot be denied. Most workers in the factory engaged in a variety of functions (spinning, quilling, weaving, shearing, clipping) are in their fifties and approaching retirement. But new recruits are hard to come by.
However, during the workers' direct interaction with the coir minister, one cooperative society representative from Kayamkulam, which has over 100 societies, said that there are increasing instances of women coming to work with their college-going daughters. "The incentive is that a family of three can today earn up to Rs 1,000 a day," he says.
Caught between tradition and modernity but eyeing a brighter future, Kerala's hoary coir industry is clearly in a state of dynamic flux.