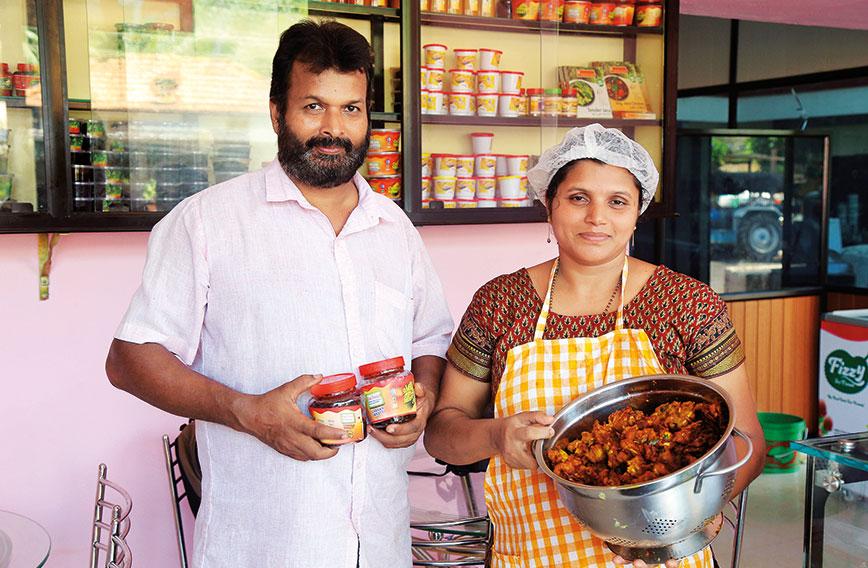 Shaji and Shiji at their restaurant
Shiji and Shaji open a jackfruit restaurant ?
Shree Padre, Manjeri
Published: Jul. 14, 2018
Updated: May. 28, 2020
When travellers alight from buses in the busy Muttipala area of Manjeri city in Malappuram district of Kerala they can now have a quick bite at the Alnas Jackfruit Restaurant, the only one of its kind in the country.
Started by Shiji and Shaji, a couple, the restaurant opened in the second week of May, shortly after the Kerala government's announcement that jackfruit would be the state's official fruit. It was inaugurated by V.S. Sunil Kumar, Kerala's agriculture minister.
The restaurant, named Alnas after the couple's daughter, is small with three tables, but it offers 36 products made of jackfruit and sees a steady stream of customers through the day. Shiji says it's a dream come true for her.
Four years ago, Shiji, then a housewife, enrolled for a three-day training programme at the Regional Agriculture Research Station (RARS) in Anakkayam. She wasn't sure what exactly she had enrolled for. All she knew was that she wanted to learn a skill so that she could earn a little money.
After the session started, 40-year-old Shiji realised the training was on jackfruit value addition. "Okay, so it's about jackfruit," she told herself. "I will learn this." The training was simple. It focused her attention on jackfruit and gave her some inspiration.
After the training sessions were over, she pooled her savings and made all the jackfruit products she had learnt. After that she was somewhat at a loss as to what she should do with them. Shiji approached Dr P. Rajendran, assistant director of research at RARS Anakkayam, for guidance.
"We have trained hundreds of people. But no one had put learning into practice so quickly. Don't worry. I'll give you employment here for six months. You work as a helper in the value addition unit and start learning things," he told her.
Since Shiji has a small child she found it tough to follow regular work timings. Dr Rajendran worked out a flexible timetable for her. Soon she found herself working at the RARS value-addition unit as a temporary employee. The unit wasn't making just jackfruit products but an entire range with locally available farm produce.
"That six-month work experience gave me real confidence," recalls Shiji. She discussed her plans with her husband. They could make jackfruit products and sell them at jackfruit exhibitions and festivals, she suggested.
Getting a loan:
In early 2015, Shiji applied for a bank loan and got Rs 10 lakh. The couple bought machines like a roaster, dryer, a pulping machine, a jackfruit cutting machine and the like. They named their micro enterprise after their daughter, Alna. They employed six women and started making chakka varatty, a traditional Kerala jackfruit dessert, dehydrated raw jackfruit, halwa, jam, jelly, squash, puttu podi, dosa podi, biscuits, pickle, toffee, jack seed coffee and more.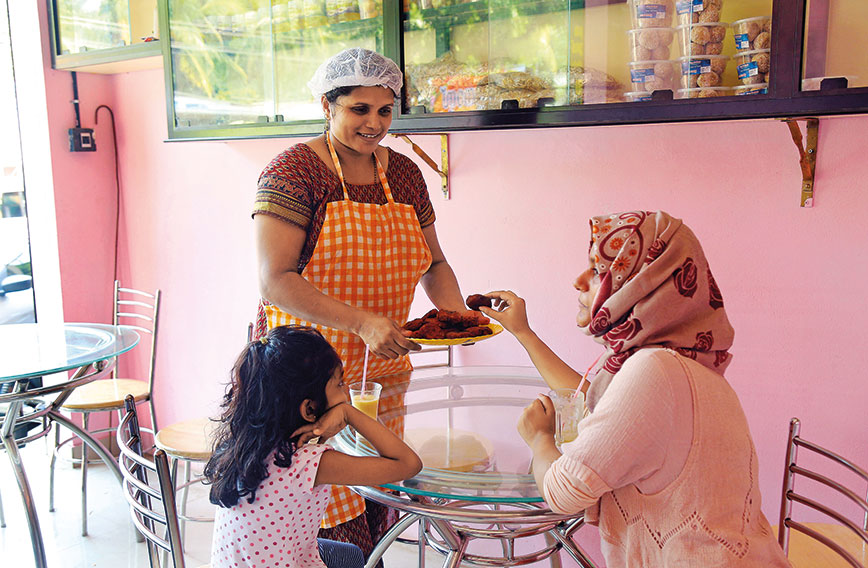 Shiji serves a customer
The couple seized every opportunity to sell their products. They travelled the length and breadth of Kerala, excluding Kasaragod, marketing all their items. In three years, they probably took part in not less than 100 jackfruit festivals, apart from Kudumbashree melas and sundry exhibitions. Recalls Mneme George, a journalist, "The Shiji-Shaji couple were regulars at jack fests and would occupy a prominent place in the sale arena."
It was last year that Shiji decided she wanted to start a jackfruit restaurant. During jackfruit festivals in the past she and Shaji used to set up a live counter and cook some jackfruit dishes like payasam on the spot for customers. It proved popular.
But the incident that really made up her mind was her experience of selling her products during the month of Ramzan in nearby Manjeri city where the population of Muslims is considerable. It was fasting time for them. Shiji and Shaji set up a live counter making unniyappam, pakoda, samosa, chakka bajji, idichakka cutlet and jackfruit biryani. In three days they earned Rs 30,000.
"After that event, our desire to start a restaurant started growing," recalls Shaji.
Finally, the Alnas Jackfruit Restaurant opened at Muttipala in Manjeri. The restaurant is very small. It has three tables — that means space for only a dozen customers at a time.
Over the years, Shaji has learnt to make all the 36 products that Alnas offers. The restaurant has a staff strength of six women. It opens at 9.30 am and closes at 10.30 pm. "We make around 10 products every day," says Shaji. These are pakoda, unniyappam, payasam, cutlets, bajji (fritters), biryani, jackfruit beef biryani, milkshake, juice, sherbet and soda — all from jackfruit. When they run out of a particular dish on the menu, they make it again.
People come from far and near. Some have read about the restaurant in newspapers or on social media or seen it on TV. "They taste one or two products and buy some," says Shaji.
"No more running to jackfruit fests with huge bundles of items and anxiety," Shiji says with a sigh of relief. "We earned good money in some fests and lost heavily in others. Sometimes we had to pay a steep price — ranging from Rs 10,000 to Rs 30,000 — for the stall. There were times when we didn't sell much and had to bring our products back."
Their entire business now hires 15 people. Four work in the restaurant and the rest in the production unit. Their packaged products like jackfruit halwa, varatty, puttu podi, biscuits and so on are neatly displayed in glass counters.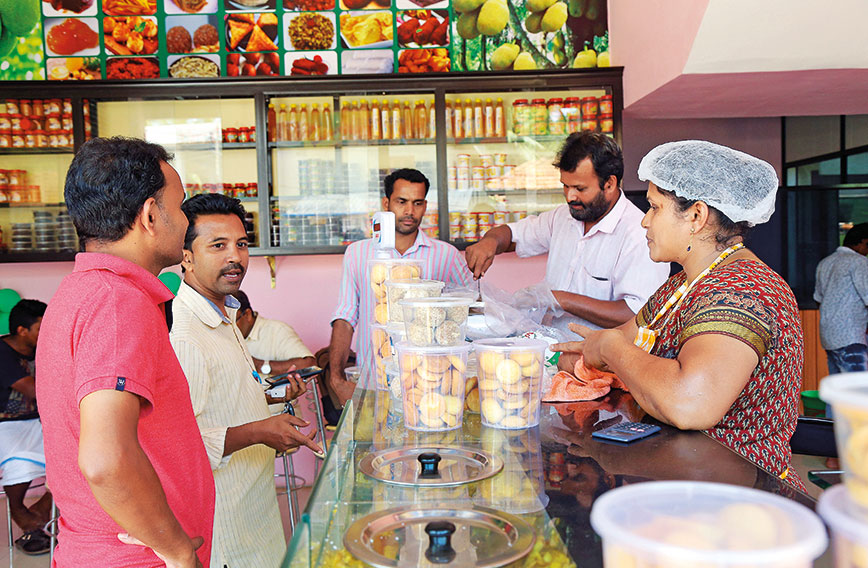 Thirty-six products are on offer
"In fact, another reason we started the restaurant was because customers would often ask us from where they could buy our products," says Shaji. "We couldn't suggest any convenient store. Consumer response has been very good. On an average, the restaurant earns Rs 20,000 a day."
Can they produce all the jackfruit products they serve in the restaurant throughout the year? Shaji answers with a confident smile: "Yes, that's not a problem at all. For the last three years, barring a gap of six months due to unforeseen circumstances, we have been continuously making jackfruit products, excluding holidays."
Jackfruit is abundantly available in Manjeri for about six months. During the off-season they buy jackfruit from Idukki, Kodaikanal and other places. There are many agents in Manjeri who supply jackfruit. Currently, Alnas pays Rs 6 per kg of whole fruit. This will fall to Rs 5 shortly. But during the off-season, they have to pay nearly Rs 20 per kg.
"Our Manjeri jackfruits are the best. Around half the fruit is edible. The fruit is tasty too. We get fruits from far during the off-season but they aren't half as good as the Manjeri jackfruit in taste and quality," points out Shiji.
Days of losses over?:
She says they sometimes wonder why they didn't think of opening a jackfruit restaurant earlier. "We hope that our days of losses are over now," says Shaji, who plans to open two more jackfruit restaurants in the same district on a franchise basis.
It was Dr Rajendran who gave the couple immense moral support during difficult times. Shiji recalls how, when she started her enterprise, an incident occurred that disheartened her. She went to Dr Rajendran and told him she felt frustrated and disillusioned. "Don't worry. Have patience. Plunge into work," he advised her and sent a mini-truck piled high with some 1,000 jackfruits to her unit.
Shiji and Shaji made products with the jackfruits and managed to sell them at a jackfruit festival. "We must have earned Rs 30,000. When we went to pay Dr Rajendran for the jackfruits he took only the money for hiring the mini-truck. He refused to accept payment for the jackfruits. He wished us good luck. Dr Rajendran's gesture boosted our confidence. He is like a father to me," said Shiji, her voice breaking with emotion.
"She was a housewife when I first met her. We couldn't assess whether she was hardworking or talented," recalls Dr Rajendran. "In fact, she was a bit lazy. The couple faced many moments of frustration. But when Shiji realised that jackfruit products were a good business opportunity, she started working hard. Now she is a role model. The lesson is to stop worrying and work sincerely. Opportunity will knock on your door."
The Kerala government couldn't have anointed jackfruit as the state's official fruit at a better time for Shiji and Shaji. In the long run, jackfruit might inspire many more entrepreneurs to come up with ventures that catch people's fancy.
Contact: Shiji – 97472 88926