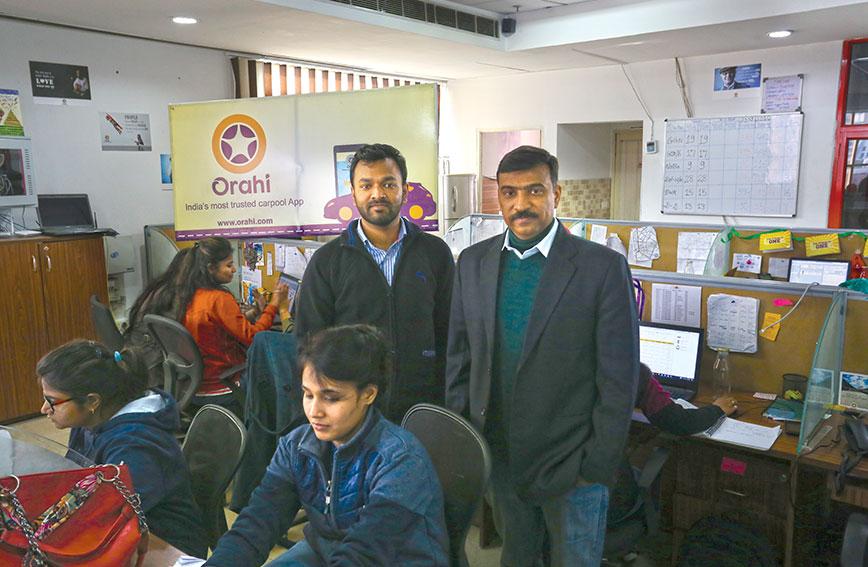 Sameer Khanna and Arun Bhati, co-founders of Orahi, at their office in Gurgaon
Orahi has made carpooling a smooth ride in NCR
Kavita Charanji, Gurgaon
Published: Jan. 31, 2017
Updated: Jun. 15, 2017
For a large section of National Capital Region (NCR) residents, the daily commute from home to office and back is a hellish experience. People are stuck in traffic for hours in their cars amid clouds of noxious fumes. But there are few options. Public transport is crowded and awful.
Arun Bhati and Sameer Khanna, two tech-savvy entrepreneurs, have developed a user-friendly app-based carpooling platform called Orahi which is making it easier for office-goers to commute. Carpooling reduces the number of cars, thereby reducing air pollution, and makes sound business sense as well.
"We say you are not stuck in traffic, you are the traffic," says Bhati, Orahi's Chief Operating Officer (COO). An alumnus of IIM Calcutta and former Ericsson employee, he was rated among the top 100 technocrats of India by Exhibit magazine.
With almost 100,000 registered users, Orahi, which is based in Gurgaon, has rapidly emerged as the most popular player in the NCR's carpooling business.
Flexi-timings, flexi-members, safety, fuel economy and cashless payments are the main draws of Orahi, say users. Besides, the platform is a good social leveller.
Vivek Agarwal, assistant manager at Blackberrys Apparels, makes the daily two-hour commute of 45 km between his home in Vaishali, Ghaziabad, and Gurgaon twice a day. "There are so many things that have happened with Orahi. With four co-travellers the daily commute has become easier for sure but networking is great too and I have made so many friends along the way. Sometimes we stop off to get a bite to eat," he says with a smile.
Unlike other carpools, the service offers flexibility. Agarwal is a member of an Orahi chat group that offers him freedom to decide when and with whom he will make the Ghaziabad-Gurgaon commute every day. "We don't have to fix rides for a month in advance so if I am travelling with someone in the morning I can travel with someone totally different in the evening," he says.
Users can also switch from being passengers to being car owners. Deepali Pandey, an office manager at Belarusian Potash Company, chooses to drive her own car every day between Dwarka and her workplace in Gurgaon. She has three co-passengers, two of whom are men. But she is not worried, "I have a trust factor with them," she says. Besides, she says, carpooling has helped her cut her fuel bill of Rs 8,000-10,000 a month by half.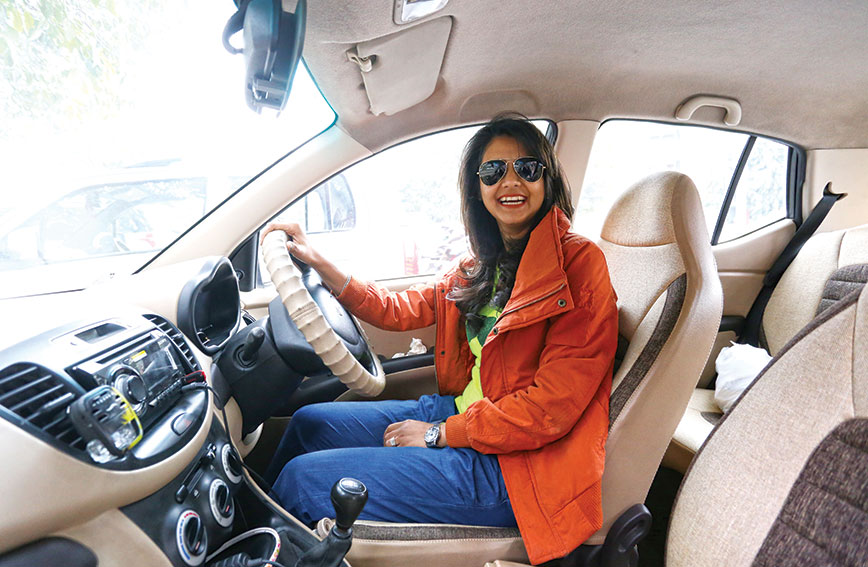 Deepali Pandey drives and has three co-passengers, two of whom are men. They live in Dwarka and go to their offices in Gurgaon
That's possible because a passenger pays Rs 3.5 per km, of which 50 paise goes to Orahi. The amount is transacted between passenger and car owner through an Orahi wallet mechanism.
The Orahi carpool venture was launched in 2013 by Bhati and Khanna, colleagues at Ericsson. They were part of the Ericsson team that created an Apps Store with 60,000 applications that were then sold to Idea Cellular and Reliance Communications.
The applications were for phones based on Symbian and Java technologies. This was way before Android and iOS phones became the rage. Later, Bhati and Khanna played key roles in Ericsson's thrust into mobile advertising and the creation of a community-based social media portal for telecom operators that preceded Facebook. It is at this point that they learnt the ropes of creating, building and scaling up communities.
They could have coasted along comfortably at Ericsson, except for their own terrible experiences of commuting. "I was very frustrated with getting stuck in traffic for over an hour though it was a 20-minute ride to Gurgaon from Vasant Kunj where I live," says Khanna, CEO of Orahi. He is a postgraduate in IT and telecommunications from Delhi University and has worked with Cisco TAC and Huawei.
Meanwhile, Bhati too was finding the daily commute from DLF Phase 5 to his workplace at DLF Cyber City an exhausting and stressful experience. He had grown up in Udaipur, famous for lakes, palaces and greenery. He nostalgically recounts his delight at being able to view the magnificent Aravali range from his home. The filthy air of Gurgaon and Delhi was "killing him inside", he says. His agony was compounded by the idea of his six-year-old daughter growing up in such an unhealthy environment.
SMALL START
Bhati and Khanna began to explore several business options that would improve the environment. They hit upon the idea of setting up an app-based carpooling mechanism that would challenge their technical skills, be eco-friendly and yet a solid business venture.
Pooling in a modest Rs 6 lakh, the duo launched Orahi in March 2013 after thorough market research. A sample survey with 2,000 people in India, the UK, Sweden and Vietnam revealed similar inhibitions regarding carpooling. Khanna says that people were concerned about finding the right people to commute with, flexibility of timings, safety and an easy method to pay. To get around these issues was testing. But the Orahi co-founders hit upon the solutions. A location mechanism was put in place to match commuters. Much like any social media platform commuters could then send requests and responses to each other.
Concerns about flexibility of timings were overcome by connecting people with each other. "We said we will connect you to not one but a huge pool of users so that you can decide who you want to travel with, at what time, so nobody is bound to leave at a particular time. The Orahi mechanism is designed so that everyone has multiple options and does not depend on a single person," says Khanna.
Safety is a major issue, particularly for women. The Orahi technology assures that only educated, like-minded people travel together. A three-tier verification system is in place so users can make sensible decisions about whom they wish to travel with.
To become an Orahi user, OTP verifications about corporate email ID, government ID and mobile phone numbers have to be run through. The painstaking process enables users to view other commuters' names, home and office addresses, and the ratings of the past six rides. A women-only carpool has also been created.
As for payments, the development of an Orahi wallet ensures that transactions do not have to be made in cash. "We created a wallet system in 2013, way before Paytm gained fame," says Khanna with pride.
There are other things Orahi is happy about. "Collectively, Orahi has been able to reduce 1.2 million kg of carbon dioxide emissions," says Bhati. "That figure is likely to climb to 600 million kg by 2020 with Orahi's entry into other Tier 1 cities."
It hasn't always been easy. When Orahi began they found people were suspicious of the idea of carpooling. It became a chicken and egg situation. People wouldn't come onto the platform unless there was a pool and if they didn't come on board there couldn't be a pool. But Orahi was able to build trust, win over many commuters by understanding community psychology, create lists of neighbours, connect them and let them coordinate their commutes.
Orahi has made the commuting experience easy. To start with, you set your date and time for the ride on the Orahi app or website, invite or accept a commute request, ride with your friends and tap the rupee icon to finish the trip.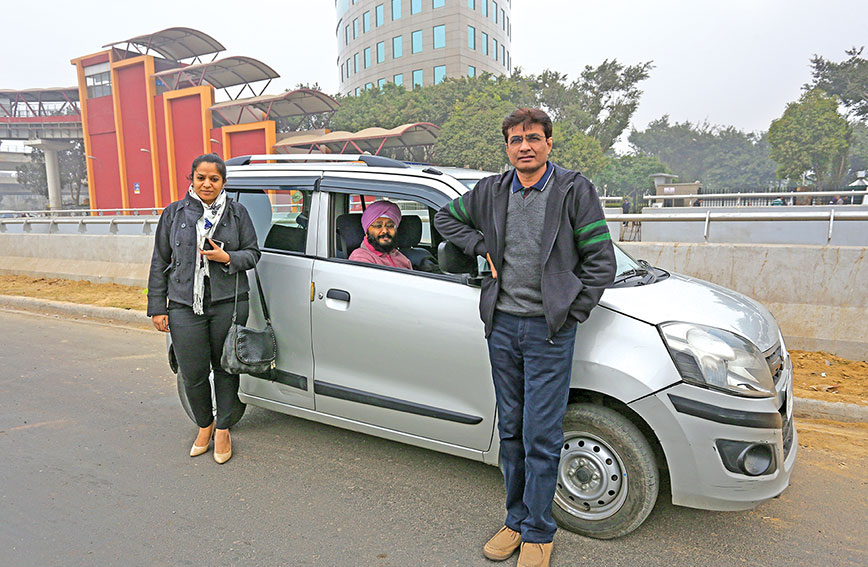 Amit Pal at the wheel drives from Tilak Nagar to Gurgaon picking up Jasleen Kaur Seth and Rajesh Bhatnagar on the way
EVENTFUL YEAR
The past year has been eventful for the 35-member Orahi team and its carpoolers. The company raised Rs 3.5 crore from Indian Angel Network in January 2016 to fund technology and team expansion. In April, when the Delhi government introduced its odd-even policy to reduce traffic congestion and pollution levels, Orahi took over odd-even.com, a platform for carpoolers created by Akshat Mittal, a 13-year-old student of Amity International School in Delhi. Mittal is now on Orahi's technical advisory board as a domain adviser.
Mittal has attracted a great deal of media attention — some of which has spilled over to Orahi. "The introduction of the odd-even formula was a big boost for us as people were forced to think about carpooling as an option," says Bhati.
The company has had 500 percent growth on parameters like user base, number of rides and recharge of the Orahi wallet over 2015-2016. About 10,000 new users are coming on board every month. Their users have clocked over 10 million km so far — "equivalent to 16 round trips to the moon," says Bhati on a light note.
There's a huge, unexploited market out there for Orahi. According to the company's estimates, 5.4 million people in the NCR make the home-office-home commute daily. Besides, there are one million college students and 4 million school-goers who need to be ferried every day. All this makes for a whopping number of commuters each day — not only a good business opportunity but a boon to the environment as well, says Bhati.
For now, Orahi plans to expand its operations to Pune followed by Mumbai, Bengaluru, Hyderabad and Chennai.