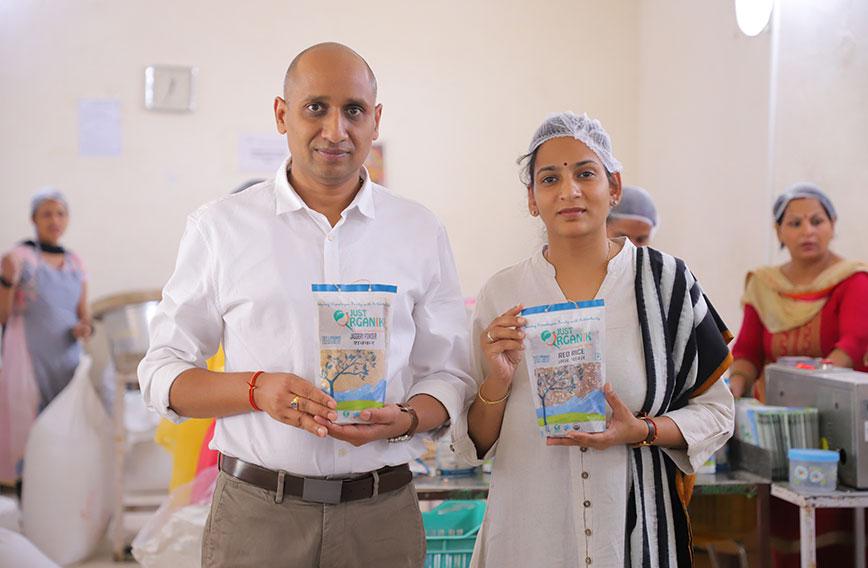 Pankaj and Richa Agarwal: 'We have managed to create a niche for our brand' | Photograph by Shrey Gupta
Just Organik goes to small farmers in Uttarakhand
Kavita Charanji, New Delhi
Published: Jun. 10, 2019
Updated: Jul. 01, 2019
Businesses in organic products are as much about social impact as healthy bottom lines. It means farmers, consumers and the company must all swim together.
"An organic enterprise has to benefit the company, the consumer and society," says Pankaj Agarwal of Just Organik who procures organic produce from small farmers in Uttarakhand. "The consumer benefits from a life free of harmful chemicals. The company makes money, if not today then in the future. Third, our company has social impact."
Just Organik was launched in 2013, by Agarwal and his wife, Richa. At that time organic products were still seen as expensive boutique products. A robust market had yet to develop. But the couple was clear from the start that they needed a "triple bottom line" on the balance sheet of their enterprise, Treta Agro Pvt Ltd, that owns the brand.
The Just Organik brand of organic foods includes pulses, millets, cereals, spices, sweeteners, oils and tea. The company is now offering consumers ready-to-eat, healthy organic foods made from superfoods.
Over the years, organic products have become mainstreamed, prices have come down and more retail stores stock them.
Just Organik sources its range of products directly or indirectly from around 3,000 farmers in Uttarakhand. The company also supports farmer producer organisations (FPOs) in a few villages. Organic produce is bought from the farmers at a predefined premium which could range from 10 to 25 percent over what they generally get in the market. Just Organik partners local NGOs in the hill state to help the farmers get certification and training in organic farming.
"To win trust and ensure the genuineness of our products it was important for us to have complete control of the value chain that starts from the farmer and ends with the consumer," says Agarwal.
There are other social spin-offs like women's empowerment. The company employs around 25 women from migrant families near its corporate office in Aya Nagar in Delhi to clean, process and package organic farm produce. The women are paid Rs 8,000-12,000 a month. There is also an office and processing facility at Rudrapur in Uttarakhand.
"We have partnered with Jan Madhyam, an NGO which works for people with disability, to employ two young people with special needs," says Richa, who is the director of Just Organik. Earlier, she worked with SRF Foundation, the CSR wing of SRF Ltd, a multi-business entity engaged in textiles, chemicals, packaging films and engineering plastics.
Uttarakhand has small farmers who traditionally practise organic agriculture. The hill state is seen as 'natural organic terrain.' While the environment is pristine, "the land is not really organic because all the micronutrients have been destroyed", says Agarwal. "It may take over three years to restore micronutrients to the soil." Over the years, deforestation has destroyed topsoil.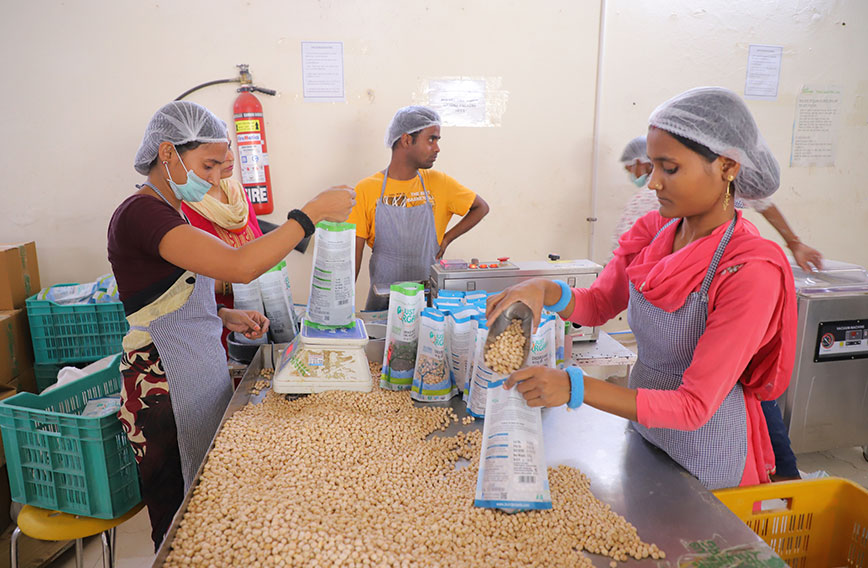 Women from migrant families are employed in the Delhi unit | Photograph by Shrey Gupta
The company's star performer is Rajma Joshimath that comes from Joshimath, an area close to Badrinath. Another popular performer is Rajma Harsil, sourced from Harsil which is close to Gangotri, an important pilgrimage site. "Think of the pristine environment of the products. The air, water and soil are pure. People who start buying our rajma never go back to any other brand," asserts Agarwal.
A pilot project between the company and the Uttarakhand government will begin this October to ensure transparency in the value chain from the farmer to the consumer. "New blockchain technologies will bring transparency to the procurement process. The farmer, transporter, aggregator and processor then become responsible for the quality as well as pricing aspects of the produce," says Agarwal.
With the help of this technology, which will be overridden by web-based technologies, Just Organik will add an app-based facility to enable consumers to trace organic produce to the farms from where they originate, says Agarwal.
Constant product innovation also gives Just Organik an edge. New organic, vegan and gluten-free ready-to-eat meals from superfoods like ragi, millets, quinoa and amaranth, have been invented. The consumer can choose from Seven Ancient Grains, Buckwheat Pilaf or Five Lentils Melange, among others. Just Organik recently won an award for the Best Product Range in the organic category.
Just Organik products are available at large retail chains like Spencer's, More, WHS Smith, Big Bazaar, Nature's Basket as well as on Amazon, Flipkart and Big Basket. There are institutional buyers too, among them Fortis Hospital and the Taj Group.
The brand sells in 25 cities and aims to reach 250 cities in India. It also exports to the US, Australia, Singapore, Middle East, and the UK.
Just Organik's products are certified by India Organic, EU and USDA standards. They are also recognised by Department for Promotion of Industry and Internal Trade (DIPP) and Agricultural and Processed Food Products Export Development Authority (APEDA) and meet the new Jaivik Bharat standards of the Food Safety and Standards Authority of India (FSSAI).
The company has an annual revenue of Rs 12 crore at present. It is scouting around for investors to take its expansion plans forward.
"There is a lot of clutter in the organic market but we have been able to create a niche for our brand. In the last five years, people have moved from the question of what is organic to who is organic,"
says Agarwal.