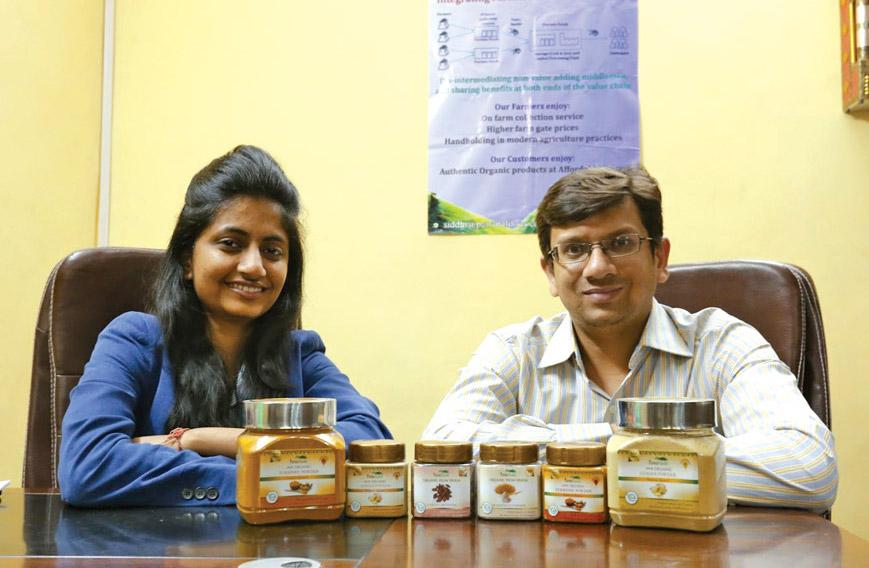 Bringing Sikkim ginger to the Delhi market
Subir Roy, New Delhi
Published: Apr. 08, 2016
Updated: Jul. 08, 2016
Parvata Foods has marketed 100 tonnes of 'Himalayan Ginger' in the National Capital Region (NCR) through Mother Dairy's 350 plus Safal outlets which offer fresh food and vegetables. The farmers who grew this organic ginger in Sikkim, now a totally 'organic' state, secured a high 65 per cent of the price which Safal paid to Parvata Foods. Farmers traditionally get no more than 30 per cent of what consumers pay.
The start-up will next target the markets of Mumbai and Bengaluru for processed spices and thereafter explore the prospects of exporting.
Parvata Foods Pvt Ltd was set up in late 2013 by two co-founders, Siddhi Karnani and Anurag Agarwal, who both graduated from the Indian Institute of Management, Ahmedabad that year. This is the first venture for both.
The idea for it came to them when they were touring Sikkim as part of a course run by Prof. Anil Gupta. Named Shodh Yatra, it seeks to energise potential young entrepreneurs into uncharted territories where there is scope for new ventures but the business model for them is yet to be developed.
Karnani explains, "Our aim is to build value chains in fruits, vegetables and spices from Sikkim and other states in northeastern and eastern India, thus elevating the living standards of farmers in difficult hill areas by integrating them with main value chains. The start-up processes the products to add value and then markets them globally."
Agarwal adds that the start-up has just set up a spice processing plant in Sikkim as a joint venture with the Sikkim government. In April it will launch its own brand which will market an assortment of spices and produce such as ginger, turmeric, chilli, buckwheat and black cardamom. Then the venture will come up with squashes. Right now the effort is to set up the backend of the business.
Ahmedabad-based Last Mile Accelerator, set up by IIM Ahmedabad's tech incubation Centre for Innovation Incubation and Enterprise (CIIE) and US-based investor Village Capital, has invested $50,000 in Parvata Foods which is now working on a second round of funding.
In the current year, Parvata Foods will likely have a turnover of Rs 75 lakh and expects to break even by 2017-18. By then it will have invested $2.5-3 million (around Rs 20 crore at current rates of conversion). Right now it has Rs 6 crore invested in its capital assets and operations, says Agarwal.
The venture bases its future on two legs. As Indian incomes, health consciousness and knowledge about safe and nutritious foods grow there will be increasing demand for organic foods which are grown in clean environments without using chemicals. But the supply of genuine organic food will remain far behind this growing demand. Therein lies an opportunity for socially conscious entrepreneurs.
The problem with growing organic foods and labelling them is that you may not be using pesticides in your cultivation but their use may be widespread in the area and some of this will have seeped into the same aquifer from which both draw groundwater for cultivation. It takes several years for a grower to secure certification that his produce is organic.
This is why the whole state of Sikkim being declared organic straightens the path of those who wish to market such produce nationally and globally. It will then be correct and straightforward to label a produce "Organic from Sikkim". This will be new in a country which lacks GI (geographical indication) based marketing when the organic foods demand in advanced countries has a strong preference for it. The world market pays a premium for 'traceability' — being able to say from which farm the produce came.
Right now organic foods are available in India only in upmarket stores at a premium over general produce of around 50-80 per cent, according to trade sources. This too for some produce whose 'organicness' can be dubious. Once the practice of growing organic produce stabilises in India, it will command a premium of no more than 25-30 per cent, which is the global norm.
Trade sources seem to agree that the future demand for organic foods in India is not being served by the high premium being charged for produce that is labelled organic in a somewhat slapdash manner. There are several established organic produce companies in India today but the commitment to organic produce on the part of large retailers is limited. It is still very much a niche business.
Parvata Foods faced the challenge of seasonality when it delivered organic ginger to the NCR. In season — from October to March — it supplied 1.5 tonnes a day. This is also when the cool weather encouraged the consumption of ginger. Supply was low at one tonne per day in the April-May lean season. There is also the issue of farmers following poor growing practices by seeking to get some mileage out of 'mother ginger' in the following months. During September-October the ginger has high moisture content which does not make for transportation across the country.
To overcome seasonality, keep being good to farmers and have a cash flow for as much of the year as possible, Parvata Foods is laying store by processing spices according to organic norms and then marketing them everywhere with accurate and honest labelling.
The ultimate hope is that people will realise the value of going organic. Not only does traditional knowledge list numerous benefits of natural produce, their efficacy is enhanced by organic growing. The curcumin content in turmeric, which is its principal compound, is 4 per cent in the case of organic turmeric from Sikkim but only 2 to 2.5 per cent on average in the conventional produce. So, on the face of it, organic turmeric may cost more but you get more out of it, making it good value for money. And try listing all the good uses that traditional knowledge tells us turmeric has!