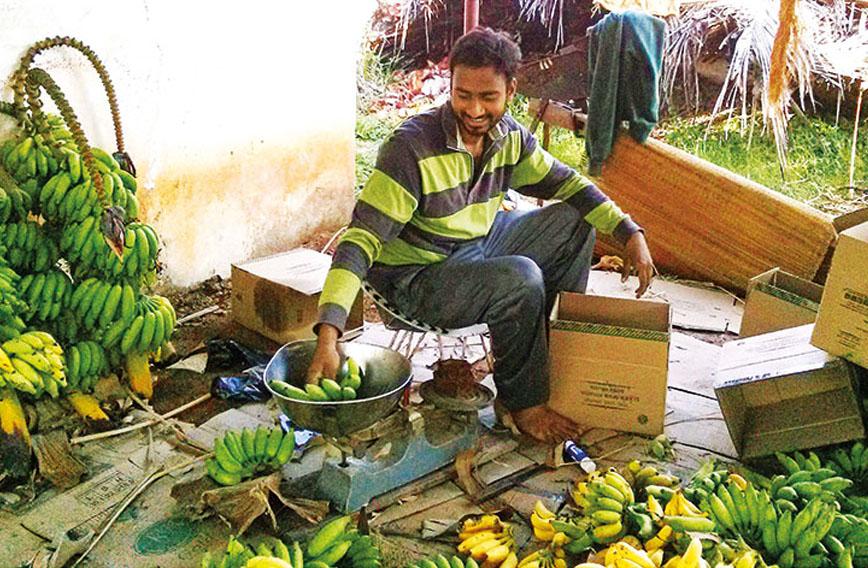 After office hours, Srinidhi packs his bananas into boxes
Banana man goes digital from nowhere
Shree Padre, Kasaragod
Published: Mar. 30, 2018
Updated: Mar. 29, 2019
Four years ago, 23-year-old C.V. Srinidhi, a computer science graduate, decided to try his hand at natural farming. His family had an acre lying unused. His first attempt was a total disaster. But he summoned courage and tried again.
Three seasons later Srinidhi is a consummate farmer, a digital agriculture guru much in demand on WhatsApp groups. What's more, he has mastered a skill that very few farmers possess — of marketing his products, adding value and diversifying his product portfolio.
"There is growing insecurity and disappointment among IT professionals. I don't have any figures, but the number of IT guys entering farming is increasing," he says.
In 2013, Srinidhi knew nothing about farming and he wasn't interested either. He was working in the office of the district collector of Chamarajnagar, a very backward district in Karnataka, in 2013.
That very year a friend gifted him a book by Subhash Palekar, doyen of natural farming. Srinidhi read it reluctantly. He had some misgivings about such methods and wanted to speak to Palekar. His friend advised him instead to read the book more carefully.
Srinidhi read it again thoroughly. His doubts began to clear. He then read more books by Palekar, and got inspired enough to decide that he wanted to practise natural farming. The first crop he tried to grow was pumpkin. His efforts yielded just four pumpkins.
Srinidhi didn't give up. He picked up more information. He decided to plant the elakki variety of table bananas and took another two acres on lease. This time his harvest turned out to be "not bad", he says.
But Srinidhi's happiness was short-lived. When he went to sell his bananas he was offered a miserable price. Each bunch of bananas weighed between five to 10 kg. The shopkeeper would arbitrarily grade bunches below 10 kg as 'second class' bananas and pay only Rs 5 per kg. The price offered even for 'first class' bananas was just Rs 10. But the shopkeeper sold those bananas to consumers for Rs 30 per kg. While trying to sell his bananas, a few bunches rotted. This caused Srinidhi considerable anguish and he thought he must find a solution.
Srinidhi realised that being a good farmer wasn't sufficient. The farmer's vulnerability is marketing. He began attending seminars on farming. During one such meeting, a mango farmer from Kolar explained how he was successfully selling his mangoes by branding them 'Kolar Gold'. Srinidhi was impressed by this idea.
Coincidentally, interesting feedback by Manju, one of the shopkeepers he sold his bananas to, provided him more food for thought. Manju told him, "All the bananas brought by other farmers ripen in two days. Your bunches take double that time. Because of this virtue, you can market your bananas yourself."
This suggestion encouraged Srinidhi to sell his own bananas. After office he began attending Lions Club and Rotary Club meetings, yoga classes, church functions and so on. He would seek permission to interact with those attending for a few minutes.
"These bananas are unique. They are grown naturally. Taste a few. If you like them, do buy," he would say gently. He would jot down orders, too.
He also packed his bananas attractively and carefully. Instead of putting them in a plastic bag, he would pack them in a box. This would prevent banana damage during transport. Srinidhi sold each banana box for Rs 100. An additional advantage for the buyer was that he or she could store the bananas in the box. New boxes cost Srinidhi Rs 20 each. Subsequently, he used recycled boxes priced at Rs 4 each. Slowly, Srinidhi's banana boxes began selling.
He then remembered that he should brand his produce. He chose the words CV: C stood for his native place, Chamarajnagar, and V for his father's name, Venkateshmurthy. On the label he wrote: "Direct from farmers to consumers."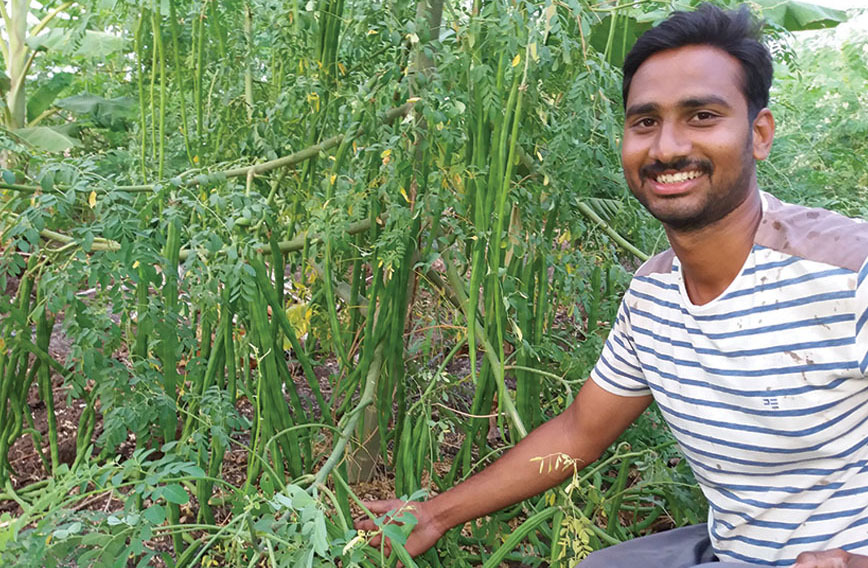 Srinidhi in a high yielding drumstick crop field
To publicise his bananas, after work, he would go around the city on his motorcycle with a couple of banana boxes. He would approach people, introduce himself and his bananas and ask if they would be interested in buying. A few boxes would be kept close at hand at a friend's place in case demand exceeded his expectations.
People would often ask him a whole lot of questions. Srinidhi would offer them a box of bananas free on condition that they would pay later. "There are instances of people buying two boxes after a long argument of 15 minutes," recalls Srinidhi.
News of Srinidhi and his banana boxes began spreading in social media and in print media. This boosted demand. Soon, his bike became too small to carry so many boxes. He began to borrow an auto-rickshaw from a friend in the evenings to resolve this problem. He also began sending boxes of bananas by bus to consumers located some distance away. The buyer would pay transport charges.
Srinidhi realised it was important to study consumer preferences. Buyers told him that a three-kg box was more than enough for a family of three or four people. Everyone wanted to eat ripe fruit. So Srinidhi began packing combs of bananas which would ripen at different times. This ensured two things: that all the bananas were not ripe at the same time and there were always bananas to eat.
A local voluntary organisation called Amruthabhoomi sent Srinidhi for a seminar in Bangkok. His experience in marketing was covered by the media and very well received.
Srinidhi's father had passed away 18 years earlier. His mother, Meenakshi, a source of inspiration to him, helps in packing the bananas and with other chores.
Although his 10-day trip to Bangkok slowed his marketing efforts for a while, Srinidhi says he managed to sell 60 percent of his crop directly to consumers and earned three times more than what he would have got by selling to shops. "I lost some bananas but I learnt very important lessons in marketing. So I didn't consider my losses as losses," he says.
Banana to sugarcane
Srinidhi chose sugarcane as his next crop. There were some crucial reasons behind his decision. First, his land's black cotton soil was more suited for growing sugarcane than bananas. Besides, he was spending two to three months of the year marketing bananas and that was affecting his farming operations for the next banana crop.
"Anyway, I had learnt valuable lessons in marketing a perishable crop. So I thought I could confidently try my hand at selling a non-perishable crop," he says.
At one of the workshops he periodically attended, Srinidhi listened carefully as a farmer related how he earned Rs 8 lakh from an acre of his sugarcane crop by selling it as juice. Srinidhi decided to follow in this farmer's footsteps.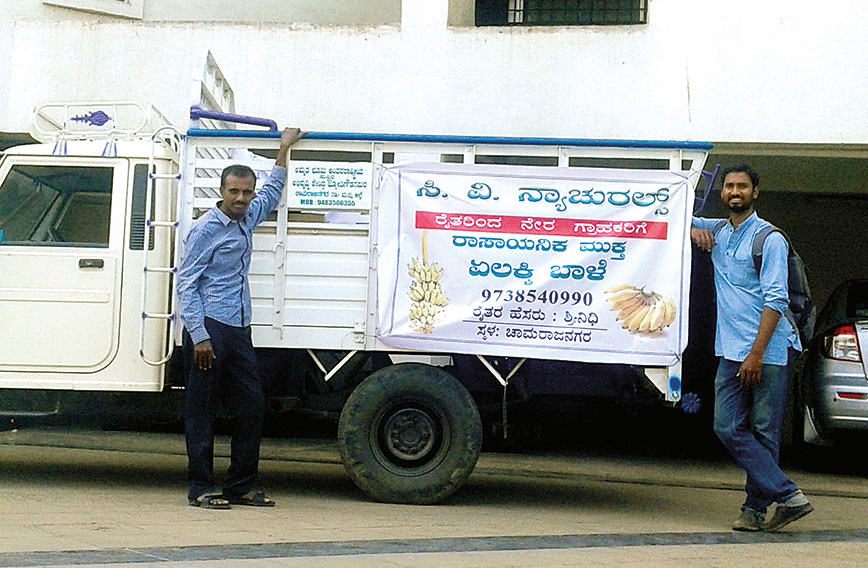 Srinidhi experimented selling bananas from a truck with Amruthabhoomi's help
Srinidhi planted his sugarcane crop 12 feet apart instead of three feet, the normal distance. This way, his sugarcane got much more sunshine and that boosted its growth. In the area in between he raised short-duration crops like vegetables, turmeric, onion and potato. His potato crop failed but his onion crop succeeded.
The sugarcane did fine. But Srinidhi couldn't convert it into juice because a sophisticated juice making machine he had ordered from the Philippines got delayed in arriving.
He now had three options: he could convert sugarcane into jaggery powder, or make it into a mould or produce liquid jaggery.
After consulting a few farmers he experimented with all three forms, worked out the economics, the labour requirement, the ease of processing and so on. Finally, he opted for the mould version of jaggery.
His two acres yielded 30 tonnes of sugarcane which he converted into three tonnes of jaggery. The price of jaggery in the local market is Rs 30. Srinidhi's jaggery was chemical-free and made from naturally grown sugarcane, so he fixed a price of Rs 100 per kg, three times the market rate.
"Traditional sugarcane farmers who use chemicals get 30 to 40 tonnes per acre. They sell it to jaggery-making units for Rs 2,000-2,500 per tonne. So they earn about Rs 80,000-100,000. My sugarcane field yields 15 tonnes per acre. I make 1.5 tonnes of jaggery myself and earn Rs 150,000 per acre," explains Srinidhi.
Another advantage for Srinidhi is that he doesn't have to hereafter replant sugarcane. Adoption of natural farming and the use of jeevamruta increases microbial activity and soil health. The dry leaves form mulch, prevent weed growth and increase moisture. This reduces labour costs. Srinidhi says sugarcane production will increase annually till a saturation point of 100-120 tonnes is achieved.
Learning curve
Chandrashekhar Kadadi, a staunch follower of Palekar from Bidar, is Srinidhi's guru in farming. Since Palekar can communicate only in Hindi and Marathi, farmers like Srinidhi learn from Kadadi. But Srinidhi's marketing skills are entirely his own.
Srinidhi's uncle, who had a jaggery making unit, offered it to Srinidhi to learn how to make jaggery. Srinidhi experimented and learnt the process thoroughly. He realised that if he added a little peanut oil the jaggery retained its colour longer. No chemicals are used while processing.
He also prefers to sell locally, through social media, by word of mouth and by giving samples of his jaggery. Even small orders of one kg are home delivered. Larger orders are sent by lorry. He has made a database of all his customers and keeps in touch with them. He keeps a record of sales figures, documents production and issues bills. And he continues to work at the DC's office.
"Direct marketing is not a small challenge," observes Srinidhi. Unfortunately, most farmers prefer to just sell rather than market their products.
"To be able to succeed in direct marketing your product should be qualitatively better in smell, colour, touch and taste. You have to convey this to your customer. Farmers don't know how to spot customers. Many of them can't explain why their product is better," says Srinidhi.
Sales talk is important. "The seller should evaluate what the customer might be looking for. Should he explain that the product is natural, the processing method or its health benefits? Otherwise the customer will lose interest," says Srinidhi. He suggests that the government start a community packing facility so that farmers' produce can be packed in an attractive, hygienic way.
His juice machine will arrive shortly and he plans to start his new venture by April from a shop in the city. He says he will buy sugarcane from select farmers till he gets his next crop.
Srinidhi explains why juice making is the most profitable option for the farmer. "If a farmer sells fresh sugarcane, he earns Rs 2,000-2,500 per tonne. If he converts it into jaggery himself, he will produce around 100 kg. If the jaggery is of high quality like my chemical-free jaggery, he can sell it for Rs 100 a kg. This means he earns Rs 10,000 from one tonne of sugarcane."
"But juice is a better option. From one tonne of sugarcane, you can extract 600 litres of juice. If I sell a 250 ml cup for Rs 10, I make Rs 40 per litre. So I make a neat Rs 4,000 from my one tonne of sugarcane," he says, smiling.
Srinidhi says farming has given him a lot of pleasure. "I am looking for a day in the near future when I can be a full-time farmer. By that time, I would have better knowledge because I always evaluate myself and try to correct my mistakes. I would like to extend my farm to 10 acres and convert it to a model farm to inspire other farming enthusiasts. They can come here and learn," says Srinidhi.
Contact Srinidhi: srinidhipes@gmail.com; WhatsApp: 97385 40990